Music has become the indispensable part in daily life, leading to more people tend to enjoy streaming music like Apple Music, Spotify Music, Amazon Music, Pandora Music and more. However, faced with so many streaming music services available on the Internet, it is hard for you to make up your mind to choose the one for long-term music enjoyment. Hence, we are going to provide the best tips and tricks toward the common questions of using Spotify and hope it will help you better to think Spotify across-the-board. Take your time please!
Outline: All the following Spotify Tips and Tricks on using Spotify will emphatically aim at 3 different aspects of Spotify: What is Spotify and how it works, Why choose Spotify, and How to Enjoy Spotify. If you are the free user, it is the right place where to get started to learn Spotify in an all-sided way, but if the premium, it is the place where to upgrade the music experience.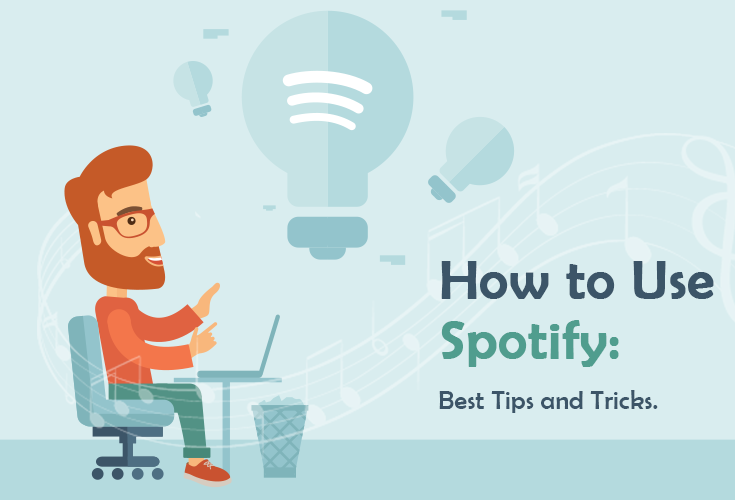 CONTENTS
Part 1. What's Spotify and How Does It Work?
As a strong rival of Apple Music, Spotify is one of the popular and common-used streaming music services developed by the Swedish company, the Spotify Technology and has brought in many fans, reached up to 180 million users and 65 regions. As the same as its slogan, "Music for everyone", Spotify users can enjoy music freely under the Internet connection but in the DRM-protected way.
Note: As for Spotify is in DRM-protected, we will share you with the way to download Spotify to the non-DRM file format. So, please stay with me and keep reading.
A. Music Library: To know the music library will be the first and foremost part to get the whole picture of Spotify. Currently, 40 million songs are available for both free and paid users, which means Spotify users can enjoy Spotify music everywhere at any time without repeatedly.
B. Music Quality & Format: Different music quality with different music bitrate will be available by different memberships. Specifically speaking, Spotify Free can enjoy 128Kbps music quality while premium 320Kbps. But for Spotify premium, there are 3 kinds of music quality to enjoy and they are the normal with 96Kbps, the high with 160Kbps and the extremely with 320Kbps. All of the music will be formatted as the DRM-protected OGG Vorbis files format.
C. Free or Paid? Available Services
Spotify offers the free service for Spotify Free user and paid service for Spotify Premium users. However, both Spotify Free and Spotify Premium users can enjoy the basic services, like listening to Spotify online. In order to make it easy to understand, we would like to share a table with the same and different services with you below. With the table shown below, you can decide whether you need to subscribe as Spotify Premium member.
Service

Spotify Free

Spotify Premium

Same Services

Enjoying Spotify Music online listen to over 35 million songs, and podcasts and audiobooks.

Difference Services

Enjoy when abroad up to 14 days.

No time limitation.

Ad-supported music enjoyment.

Ad-free music enjoyment.

No offline listening mode.

Offline listening permit, but the download music is DRM-ed.

No Spotify Connect.

Enjoy Spotify Connect everywhere.

The normal 160Kbps music quality.

Extremely 320Kbps music quality.

No payment needed.

Individual $9.99/mo, Family $14.99/mo.

Shuffle Play Mode.

Skip with no limitation.
As stated above, there are 2 kinds of Spotify paid services to enjoy Spotify: one is $9.99/mo for the individual, and the other is $14.99/mo for the family. But actually, Spotify offers the discount for students to enjoy the Spotify premium.
D. DRM-ed Music: After knowing that to download Spotify Music needs the Spotify Premium subscription, there is one more thing need to be noticed. That is, all the downloaded Spotify Music are under the DRM protection. DRM protection, digital right management for short, is the technology applied to prevent the music being copied and private. And therefore, how to download Spotify Music without Premium and DRM becomes the most momentous part for using Spotify to all the Spotify lovers.
E. Available Devices: Spotify doesn't available on all the devices, and it has its own parameter of available devices. Details are shown below.
#For iPhone: iPhone 4s and later with at least iOS 8.0 running or above.
#For iPad: iPad 2 and later with at least iOS 8.0 running or above.
#For iPod Touch: iPod Touch 5 and later with at least iOS 8.0 running or above.
#For Mac: MacBook which running with OS X 10.9 or later.
#For Android: Spotify users can download Spotify App from the Google Play app.
F. Mobile Data Traffic Cost: Spotify needs the 3G Internet connection or the WiFi connection to enjoy. According to the recently WhistleOut report, different data traffic will cost for different music quality. For the normal, 40MB will cost for one hour, the high, 70MB and the extreme, 150MB. Thus, be careful to enjoy Spotify with the adequate data traffic.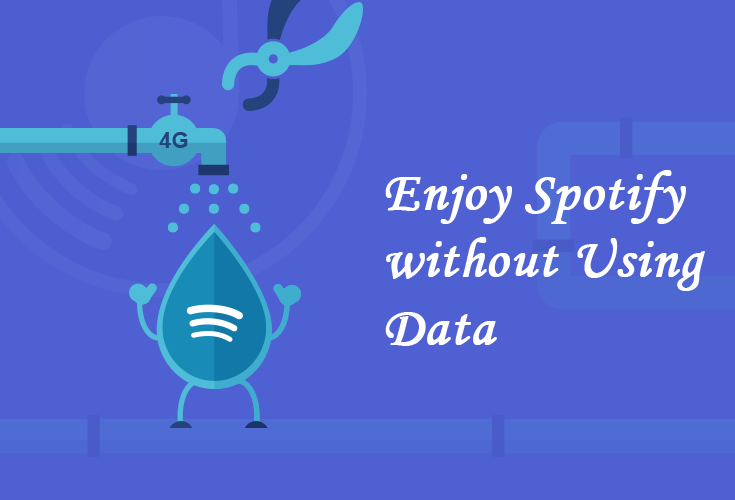 Part 2. Is It Worth Choosing Spotify?
As a matter of fact, there are multiple streaming music services existed and can be easily accessible on the Internet. Thus, a frequently-asked problem for choosing Spotify is coming up. That's, is there any difference in between Spotify and other popular streaming services? Here, we would like to tabulate the essential parts for the difference in between Spotify and other popular streaming services, like Apple Music, Amazon Music, Google Play Music, Pandora and Deezer.
Comparison

Free Trial

Subscription

Music Library

Music Quality

Spotify

30 days

$9.99/mo for Individual, $14.99 for family

40 Million

128kbps for Free,

96kbps/160kbps/320kbps for Premium

3 months

$9.99/mo for Individual, $14.99 for family

50 Million

All the music quality for paid and free user are 256Kbps.

30 days

$99/year or $7.99/mo

2-40 Million

All the music quality for paid and free user are 256Kbps.

30 days

$9.99/mo for Individual, $14.99 for family

40 Million

All the music will be up to 320Kbps for subscribed users.

30 days

Premium: $4.99/mo, $54.89/year

Plus:

$9.99/mo, $109.89/year

40 Million

64kbps for the free and 192kbps subscriber(Web Player), 64Kbps for mobile and 128kbps for in-home devices

30 days

£9.99/$9.99/mo for Individual,

£19.99/$14.99 for HiFi,

£14.99/$14.99 for family.

40+ Million

128kbps for Deezer free and 320kbps MP3 or 1411kbps FLAC/MQA for paid users.
Taking a look at the above table, you are probably still hard to decide what kind of streaming music you can keep using. However, I prefer to share my reasons with you about the merits of Spotify which is worth taking choosing Spotify as your music partner into consideration.
My reason: There are lots of highlighted Spotify features, like the crossfade functions, the recommended music is suited for my taste, the cute icon, and the music library.
Whereas, you can also make up your mind after reading the following enhancing tips for using Spotify.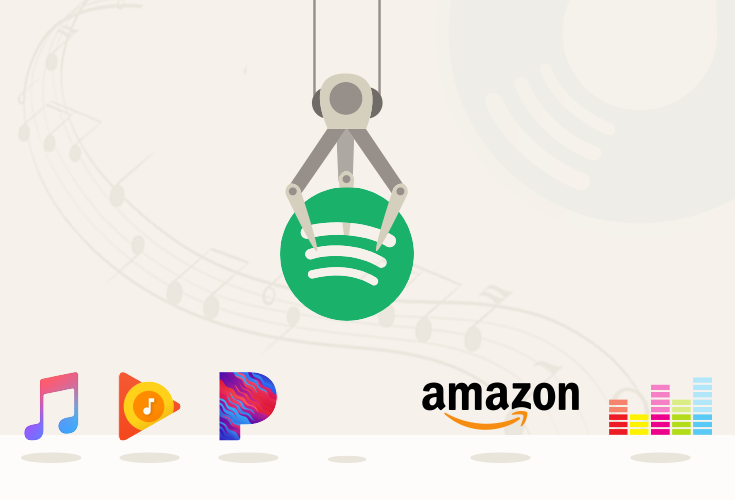 Part 3. 10 Spotify Tips to Enhance Your Spotify Experience
If you have already decided to enjoy Spotify or still don't know whether it is worth choosing Spotify, it is better to get some Spotify-styled tips to enjoy Spotify in an advanced way.
#1 Create the playlists
When you have listened to a certain amount of music on Spotify, it is time for you to make the playlists that you love the most. Click to the "Your Library" > "New Playlists" > Typing the playlists name > "Browse" > Select the Music to New Created Playlist. Then you can enjoy Spotify Music suits your own taste.
#2 Save on your USB Drive
With so many playlists listed on your Spotify Music Player, it is better to save them all to the USB drive. By saving to the USB drive, you can get rid of the loss of Spotify Music playlists and easy to enjoy in a simple way at any time.
#3 Download Spotify Music
Nevertheless transferring with the USB drive, it is required to downloading Spotify Music first. As is known to all, it is easy to get Spotify Music downloaded for Spotify Premium. But it is a really tough task to make Spotify downloaded for Spotify Free users. So there is a new way to enjoy the Downloaded Functions with TuneFab Spotify Music Converter.
TuneFab Spotify Music Converter is not only a Spotify Music Downloader but also Spotify Music Ripper, which you can easy to download Spotify Music to multiple and different kinds of Music file formats, like MP3, FLAC, M4A, WAV which is frequently used on different devices, from Android to iPhone. Spotify users can enjoy Spotify with default conversion speed, reaching up to 5X(Windows). Apart from this, all the metadata will be kept as original. With it, you can not only keep Spotify on the USB drive but also transfer to external hard drive, burn a CD and so on.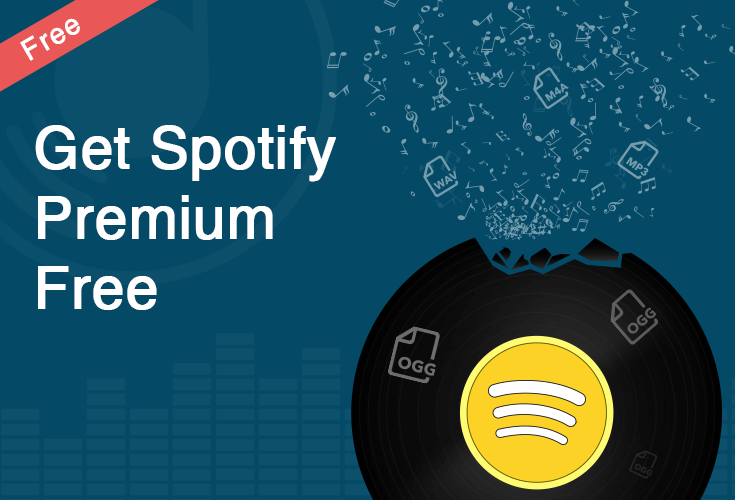 #4 Use Spotify Connect
For enjoying Spotify in an upgraded way, Spotify users can use Spotify Connect to enjoy Spotify at any time on whatever devices. Once you got the Spotify on your iOS devices connected to the same WiFi connection, then you can enjoy Spotify Music on whatever Spotify-compatible devices.
#5 Keep Spotify Music Before Canceling Spotify Premium
For Spotify Premium member, back up the Spotify Music before canceling Spotify Premium will be one of the annoying problems. Because the music downloaded from Spotify is DRM protected, it can't be played on the other devices. But nowadays, users can use some Spotify Music Downloader, like TuneFab Spotify Music Converter to keep all the music before canceling Spotify Premium.
#6 Enjoy Spotify With Crossfade
It is bothersome when enjoying music with the 1-3 minutes gap. So how can enjoy Spotify Music gapless? Spotify knows your needs to enjoy Spotify perfectly, so it provides with the crossfade in 1-12s option. So, you can decide your own way to enjoy the Spotify Music.
#7 Transfer iTunes Playlists to Spotify
If you are the iTunes music lover but just shift to Spotify, transferring the music that you have already listened to from iTunes to Spotify will be easier to get your Spotify list clearly. But it is not so easy to import Apple Music to Spotify, because all the Apple Music is under the DRM protection which is hard to be copied to Spotify. However, with some apple music DRM removal, it is easy to transfer iTunes playlists to Spotify. Get bits of help from the following Apple Music DRM Removal below.
#8 Make a Collaborate Playlists
With the Spotify Collaborative Playlists, it is easy for you to create and share the Spotify Music with your friends. Instead of digging out the music, again and again, making a collaborate playlists will make enjoying Spotify Music easier.
#9 Import Local Playlists to Spotify
Except for the way to export the Spotify Music to manage, Spotify Users can also import the music from their computer to get rid of repeatedly adding music.
#10 Enjoy Spotify with Hotkeys
Tired about clicking the screen then you can start to enjoy Spotify Music? Here, it is time for you to change the traditional way to enjoy Spotify, that is enjoying Spotify Music with Hotkeys. Following we are going to share the hotkeys with you.
| | | |
| --- | --- | --- |
| Hotkeys | Windows | Mac |
| Create New Playlists | Ctrl + N | Command + N |
| Delete | Del | Backspace |
| Deselect items | Ctrl + Shift + A | Command + Shift + A |
| Play/Pause | Space | Space |
| Next Track | Ctrl + Right Arrow | Command + Right Arrow |
| Previous Track | Ctrl + Left Arrow | Command + Left Arrow |
| Volume Up | Ctrl + Up Arrow | Command + Up Arrow |
| Volume Down | Ctrl + Down Arrow | Command + Download Arrow |
| Max Volume | Ctrl + Shift + Up Arrow | Command + Shift + Up Arrow |
| Mute | Ctrl + Shift + Download Arrow | Command + Shift + Download Arrow |
| Activate Search Bar | Ctrl + L | Command + L |
| Browse Back | Alt + Left Arrow | Command + [(Left Bracket) |
| Browse Forward | Alt + Right Arrow | Command + ](Right Bracket) |
| Preferences | Ctrl + P | Command + ,(Comma) |
| Log out | Ctrl + Shift + W | Command + W |
| Quit Spotify | Alt + F4 | Command + Q |
| Hide Spotify Windows | -(Dash) | Command + H |
| Restore Spotify Windows | -(Dash) | Command + Alt + 1 |
| View Albums | Ctrl + G | Command + G |
Up to now, we have already drawn the whole picture of the Spotify with skills and detailed listed above. If you are a Spotify Free user, you can start from here and enjoy Spotify impact in every crucial aspect of your daily life. If you are Spotify Premium user, it doesn't too late to learn this practical usage to enjoy Spotify. Take this user guide for Spotify all the way to your Spotify journey. If you still have the problems of using Spotify, please leave a comment or just let us know with E-mail.
Was this information helpful?
TrustScore 5 | 2