Songs from Apple Music are all protected, making it hard to transfer or edit them. Even though you've found the directory where the Apple Music offline tracks are saved, these tracks are saved in.m4p format (DRM-protected). Most devices and media players won't support the M4P files and they can't be converted to normal formats easily.
If you are looking for some methods to remove DRM from Apple Music so that you can make those tracks available for your legal personal usages, such as importing songs to iMovie for editing, playing music with DJ software, or making ringtone for iPhone or other mobile phones, etc., you're at the right place. This article will show you how to bypass FairPlay DRM with the best Apple Music DRM removal software after which you can play songs in any way you want or on any device with real freedom of choice. Or download it here and get your songs free from DRM now.
CONTENTS
1. About Apple Music DRM Protection - FairPlay
Apple Music has adopted FairPlay as the DRM encryption scheme to restrict you from playing the songs you download from the Apple Music library outside Apple's products and apps.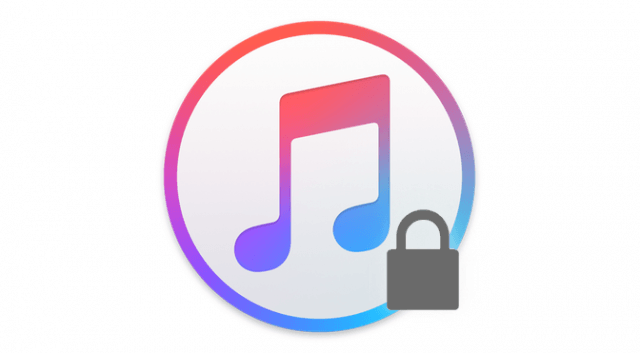 Once you successfully subscribe to Apple Music, which is known as an authorized music streaming service, a valid license key will be tied to your Apple ID. This license key is used to connect your Apple ID with the FairPlay digital rights management (DRM) server for completing the authentication process.
If a device is not tied to a valid licensed key, it won't be able to communicate with Apple's DRM server and thus not entitled to decode DRM protection for music playback. That's why you will find it difficult to put those content on your personal devices, make personal copies/backups or make transformative fair use that involves music.
Can DRM be removed? Perhaps you are tortured by the question and wondering whether or not you can strip DRM from the protected files. Well, in the next part, we will discuss how to do Apple Music DRM removal perfectly.
2. 4 Best Ways to Remove DRM from Apple Music Files
To remove DRM from Apple Music files, you should use a DRM removal tool. But almost all that work efficiently are not freeware, it might take $20 - $40 for purchasing a DRM-stripping program. However, it sounds quite reasonable for what you get because you can enjoy additional service such as professional technical support regarding any problems you may have in the DRM removing process. What's more, you will be able to use the songs without any restrictions.
In case you need help finding an efficient tool, here we recommend the 3 best ways to set your Apple Music free. Take a quick look at who they are.
TuneFab Apple Music Converter - a versatile DRM-stripping software, which is capable of converting DRM-ed Apple Music songs to DRM-free MP3, M4A, or other formats with almost CD quality.
Requiem 4.1 – an old enough DRM removal software, which is confident to remove Apple Music DRM protection without any quality loss.
iTunes Match – a paid service provided by Apple Inc, aiming to help Apple users better manage their music library. It supports to remove DRM protection from purchased music files.
Burning to CD – iTunes lets you burn DRM-protected songs to CD on itself.
Method 1: Rip Apple Music with the Best Apple Music DRM Removal Software
Best for: Removing DRM from all kinds of protected media files including Apple Music tracks, iTunes purchased songs, iTunes audiobooks, Audible audiobooks, music videos, iTunes movies, iTunes TV shows, etc.
TuneFab Apple Music Converter is a handy Apple Music DRM removal tool and iTunes audio converter. It has an iTunes-like user interface and shows you the entire music library by default. One of its killer features - 5X conversion speed - makes it extremely fast to convert a bunch of songs at once without a long waiting time.
It has multiple output formats available, such as MP3, M4A, AAC, FLAC, AC3, AIFF, etc. And it provides a choice of quality settings as well, you can choose High Quality (48,000 Hz, 256 Kbps), Normal Quality ( 44,100 Hz, 192 Kbps), Good Quality ( 44,100 Hz, 256 Kbps), Low Quality ( 44,100 Hz, 128 Kbps) or customize the output quality based on your preferences. What's more, all the ID3 tags and metadata info will be saved automatically after conversion, so that you can manage the DRM-free songs conveniently.
In a word, TuneFab Apple Music Converter is an excellent software that is known for its superb stable conversion performance. You can download the program, exploring more details with the 30-day free trial, and see if it performs exactly as advertised. Keep reading and see how to remove DRM from Apple Music files legally and make the songs playable in any other personal device.
Requirements:
* You have a valid Apple Music subscription (Free trial or Premium)
* You have Windows PC or Mac
* You have installed iTunes on your computer (Windows)
The below instructions will guide you through the DRM removal process.
Step 1. Launch TuneFab Apple Music Converter
After downloading and installing this tool, launch it on your computer.
Step 2. Sign in to Apple Music Web Player
The tool is built-in with the Apple Music web player where you can sign in to it with your Apple ID and see the interface just like the official web player. After you are logged in, you can all your Apple Music library including your playlists.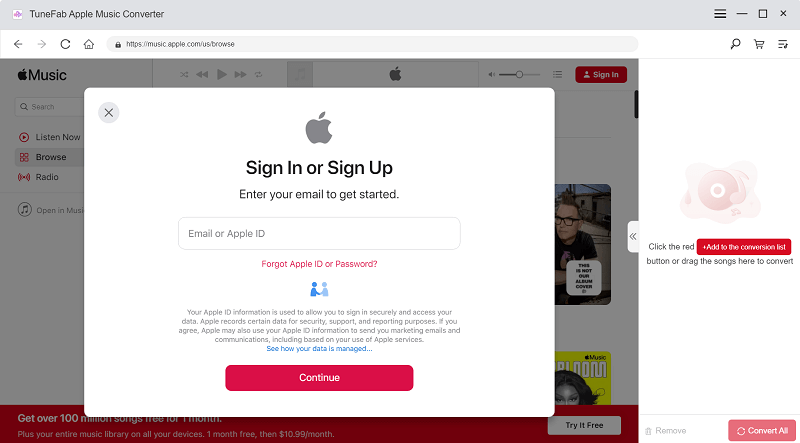 Step 3. Add Songs to Removal DRM
Now you can navigate to the songs that you wish to remove DRM from. Drag it to the plus icon on the right side of the converter. Moreover, it supports removing the protection of multiple songs at the same time. You can directly drag an album or playlist to add all songs to the convert list and hit the convert button to start. Songs will be converted to MP3 by default. If you wish to change it according to the tips below.
Output Format and Profile:
Click on the Output Format dropdown to select MP3 or M4A as your output format.
If the output format is M4A, set the Profile to M4A – Good Quality (44,100 Hz, stereo, 256 Kbps), then you will get the exact same Apple Music sound quality.
If the output format is MP3, set the Profile to MP3 – High Quality (48,000 Hz, stereo, 320 Kbps), the audio quality will also be great as the Good Quality M4A. You won't notice any difference between them, but the higher quality, the larger the size of a file will be generated.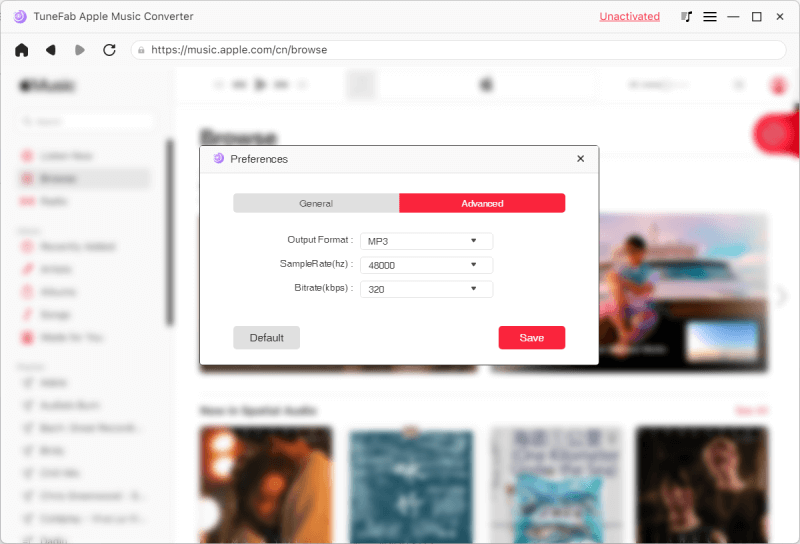 Step 4. Check the Converted Songs
You will see the converting progress in a separate window. When it is finished, click the "View Output File" button and you'll get the personal copies of your music without DRM encryption.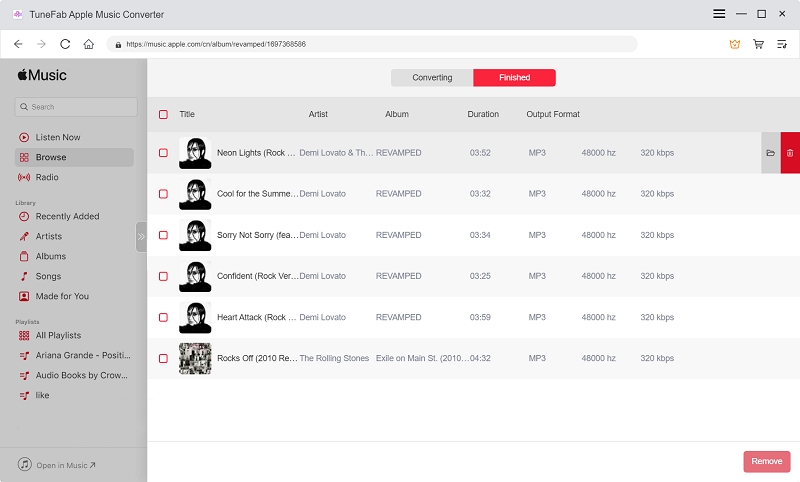 Method 2: How to Remove DRM from Apple Music for Free Using Requiem 4.1
An updated tip from Digiex: iTunes 10.7 doesn't support a popup for the two factor authentication on your apple ID. If you stuck in this process, try logging in. Once you get an error and a text with the 2 factor code, copy it and add it after your password. Then login again.
Requiem 4.1 is an ancient software that hasn't been updated for years, but until now there're still users sharing their up-to-date experience with this tool. The biggest advantage of Requiem is that it can perform lossless DRM removal. It is not decoding and re-encoding the protected file like other programs do but cracking the DRM encryption directly from the original audio files so that no quality will be lost.
A user from Digiex updated his experience on getting Requiem to work on Windows 10 PC in April 2020. If you are interested in using this software, follow his steps and see if it works.
Step 1 Uninstall the following in order to make sure that you can re-install the older iTunes version successfully.
* Existing iTunes
* Apple Software Update
* Apple Mobile Device Support
* Bonjour
* Apple Application Support 32-bit
* Apple Application Support 64-bit
Step 2 Download and install iTunes 10.7 on your computer.
Step 3 Download Requiem 4.1.
Step 4 Find out the local iTunes library folder (c:/Users/~username~/Music/iTunes) and rename it to something else in order for iTunes 10.7 to run properly.
Step 5 Open iTunes 10.7 and download the music that you want to break and delete DRM to store them locally in your new library.
Step 6 Make sure you've authorized your computer in order for the songs to play correctly on iTunes.
Step 7 Close iTunes and then lauch Requiem. This program will automatically find the DRM-protected Apple Music songs in your iTunes library and get rid of DRM from them.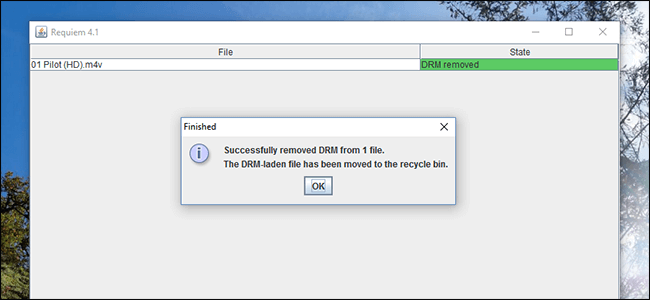 Method 3: Use iTunes Match to Upgrade and Unprotect iTunes Music Purchases
It is true that Apple FairPlay DRM is attached in purchased iTunes Music. A lesser-known fact is that you also can remove DRM from old iTunes music purchases with iTunes Match. And if you've already got an Apple Music membership, iTunes Match is bundled inside of it so you can get all the benefits.
Basically, the iTunes Match service lets you match or upload tracks from your music library to iCloud Music Library. And the matched song will be ungraded without DRM because they are matching the iTunes Store catalog that sells DRM-free tracks. After that, you can download and stream your old iTunes music purchases on another device you own with no DRM applied to the tracks.
If you want to know more about Apple's two different subscription services, this article includes more information. >> Apple Music vs. iTunes Match: Everything You Need to Know
Here's how to remove DRM protection from Apple Music with iTunes Match:
Step 1 Subscribe to iTunes Match.
Step 2 Find your iTunes-protected songs from this app. To check if your songs are protected, you can follow the guide in part 3.
Step 3 Now on iTunes' Music tab, click "Library".
Step 4 Select the songs protected and delete them.
Step 5 Click on the cloud icon to download the unprotected songs back to your device.
Using Requiem 4.1 is complicated and easy to fail as it's not been maintained for a long time. And if you don't need iTunes Match for other use, it's a waste to subscribe to it for DRM removal. Overall, removing Apple Music DRM protection with TuneFab Apple Music Converter is the best and most reasonable way.
Method 4: How to Burn Apple Music to CD for DRM Removal
iTunes allows you to burn Apple Music songs with DRM to CD easily. It's totally free and you don't need to install other plugins or tools. But before you do that, make sure that you are using a CD/DVD that supports AAC format as Apple Music with DRM will be AAC files and an MP3 CD is not compatible with them. Now let's move on to the steps.
Step 1 Launch iTunes and go to the "Music" section, then right-click on the left panel to create a playlist and drag the songs you wish to burn to it.
Step 2 Insert your CD into the hard drive. Then right-click on the playlist on iTunes and select "Burn Playlist to Disc".
Step 3 Select "Audio CD" and hit "Burn".
Tip: DRM-protected songs burned to a CD directly from iTunes will still be with the protection and even though you import them back to your computer, the protection will still be with them. Besides, a playlist containing DRM-protected music can only be burn for 7 times at most. If you wish to burn Apple Music with DRM removal to a CD or you've used up the quota, you should use TuneFab Apple Music Converter to convert them first.
3. How to Check If Songs Are DRM-Protected?
Not all music from Apple has employed DRM technology. Songs provided by iTunes between 2003 and 2009 were once protected by DRM. However, DRM was dropped from the iTunes music library after 2009. Therefore, all tracks you purchased in the iTunes Store should be available DRM-free by now. But if you subscribe to Apple Music, as it is more of a music streaming service, tracks downloaded on the platform are DRM-locking and labeled as Apple Music AAC audio files in M4P format.
Besides, in rare cases, Apple may download a protected version of a song that you own. In other words, in case that you fail to play Apple tracks on your music listening device after transferring the audio files, you may check if an audio file is protected in iTunes or the native Music app on your computer. Here are the steps:
1. Open iTunes on your PC and open the Library. (macOS 10.15 or higher version are supposed to check in the Music app.)
2. From the Songs tab, right-click a track and select Song info > File, and look for the kind field.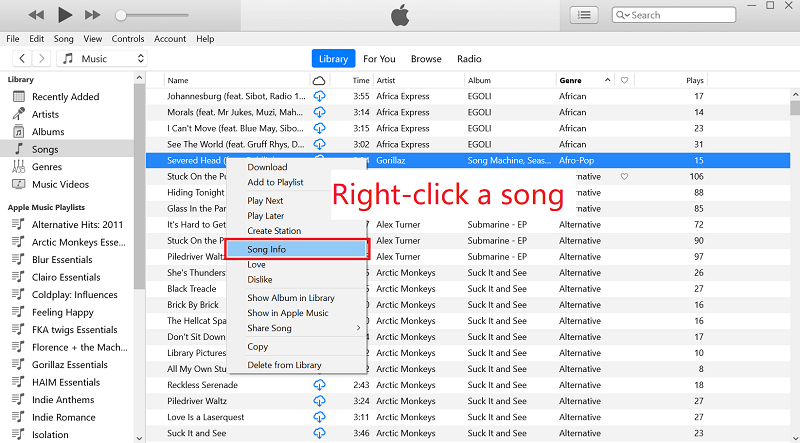 3. If the Kind: includes Apple Music or Protected, you shall not be able to play the music file on any unauthorized device. Then DRM removal becomes a necessary process.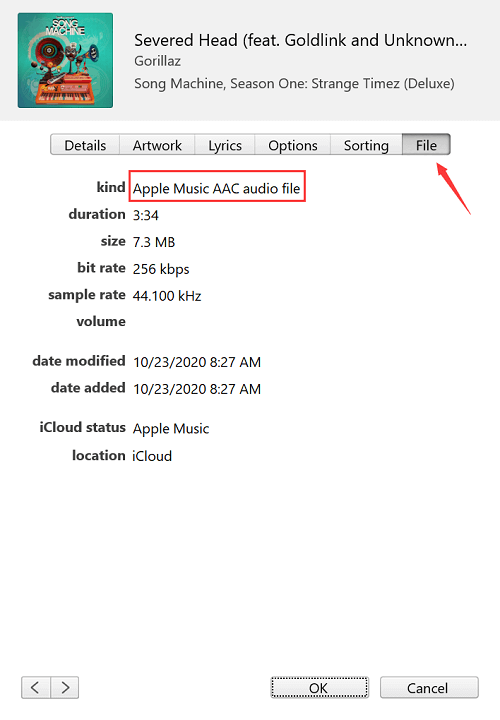 What if the unprotected iTunes music purchases become DRM-encumbered…
Additionally, if you use the iCloud Music Library to download your purchased iTunes songs, this may cause an issue that songs to be overwritten with DRM restriction. To fix this, you need to disable the iCloud Music Library and re-sync your device with iTunes, and retrieve the non-protected version of the file on devices other than your PC.
1. Make sure the non-protected file stored physically in your music library on your PC.
2. Disable iTunes Library in iTunes and on your device.
On computer: iTunes > select Edit on the menu bar > Preferences > General > iCloud Music Library: Uncheck
On iPhone/iPad/iPod Touch: Settings > Music > iCloud Music Library: Turn Off
3. Sync your songs to your device. This will download a new but unprotected version to your device. And after that, you may re-enable iTunes Music Library on iTunes and your portable device.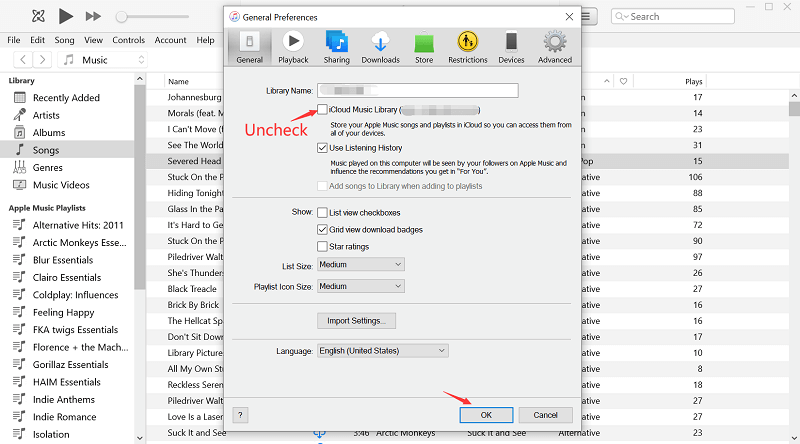 FAQs About Apple Music DRM Removal
Q1. Common Usage Restrictions of Apple Music Without DRM Removal:
* Limits device (or media player) compatibility: Only devices that you've authorized using your iTunes account are granted permission to use the service.
* Limits the number of devices on which you can use Apple Music: You are restricted to use the service on up to ten devices (no more than five computers).
* Restricts use on multiple devices at once: You are restricted to streaming music on only one device at a time.
* Restricts the ability to convert files to other formats: Songs are saved as Apple Music AAC audio files with DRM.
* Restricts usability: You cannot edit or remix the tracks.
* Restricts burning songs to CDs.
* Restricts on keeping the purchased content: Your entire song library will be gone forever if you cancel the paid subscription.
Note: There are still some DRM removal freeware which offer service for free but most of them have not been updated for quite a while. You might probably need to downgrade your computer system or iTunes version to smoothly run the freeware, not to mention other issues you may have when using the software, such as the lack of advanced features, software viruses, and so on. So, it's recommended to use the trustworthy tools listed in the following.
Q2. Is Stripping DRM from Apple Music Legal?
DRM removal is in fact considered illegal in some countries, such as the U.S., Canada, Japan, etc. But there's an exception called Fair Use, which is a concept developed by the Anglo-American law, making it reasonable for the consumers to create a copy of their legally purchased material for personal use.
If you are an Apple Music subscriber, it's legal for you to remove DRM and save the songs to your personal devices for enjoyment, as long as you are not sharing the ripped songs with other people. Under such a situation, it's not likely you will be accused of infringing the content creator's copyright. You are just exercising your full legal rights of fair use.
Therefore, to make the great use of your Apple Music, you need to resort to some professional Apple Music DRM removal tools.
Warning: If you are trying to use an Apple Music DRM remover, make sure that you have an Apple Music subscription first. And never send any of the DRM-free songs you rip from Apple Music to others and keep these songs only for personal, non-commercial use.
5. Conclusion
After a quick browse on how to recognize DRM-ed Apple Music songs and 3 ways to remove DRM protection legally, which method do you prefer to make Apple Music songs DRM-free? If you don't like complicated steps, you should avoid using Requiem because it is less convenient and there's no technical support to help you out if you have any issues with using it.
Compared with Requiem, TuneFab Apple Music Converter is a much more effective option because it provides a quick and easy solution that not only saves a lot of your time and energy but also offers you the best music quality and output format options. You can play the DRM-free songs on any device without limitation!
Was this information helpful?
TrustScore 3.5 | 4