Except for Apple Music, Amazon Music and Spotify are increasingly becoming more popular for people to enjoy high-quality online music streaming services. When you are facing the dilemma to pick a more suitable one for yourself, you would begin to make some comparisons between them.
Amazon Music first launched in 2007 in the US and steadily made its way to Europe, South America, and Japan. Nowadays, Amazon Music is available in 50 territories and has an accumulation of subscribers of more than 55 million.
Spotify officially launched in 2008 in Europe and stepped to the US in the following several years. It is now apparently one of the most popular streaming services in the globe and is available in 178 countries. Moreover, according to the Q2 earnings of this streaming service giant in 2021, it boasts 165 million paying subscribers and 365 million active users a month.
So, when Amazon Music competes with Spotify, which one would be better?
CONTENTS
1. Price Plan
Amazon Music offers 4 types of subscription plans including Amazon Music Free (ad-supported), Amazon Music Prime, Unlimited, Unlimited Family and Single Device. If you are a member of Amazon Prime, you're able to access 2 million songs with no ads. But this free option doesn't let you listen to specific songs on-demand. To access the entire music catalog, you will have to subscribe to Amazon Music Unlimited.
Spotify offers 4 subscription plans consisting of Free, Premium, Premium Duo, Premium Family and Premium Student. During the one-month free trial, you're allowed to access the entire music catalog without ads. However, you can only skip 6 songs per hour.
Below you can get a flip through the price plan comparison between Amazon Music and Spotify. See how much does Amazon Music cost as well as Spotify.
 
Amazon Music
Spotify
Free Trial
Free for 30 days; can't play songs on-demand
Free for 1 month; access to the entire 70-million music catalog
Duo Plan
/
$12.99 for 2 premium accounts
Student Price
$4.99/mo
$4.99/mo
Individual Price
Starts at $7.99/mo for new subscribers only;
$9.99/mo for individual
$9.99/mo
Family Plan
$14.99/mo,
Unlimited access to up for 6 people
$15.99/mo, 6 Premium accounts for family members; A Family Mix playlist for your family
2. Music Catalog
As mentioned before, Spotify owns about 70 million songs while Amazon Music has over 75 million songs. It seems Amazon Music is slightly better than Spotify in this section. However, there is an uncontroversial fact that Spotify adds more than 60,000 new songs every day which makes your ears even don't know what to do with.
And please remember that in the free version of Amazon Music, you can only access 2 million ad-supported songs. While in the free trial of Spotify, you are able to access the entire 70 million music catalog.
Another difference between the music catalog of Apple Music and Amazon Music is that Amazon Music provides you access to purchase albums from the digital store. On the other hand, Apple Music has also taken steps to save the private collections for their stores only, such as the albums of Taylor Swift, Frank Ocean, and rap duo PNL, which can result in a hike in the number of subscribers as well.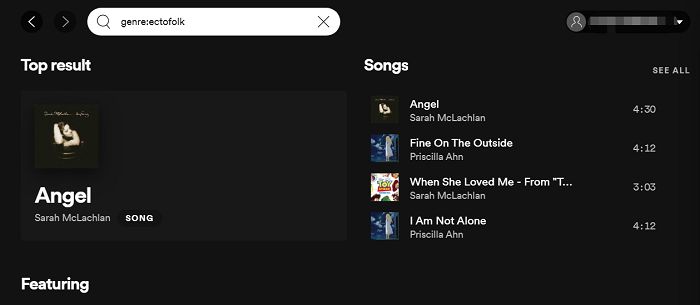 In addition, mood playlists of different mood categories are one of the hottest features of Spotify. For example, playlists with "joyful" in the title increased by 100 percent over the last year, and over one million "joyful" playlists have been created to date. Furthermore, I also recently fall in love with the functional music it recommended among which the Sleep genre is of great help for there's been such a visible boom in white noise, ocean sounds, etc.
On the contrary, Amazon Music is likely to be plain in music discovery and even some users complained that they couldn't pick a favorite one out of 10 songs.
3. Music Quality
Amazon Music has improved a lot in terms of music quality, with all tracks being played in CD quality. Therefore, all Amazon Music Unlimited subscribers could benefit from this audio upgrade. Amazon Music HD offers lossless audio in two quality ranges: HD and Ultra HD, which enables music fans to stream HD (850 Kbps) and Ultra HD (3,730 Kbps) audio. By contrast, most standard streaming services currently offer standard definition (SD) bitrates of up to 320kbps.
This outstanding music quality upgrade will be noticeable for some users. However, to make full use of this sound performance increase, you're recommended to equip with higher-end speakers or headphones.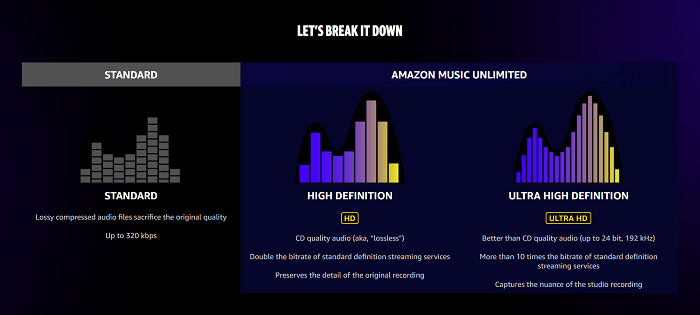 Spotify audio quality remains highly uncompetitive comparing with Amazon Music because it doesn't even offer any CD-quality plan. Although in February 2021 it was said to be releasing Spotify Hi-Fi by the end of 2021 or the beginning of 2022, now Spotify fans are still waiting.
4. Social Features
One of the reasons why Spotify keeps strong customer stickiness should attribute to the social features it crafts. Through the desktop program, you can easily find out what your friends are listening via "Friend Activity" panel. And if you click on their profiles, you could also review the recently played playlists or artists. This is definitely one of the easiest ways to get rid of the usual taste of your past and find something new, provided that you trust the music tastes your friends have.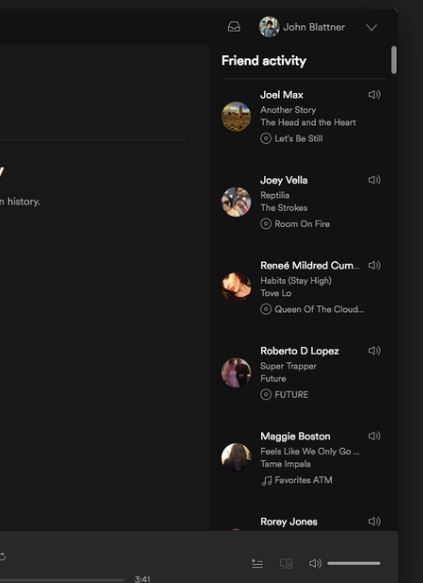 Source: Spotify Community
Amazon Music hasn't launched any social service among users. It does offer a way to share the link of the song you're hearing via messages, but it is not available to directly see the playlists that your friends are listening to.
5. Compatibility
Spotify Music is also known for its wide compatibility across multiple devices. That means you will never get into trouble when it comes to the type of device you are going to use to access your favorite Spotify songs. It now has created versions for Windows, iPhone, Android, iOS, Linux, MeeGo, Open Pandora, OS X, Roku, Sonos, Playstation 3 and 4, etc. Spotify also makes users be able to connect the program with some entertainment systems such as cars, smartwatches, speakers, receivers, TVs, etc. In other words, you can literally stream any music you like on any device.
Amazon Music Unlimited is available on macOS, IOS, Windows, Android, FireOS, Alexa, and some automobiles as well as TVs. You can also access it through its web player and some in-car entertainment system like BMW and Mini. The most sparkling feature might be that it's compatible with Amazon Echo. In addition, at the end of 2017, it updated the multi-room music feature which allows you to play music from multi speakers in your house. That really makes sense when you have a big party in your house and wish to synchronize all your music devices.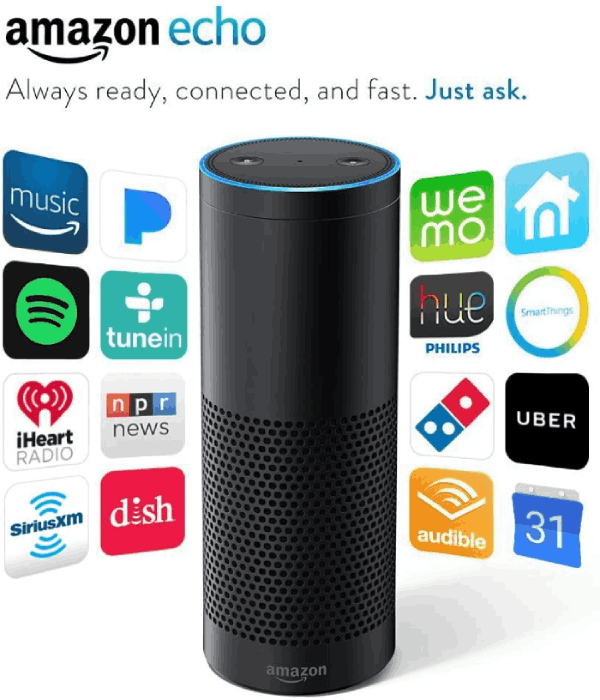 6. Exclusive Features
Amazon Music and Spotify Music both provide many similar features. For example, the catalog of songs available for listening has barely changed, and any exclusive songs are almost negligible. However, some key differences may result in how users view their services.
For Amazon Music Unlimited, the built-inAlexa Voice Assistant on the mobile app could help achieve hands-free command to control all Amazon music. Meanwhile, it is highly praised for the X-Ray lyrics feature which enables fans to follow the time-syn scrolling lyrics to enjoy a karaoke-like experience. What's more, there is still a noticeable stunt that when you buy a CD or vinyl record from Amazon Music, you will also get the MP3 version and sync it to your Amazon account.
Spotify does provide the Hey Spotify feature that allows users to search artists and songs via their voice, but it is not powerful enough compared to Alexa. However, some users may keep in mind that the recommendation algorithm it owns is still impressive and unforgettable. Moreover, in the Family plan, family members could join the Family Mix to regularly update and share their listening history. It also supports members to leave this feature through "settings" anytime.
7. Verdict: Is Spotify Better than Amazon Music?
After comparing these two music streaming services, which one would be your pick? Honestly speaking, it would be an easy question of whether you should choose Spotify or Amazon Music a few years ago. Now it becomes a challenge. If you're a Prime subscriber, you can easily choose Amazon Music based on cost performance. Also, when you find yourself having a higher requirement for music quality, Amazon Music will be your best choice too.
On the other side, if you prefer a more professional music streaming platform that would provide better music recommendations, Spotify is undoubtedly an expert here. In the meanwhile, it allows you to access the entire 70-million music catalog during its free trial which is good news before you make your decision to subscribe. For some music fans who love to share music with friends, Spotify is of course the best tool.
Was this information helpful?
TrustScore 3.7 | 21