"I can't decide between Spotify and Deezer. I'm currently a Deezer subscriber and happy with it but I'm thinking about moving to Spotify because it seems more popular than Deezer. For some features of Spotify are unavailable on Deezer and vice versa."
The question above is asked by a headache Spotify Users on Spotify Community puzzling the users who both use Spotify and Deezer for enjoying music. As the popular streaming music apps, Spotify and Deezer have its own splendid musical shining points. Knowing the trouble you faced with, we have done a detailed research on Spotify VS Deezer and share what we gained with the following post. We hope this overall comparison will help you make the right decision on Spotify VS Deezer. Come and learn about it now!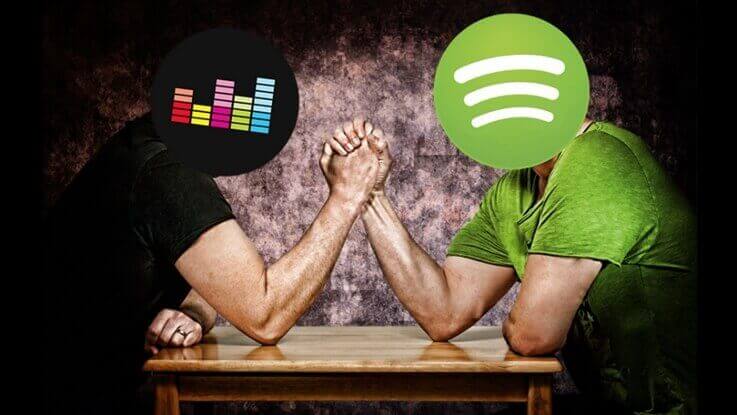 CONTENTS
Part 1. Comparison of the Basic Services on Spotify & Deezer
In order to help you better master the differences and similarities on between Spotify and Deezer, we have divided into several points for you. You can learn it one by one.
Point 1. Music Library and Available Country
There is a huge difference between Spotify and Deezer when it comes to Music Library and country.
Spotify: Provide with over 40 million tracks from its music library and available among 58 countries
Deezer: Over 43 million tracks playable on more than 180 countries.
Winner: Deezer. Deezer covers more countries than Spotify offers. Besides, its music library is a little more than that of Spotify. Thus, if you are Spotify fans, please check your country are listed in the available countries of Spotify.
Point 2. Music Quality on Both Free Users and Paid Users
Both Spotify and Deezer are provided with different music quality, which is the basic requirement of listening to music. Let's see what difference when Spotify vs Deezer.
Spotify: Free Users can enjoy 128kbps music quality, however, if you are the paid subscriber, you can enjoy reach up to 320kbps OGG Vorbis music quality.
Deezer: Free Users can enjoy 128kbps music quality, however, if you are the paid users, you can choose the music quality of 320kbps MP3 or 1411kbps FLAC/MQA.
Winner: Spotify. Although Deezer allows users to enjoy the commonly-used file format for the same quality as Spotify provided, the Free Version of Deezer provides a lower audio quality like the free version of Spotify.
Recommend Reading: How to enjoy high-quality music with Spotify Free Membership
Point 3. Ads When Listening to Music
Both Spotify and Deezer contains the Ads-supported streaming service and the same ads-free service with subscribe as the premium member. However, there is the way to enjoy ads-free when listening to Spotify Music provided below.
Users Guide: Enjoy Spotify with Ad-Free For Spotify Free Member
Winner: Spotify. Although Spotify is Ads-on music service, you can still enjoy Ad-free music with the help of the third-party software, named TuneFab Spotify Music Converter without subscribed as a premium member.
What is TuneFab Spotify Music Converter? TuneFab Spotify Music Converter is not only a Spotify DRM Removal but also a Spotify Ads Blocker with the aim of downloading and keeping Spotify music under 5X conversion speed(Windows Only) as MP3, M4A, and more file formats.
Point 4. Plans and Payments
To decide which streaming music apps you can have a try, it is better to get to know about the plans and payment for it matters your hard-earned money.
Spotify: Spotify has 3 kinds of plans together with different payments: for the individual required £9.99/$9.99/month, family £14.99/$14.99/month, student £4.99/$4.99/month. You can choose the suitable plan in accord with your needs.
Deezer: Deezer offer more plans to satisfy different people need for different payments: for the individual required £9.99/$9.99/month, HiFi (16-bit/44.1kHz) £19.99/$14.99, family £14.99/$14.99, student £4.99.
Winner: Deezer. It seems like Deezer want to grab the public attention by providing high music quality. However, you might have known that Spotify is going to provide the same service as Deezer. So based on this factors, they will be in equal position when it comes to this point.
Related Reading: Spotify Lossless Playback Test: Do You Want to Try It?
Point 5. Support Devices
After learning about the music library, quality, ads and plans and payments, it is better to gain the difference between Spotify and Deezer.
Spotify: Android and iOS devices, computers, games consoles, speakers, TVs, cars, wearables, tablet, AV receiver, theater system, streaming media players, tabletop radio, and other devices.
Deezer: PC/Mac, mobile & smartwatch, tablet, games consoles, speakers, TV, sounds system, cars, Blackberry and Windows mobile.
Winner: Spotify. Seems like Spotify are available on more devices when compared with Deezer, like Wearables.
Point 6: Platforms
There is still a little difference on between Spotify and Deezer. If you want to play Spotify or Deezer on platforms, it is better to check this point.
Spotify: Email, text message, Facebook, and Twitter.
Deezer: Airdrop, Facebook, and Twitter.
Winner: Spotify. It is better to share music with email your favorite Spotify music with your friends and even in the text message.
Point 7: Interface
Check the following 2 pictures of Spotify and Deezer, you can have a clear mind of both of Spotify and Deezer.
Spotify: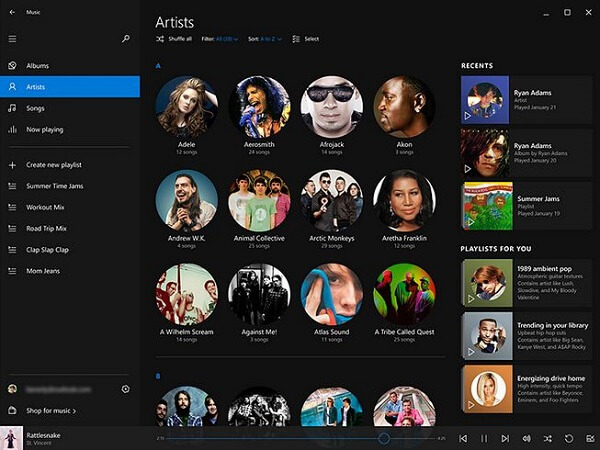 Deezer: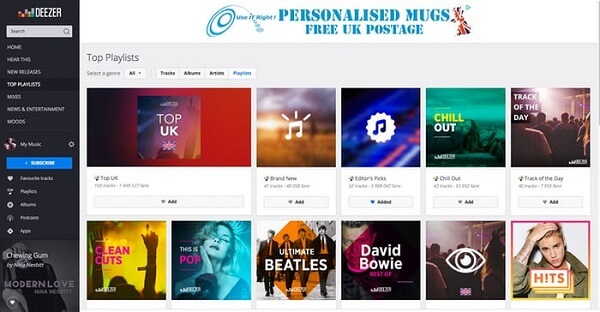 Winner: Spotify. It is because all the playlists of Spotify are in a rounded shape which is more relevant to the music disc and is artistic.
Short Summary: When compared with Spotify and Deezer with these 7 points, you may be still confused to make a decision of choosing Spotify or Deezer. However, after reading the next part of downloaded functions and differentiating features of Spotify and Deezer, you can make up your mind.
Part 2. Advanced Comparison of Functions and Features of Spotify and Deezer
Point 1: Offline Listening Mode
Both of Spotify and Deezer has consisted of the Offline Downloading mode. However, something needs to be paid attention to is that all the downloaded files are cache files. In other words, the downloaded files from Spotify and Deezer are failed to transfer from one device to others. With the help of TuneFab Spotify Music Converter, you can enjoy Spotify Music downloading features without devices limitations.
Enjoy! Quick Ways to Listen to Spotify Offline for Free
Winner: Spotify. Since Spotify has the larger Spotify membership than Deezer', it is better for those Spotify Free users to download Music and enjoy it on more devices.
Point 2. Differentiating Features
There are some features of Spotify which Deezer not. And there are some features of Deezer which Spotify not. Thus, it is better to know these differentiating features of Spotify and Deezer.
Spotify Differentiating Features:
#1 Spotify Connect: Spotify connect allows users to enjoy Spotify Music to the Spotify-supported devices. However, these features are available for the Spotify Premium member.
#2 Spotify Radio: Spotify allows to enjoy Spotify music suit for their own taste with Spotify Radio. Moreover, it is available to create your own Spotify radio to meet your need.
#3 Spotify Crossfade Tracks: It is dissatisfactory to hear the interval times when enjoying Spotify Music. So Spotify offers the crossfade functions to make your Spotify Music enjoyment enjoyable.
#4 Daily Mix: Spotify always knowing your needs on playing Spotify Music so they provide the unique feature named Daily Mix and you can decide the music of your own wish.
#5 Release Radar: These features are the playlists released every Friday. It provides the music you listening, the following artists and discoveries.
#6 Friend Feed: Wanna to know what your friends listening to? The Friend Feed is here for you to check through your friends' activities and then you can enjoy the music from your friends' playlists or listening activities.
#7 Artist profiles: What to get the first-hand music and every releases and information of your favorite artists.
Deezer Differentiating Features:
#1 Flow playlist: It is the feature that mixes your personal music together with the fresh recommendation, making your music experience flexible.
#2 karaoke-style' lyrics: Wanna to singing at your home with the music apps you are listened to? Deezer offers the Karaoke lyrics for you to sing to whatever music playlists.
#3 Playlists classification: All your music playlists are divided into Playlists Picks, Popular, and Top tracks so that it makes your music playlists in order.
Winner: Spotify. Checking with all the differentiating features of both Spotify and Deezer, it is so easy to find out that Spotify is the best one for the advanced enjoyment of Spotify.
After learning this overall comparison, have you decided which music apps you will enjoy when Deezer vs Spotify?
Was this information helpful?
TrustScore 2.7 | 7