Listening to Spotify music is effortless except when you want to extract music from Spotify. Even you are a subscriber of Spotify Premium, you can just download the Spotify songs but not rip the music from Spotify, let alone the free users. This is because Spotify has encrypted its music in the protected OGG Vorbis format, making downloading music from Spotify come to a dead end. So today, we will teach you how to rip Spotify song, playlist or album to MP3 audio by rounding up the best 3 Spotify ripper software, ranging from devices to desktop, including iPhone and Android devices.
Notice: Here's the best desktop Spotify ripper, just download and begin ripping music from Spotify!
CONTENTS
What can Spotify Ripper do for you?
Spotify Ripper, apparently, is a music ripper specially designed for making it possible to extract the music from the Spotify server and recoding the music as the lossy compressed. Or you can use the lossless Spotify downloader like TuneFab Spotify Ripper to rip music to uncompressed audio formats like MP3, M4A with ID3 tags and more by recoding Spotify technology. After ripping Spotify songs, you can put the music to an MP3 player or play it on whatever devices with the audio file.
Spotify Ripper Free Trial:
Best Picks: TuneFab Spotify Ripper (Windows & Mac)
TuneFab Spotify Music Converter is a professional Spotify music ripper to rip the songs, tracks, albums, playlists from Spotify to frequently-used audio formats such as MP3, M4A with the 320 kbps high quality. There are lots of main features available for both Spotify Free and Spotify Premium users.
NOTE: TuneFab Spotify Music Converter has launched the latest V3.0.0, with the Spotify web player embedded inside the software. Users are not required to install the Spotify app for connection. Simply by opening a Spotify playlist in the web player and TuneFab Spotify Music Converter will automatically analyze it for you.
Main Features of TuneFab Spotify Ripper
#1 Support to rip: Spotify tracks, songs, playlists, albums.
#2 Various audio formats are available to select: MP3, M4A, FLAC, WAV(Windows).
#3 Allow choosing the streaming quality and the highest streaming quality is 320kbps with 48000hz.
#4 Default 5X speedy music conversion speed (Windows Only).
#5 Keep original audio quality with ID3 tags preserved.
#6 Fully compatible with a computer running with Windows 11/10/8/7 and macOS 10.11 to 12.
Related Reading: TuneFab Spotify Music Converter Review: Is It Good & Safe?
Download TuneFab Spotify Converter Here
Video Tutorial: Spotify Ripper - Rip Spotify Music to MP3
The following guide will take Windows as an example. Don't worry but just keep reading if you are a macOS user since the whole operation is the same.
Step 1. Run TuneFab Spotify Ripper
- Install the TuneFab Spotify Ripper on your Windows or Mac computer. After the installation, run it on your computer.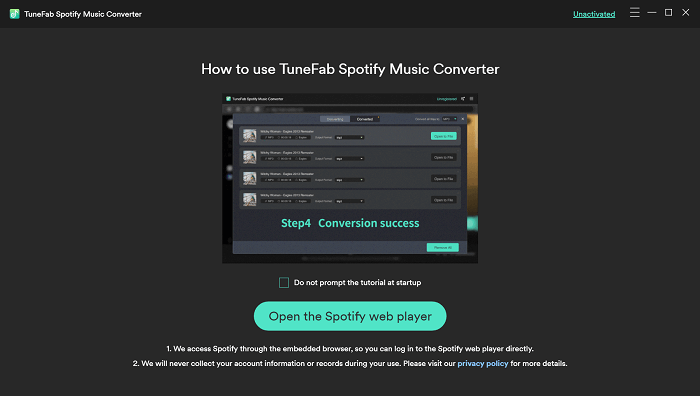 -After clicking on the "Open the Spotify web player" button, enter the web player and login with your Spotify account.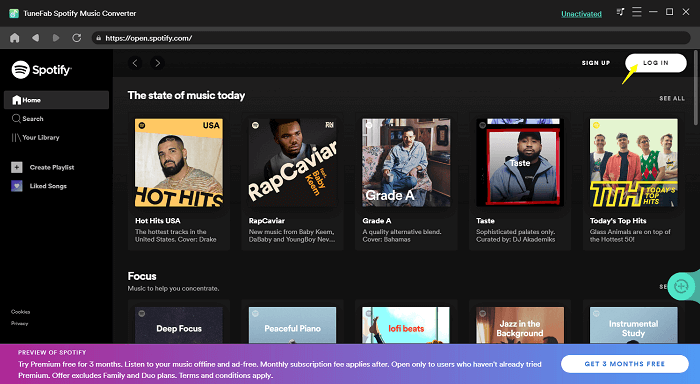 Step 2. Choose Output Folder and Output Format (Optional)
- TuneFab Spotify Music Converter allows you to set the output folder according to your need. To select the output folder, you need to click on the hamburger menu on the upper right order on this program, select " Preferences" from the options, then go to the "General" tab.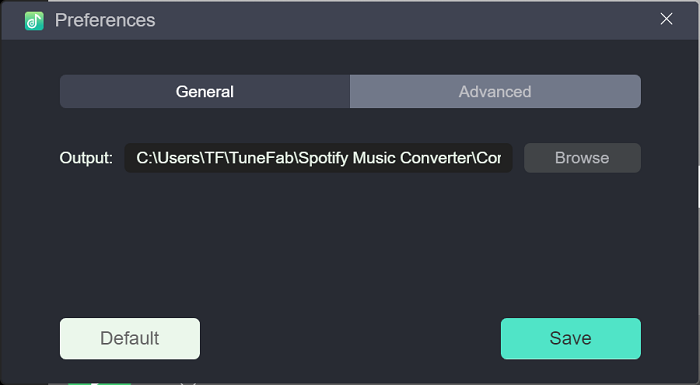 - Apart from the output folder settings, you can move to "Advanced" to select the output format with streaming quality. The recommended audio format is MP3/M4A with 320kbps bitrate and 44100 Hz sample rate.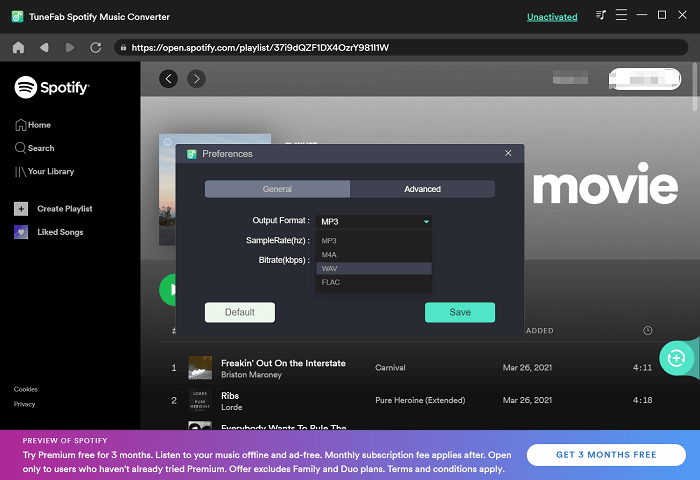 Step 3. Analyze Spotify Playlist
-On the newly released version, you only need to open a Spotify playlist, and TuneFab Spotify Music Converter will directly read the whole playlist and analyzes it for you. When the pop-up window lists all the songs on the playlist, select those singles you need to convert.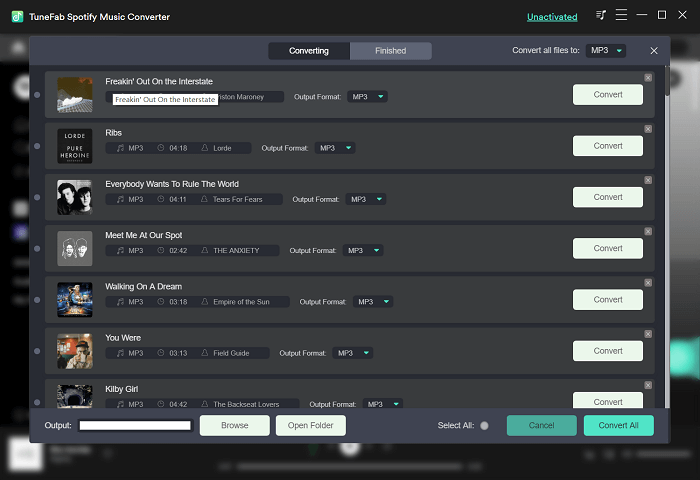 Step 4. Rip Spotify Music to MP3
- Hit "Convert All" or "Convert X Items" to rip Spotify Music. And just wait a few minutes and then you can get the ripped Spotify songs from the destined location path.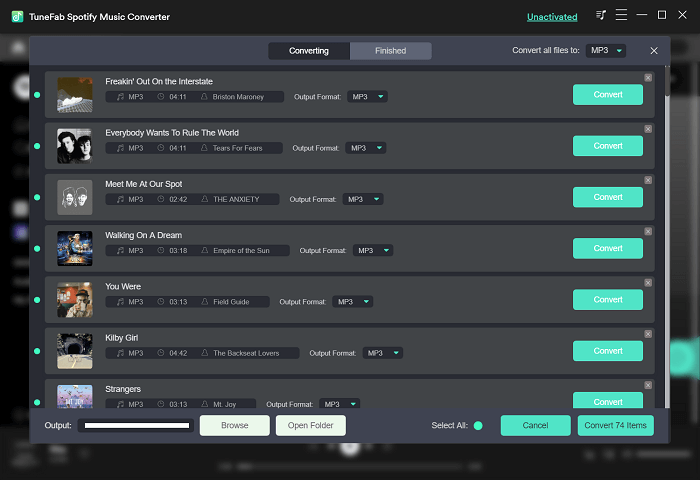 Note
#1. Try not to use or turn off the computer during the conversion, which will affect the conversion result. Try not to use Spotify to play music during the conversion neither.
#2. This program can link and sync the playlist from the Spotify app on your computer or your phone. To Avoid failure in ripping, select "This Web Browser". And don't switch the playing device during the conversion.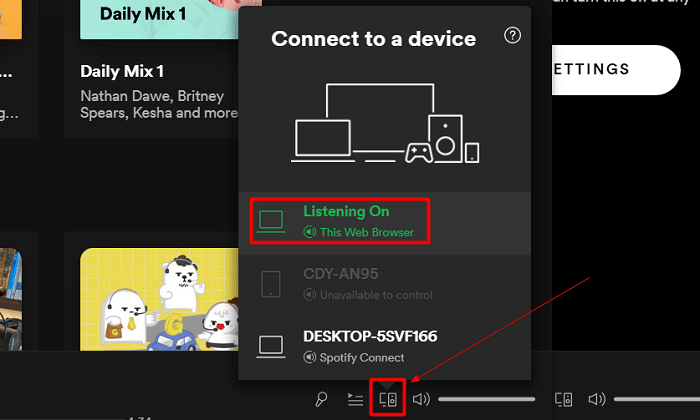 Pros and Cons of Ripping Spotify Music with TuneFab Spotify Ripper
Pros:
#1 Rip batches Spotify songs to MP3 and more output format at a time with a user-friendly main interface.
#2 Various formats are available, perfectly meeting your needs to enjoy Spotify on any device.
#3 Offer quick after-sale E-mail customer service when you unexpectedly run into some troubles.
#4 Offers nearly lossless Spotify music audios and users can rip Spotify music to 320kbps.
Cons:
#1 Can't listen to the music on Spotify while converting songs.
Recommended: 4.7 Points
Spotify Music Ripper for Android Users: Fildo
Fildo is a streaming music app with built-in downloading features, which allows you to rip the music from Spotify tracks on your Android devices by importing the Spotify playlists to Fildo. All the music will be ripped as an MP3 format. Let's see how it works on ripping Spotify on your Android.
Step 1. Install Fildo on Your Android Devices
- Get Fildo from the Fildo official website. Since it is not available on Play Store, make sure to download and install the version between the banners. Once it is successfully installed, run it on your devices.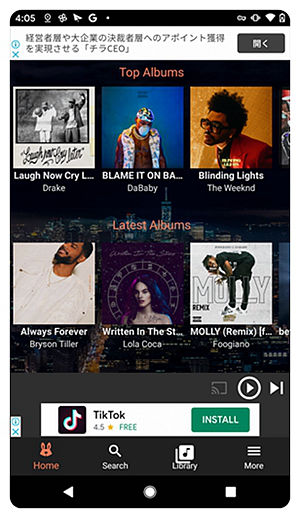 Step 2. Import Spotify Playlists to Fildo
- Create an account to process the following progress and then hit the "More" tab to choose "IMPORT SPOTIFY". Afterward, log in to your Spotify Free or Premium account. When your Spotify account is successfully login, all the Spotify playlists from your library will appear.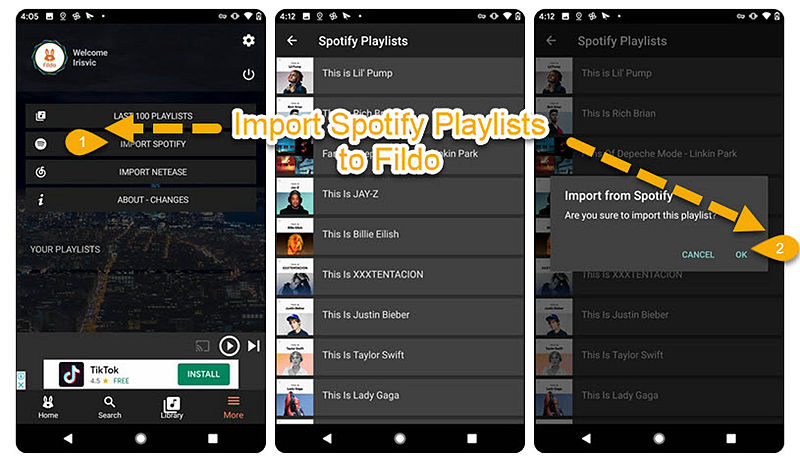 Step 3. Rip Your Spotify Songs on Android Devices
- Choose the playlist that you want to stream offline and then hit the "Three-dot" Botton and tap the "Download" button to rip Spotify songs on your Android devices. Just waiting for a while, you can get the mp3 files on your Android local file folder.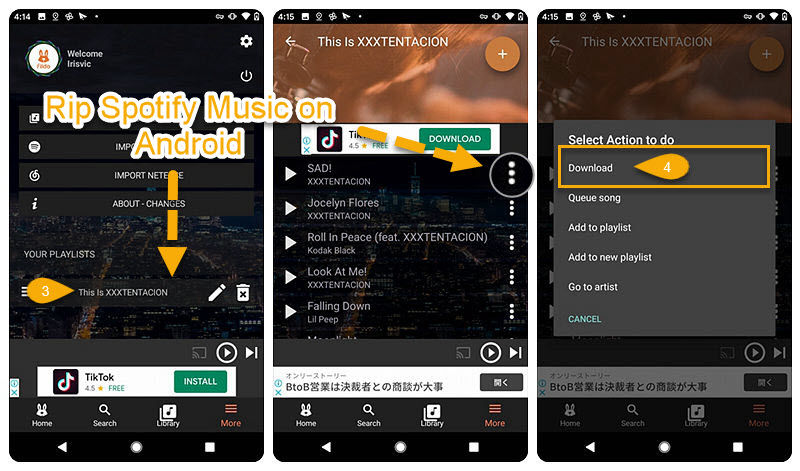 Pros and Cons of Ripping Spotify Music with Fildo
Pros:
#1 Support all the Spotify content, like Spotify tracks, playlists, Spotify podcasts and more.
#2 You can rip Spotify songs to MP3 with 320Kbps sound quality and ID3 tags kept on your Android devices.
#3 When the music is repeatedly ripped, then the tool will skip and proceed to play it on the apps instead.
#4 No need to install the Spotify app for ripping Spotify music.
Cons:
#1 Some songs if not available in your country will be failed to import.
#2 No more other audio formats are available to select.
#3 It requires to rip songs from Spotify by taping one by one.
#4 There is a danger of privacy leakage and it has been once recognized as the Android apps you should not install.
Recommended: 4 Points
Shortcuts: Rip Spotify on iOS Devices
Is there any way that iOS users can rip Spotify music on their iPhones since Android users can rip Spotify Music with Fildo? The answer is positive if you are holding an iPhone running with iOS 12. With the iOS 12 released, Apple allows the developer to write a script to get quick actions across the app on your iPhone, for example, rip the Spotify music on your iOS devices with one tab, by some specific algorithms. And Spotifydl shortcuts are such a Spotify music ripper for iOS users. Follow the steps to rip your favorite music from Spotify!
Step 1. Install the Spotifydl Shortcuts on Your iPhone
- Get Spotifydl on your iPhone and then you will see the Spotifydl on your Shortcuts the main interface.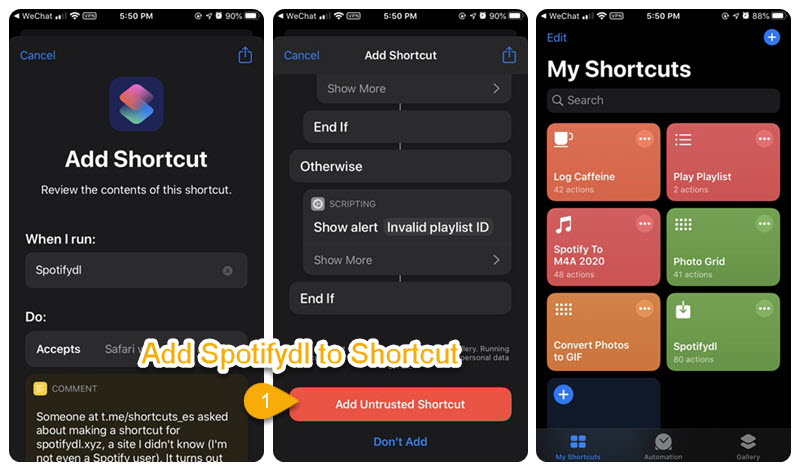 Step 2. Copy the Spotify Link from Spotify to Shortcuts to Rip Music
- Back to the Spotify app to copy the URL of Spotify playlists. Then back to Shortcuts, tap the Spotifydl and the windows of "URL of Spotify Playlist?" will pop up. Paste the Spotify playlists on Windows and then you will see the songs on your playlist. Select the music that you want to rip, and hit "OK" to download Spotify music.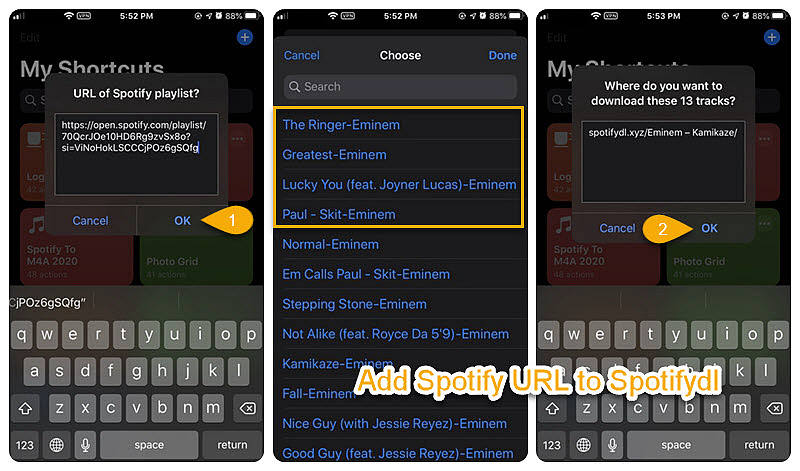 Step 3. Open the File Folder Under Shortcuts
- When the music is successfully ripped, you can go to the "Files" > "iCloud Drive" > "Shortcuts" to open the file folder named "spotifydl.xyz" where you can find out the downloaded mp3 files.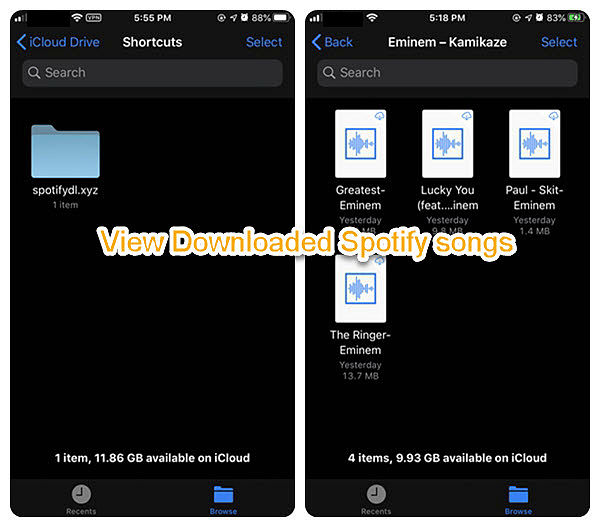 Pros and Cons of Ripping Spotify Music with Shortcuts
Pros:
#1 Support rip Spotify to MP3 on iOS devices with 320kbps high quality.
#2 Easy to use no matter you are a newbie or veteran.
Cons:
#1 Simply rip a few songs.
#2 No other music formats are available.
#3 Required to install the Spotify app.
#4 Fail to rip the album from Spotify.
#5 Unable to preserve the ID3 tags and metadata.
Recommended: 3.5 Points
A Tip You Really Shouldn't Miss
It's easy to extract songs from Spotify on your computer or your handset. But you know what, Spotify is strict with the management of some apps like the ones introduced in the post, which might get them unavailable after a period of time. The best way to download Spotify songs onto your iPhone/Android or tablet is to transfer them after you rip them on your computer.
Here is a simple guide for you:
1. Download and install FonePaw DoTrans on your computer.
2. Connect your device with a USB cable.
3. Click "Trust" when you see the conversation asking you "Trust This Computer".
4. Go to the "Music" page by clicking on the left pane.
5. Move to the target folder where you wish to keep the Spotify songs.
6. Hit the plus sign on the right pane and add your songs.
FAQs for Getting Most Out of Spotify
How to make your own playlist
On the mobile app, go to Your Library > Playlists > tap on the giant green Create Playlist tab.
After creating a new playlist, the Spotify app will analyze your playlist name to give you song recommendations. As you add songs to the playlist, the app will change the recommendations in real-time to give you more tailored suggestions.
How to create collaborative playlists with your friends
You can also make playlists collaborative so you and your friends can all add songs to them.
Right-click on the playlist you want to invite your friends to join or go into the options of that playlist first and choose the Collaborative Playlist option to make it collaborative. Then, open the options menu again and tap Share to share the playlist with anyone you'd like. Once a playlist is dubbed collaborative, any of your friends with access to that playlist can add or delete tracks, but remember he/she had to save the playlist to his/her own library first.
How to recover accidentally deleted playlists
Did you ever accidentally hit "delete" on your playlists, even if the pop-up window had asked if you really wanted to do that? Well, fortunately for you, Spotify allows you to restore your accidentally deleted playlists. All you need to do is log in to your profile page on Spotify's website, click "Recover Playlists" on the left, where you'll find deleted playlists, and then click "Restore" to get them back.
Conclusion
Up til now, you have learned three ways to rip Spotify music to MP3 with high audio quality (up to 320kbps). You can pick up the preferred one according to your needs of ripping Spotify music.
From my point of view, TuneFab Spotify Music Converter is the best Spotify ripper that can fundamentally decrypt the DRM on Spotify songs then convert them to MP3 format without quality loss. You can now play Spotify songs on multiple devices like your Android, iPhone more easily, with no add interruption and no DRM restriction. Download the trial version to rip music from Spotify for free!
Was this information helpful?
TrustScore 1 | 1