What bitrate does Spotify stream at? This might be the first question that you may take a deep consideration before choosing Spotify music as your music streaming service. Generally speaking, you may know that 320kbps is the highest streaming bitrate that you can get from Spotify, but you may be unclear on how you can get it. Don't worry, here is the full introduction for you.
In this post, we will share you with the details of the bitrate of Spotify Free and Premium and the full tutorial to adjust Spotify bitrate to enjoy the lossless audio streaming service. Apart from this, you will also get a guide on how to download Spotify music to MP3 with the highest 320kbps quality. Just follow the post to make your high-quality music playback possible.
Contents
Part 1. What Bitrate Does Spotify Stream at?
Spotify offers automatic, low, normal, high, and very high quality with different bitrates for different users by formatting the music in OGG Vorbis format. The bitrate that Spotify uses depends on the subscription plan and the device you are using. Following is the full table about all the bitrates that Spotify streams at.
Spotify Free
Spotify Premium
Web player
AAC 128kbit/s
AAC 256kbit/s
Desktop, mobile, and tablet
Automatic: Depend on the network connection
Low: 24kbit/s
Normal: 96kbit/s
High: 160kbit/s
Automatic: Depend on your network connection
Low: 24kbit/s
Normal: 96kbit/s
High: 160kbit/s
Very high: 320kbit/s
According to the table above, the highest bitrate for Spotify Free users is 160kbps while the highest for premium users is 320kbps. After learning about the Spotify bitrate, you can set about setting the Spotify bitrates to enjoy the high quality of Spotify. Keep reading.
Part 2. How to Stream Spotify at a Very High-Quality Bitrate
There are four ways for you to enjoy high quality on Spotify. Taking these methods together will be better for you to get lossless audio.
Method 1: Adjust Spotify Bitrate on the Spotify App
The first method to stream Spotify at a very high-quality bitrate is to adjust the audio streaming quality. By setting the Spotify bitrate to Very High, you can make your music playback clearer and more enjoyable. But remember that only Spotify Premium members are available for 320kbps, a Spotify very high quality bitrate. While Spotify Free users can only get 160 kbps as the highest Spotify bitrate.
Following we will take Windows as an example. If you want to enjoy high music quality on your Mobile device or MacBook, you can also follow the same operation to make it. Download the Spotify app first to prepare the following operation.
• Run the Spotify app on your computer or mobile device, and the whole main interface of Spotify will appear. Now click on the "Down-arrow" button to enter the Settings page.

• On the Settings page, scroll down to "Music Quality". Under Music Quality, there is "Streaming quality". Hit the "Down-arrow" button to choose the high quality.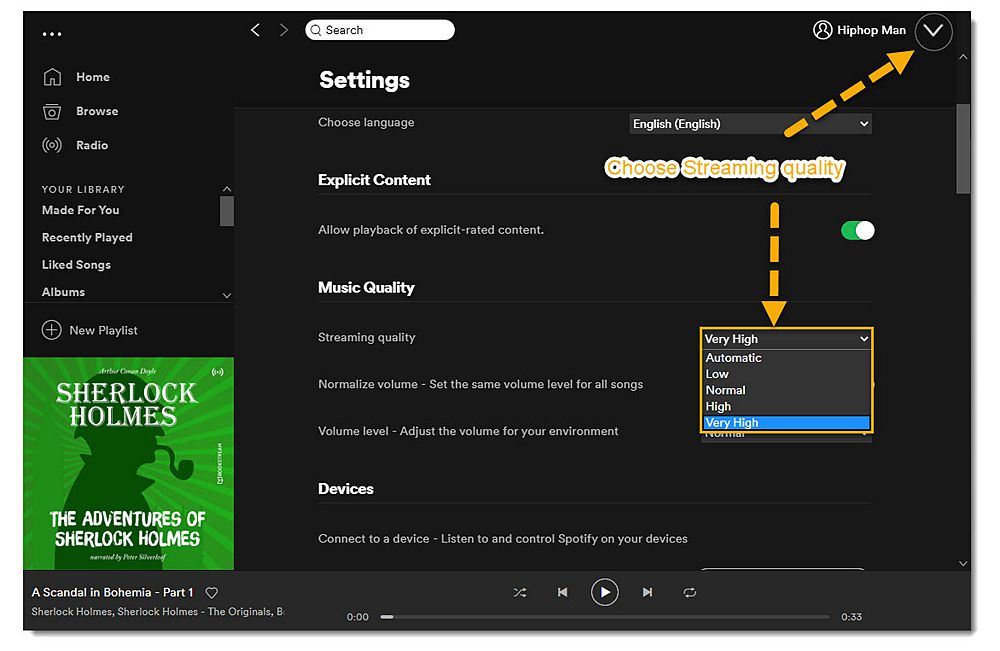 Method 2: Adjust the Base Volume to Match the Environment
If you are a Spotify premium user, you are able to adjust the base volume of Spotify music to match the environment for a better audio quality experience. There are three levels of the volume setting:
Quite: This level will make songs clearer and quieter, which is better for sleeping or reading.
Normal: At this level, you can play Spotify at a medium base volume, which means the sound will be not as crisp as that of Quiet, and this is most people's choice.
Loud: This is the loudest choice compared with the two above. If you are at the gym or in another noisy environment, then this level is better for you.
Now, follow the tutorials to change the Volume Level setting:
• Run your Spotify app on your computer or mobile, then navigate to Settings.

• Tap on Playback >>Under Volume Level to select the option you want.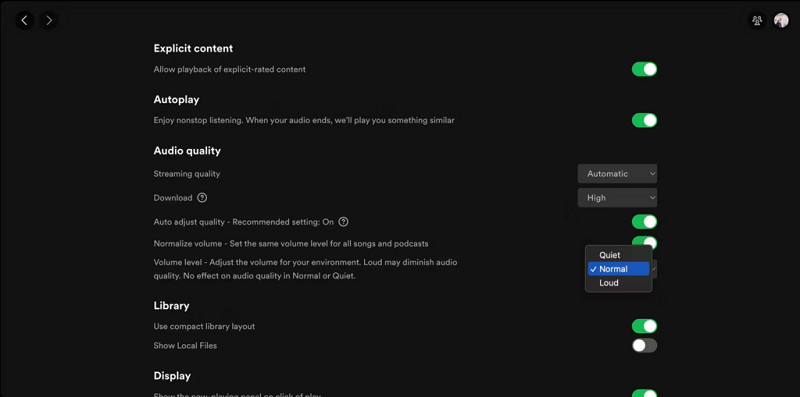 Method 3: Use Built-in Spotify Equalizer to Increase Audio Quality
There is a built-in equalizer on the mobile Spotify app, which also allows you to adjust the levels of bass, treble, and other frequencies in the music you are listening to. To change the Equalizer settings:
• Run the Spotify app on your Mobile. On the main interface of Spotify, hit the "Gear" button to enter the Settings page, where you can see various settings for Spotify.

• On the Spotify Settings page, click "Playback" for the following operation. Scroll down to "Equalizer" then press the "Button" to open the Spotify equalizer. As a Hip-hop fan, I will choose Hip-hop as my music equalizer of Spotify.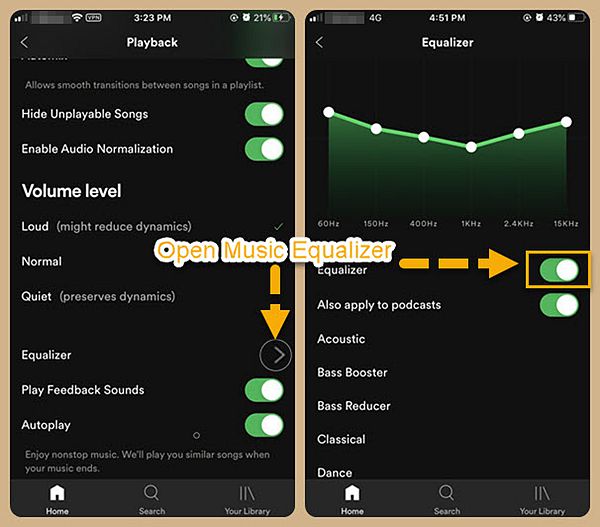 Method 4: Download Spotify Music to the Highest 320kbps MP3 Files🔥
After learning the above methods to get Spotify's high-quality bitrate, you can learn that only Spotify premium users can access the highest 320kbps Spotify bitrate. For Spotify Free users, you can only get the highest Spotify bitrate of 160kbps. So, what if you are a free Spotify user and still want to get high Spotify streaming quality? Luckily, the answer could be yes. You can directly use the third-party Spotify to MP3 converter, like TuneFab Spotify Music Converter, to convert Spotify songs to MP3 files with the highest bitrate.
Available for both Spotify Free users and Premium users, TuneFab Spotify Music Converter is a trustworthy and full-featured tool that can help you convert Spotify to MP3 and other mainstream formats. Before converting the Spotify songs, playlists, albums, or podcasts you like, you can go to "Preferences>>Advanced" to customize the bitrate and sample rate to the highest 320kbps and 48000hz to enhance audio quality for better playback.
⚽ Features of TuneFab Spotify Music Converter::
• Cover all kinds of Spotify music: tracks, songs, playlists, albums, audiobooks.

• Download Spotify music and store as common audio formats: MP3, M4A, WAV, FLAC, ALFF, and ALAC.

• Default and superfast conversion speed to speed up the whole conversion: 35X conversion speed.

• Spotify Bitrate and sample rate can be adjusted as per your needs. For example, the maximum reaches up to 320 kbps, satisfying Spotify Free and Premium needs.

• Keep original audio quality with metadata and ID3 tags preserved.
Dig out more: TuneFab Spotify Music Converter Review
Now, we will take Windows as an example. If you are running the macOS system, please keep reading since the whole operation is the same.
Step 1. Run TuneFab Spotify Music Converter
Choose the right version from the button below to download and install the TuneFab Spotify Music Converter on your computer. After entering the built-in Spotify web player, log in to your Spotify account.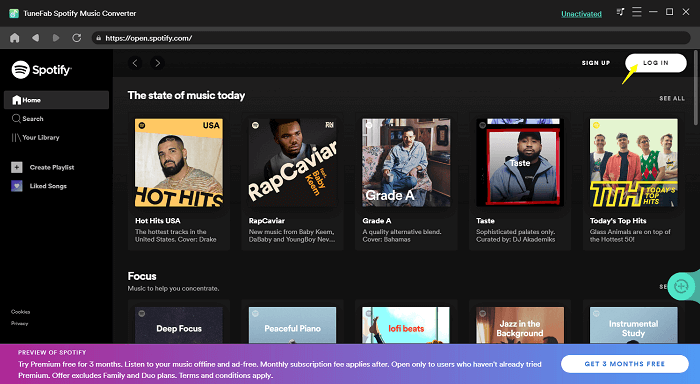 Step 2. Analyze Spotify Playlist in Spotify Music Converter
TuneFab Spotify Music Converter brings the most convenient service to analyze Spotify playlists. Simply open the one you need to convert, and the program will automatically analyze the whole playlist for you to select the Spotify songs to convert.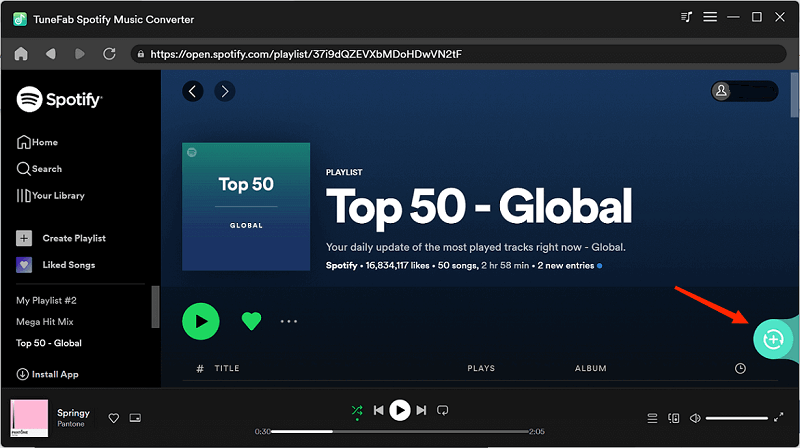 Step 3. Set Output Folder & Output Format
Now, click on the "Three-line" button, and choose "Preference" to set your output folder. Then, move to the "Advanced" tag. On the Advanced page, you can choose the Bitrate from 128kbps to 320kbps and Samplerate from 22050hz to 48000hz.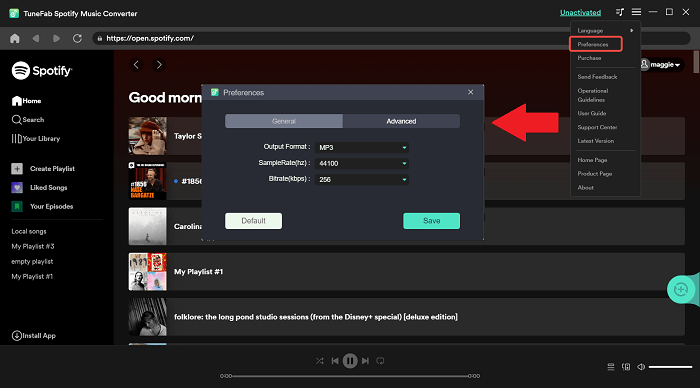 Step 4. Download Spotify Music with High-Quality Preserved
Now, just click "Convert All" or "Convert X iTems" to download Spotify Music to MP3 with high quality. Just wait for several minutes, then you can enjoy Spotify Music with high quality fully downloaded.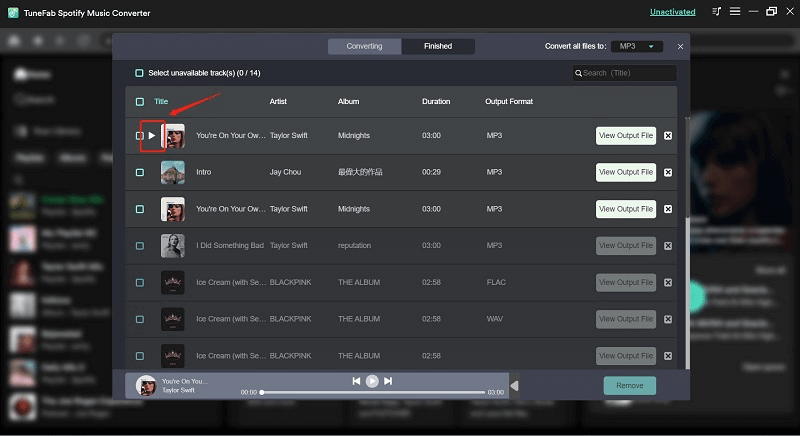 Part 3. FAQs About Spotify Bitrate
Q1: Can you get Spotify Premium bitrate without paying a penny?
If you want to enjoy Spotify premium bitrate, you need to subscribe to Spotify's premium account, which means you need to pay for the premium plan. But actually, there are ways for you to get Spotify Premium free to enjoy the Spotify with the premium 320kbps bitrate. For the detailed methods, you can get from this passage: How to Get Spotify Premium Free Forever [2023 Best Solutions].
Q2: Is Spotify's very high-quality bitrate better than Tidal's?
Spotify's Very High-Quality (VHQ) bitrate is 320 kbps, while Tidal's HiFi bitrate is 1411 kbps. This means that Tidal's HiFi bitrate is technically better than Spotify's VHQ bitrate. However, the difference in audio quality between the two bitrates is not always noticeable, especially to the untrained ear.
Conclusion
That's all for today. It is time for you to make up your mind on choosing your favorite music bitrate that you want to enjoy on your Spotify Music. However, no matter what bitrate you may be going to choose, I am sure that you can be free from the problem of downloading Spotify Music to MP3 with high quality now. Thanks for reading, hope you have an enjoyable music playback time!
TuneFab Spotify Music Converter
Batch convert Spotify to MP3 320kbps in lossless quality
Was this information helpful?
TrustScore 3.6 | 28