"Can I enjoy Spotify Premium without paying any money?"
"Is there any solution to getting Spotify Premium Free so that I can get rid of the Ads?"
These 2 questions are frequently asked by the majority of Spotify Free Users, who were fed up with some inconvenient parts of being Spotify Free users like Ads keep appearing when listening to Spotify, the download function is unavailable, and more. However, it is costly to subscribe as a Premium member with a $9.99 monthly payment. Knowing your misery for paying a bill, here is an effective way to get Spotify Premium free forever and if you prefer it, here're also 6 methods to get Spotify Premium free trials.
CONTENTS
Part 1. How to Get Spotify Premium Free Forever
It is well known that Spotify songs are encoded in OGG Vorbis format with DRM protection. So, when the Premium subscription ends, you will have no permission to listen to the songs in Spotify Premium, or you can't listen to Spotify offline anymore. In order to fix this problem effectively, we highly recommend TuneFab Spotify Music Converter, which can convert Spotify music to MP3 even with Spotify free and load them as local files to listen to Spotify music offline.
TuneFab Spotify Music Converter, an intuitive Spotify Music downloader, is designed for downloading and converting Spotify songs to regular audio formats such as MP3, M4A, WAV, FLAC. Besides, Spotify playlists, podcasts or albums can be batch downloaded on this tool.
TuneFab users can enjoy resetting the bit rate, sample rate as well as conversion speed, reaching up to 5X. What's more, not only will you be able to get Spotify Premium free forever, but also all the metadata of the Spotify Music songs will be kept as original. And Spotify can read the ID3 tags if you add the converted songs to it. In the following you will learn how to hack Spotify Premium.
Step 1. Get TuneFab Spotify Music Converter Ready
Click the button below to free download TuneFab Spotify Music Converter, which is fully compatible with both Mac and Windows. When the whole downloading process is finished, follow the instructions to install it on your computer. When the installation is done, launch it and you will see the welcome page. Close it and you will see a built-in web player looks just like the original Spotify on this tool.
Step 2. Add Songs from Spotify
Before you add Spotify songs to convert, you need to log in to your Spotify account first. Then you can navigate to the song or a playlist you wish to download. Click on the plus icon from the side of TuneFab Spotify Music Converter or drag the title to the icon and you will see the conversion list you create.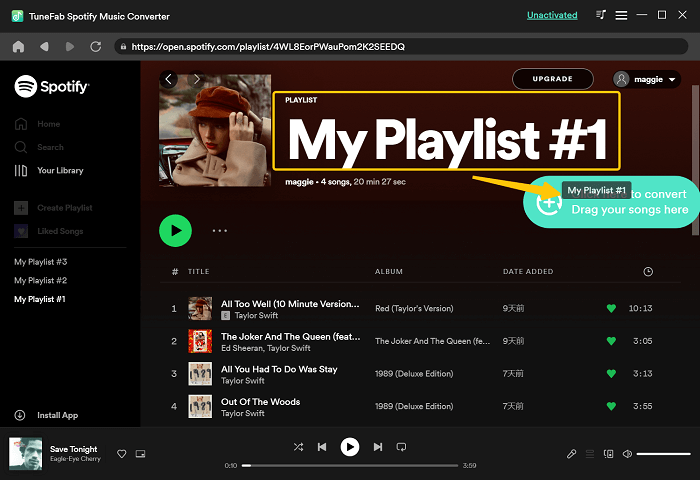 Step 3. Enjoy Spotify Offline Feature Forever
On the conversion list window, you can set all songs in the same output format via the option on the upper top right. Then select them all and hit the convert button.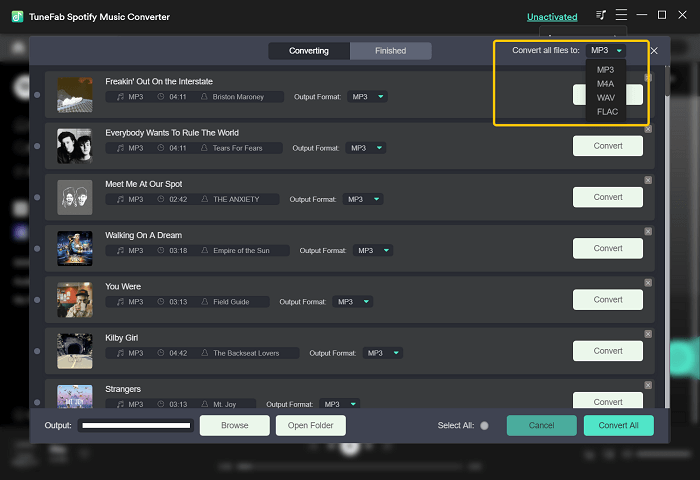 When the conversion is done, you can add the output folder as a local source via "your profile > settings > Local Files". Congratulations! Now you can get Spotify Premium Free forever and enjoy Spotify offline.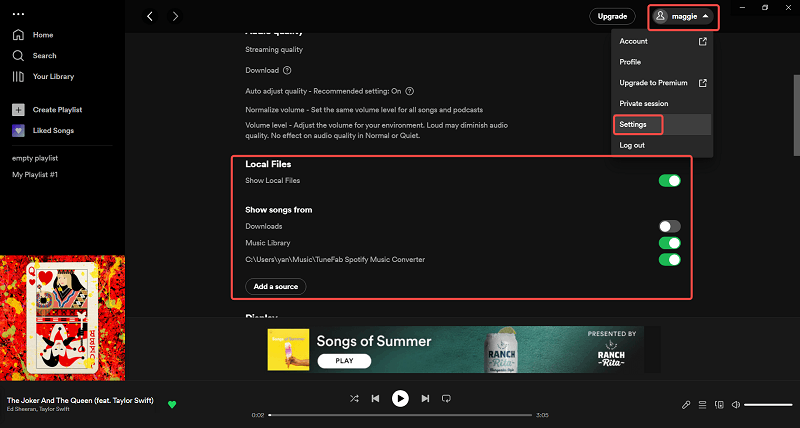 Part 2. How to Get Spotify Free Premium Trial in 3 Methods
Method 1. Get Spotify Premium Free For 30 Days (for Free Accounts)
If you are a Spotify Free user, then it is lucky for you to enjoy Spotify Premium for free for 30 days. However, since it is for a free trial for limited days, please don't forget to cancel Spotify Premium before the next billing date.
How to get Spotify Premium for free for 30 days

Step 1. Visit Spotify Website on your browser.
Step 2. Click "Premium" in the upper right corner of the webpage.
Step 3. Click "START FREE TRIAL".
Step 4. Log in with your existing Spotify account. If you have never registered before, click "Sign Up" at the bottom of the window to create a new account. Once you have signed up, go back to log in.
Step 5. Pick a payment method and fill in the blank with the information required. And then you can start the 30-days trial of Spotify Premium now.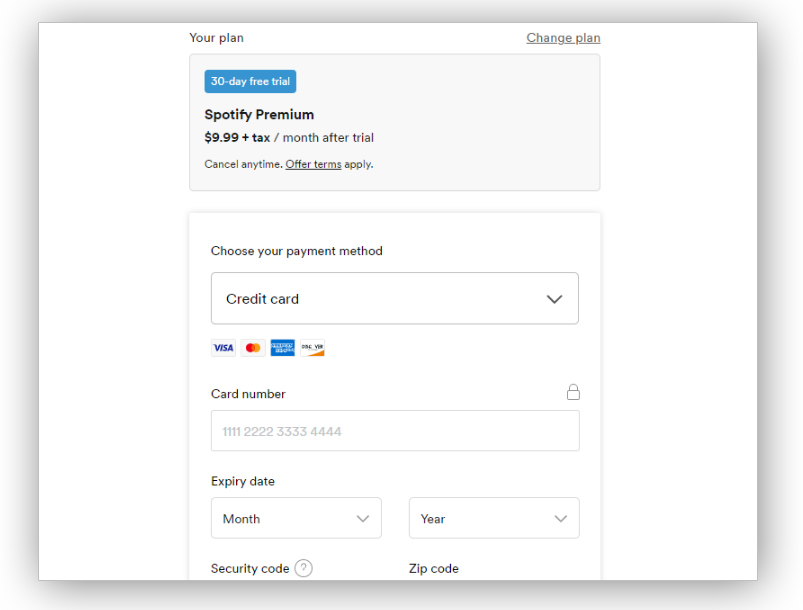 With the steps above, you absolutely succeed in enjoying the 30-day Spotify Premium. It's a pity that this trial version only lasts 30 days. In other words, if you want to get Spotify Premium for free forever, you still need to pay for the subscription.
Method 2. Get Spotify Free Premium Trial for 3 Months (Sign Up for PayPal)
If you haven't gotten a PayPal account, it's time to sign up for one because there's a promotion from PayPal that users can get a 3-month Spotify Premium free trial after signing up with PayPal. This promotion is available in the US, UK, etc., and will end on September 15, 2023. However, if you are/were a Spotify premium subscriber, this offer doesn't work for your Spotify account. Only accounts that have never gone premium can take this trial.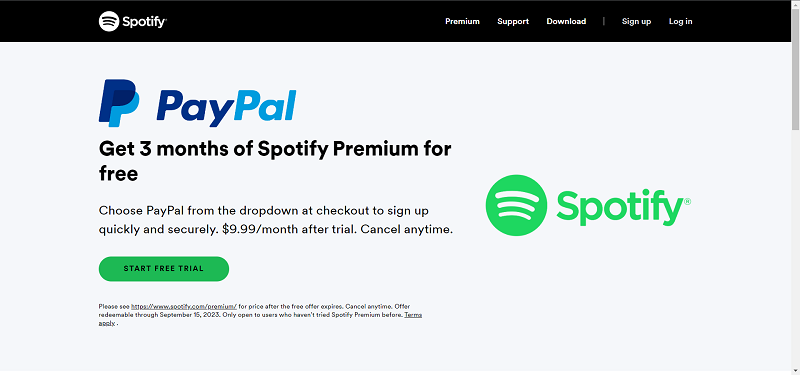 Here's how you get Spotify Premium for free by using PayPal:
Step 1. Open PayPal's Spotify Premium promotion page on your browser.
Step 2. Click "Sign UP > Account Overview > Get Verified" and select a method for verification.
Step 3. Hit "Continue > Confirm" and if you use your email as the verification method, you will get the code within 3 days.
Step 4. When the verification is done, copy your code and go to the Spotify redeem page to validate your premium free trial.

Method 3. Get Spotify Free Premium Trial for 3 Months (for Samsung User)
Spotify works with Samsung to offer a free Spotify Premium trial for 3 months. You can get this trial after you buy the new Samsung device. With this promotional offer, you can enjoy Spotify with the Premium features.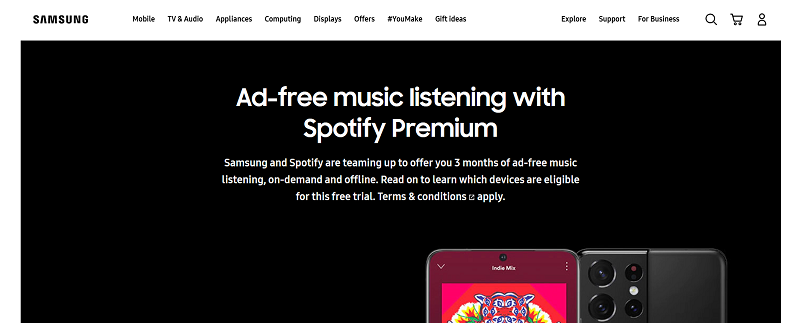 Here's how to get Spotify's free premium trial using your new Samsung device.
Step 1. On your device, launch the Spotify app and log in to your account.
Step 2. Hit the "Premium" tab and click "Spotify Premium for Samsung".
Step 3. Tap "Try 3-Month Free" to claim your Spotify Premium free.
Method 4. Try Spotify Premium Free for 6 Months (for Walmart Members)
Walmart allows you to get Spotify Premium for free for 6 months if you are a Walmart Member at $98/year or $12.95/month. And this trial is only available for those who haven't tried Spotify Premium. After the free trial, you will need to pay $9.99/month. Don't forget to cancel it before the trial expires.
How to get Spotify premium free trial from Walmart membership
Step 1. Sign in to your Walmart account or create a new account.
Step 2. Choose a Walmart plan and start the membership.
Step 3. Go to your Spotify and choose the premium plan.
Method 5. Get Spotify 6-Month Premium Free Trial (Link OnePlus to Red Cable Club)
There's a promotion between OnePlus and Spotify that users in India can get a 6-month free trial of Spotify Premium as long as they become a Red Cable Club member. This offer can be redeemed before October 3, 2022. And like other free trials, it can only be claimed by Spotify accounts that haven't gone premium or tried other free trials.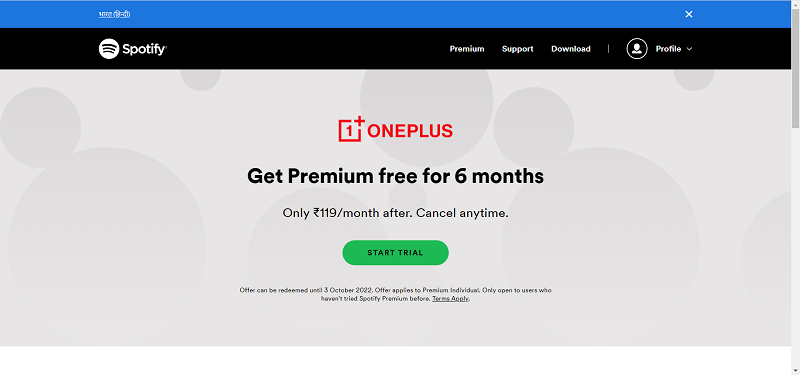 Below is how you get it in simple steps:
Step 1. On your OnePlus, go to "Setup Wizard" to connect your device to "Red Cable Club".
Step 2. Navigate to the Red Cable Club page and then hit the Spotify banner with the wording "Claim now and listen to music ad-free" and hit "Claim Now".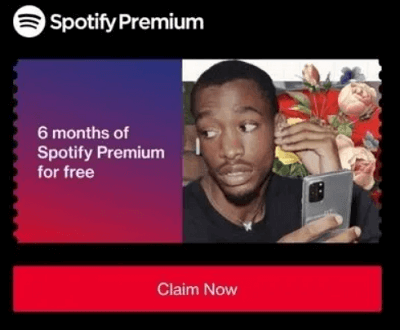 Step 3. After getting the code, go to the Spotify website by hitting "Activate Free Trial". Enter the information needed and you can get the free trial.
 Method 6. Free Get Spotify Premium (Become a Starbucks Employee)
Starbucks offers its Employees free Spotify Premium. After you verified your Spotify accounts, you will be able to enjoy the premium features of Spotify. But you should be aware that if you haven't been using Spotify with the verified account for 30 days, your premium subscription would be canceled.
The good thing is, no matter if you are already a Spotify Premium user or a free user, you can get this offer easily. But if your account is a premium one, you need to cancel the subscription first.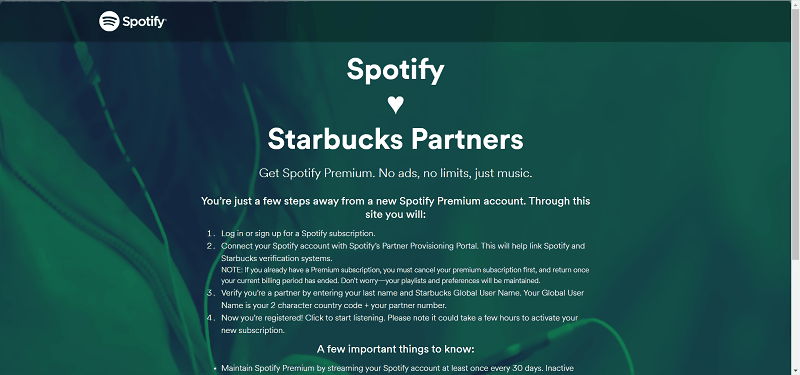 Here's how to get Spotify Premium for free with your Starbucks ID.
Step 1. Click "GET PREMIUM" at the bottom of this Spotify partner provisioning page.
Step 2. Log in to Spotify or Sign Up for it if you haven't had one.
Step 3. In "Spotify's Partner Provisioning Portal", connect your account to it.
Step 4. Enter your last name and the Starbucks Global User Name (your 2 character country code + your partner number) to link your accounts, after which you can use Spotify Premium for free.
[Bonus Tips] How to Get Spotify Premium Free on iPhone Forever
To get Spotify Premium free forever on iPhone, the easy way is to transfer the music to the iPhone or Android device. Luckily, since you have possessed all the Spotify songs in your hand, now you can transfer the converted music to different devices.
For Android: It is a piece of cake that you can get Spotify Premium free on Android with 3 steps:
Step 1. Take out your Android and the USB cable and plug the USB cable to your Android and the computer.
Step 2. Open the converted files folder and then copy and paste the music files to your Android external drive.
Step 3. Be patient until the whole transfer is done. When it is done, eject the device from your computer. Then you can enjoy Spotify Premium free forever now.
For iPhone: Instead of talking about the transfer the music from computer to iPhone by iTunes, we would like to share you with the easy way to transfer Spotify music and enjoy Premium free forever, that is FonePaw DoTrans.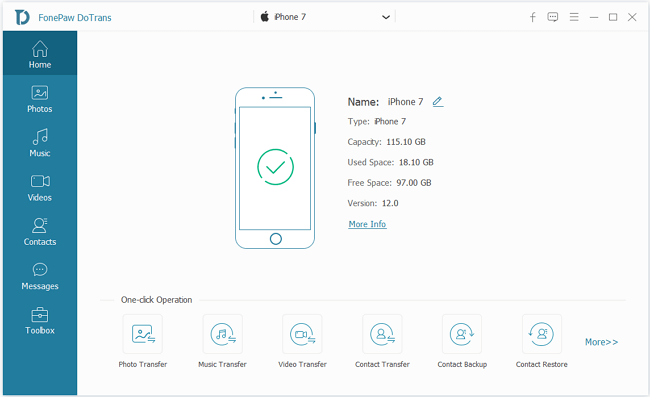 FonePaw DoTrans is an iOS data transfer aimed at transferring data between iOS devices and PC without using iTunes. As it is known to all that transferring data via iTunes is slow and complicated, with the help of DoTrans, iOS users are easy to transfer music, videos, photos, and contacts at the superfast transmission speed.
It is easy to use with 4 steps:
Connect iOS Devices with USB cable > Trust Your iOS Devices > Click to "Music" after loading your files > Click to the "+" button to add your music and wait for the whole transferring process to finish.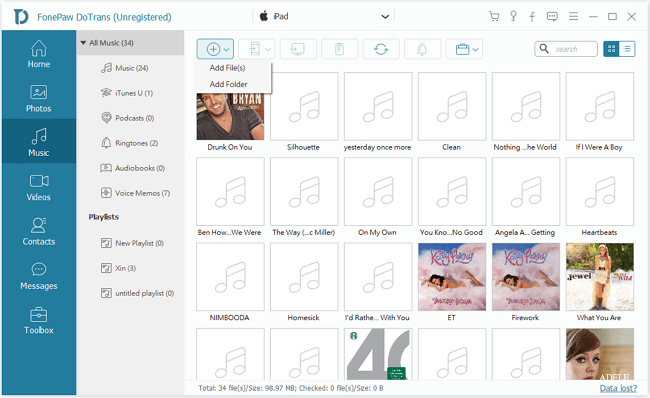 Actually, TuneFab Spotify Music Converter cannot completely replace Spotify Premium for there are other functions that are beneficial to use. However, with TuneFab Spotify Music Converter, you are free to download and convert any Spotify songs and get rid of ads.
What's more, you can transfer them to different devices for offline listening with FonePaw DoTrans. Can't we just say that with this program, we are kind of freely enjoying Spotify Premium service? Why not download the trial version of this powerful program to test it out by yourself?
Was this information helpful?
TrustScore 2 | 171