Spotify provides a huge amount of music sources so you can find many of your favorite songs online. However, not every song can be found on streaming platforms like Spotify, such as some of those special indie music or songs only published on CDs. Under these circumstances, you might need to save the music as local files in advance and add these songs to Spotify to sync them to multiple devices and listen to them offline.
So, can you achieve this goal? Certainly yes! In this article, we will show you how to add songs/local files to Spotify, and introduce a tool to get you a better Spotify user experience.
CONTENTS
Part 1: How to Upload Music to Spotify on Desktop
Uploading local files to Spotify on desktop is not hard, as you can install the Spotify app on your PC first, and then move music files from local folders to it. This section uses Windows PC as an example to explain the procedure. These steps also apply to Mac devices.
Step 1. Launch Spotify on your PC, and then move your mouse to the arrow that is next to your account name. When it shows you the options, choose "Settings."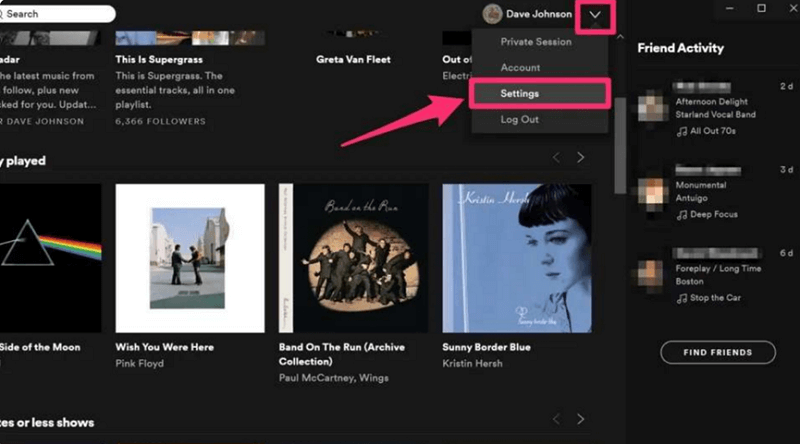 Step 2. From the "Setting" window, find the "Local Files" section and turn the "Show Local Files" option to green. Select the location in "Show songs from" according to your need.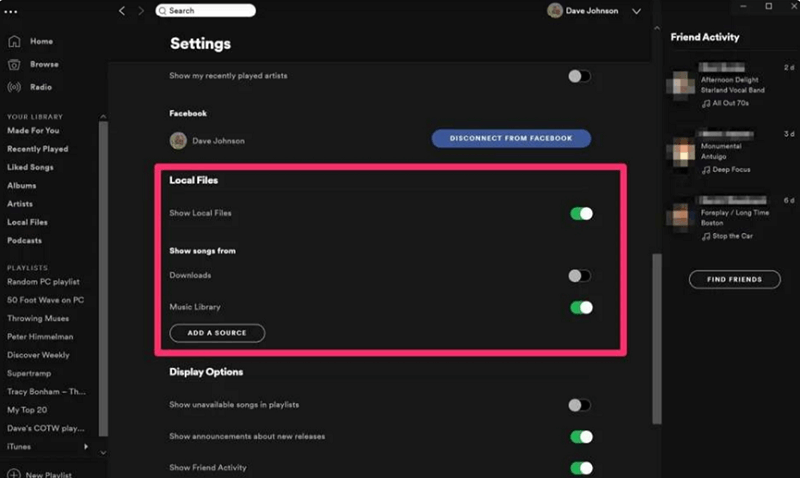 Step 3. Next, you will see the local music files, all you need to do is to choose the music you want to play on Spotify.
Note: Spotify supports mainstream formats such as MP3, WAV, FLAC, etc. However, sometimes the format of your local music files does not work in Spotify, so you may need a conversion tool to convert the music into compatible formats to play on Spotify. Or you can take TuneFab Spotify Music Converter as a much easier way, since it can help you download Spotify music to MP3 and other regular formats directly for Spotify Player.
Part 2: How to Add Local Files to Spotify on Mobile
Adding local music files to Spotify on mobile Apps will be a little more complicated. You'll need a computer to achieve it, and a Premium subscription is required to turn this function on.
After all the preparations, you can read on for the detailed steps on iPhone and Android phone to add songs to Spotify.
Add Local Files to Spotify on iPhone
If you already have the local music files you need to add to your computer, you're ready to go. This process will require you to compile the tracks into a playlist. Here's what to do.
Step 1. Run Spotify app on your desktop, click "Create Playlist" from the menu on the left, and give a name to this list.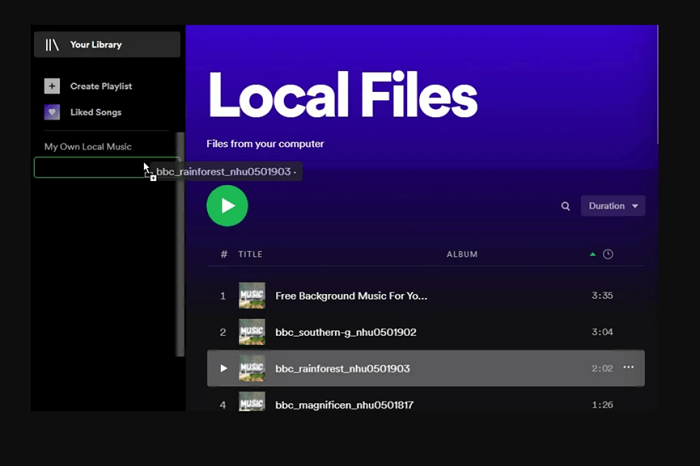 Step 2. Find the "Local Files" folder in "Your Library", and drag the music from it to add to your new playlist.
Step 3. Tap on the "Home" icon, enter "Setting", and find "Local File" to turn on the "Local audio files" button.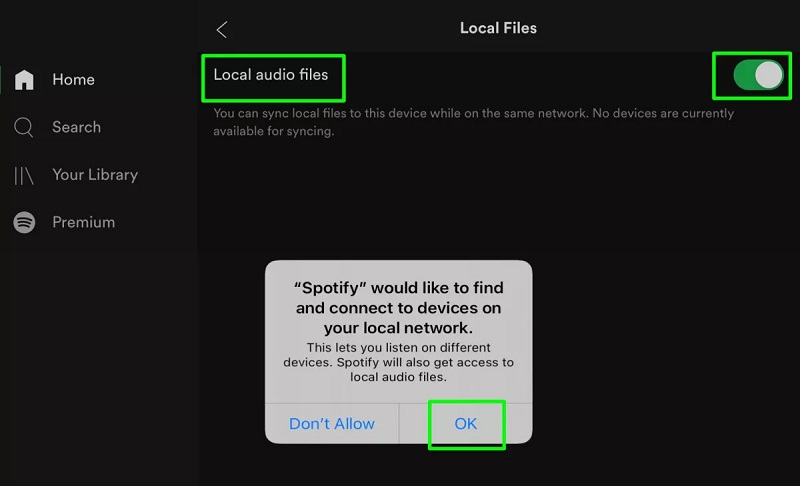 Step 4. Go back to "Your Library" to find the "Local Files" folder, then select the file. Choose "Copy or Move," then tap "Browse" > "On My iPhone" to add local files to Spotify on iPhone.
Add Local Files to Spotify on Android
Adding songs to Spotify on Android is easier than doing so on iPhone, but still, you need to compile the tracks into a playlist first on computers. The guide is shown below.
Step 1. Start by adding Spotify tracks to the playlist on the Spotify desktop using the same method mentioned above.
Step 2. Tap on the "Home" icon to go to "Setting", then find "Local File" and turn on "Show audio local files".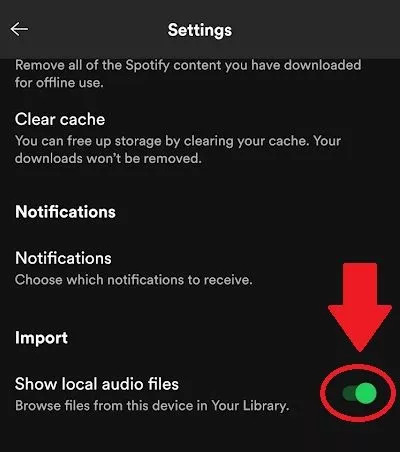 Step 3. Return to "Your Library," you can see your stored music is now in "Local Files," and you can select the local files to play as you like.


FAQs about adding music to Spotify
Q1: Why are Local Files not Showing up on Spotify?
If you've successfully added local songs to Spotify as described above but they're not showing up on your device, there are several reasons why it happens.
● The local audio file formats are not compatible with Spotify.
One of Spotify's limits is that it only supports mainstream audio formats (such as MP3), so make sure your audio files are compatible with Spotify. If not, you'll need a piece of conversion software to convert your files into the right forms.
● Forget to enable the "Show local files" function to take effect on your device.
In this situation, you can enter "Setting," and turn the "Show local files" function on to check if it works.
● The files are not on your iPhone or iCloud.
Here, you need to move the audio files to "On This iPhone." Then select "Copy." If you want to sync local files from your PC to your mobile phone, you have to subscribe to a premium account to view the local files on your PC.
What's more, please make sure your Spotify App is in the latest version and your network is running, since older versions of the Spotify App may not support these newer features, such as adding local songs.
Q2: How to Get Local Files on Spotify to Listen Offline
As mentioned above, Spotify has certain restrictions on the audio formats that can be added and the use of the software. Downloading songs from Spotify is also not very convenient, because you need to subscribe to Spotify Premium, and you can only listen to the downloaded songs in the Spotify App, as the downloaded files are protected but not local files that can be moved.
So for you to have a better experience, we recommend that you use TuneFab Spotify Music Converter. It has an embedded Spotify Wen Player, and can help you download songs from Spotify for free as mainstream local files like MP3. Then, you can add those songs to Spotify App and more external media players for free offline playback.
Related Article: How to Download Songs from Spotify to MP3 [2023 Full Guide]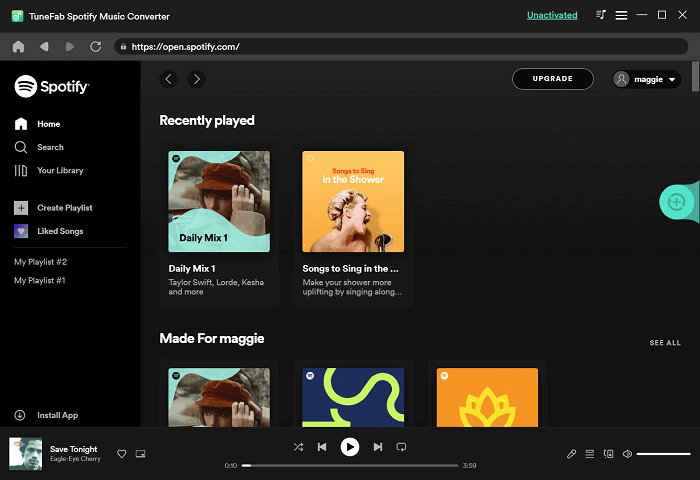 Summary
We have presented different ways of adding local files to Spotify player, you can try these methods to upload local songs and listen to them on Spotify anytime at any place. If you encounter problems during the adding procedure, TuneFab Spotify Music Converter might help you out. Get moving and enjoy your music on Spotify right away!
TuneFab Spotify Music Converter
Batch convert Spotify to MP3 320kbps in lossless quality
Was this information helpful?
TrustScore 2.4 | 47
Copyright © 2022 TuneFab Software Inc. All rights reserved.