Unfortunately, even though you have downloaded your favorite songs on the Spotify app with Spotify Premium, your Spotify downloads will expire once your subscription ends. If you want to listen to them offline again, you need to subscribe to Spotify the next time and redownload the songs.
To avoid paying more for Spotify subscriptions, it is of utmost urgency to seek an effective way to keep Spotify downloads after canceling a subscription. In this post, a practical third-party tool will be introduced to download Spotify music to a local file like MP3 and thus keep your Spotify downloads even without Spotify Premium.
CONTENTS
Part 1. Spotify Premium: Keep Spotify Downloads
One of the major draws of Spotify Premium is that it allows users to download music to play offline even in areas without Wi-Fi or data connectivity. This can be particularly helpful for users wanting to keep mobile data bills down or those traveling abroad where there's limited internet connectivity.
Unfortunately, due to DRM restrictions, the music downloaded from Spotify is not stored as a local file on the device. Instead, it is saved as a cached file that can only be played through the official Spotify app.
As a result, you will lose access to any downloaded music for offline listening when you don't keep Spotify Premium. Do we have to spend a hefty price on subscribing to Spotify Premium just for a few songs that we want to play anywhere anytime?
Obviously, Spotify is a worthwhile subscription service, as it is fantastic and simple to use. However, for most users, they don't have to spend that much to meet their needs, particularly if their aim is to have access to favorite songs all the time. Let's take a look at the subscription prices of Spotify in the United States:
For users who are reluctant to spend this amount of money, finding an alternative way to enjoy Spotify without incurring recurring expenses is worth exploring. So, how to keep the downloaded Spotify songs after canceling your subscription? The answer is easy: TuneFab Spotify Music Converter.
Part 2. How to Keep Spotify Downloads Permanently Without Premium
TuneFab Spotify Music Converter provides a method for keeping Spotify songs you have downloaded: you can convert all the tracks from Spotify into MP3, saving it locally for playback on any device. It is an excellent tool to help you download Spotify songs and playlists to computer with superior audio quality. You can decrypt DRM Spotify music with TuneFab Spotify Music Converter by converting them to common audio formats such as MP3, M4A, WAV, and FLAC. The conversion procedure is up to 5X speed while preserving the original audio quality.
Key Features of TuneFab Spotify Music Converter:
● Download all Spotify songs, playlists, albums, podcasts, etc to DRM-free MP3, M4A locally on computer
● Batch download Spotify music at 5X faster speed with hardware and GPU acceleration technologies
● Customizable audio files, such as output format, bitrate, and sample rate
● Keep original music quality and ID3 information
Note: TuneFab Spotify Music Converter offers a free trial period of 30 days for users to try out the software.
Here's a detailed guide on how to use TuneFab Spotify Music Converter to download Spotify music and keep your Spotify downloads without premium.
Step 1. Download and Launch TuneFab Spotify Music Converter
Download TuneFab Spotify Music Converter and launch it. Then, click Open the Spotify Web Player and log in to your Spotify account.
Tips: Spotify free users can conduct the downloading function by TuneFab. Even without a Spotify account login, it is also supported to start converting Spotify music.
Step 2. Add Spotify Music Songs to Converting List
Click the "+" button on the right interface, and all songs from the playlist can be automatically detected and added to converting list. You can also drag or drop the specific songs from the playlist to the green "+" button.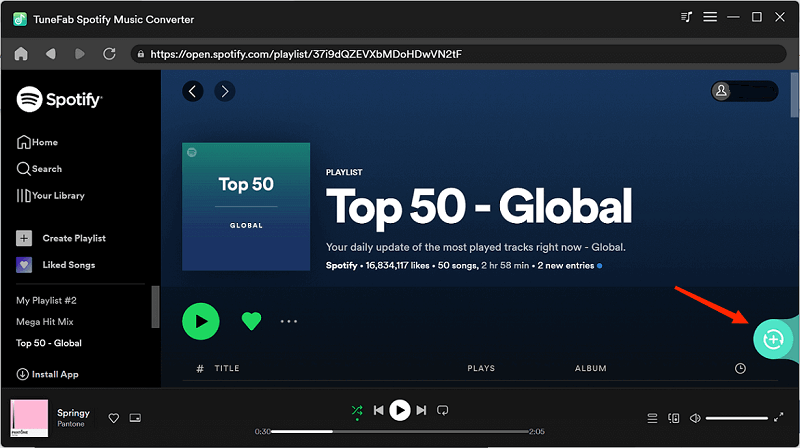 Step 3. Select Output Format
Click the Preference from Settings in the right corner of the interface. You can select the output format and audio quality, and customize the output path.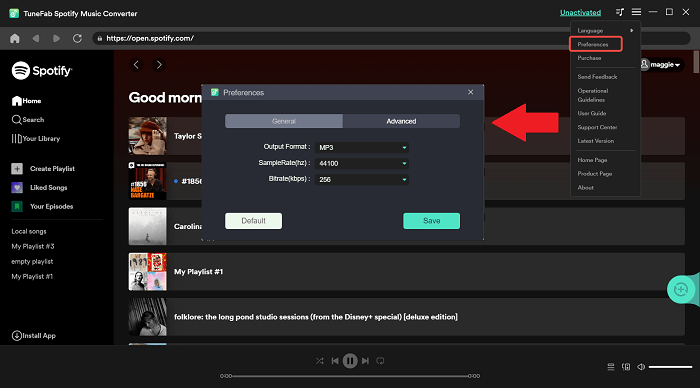 Step 4. Finish Converting All Spotify Tracks
After the above setting, click the "Convert" button to start converting Spotify music. After converting, click "View Output File" in the Finished tab to locate the downloaded Spotify songs.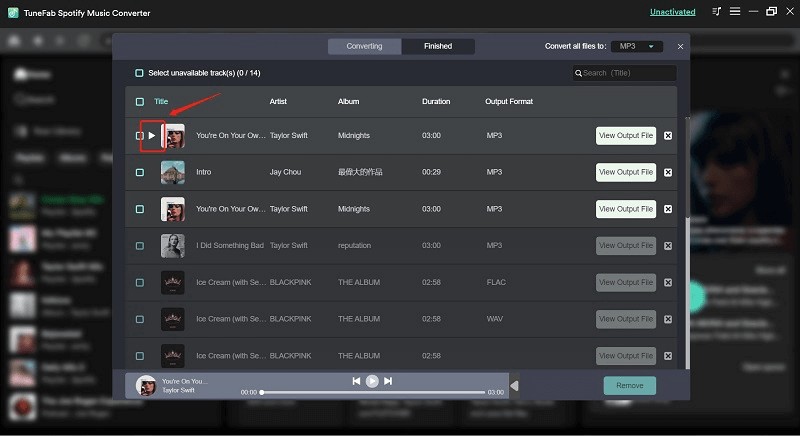 Now, after downloading Spotify songs with TuneFab Spotify Music Converter, you can keep your Spotify downloads locally on your computer and even transfer them to any device without paying any penny to Spotify Premium.
Part 3. FAQs About Keeping Spotify Downloads
Where Does Spotify Keep Downloaded Music?
The storage location of downloaded Spotify cache files can vary depending on the device you are using.
Find downloaded Spotify music on PC & Mac
● On a Windows PC: C:\Users\ Username \AppData\Local\Spotify\Storage.
● On a Mac: \Users\Username\Library\Application Support\Spotify\Persistent Cache\Storage.
To locate this folder on your computer, you can also go to Settings > Show Advanced Settings > Offline Songs Storage to check the location where your Spotify keep downloads.
Find downloaded Spotify on Android & iOS
● On Android: Android/data/com.spotify.music/files/spotifycache/Storage/
● On iOS: By default, you can only check your downloaded songs on Spotify. Please go to Setting > Offline songs storage to see where your cache is stored
Nevertheless, for Android, you can also find downloads on Spotify by navigating to Settings > Other > Storage. You will see the storage location and change it if you want to modify the location.
However, even though you know where Spotify keeps downloads on your device, you can't access and play them due to DRM. Instead, these downloads are only available on your Spotify app. If you want to listen to them offline on other media players or devices, it's more rational to use TuneFab Spotify Music Converter to download them in DRM-free MP3 locally and transfer them to other devices as you like.
Why Do I Keep Losing My Spotify Downloads?
There are some Spotify users who have experienced the problem of their downloaded songs disappearing. Some of the reasons are:
● Subscription canceled or expired
Spotify will delete your Spotify downloads if your subscriptions expire. If you're not a Premium subscriber, you can only upgrade to a Premium account and keep your offline songs.
● Reinstallation of the Spotify application
Downloaded files are stored in a cache file on the device. When the application is uninstalled or reinstalled, the cache file is deleted, resulting in the loss of any downloaded music.
● Signing out of the Spotify account
When you sign out, Spotify revokes access to the cached files that contain your downloaded songs, which can only be played through the official Spotify app. As a result, you will need to log in again to regain access to your downloaded content.
● Not Connecting to the Internet for 30 Days
If you have been using your device without connecting it to the internet for more than 30 days, your Spotify downloads will be lost. This is because Spotify's licensing agreements require that the app regularly verify the user's subscription status and account information.
If the app cannot verify the subscription or account information due to lack of internet access, it may assume that the subscription has been cancelled or expired, and remove access to the downloaded music.
● Cache Issues
This can happen if you clear the cache of the Spotify app or if the cache is automatically cleared due to storage limitations on your device. To prevent this from happening, it's important to ensure that you have enough storage space on your device to accommodate the cached files.
● License Issues
This is a rare occurrence but it can happen from time to time. When licensing agreements between Spotify and the music label or artist end, songs can sometimes disappear from the Spotify database temporarily. In most cases, these songs will reappear at a later date. Original songs that are deleted by the creator can also be removed from the Spotify library.
Conclusion
While Spotify Premium offers the convenience of downloading music to play offline, users may lose their downloads due to DRM restrictions when canceling their subscription. To keep Spotify downloads permanently without a subscription, TuneFab Spotify Music Converter offers a solution for those who want to keep their Spotify downloads.
Was this information helpful?
TrustScore 3.6 | 44