For years Spotify has always offered free online music listening service. But since it has promoted the premium service, people may wonder if there any distinctive difference between the Spotify free and premium service, and whether I should change to a premium subscription. As such, reading this article will be a nice solvent for your Spotify puzzles.
CONTENTS
Part 1. Spotify Free vs. Premium: Price Affordability
Prior to talking about the obvious difference, the most urgent element is whether you can afford the charge fee. As confirmed, Spotify adopts two charging schemes. The individual premium plan charges for $9.99 per month while a family premium plan charges for $14.99 per month that can allow six people's participation. The charging fee is still within one's affordability if you find the Spotify premium offers you favorable service in the next difference.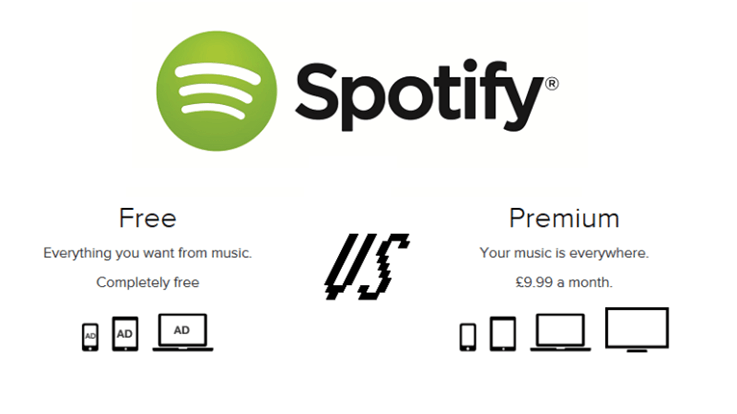 Part 2. Spotify Free vs. Premium: Playback Review
Firstly, let's see the sound quality. Directly, Spotify premium offers music audio with higher bitrate up to 320kbps. Normally you can enjoy free Spotify music with a standard 160 kbps quality. Maybe some music lovers prefer a higher-quality music listening with the premium. Both services provide music streams in the Ogg Vorbis format.
Free and premium users both share the large Spotify library of over 40 million songs. A little differently, Spotify premium gives you the extra access to minus certain recent releases for up to 2 weeks. In this sense, free users are likely to be those accustomed to older and familiar jams.
Premium users are bound to share superior musical service for the charging fee. Here I refer to the ad-free listening and unlimited skip. Spotify develops the free music service through ad investment. Every time you play a few free songs on Spotify, you will unavoidably meet one or two trifling advertise. If you've had enough of the atmosphere-ruined ads, purchase the Spotify premium. I don't know whether you enjoy a shuffle play or not, but it is not fun when you want to turn to a specific song. Owing to this, you can use the unlimited skip function of the premium subscription to get away with the random playback of the whole album.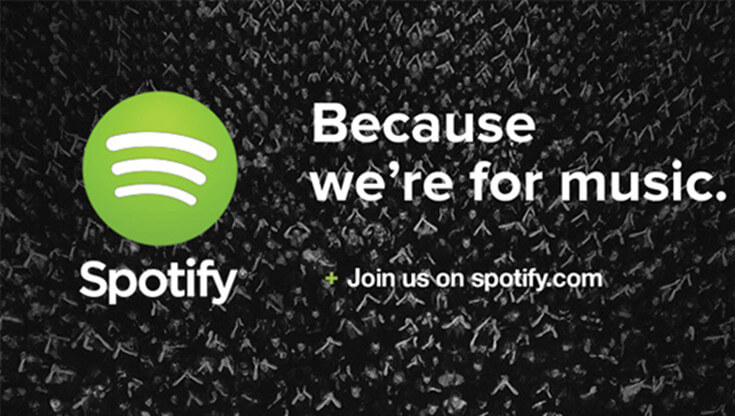 The device availability is taken the same on every Spotify user. Spotify users can stream songs to the mobile device including PCs, smartphones, connected devices, Smart TVs, PS3 & PS4, Android Auto, Apple Carplay.
A strong point of Spotify premium is its offline listening. Previously non-paying users are not able to save songs to their devices for offline use, which raises some complaints about wasting their mobile data traffic. Now if you subscribe a premium account, the offline listening will free you from the trouble. Pay attention that a premium user is allowed to download/sync up to 3,333 tracks on up to three devices. Somehow the downloaded Spotify music, as encrypted by DRM, is not playable on other players.
Part 3. Spotify Free vs. Premium: Conclusion
To sum up, let's see the table below to have a clear understanding of the differences between Spotify free & premium service.
Spotify Plan

Price

Audio Quality

Song Library

Supported Device

Additional Contrast

Free

0

160kbps

Over 40 million

PCs, smartphones, connected devices, Smart TVs, PS3 & PS4, Android Auto, Apple CarPlay

Add-provided, shuffle play only

Premium

Individual: $9.99/mon

Family (6): $14.99/mon

320kbps

Over 40 million plus newly issued songs

Ad-free,

unlimited skips

offline listening
According to the different services Spotify free and premium offer, I think you have made your decision. After all, it all depends on your preference to use Spotify free or premium plan.
With Behind
Is this possible if I choose to use Spotify Free and can enjoy offline listening? Yes, now you can. In virtue of TuneFab Spotify Music Converter, you can not simply download the Spotify Music for free but also you can transfer these converted files to other devices and even add Spotify Music to your iTunes. You can get the specific guidance on listening to Spotify Music with Free Member.
Tutorial: How to Download Songs from Spotify for Free
Introduction of TuneFab Spotify Music Converter
After knowing the detailed of Spotify Free and Premium, which is your best option?
Was this information helpful?
TrustScore 3.8 | 5