Spotify, boasting a massive collection of music and podcasts, stands as a premier streaming service globally. Yet, to encourage paid subscriptions, Spotify imposes restrictions on its free users. If you're a newcomer deliberating between opting for Spotify Premium or sticking to the free version, this review offers a comprehensive breakdown. Delving into the differences between Spotify Premium and Spotify Free, this guide equips you to discern which plan aligns best with your preferences and needs on the platform.
CONTENTS
Spotify Free vs. Premium: Overview
If you're tired of reading plenty of words, there is a table for you to get a quick idea between Spotify Free vs Premium from 9 perspectives. For a detailed comparison, you may want to go on reading.
| | | |
| --- | --- | --- |
| | Spotify Free | Spotify Premium |
| Price | Free | $10.99/month |
| Best Music Quality | Up to 160kbps | Up to 320kbps |
| Ads | √ | × |
| Offline Listening | × | √ |
| Spotify Connect | √ | √ |
| Supported Devices | The same | The same |
| Supported Social Features | Can create share links | Can share songs and listen to sharings. |
| Curated Content | √ | √ |
Spotify Free vs. Premium: What's the Difference?
The full comparison between Spotify Premium and Free will be broken down into 9 parts, including Music Library, Music Quality, Ads, Offline Listening, and so on. You can go through them one by one.
Music Library
Winner: Draw
Spotify offers one of the world's most abundant music sources. Luckily, both Spotify Free and Premium users are able to enjoy all the content on Spotify. It's mainly because the platform provides users with online streaming services rather than a single-song purchase service. Listeners can enjoy the whole music library including:
● Over 80 million songs so far.
● Over 11 million artists and creators until now on Spotify.
● 60,000 songs are uploaded to Spotify every day on average.
Music Quality
Winner: Spotify Premium
One of the major differences between Spotify Premium vs Free is the streaming audio quality. On the web player, Spotify free accounts can listen to a default music quality of 128kbps in AAC audio format, but Premium subscribers can enjoy the audio quality of up to 256kbps with the AAC codec.
The difference is not that big if you use the Spotify app for mobile or desktop devices. Premium subscribers only have one more option for better sound quality - Very high, which is equivalent to 320kbps. You can check out the following table for the details.
 
Spotify Free
Spotify Premium
Spotify Web Player
AAC 128kbps
AAC 256kbps
Spotify App
Automatic: Dependent on your network connection
Automatic: Dependent on your network connection
Low: Equivalent to approximately 24kbps
Low: Equivalent to approximately 24kbps
Normal: Equivalent to approximately 96kbps
Normal: Equivalent to approximately 96kbps
High: Equivalent to approximately 160kbps
High: Equivalent to approximately 160kbps
 
Very high: Equivalent to approximately 320kbps
Offline Listening
Winner: Spotify Premium
Offline listening is an exclusive feature for Premium subscribers. Once you subscribe to a Premium plan. You can find the Download icon inside a playlist/album and download them for offline listening with a Spotify Premium account. For free users, you are not available to download music from Spotify, but only available to download podcasts. However, that doesn't mean you cannot download Spotify songs without a paid account. With some third-party tools, like TuneFab Spotify Music Converter, you can easily download songs from Spotify for free or get Spotify Premium free forever.
Remember that you can not download a single song at a time, you need to make a playlist, put your individual songs into it, and then download the whole playlist. After that, you can turn on the Offline Mode in Settings - Playback to automatically play your downloads. Yet, there are some limitations you may check out in advance.
● Listeners can download as many as 10,000 tracks on each of up to 5 different devices.
● Listeners must go online at least once every 30 days to keep the downloads.
● Free listeners can only skip 6 tracks per hour.
Ads
Winner: Draw
The biggest headache for regular users is that Spotify delivers annoying advertisements from time to time when streaming music. Spotify will remove all the ads and let you enjoy an ad-free listening experience once you subscribe to its Premium plan. For free users, it's thus more like an ad-based service. However, don't be frustrated. If you like using the Spotify web player, you can use some ad blockers to block ads from Spotify without premium.
Spotify Connect
Winner: Draw
Spotify Connect enables users to hook up to another device from a computer or a mobile phone/tablet with ease. Listeners can literally listen everywhere with this powerful feature. However, Spotify Connect has been available for free users ever since November 2021.
Thanks to Spotify Connect, all Spotify users are able to play and listen to Spotify music on wireless devices including Smart TVs, Smart Speakers, Smart Displays, Wearables, Gaming Consoles, Car Audio, Smart Home kits, and more.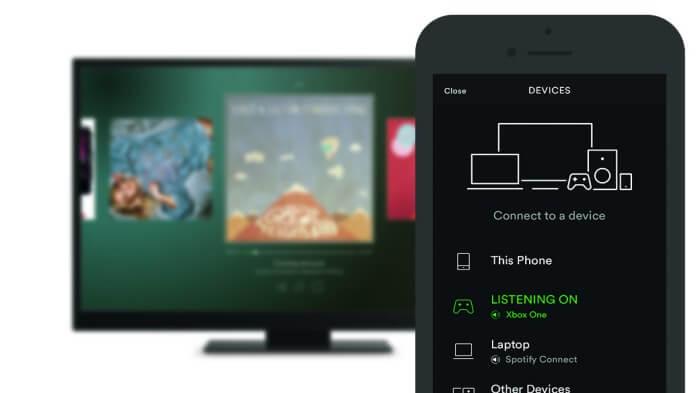 Supported Device
Winner: Draw
You can log in to your Spotify account on any supported device, be it Premium or free. Listeners can access Spotify music on its web player using Google Chrome, Mozilla Firefox, Edge, Opera, or Safari. Or, you can download and install the Spotify app for iOS (iOS 13 or later), Android (Android OS 5.0 or later), Mac (macOS X 10.13 or later), and Windows (Windows 7 or above) to have a better experience.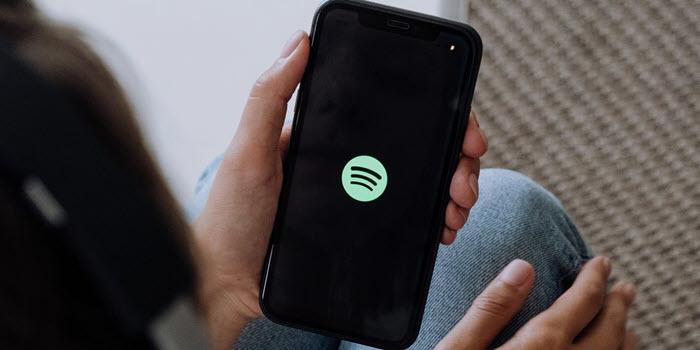 Social Feature
Winner: Spotify Premium
Spotify allows you to connect your Spotify accounts to other platforms via app integrations. After that, you can stream and share your favorite Spotify music with your besties. Apps that can integrate with Spotify include Google Assistant, Peloton, Xbox Game Bar, Discord, Bumble, Runkeeper, Shazam, Siri, Messenger, Tinder, Twitch, and others. You can create a share link from Spotify to these platforms, but it requires Premium subscribers to listen along with friends, for example, Discord.
Curated Content
Winner: Draw
Both free and premium users can listen to Spotify music of all genres. Also, there are some curated playlists that Spotify editors pick up for you. The daily recommendations and mixed collections always bring surprises for listeners. However, if you were going abroad most of the time for work or travel, a free account would restrict you from playing Spotify music after a period of up to 14 days.
Playback Control
Winner: Spotify Premium
For Spotify Premium users, you can get full control of your tunes. If you don't like the songs it is playing, then you can use the shuffle mode or the unlimited skip feature to change the songs. While for free users, you've got less control of your tunes, you are not able to shuffle play for whole albums using the app on a mobile phone. What's more, rewind and repeat playback controls are only available with the Spotify web player.
Should You Upgrade to Spotify Premium?
Now that you've gone through all the differences between Spotify Free vs Premium, do you still want to subscribe to a Premium plan on Spotify? If you want to have higher music quality, enjoy ad-free streaming, and download songs for offline playback, a Premium subscription will unlock more excellent features. Or, it's enough to remain a regular user.
Moreover, free users can block ads and listen to ad-free streaming on the Spotify web player with the adblocker extension. If you want to download some of your favorite songs, a Premium subscription is not a must if you use TuneFab Spotify Music Converter.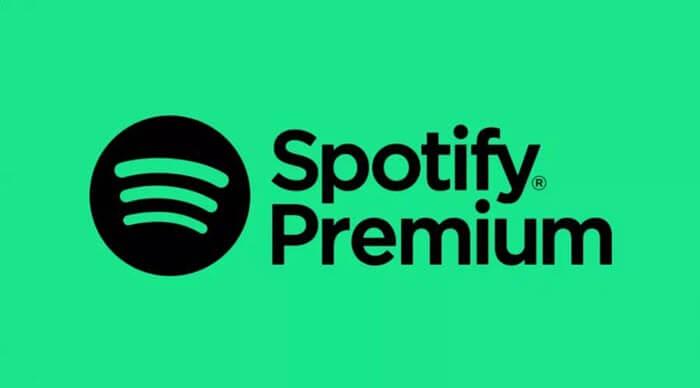 Bonus Tip: How to Download Ad-free Spotify Songs Without Premium
As we've mentioned above, non-premium users are able to download songs from Spotify with TuneFab Spotify Music Converter. This expert already defies the barrier to DRM (Digital Rights Management) restrictions and enables users to transcode encrypted Spotify songs to a popular audio format like MP3 with its superb decryption technology. More sparking features are listed as follows.
🎉
● High-Performance Speed: The program boasts advanced technology to accelerate the transcoding and downloading process up to 35X faster than its counterparts.
● Available for Spotify Free & Premium: TuneFab Spotify Music Converter works for both Spotify Free and Spotify Premium to download Spotify songs, playlists, albums, and podcasts.
● Popular Output Formats: The program enables users to remove DRM restrictions and download Spotify music to MP3, M4A, FLAC, WAV, ALAC, and AIFF.
● Lossless Audio Quality: Before you start to download Spotify music, you can set up the output audio quality to get the best out of Spotify. The tool supports lossless audio quality of up to 320kbps and 48kHz.
● Batch Download: TuneFab Spotify Music Converter allows you to start as many downloads as you want. It can easily handle multiple download tasks at the same time.
● Song Info Preservation Track details will be saved along the conversion including title, artists, Track ID, and album artwork. Listeners can easily manage all the downloads even if they download the entire Spotify library.
Thanks to its built-in Spotify web player, you are able to listen to Spotify music and download tracks to the desktop at the same time. Let's see how it works.
Step 1. Install TuneFab Spotify Music Converter and log into the Spotify web player.
Step 2. Go to your library for songs, playlists, or albums that you want to download from Spotify.
Step 3. Drag and drop the music you like to the conversion list.
Step 4. Click Convert All to start downloading all your selected Spotify tracks, then you can download Spotify to MP3 without premium.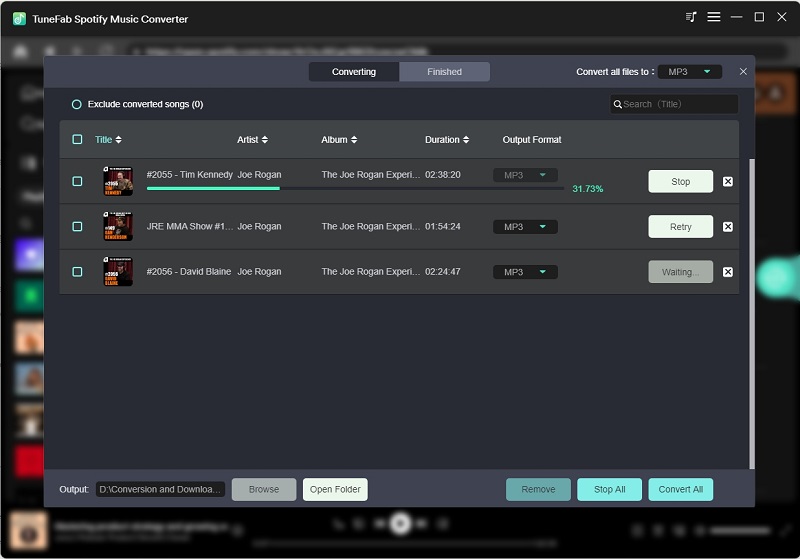 Conclusion
That's the end of Spotify Free vs Premium. To be honest, Spotify Premium doesn't surpass the free plan in many aspects, except for Music Quality and Offline Mode. The difference in audio quality is far from obvious unless you have a first-class audio speaker or a top-rated headphones.
As for offline playback, free users are also able to download Spotify music with TuneFab Spotify Music Converter. Better yet, there are no limitations on the number of downloads nor any restrictions to playback on authorized apps/devices.
Was this information helpful?
TrustScore 3.8 | 31