Spotify Premium subscribers can download Spotify songs for offline playback, but the downloads cannot be transferred or shared due to DRM encryption. That's really frustrating. Luckily, this post will show you how to remove DRM from Spotify on Windows, Mac, Android, or iPhone.
Better yet, you can even bypass DRM encryption and download DRM-free Spotify music without Premium. We're going to introduce both paid and freeware to remove DRM from Spotify offline or online. You'd better not miss these tricks and pick a preferred way to freely enjoy your favorite tunes on Spotify.
CONTENTS
Part 1. Best Tool to Remove Spotify DRM - TuneFab
To remove DRM from Spotify, a third-party Spotify Music Converter is required. But when many options are provided, how to select the best one to process Spotify DRM removal?
Considering that most of you probably want the tool with the simplest process to help remove DRM from Spotify without complex operations needed, TuneFab Spotify Music Converter is the best one you should try.
TuneFab Spotify Music Converter is well supported on Windows and Mac computers, providing the fastest and simplest function to help you remove Spotify DRM within just a few clicks and convert Spotify music to compatible MP3 format. With the following features provided, TuneFab Spotify Music Converter has been widely selected as the best tool to realize Spotify DRM removal. Let's check.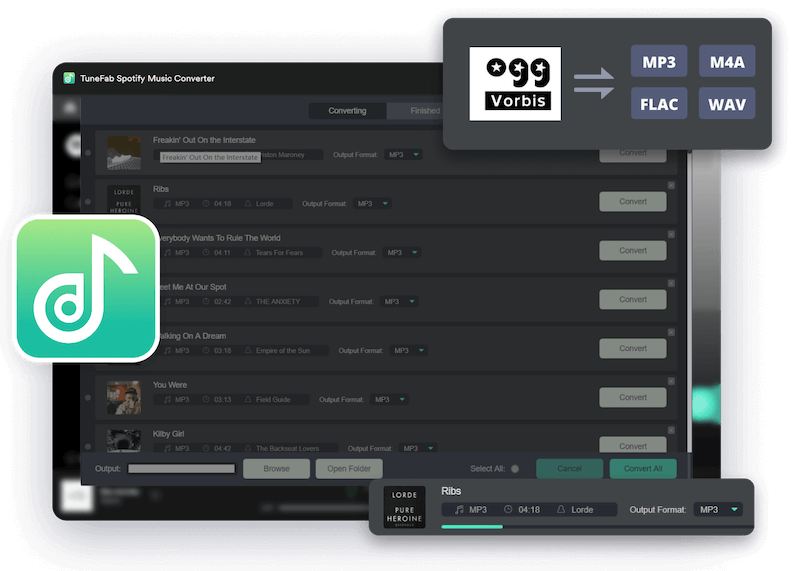 Download Spotify Music Without Premium
The silver lining of TuneFab Spotify Music Converter is that it lets you download Spotify music even if you don't subscribe to Spotify Premium. That means you can get all your favorite songs/albums/playlists and enjoy offline listening as an active Premium member does.
No Spotify App Needed
Unlike lots of other software needed to install the Spotify app for copying and pasting URLs of Spotify songs to remove DRM, TuneFab Spotify Music Converter has the in-built Spotify Web Player, letting you directly search for Spotify songs, playlists, and podcasts to convert within the software conveniently.
Auto-convert Spotify Playlists
TuneFab Spotify Music Converter makes it ever-easy to download DRM-free Spotify songs with a single button. To download a single song, simply drag it to the floating button. To download the entire Spotify playlist, album, or podcast, directly hit the floating button within the info page. As long as your computer has enough local storage, you can download the entire library from Spotify.
5X Faster Batch Conversion Speed
TuneFab Spotify Music Converter has also developed advanced hardware and GPU acceleration technologies, which can help to speed up the conversion to 5X or even 6X faster. It can also batch-process the conversion so that you can remove Spotify DRM from several songs at once and save a lot of time.
Best High-Res Listening Experience
To let you have a better Spotify Music playback experience offline, the software also allows you to freely customize the output settings, such as the "Format" (MP3, M4A, WAV, FLAC), "SampleRate" (from 22050hz to 48000hz), and "Bitrate" (from 128 kbps to 320 kbps) based on your own needs.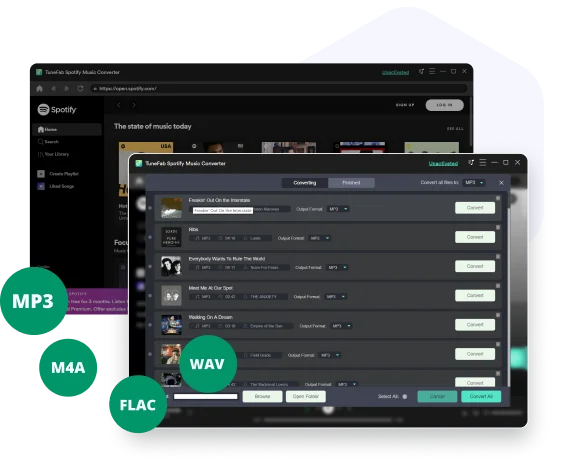 No Risk in Using
TuneFab Spotify Music Converter also boasts leading security technology to make sure the software is completely safe, no matter when installing it or using the conversion function.
Save ID3 Tags for Spotify Music
The software will also keep all the music metadata and ID3 tags for the downloaded Spotify songs, including the title, artists, Track ID, and album artwork after the conversion is finished. With the information, you can easily manage your collection of Spotify downloads.
Part 2. How to Remove DRM from Spotify on Windows/Mac
The convenience brought by TuneFab Spotify Music Converter to remove Spotify DRM can also be felt through its easy operation. You only need to follow the 4 simple steps below, then you can efficiently remove DRM from Spotify playlists within a while.
Step 1. Open Spotify Web Player in Software
When you have installed TuneFab Spotify Music Converter, open it and click "Open the Spotify web player" to enter the in-built Spotify Web Player. Then you need to press the "LOG IN" button on the top-right corner to sign in it using your own Spotify account.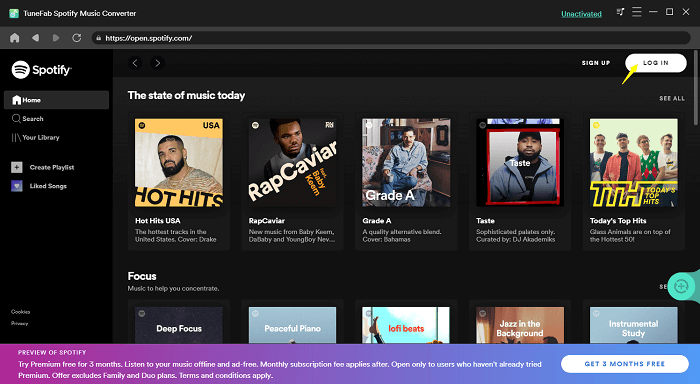 Step 2. Add Spotify Playlists to Convert
Then you can search for the Spotify playlists you want to remove DRM from directly using the web player. Simply by dragging them to the "+" button, the software will fetch data from Spotify and show the feeds of your favorite songs on the screen.
Step 3. Choose Output Format and Remove DRM
Now, simply select the output format in the "Convert all files to" menu (MP3, M4A, WAV, or FLAC) and then click the "Convert All" button. TuneFab Spotify Music Converter will help you remove DRM from each song immediately by batch converting them with 5X quick speed.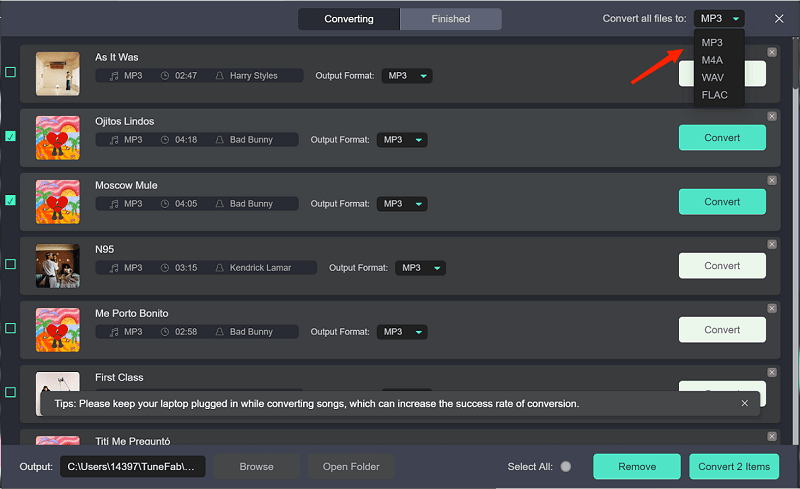 Tip: If you need to change the quality by adjusting the "Sample Rate" and "Bitrate", just go to "Preferences" in "Menu". Under the "Advanced" tab, you can select the option you want.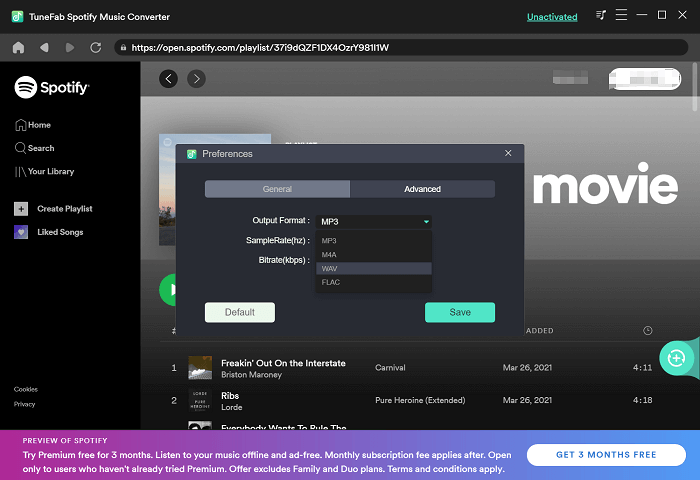 Step 4. Remove DRM from Spotify Songs
Finally, simply click the "Convert All" button, and TuneFab Spotify Music Converter will start to remove DRM from all Spotify songs for you. Just wait for a moment to let it finish.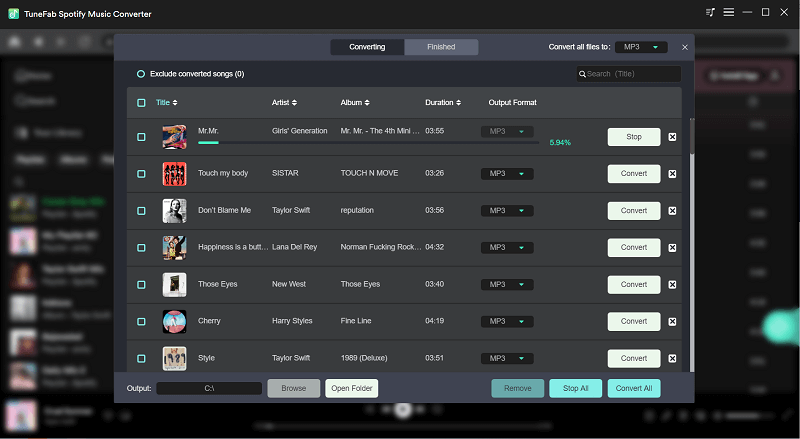 Part 3. How to Remove DRM from Spotify via Online Freeware
Apart from desktop software, there is online freeware to remove DRM from Spotify. In this part, we will introduce 2 popular online Spotify to MP3 converters here, respectively SpotifyMate and SpotifyDown. Both of them are free and easy to use on Windows, Mac, iPhone, and Android. To learn the way around them, let's kick in.
SpotifyMate
SpotifyMate is a free web-based service to convert Spotify to DRM-free MP3 files online. This online tool will directly access the link and remove DRM from Spotify songs over the cloud. Also, it allows you to save the site as a web app on Android and iOS devices with its Progressive Web App feature. If you don't want to download any software, it may be a nice option for you.
Compared to TuneFab:
● Cannot choose a high-resolution option to download.
● Convert Spotify music to MP3 only at medium sound quality.
● Download Spotify songs one by one at a time.
● Have annoying ads and pop-ups everywhere.
● Unstable to use due to its online server.
The whole procedure is totally foolproof. Let's see how it works.
Step 1. Open the Spotify app and choose a song. Then, tap Share and copy the link to the clipboard.
Step 2. Visit SpotifyMate on your browser and paste the link into the bar. Now, click Download to proceed.
Step 3. After it successfully converts the select Spotify song, select Download MP3 to save it to your device.

SpotifyDown
SoitifyDown is another online Spotify to MP3 converter that can bypass DRM encryption on Spotify songs without software. Similar to SpotifyMate, it will do all the work on its cloud server and returns a download option with fairly good sound quality. It's free to use, so you'll have to deal with a bunch of ads on the web. Since it's a free online tool, there is nothing to blame.
Compared to TuneFab:
● Only give you an MP3 option with no quality options.
● Cannot download batch Spotify songs in the meantime.
● Offer an ad-based free conversion service.
● Do not download Spotify playlists, albums, and podcasts.
● Cannot convert song tracks sometimes.
It's easy to use on any browser except Safari. Let's walk through the procedure below.
Step 1. Open SpotifyDown on Chrome or Firefox.
Step 2. Copy the link to the Spotify song you want to download and paste it into the site.
Step 3. Click the Download button below and it'll remove DRM from Spotify. Then, click the Download button behind your preferred song.

Part 4. How to Remove Spotify DRM on Android/iOS
Since people are more used to diving into the music world on the go with iPhone or Android phones, we also explore workable ways to remove DRM from Spotify on Android and iPhone. However, due to the restriction of the Google Play Store and Apple App Store, apps like Spotify converters are unavailable. Thankfully, we find out possible ways in the end, and you may want to check them out below.
For Android Users
SpotiFlyer is free open-source software on GitHub that you can download and install this program to Android devices for free. It claims to support several music streaming platforms so far, including Spotify, YouTube Music, SoundCloud, Gaana, and Jio-Saavn. Also, it supports performing Spotify DRM removal on a single song, playlists, and albums. As a freeware to remove DRM from Spotify on Android, it works like a charm.
Compared to TuneFab:
● Do not offer an in-built Spotify web player.
● Support MP3 conversion only at 196kbps.
● Support more music platforms.
● Free to install and use on Android.
● Require some coding knowledge to get started.
SpotiFlyer is similar to an online Spotify converter with a simple interface. Here's how it works.
Step 1. Download and install the app from GitHub to your Android device.
Step 2. Launch the app. Then, copy the URL of your desired Spotify song and paste it to SpotiFlyer.
Step 3. Tap the Download button to remove Spotify DRM. When done, click the MP3 option to download the track to your local storage.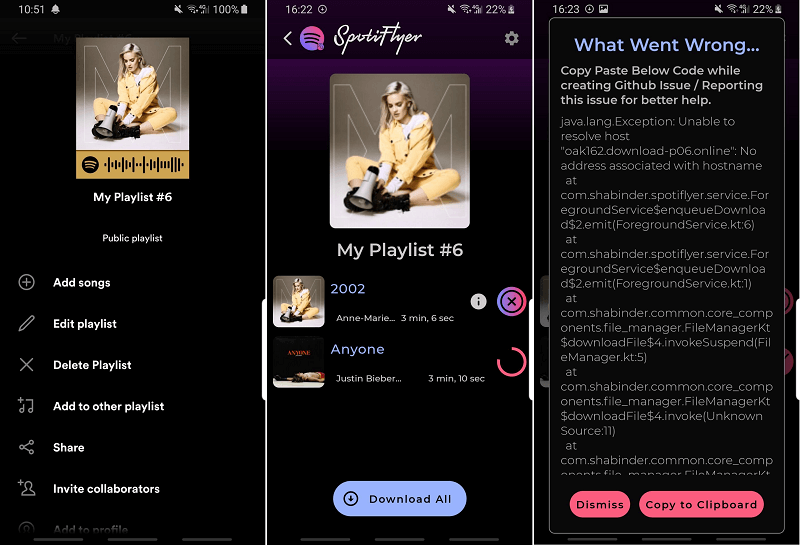 For iPhone/iPad Users
iOS is a strict and closed operating system, so there is no Spotify app available. Luckily, you can download DRM-free song tracks from Spotify using a Shortcut. That being said, it's Spotifydl. It enables you to download high-quality Spotify songs from 8kbps up to 320kbps according to your preset. However, it may get stuck or fail to fetch data from Spotify sometimes. Since it's the only way to bypass DRM encryption and download Spotify music on iPhone, you have to get used to it.
Compared to TuneFab:
● Switch between Spotify and Shortcut to download tracks.
● Support converting to MP3 with a range of bitrate options.
● Unstable to remove Spotify DRM from now and then.
● Work on iPhone and iPad running iOS 12 and above.
If you don't know this shortcut before, you should check it out here.
Step 1. Search Spotifydl in the Shortcuts app on iPhone/iPad.
Step 2. Tap Get Shortcut and choose a preset bitrate to use by default.
Step 3. Tap Add Shortcut and select it from the list in the Shortcuts app.
Step 4. Copy the link of a song in the Spotify app and paste it into the blank. Then, click Done.
Step 5. The shortcut will start transcoding the Spotify song to DRM-free MP3 and saving it to your device.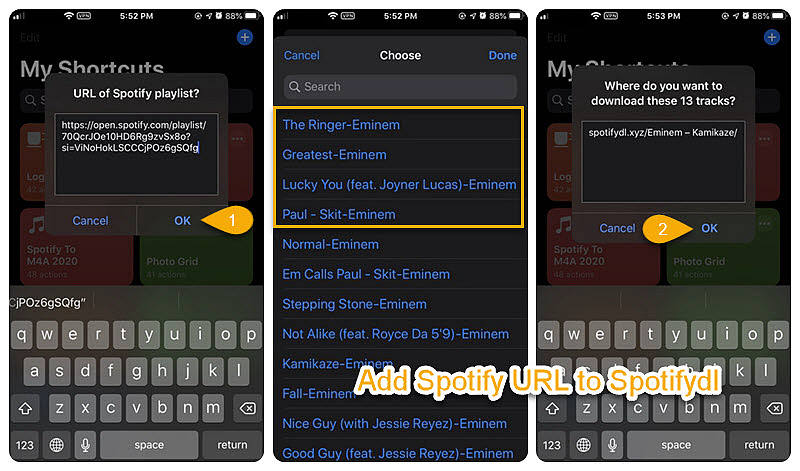 Part 5. FAQs About Spotify DRM Removal
Is it legal to remove Spotify DRM?
The answer is ambiguous. DRM removal has been a problem for video and music streaming platforms. However, the real headache is that these platforms are not even copyright owners themselves, which means they also have no right to tackle DRM issues.
Nowadays, people from all walks of life seem to reach a tacit agreement that it's not legal to bypass DRM encryption as long as you don't do it for commercial purposes. So, it's totally okay if you remove DRM from Spotify for personal use, education, and charity.
Can I Remove DRM from Spotify downloads offline?
No. If you're an active Premium subscriber and already download Spotify songs to the app, the downloads will be DRM-protected and cannot be used outside the Spotify app. Therefore, you cannot decrypt Spotify offline files which are downloaded in the app with Premium. However, you can make use of the methods above to remove DRM from Spotify and convert Spotify songs to MP3 at the same time.
How do you know if DRM is removed?
To check whether the downloaded Spotify music file is protected by DRM, just right-click to open "Properties". Then you can check in "Details" to see the "Protected" condition. If it shows "No", then the Spotify music file is DRM-free.
In Conclusion
Do you get your best pick already? You can choose a choice according to the device on which you often listen to Spotify music. Freeware is always an appealing option, but it may have a few restrictions including poor sound quality, a single download task at a time, inability to download Spotify playlists/albums, instability to use, and so on.
If you'd like to strip off the DRM of many favorite songs from Spotify, TuneFab Spotify Music Converter is the best way to make it possible. Better yet, you can save pennies for a Spotify Premium subscription, because this marvelous software can download DRM-free Spotify music without Premium.
Was this information helpful?
TrustScore 3 | 14