Anyone who has heard Stephen Fry's version of the Harry Potter audiobook or listened to Agatha Christie's impressive books on Audible will know why audiobooks are so special. Many of them are read by the most famous voices in the world and quickly get you immersed in the fascinating story.
However, you may get frustrated when you find your downloaded Audible audiobook files cannot be played on your MP3 players or devices that are not equipped with the Audible app. This is because only some selected devices with the authorized Audible account can play Audible's protected AAX files.
Luckily, for those who want to convert AAX to MP3 so as to better organize their audiobook library, here we will offer the best solution. With our pick for AAX to MP3 converters, it will be much easier to listen to audiobooks on more than one platform. Also, you will get to know some free Audible books for relaxation.

CONTENTS
Method 1. Convert Protected AAX to MP3 with Free Professional Converter
Compatible System: Windows & Mac
To convert protected AAX files to MP3, here we recommend TuneFab Audible Converter. It is a professional tool specially designed for Audible DRM removal. Unlike most Audible audiobook converters available, the upgraded TuneFab Audible Converter is able to directly convert Audible AAX files without connecting your Audible account to iTunes.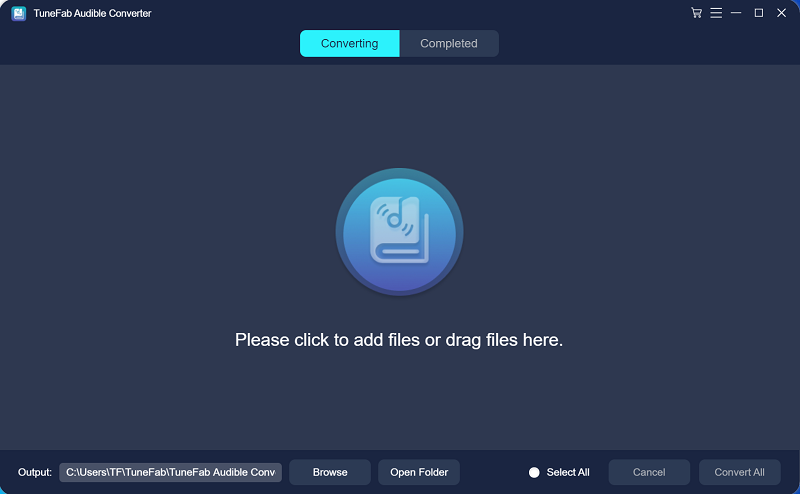 Main Features of TuneFab Audible Converter
Preservation of ID3 Tag and Chapter Information
The powerful TuneFab Audible Converter supports keeping audiobook chapter information and provides an in-built ID3 tag editor that allows you to change metadata such as Audiobook cover art, narrator name, and audiobook title.
Function of Splitting Audiobooks
If you desire to keep your audiobooks in small-size files, try out its useful audiobook splitter feature to separate your books into multiple parts by chapter, by segments, or by time duration. Then the converter will smartly export the large audiobook file as different audio files. If you want to get the audiobook with only one file, it also provides you with a No Spilt mode.
Common Formats for Flexible Playback
TuneFab Audible Converter can help you remove Audible DRM and convert Audible AAX files to high-quality MP3, M4A, WAV, or FLAC audio for playback on almost any popular device, including your Sony MP3 player or car audio system.

320kbps Sound Quality and Great Efficiency
This AAX to MP3 converter can help you convert Audible audiobooks at up to 60X faster speed. If you have lots of AAX files to convert, it also provides you with a batch conversion feature to help you proceed with the task simultaneously. Besides, if you wish to get a resulting file matching the original quality, you can change the bitrate to the highest 320kbps.
Let's quickly check out how it works. Here are some operational steps about how to convert AAX files to MP3 on Windows. (The conversion process on Mac is quite similar to the steps on Windows.)
STEP 0. Download and install TuneFab Audible Converter
TuneFab Audible Converter works flawlessly on both Mac and Windows platforms. Just select download and install the right version on your PC. You can completely convert 2 Audible books to your desired output format with the free-trial version.
STEP 1. Download Audible AAX Audiobooks
Download your audiobooks beforehand as this audiobook converter is designed to get rid of DRM protections that are attached to any audiobook from Audible.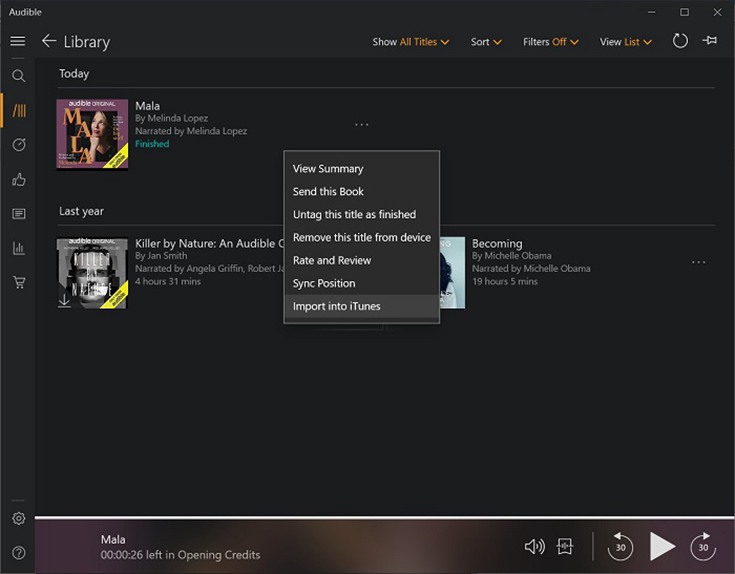 STEP 2. Choose the Audible Books that You Want to Convert
Launch TuneFab Audible Converter, and then select the audiobook that you want to convert. Simply click to add any AAX files to the converter. Or, you can locate the Audible download location, and then directly drag and drop the AAX to the main interface. In addition, TuneFab Audiobook Converter supports batch conversion that can save you more energy to get your audiobooks in MP3 audio.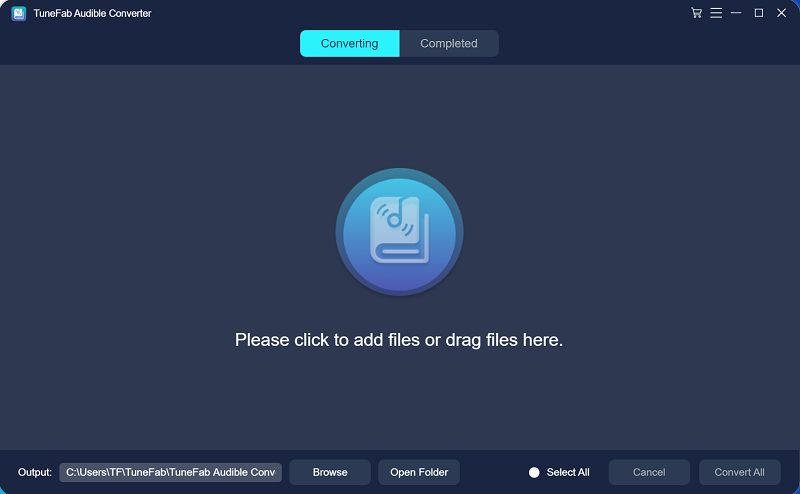 STEP 3. Adjust Settings for Your Audiobooks
From the "Output" bar, you can change the output folders for your converted audiobooks. Select MP3 as the output format for your Audible books from the drop-down menu to save your resultant files. Besides, TuneFab Audible Converter is able to keep chapters in your Audible AAX books. However, to preserve chapter information in the AAX file, just remember to select M4A as the output format.
Click on the profile icon on the right side of the audiobook title, you can conveniently change the metadata information.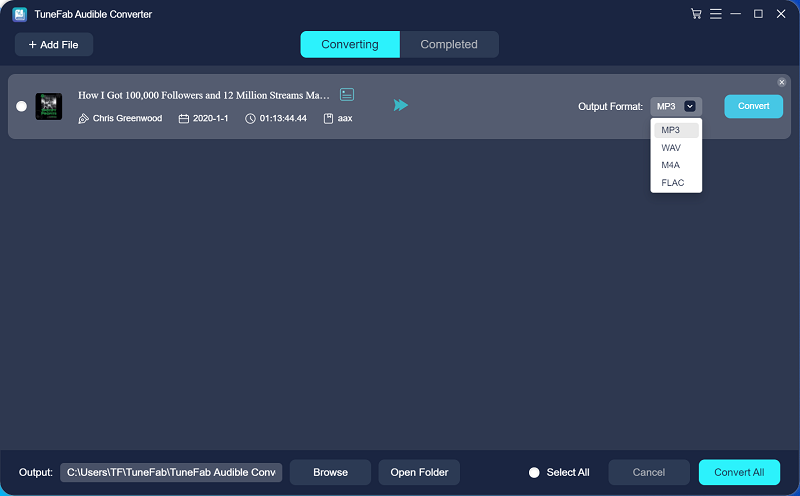 STEP 4. Convert Audible AAX Books to MP3
The highlighted feature of this converter is its high efficiency. Commonly, an audiobook lasts for hours. 1X conversion speed may take ages to get the resultant file. But with TuneFab Audible Converter, you can quicken the process of converting a 2-hour long audiobook within minutes. To help you get quick results, TuneFab Audible Converter boosts the entire conversion process to 60X faster. And the sound quality of the converted files is also nice for playback.
Once you click on the "Convert" button, the process will start and this will not cause any quality loss on your converted audiobooks. Normally, your Audible AAX files are encoded in 64 Kbps. And TuneFab will evaluate the audiobook you added and then choose an ideal encoding method and optimize the entire conversion process. It also delivers a smaller resultant file that will not take up much of your storage space.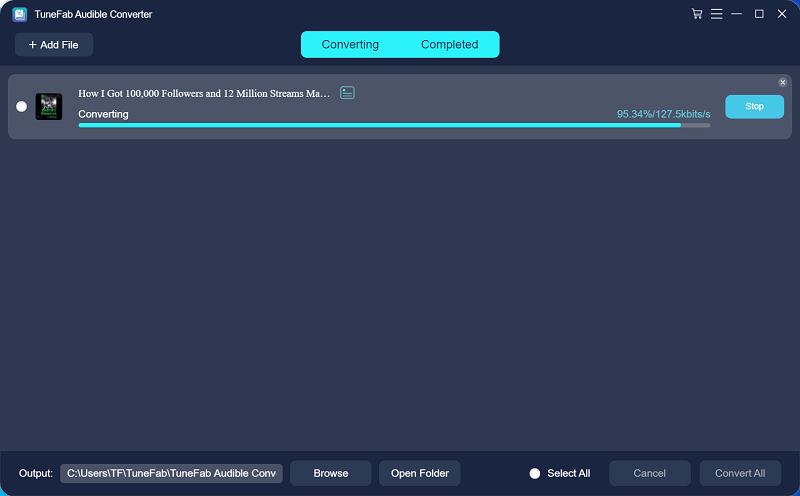 Once the conversion process is complete, your converted Audible books will be saved in MP3 formats in your selected output folder. Open the "Completed" tab so you can find all the conversion history.
Apart from converting protected Audible books from AAX to MP3, TuneFab Audible Converter can also download Audible books on any MP3 player.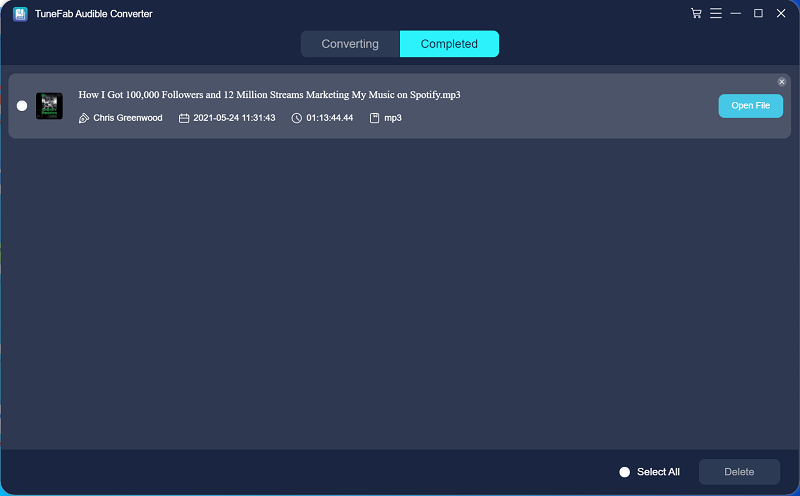 Lastly, it is worth noting that you don't have to worry about losing the license if you get a new computer once you've purchased the full version. TuneFab will provide a free license retrieving service and give you reliable technical support to help you get the software successfully installed on your computer.
Method 2. Transcode Audiobooks with Online AAX to MP3 Converter
Compatible System: Almost all systems
If you don't want to install any software, popular online converters such as Zamzar, Convertio, AnyConv, and Online Audio Converter offer options to easily convert AAX to MP3. The procedure with these online AAX to MP3 converters is similar, so in this part, Online Audio Converter will be taken as an example.
Online Audio Converter is a versatile online tool for converting audio files, enabling you to upload your AAX files from your Google Drive or Dropbox and even files from a URL. It also allows you to configure output quality, bitrate, sample rate, and channels to get suitable output files. For format options, this converter works with multiple popular audio formats including MP3, M4A, WAV, FLAC, OGG, and more.
NOTE: These online tools only enable you to convert unencrypted AAX audiobooks to MP3, and some of them only allow you to upload small-sized audiobooks (maybe less than 100MB). So if you want to convert encrypted AAX files or those in large sizes, TuneFab Audible Converter must be your first pick!
Step 1. Open Online Audio Converter and open your aax file by clicking the huge "Open file" button. Then the file will be uploaded.
Step 2. The output format will be MP3 by default. And you can customize the bitrate of the converted audiobook by dragging the slider.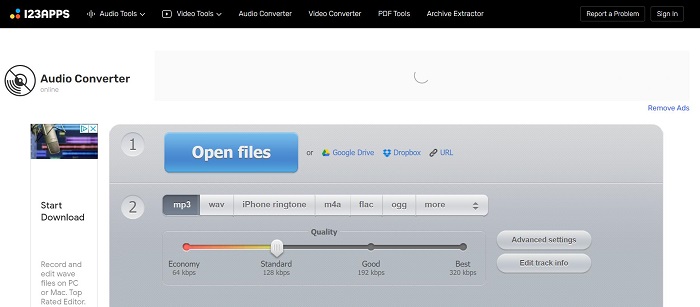 Step 3. Hit the convert button when the uploading finishes. Wait for the conversion and download the MP3 file to your computer when it's done.
For more customization, it provides audio tools that can change volume, speed, and pitch, which somehow enhances your audiobook listening experience.

If you purchase audiobooks from iTunes, after conversion, you can import audiobooks to iTunes to manage your audiobook collection more systematically.
Method 3. Convert AAX to MP3 with Free Open Source Software
Compatible System: Only Windows
AAXAudioConverter is a free tool that allows you to convert aax files to plain MP3, M4A, or M4B audio on Windows. It supports batch conversions so you can upload multiple files and convert them effectively. The audio division is also available on this tool. You can either divide your audiobook by chapter or roughly equal length according to your own need. Moreover, all ID3 metadata information as well as the chapter tags can be preserved by it and you can adjust inaccurate chapter marks before the conversion.
NOTE: AAXAudioConverter is currently not compatible with macOS. If you are not a Windows user, you can try TuneFab Audible Converterinstead.
Now let's see how it works.
Step 1. Download, install and launch AAXAudioConverter.
Step 2. Hit the "Add" button and open your AAX audiobook.
Step 3. Select the output format as MP3 and the audio division you like from the "Mode" section. Also, you can change the destination folder you prefer.
Step 4. Hit the convert button and wait for it. After a while, you can find your converted audiobook in MP3 in the output folder you selected.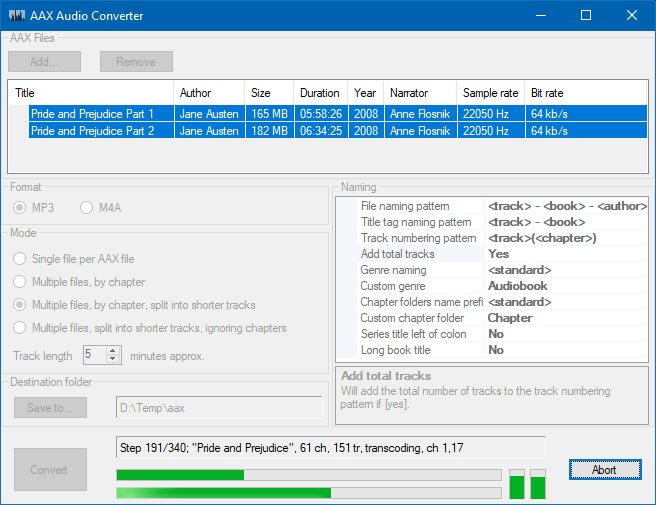 FAQs on Converting Audible Audiobooks to MP3
What Is AAX File Extension?
The AAX file extension is a multimedia digital audiobook format developed by Audible. This file extension is popularly used in Audible Enhanced Audiobooks. It is also considered as the enhanced format of Audible AA files.
Features of AAX File
Files with the .aax extension will include images, links, videos, and a timeline. Therefore, children's books that contain multiple graphics and pictures for interactive learning are also commonly employed in this format.
Supported Players
When it comes to the compatibility of the AAX file, the file is supported by iTunes, Apple iPod, Microsoft Zune, Creative Zen, and some selected Amazon Kindle models. To play the enhanced audiobook on supported devices requires an Audible account for authorization beforehand. Additionally, Audible AAX files are DRM protected, so it is normal to find that some devices or media players cannot recognize the file.
Can I Convert AA to MP3 on TuneFab Audible Converter?
Yes, you can. AA is the old format for Audible audiobooks and it's also convertible on this Audible converter. You can convert them to MP3 as you do for an AAX file.
How to Get the Exported MP3 Audiobook Split by Chapter?
You can get the audiobooks split during the conversion on TuneFab Audible Converter. To enable the audiobook splitter, just navigate to the settings icon from the upper right corner and then click to select "Output Settings" to open the "Preference" window. Here offer three different modes to break down your Audible books.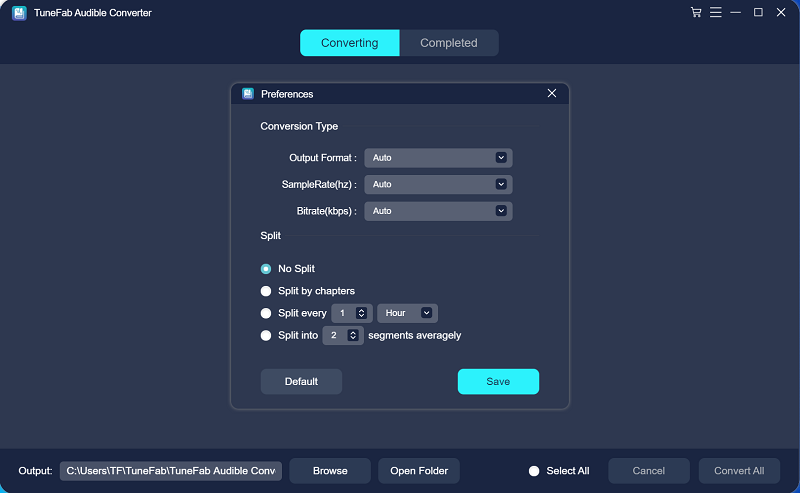 Can VLC Convert AAX to MP3?
Actually, VLC can only convert DRM-free files that are with the .aax extension. If the audiobook is protected with DRM, you can't convert it to MP3 with VLC. At this time, AAX to MP3 converter like TuneFab Audible Converter can help you.
Extra Reading: Free Audible Audiobooks That are Worth a Try
Now that you've known some simple ways to convert Audible audiobooks to MP3, it's a great chance to put it into practice. Looking back to 2020, 2021, and the outgoing 2022, it has been really tough. Our lives have been greatly impacted by the COVID-19 pandemic.
If it makes you feel anxious and upset, listening to some audiobooks may appease your anxiety. And Audible actually is offering a selection of audiobooks to download for free. And here are some of the free Audible audiobooks that you may be interested in. From funny stories to inspiring speeches, try to select some and start listening.
The Most Wonderful Tales of the Year
By: Audible Narrators
Narrated by: Jonathan Davis, Kate Reading, Michael Kramer, full cast
Length: 1 hour and 47 mins
Categories: Biographies & Memoirs
Essentially, this is a sweet Christmas gift from Audible for all listeners. Each story is told by Audible's favorite narrators. They generously share their own personal holiday memories that will make you laugh or let you feel connected to these narrators. It is sort of a shared experience that makes you feel like you are in a conversation with these brilliant narrators.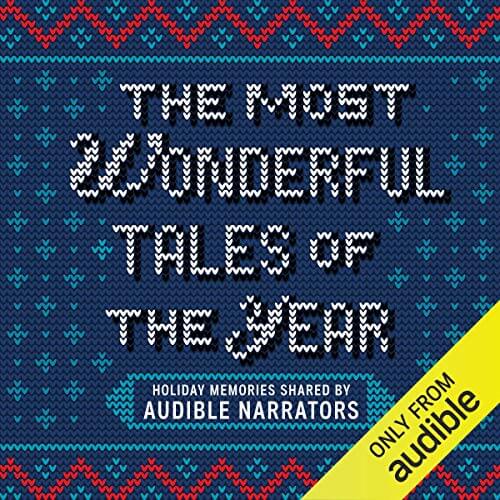 What Happens Next? Conversations from MARS
By: Adam Savage
Narrated by: Adam Savage
Length: 2 hours and 50 mins
Categories: Science & Engineering, Science
In What Happens Next: Conversations from MARS, you will get to know a bunch of new ideas about how machine learning, automation, robotics, and space will shape our future. If you are curious about cutting-edge science and do accept something geeky, you will find a lot of fun and enjoyment from this book. Rather than a proper audiobook, it is more of an NPR style or TED-type presentation or a long podcast, yet filled with inspiration and enthusiasm.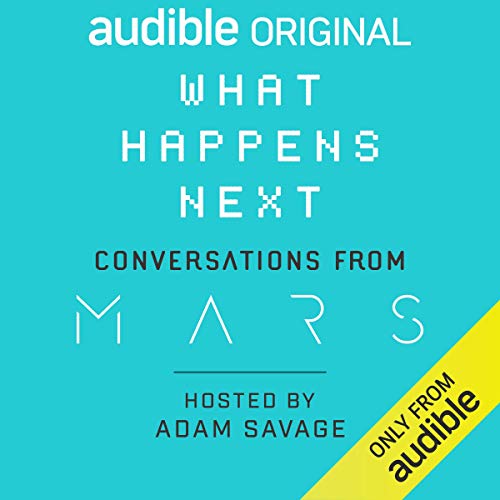 FREE: The Future of a Radical Price
By: Chris Anderson
Narrated by: Chris Anderson
Length: 6 hours and 58 mins.
Categories: Business & Careers, Management & Leadership
Books about business are not always boring or abstruse. FREE: The Future of a Radical Price, written by The New York Times best-selling author Chris Anderson is a fantastic book that explains multiple actual business examples in a very interesting way. This is an absolute must-listen-to for anyone who looks forward to promoting their business, which will change the way you see everything and let you draw some innovative ideas from it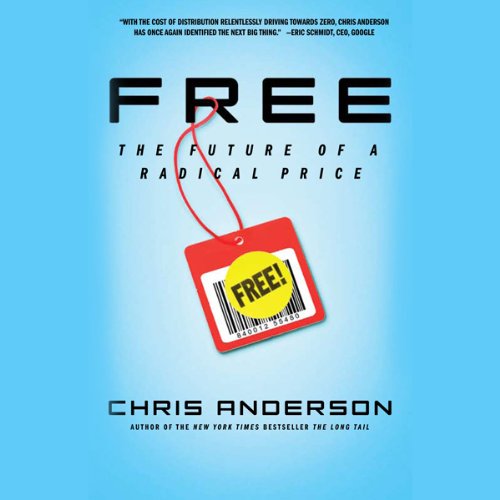 Funny Amazon Reviews

By: Jane Lynch
Narrated by: Jane LYNCH
Length: 47 mins
Categories: Arts & Entertainment, Entertainment & Performing Arts
If you are looking for something that makes you laugh, don't miss out on this audiobook. Funny Amazon Reviews gathers a group of famous comedians reading real Amazon product reviews that are amusing and well-written. These light and hilarious reviews should make you out of a bad mood and somehow narrow down your shopping list.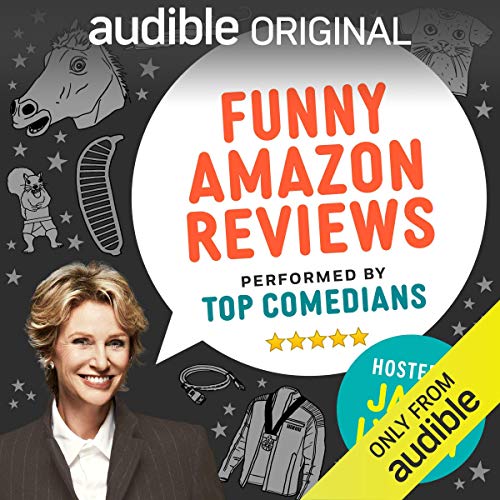 The Other America – A Speech from The Radical King
By: Dr. Martin Luther King Jr.
Narrated by: Wanda Sykes
Length: 25 mins
Categories: History, Americas
Dr. Martin Luther King's speech is still relevant in today's world. It is an informative book with profound and motivating words that deliver King's compassion, outrage, and insights on the disparity of wealth in America. With Wanda's emotional performance, this book should leave you with an unforgettable listening experience.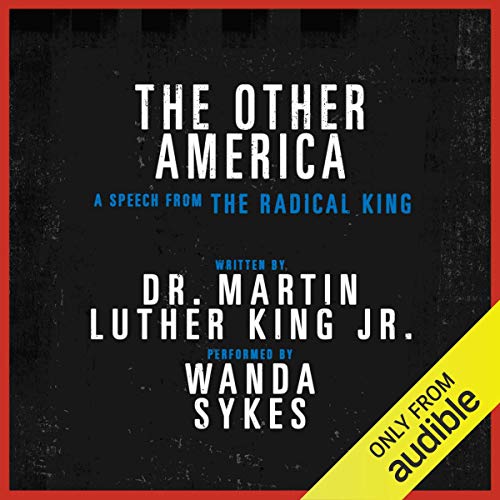 Final Thoughts
This is all about the best solutions to convert AAX files to MP3. With these easy-to-operate tools, hope you can get an enjoyable Audiobook playback experience.
● For those who want to convert both DRM-protected and DRM-free Audible books in batches with only one click, then TuneFab Audible Converter suits you perfectly.
● For those who would like to turn small-sized unencrypted audiobooks into MP3s, you can choose to use online tools.
● If you can only work with Windows systems and search for a free AAX to MP3 converter, you can try AAXAudioConverter.
Was this information helpful?
TrustScore 2.6 | 17