"I used to be able to import my iTunes playlist into Spotify for listening and I've been doing this for years. But suddenly, this feature doesn't exist anymore. Does anyone know why this feature was gone?" - A Spotify user asked a question in Spotify community.
In fact, you can't add iTunes playlist to Spotify anymore because Spotify team have removed this feature in February 2018. If you want to listen to iTunes songs on Spotify, you'll need to find an alternative way. This guide will tell you exactly how.
CONTENTS
Way 1. Import iTunes Playlist to Spotify on PC
Here's how it works:
Although the "Import iTunes Playlist" feature is gone, you can use another feature called "Add A Source" to upload local iTunes songs into Spotify. When all the iTunes songs are imported, you can enjoy these songs from Spotify's "Local File" section.
Another thing that you should note is that Spotify doesn't support iTunes M4A or Apple Music M4P format. If you want to play iTunes songs in Spotify app, you need to convert iTunes songs to MP3 before importing your playlist to Spotify.
Note:
This method is only useful when you are importing DRM-free iTunes playlist to Spotify.
If you want to add DRM-protected iTunes songs to Spotify, you'll need to use a DRM removal software to unlock DRM protection first. TuneFab Apple Music Converter is a perfect tool for removing DRM and converting protected iTunes music to DRM-free MP3. Once the DRM is gone, you can follow the steps below to put whatever iTunes playlist you like to Spotify.
Here's what you need to do:
1. Convert iTunes songs to MP3:
Launch iTunes and open the "Preferences" settings. Go to "General" > "Import Settings" > choose "MP3 Encoder" from the import setting window. Click "OK" to save the settings.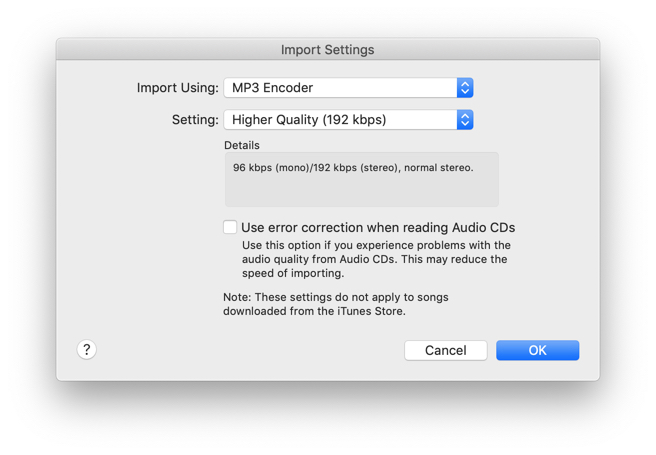 Find an iTunes playlist that you want to import to Spotify, tap "Ctrl + A" to select all the songs in that playlist.
Click on "File" > "Create New Version" > "Create MP3 Version" to convert iTunes songs from AAC (.m4a) audio files to MP3 audio files.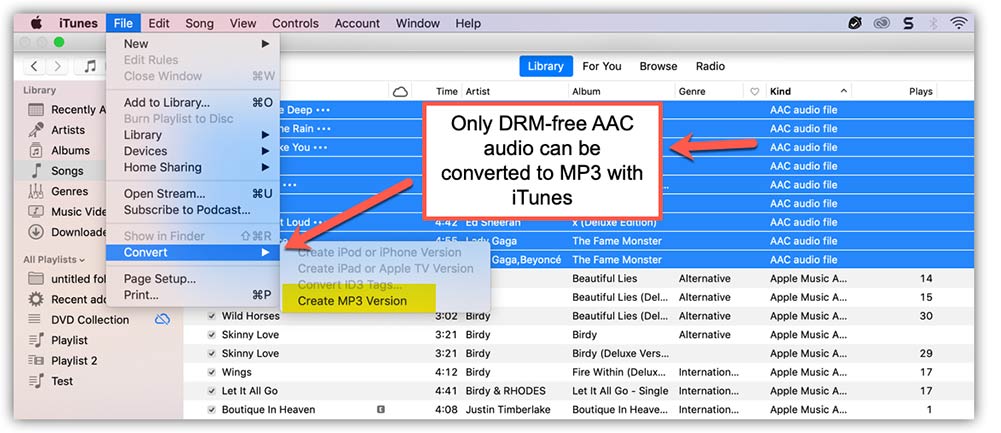 2. Copy and paste the MP3 songs in a new folder:
After all iTunes songs are converted to MP3, create a "New Folder" in your computer, then copy and paste all the MP3 songs into that folder. Then you are ready to add iTunes songs into Spotify.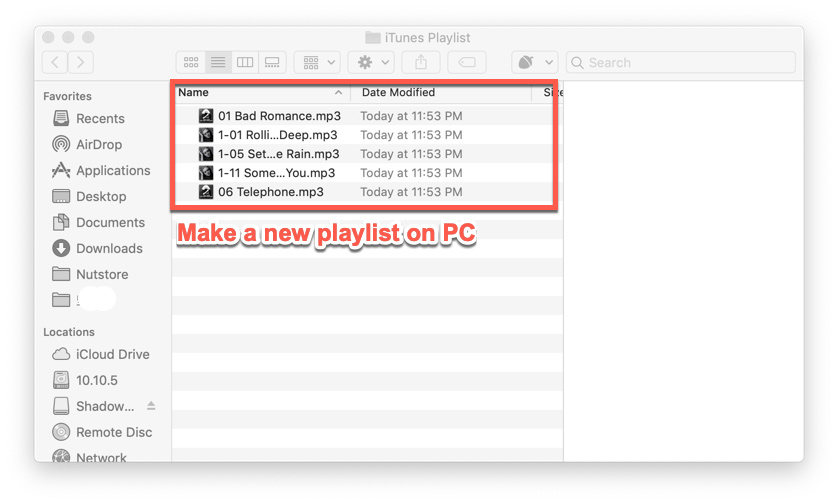 3. Add iTunes playlist to Spotify by using "ADD A SOURCE":
Open Spotify, click at "…" at the upper left corner and choose "Edit" > "Preference".
Scroll down until you see the "Local Files" section. Enable the "Show Local Files" option. Click at "ADD A Source".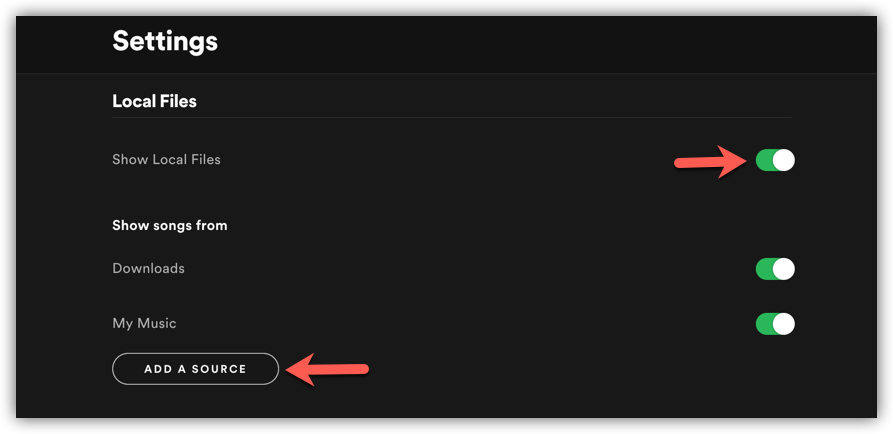 From the pop-up window, you should choose the "New Folder" which contains all the iTunes MP3 songs you want to import to Spotify and then click "OK".
Now you should be able to see the "New Folder" as one of the sources listed in Spotify's "Show songs from" section. Enable the toggle switch next to "New Folder", disable other sources.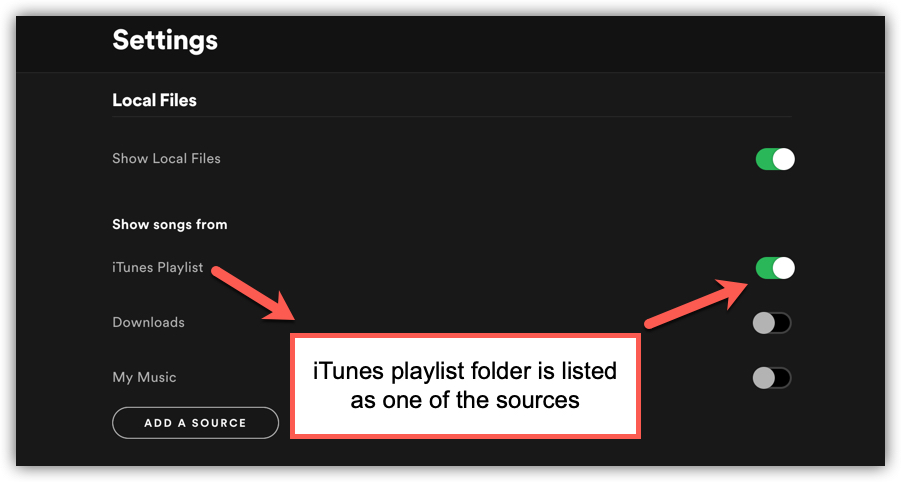 After that, all the songs from that folder should be listed in the "Local Files" playlist in Spotify.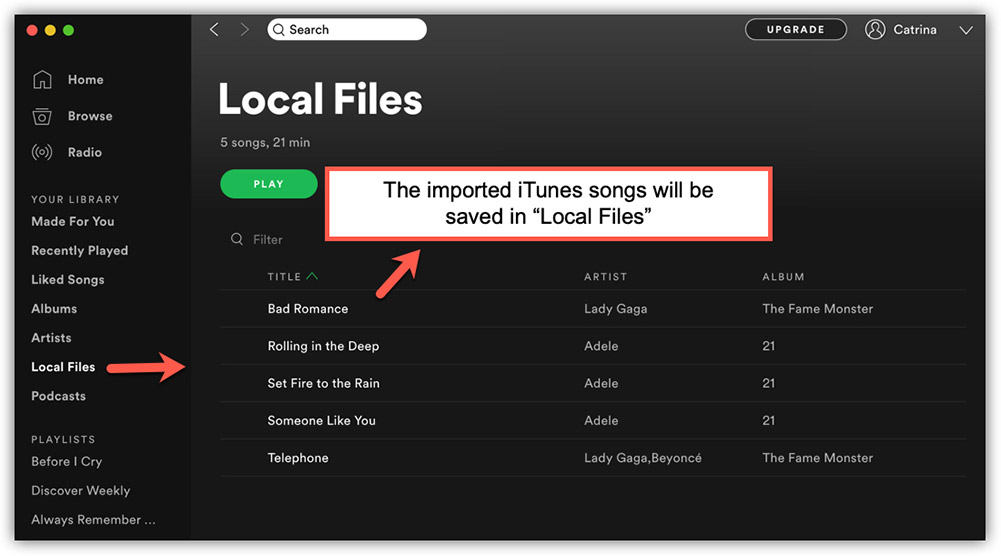 4. Create A New Playlist in Spotify to Save iTunes Songs:
On Spotify, click at "+ New Playlist" to make a new playlist.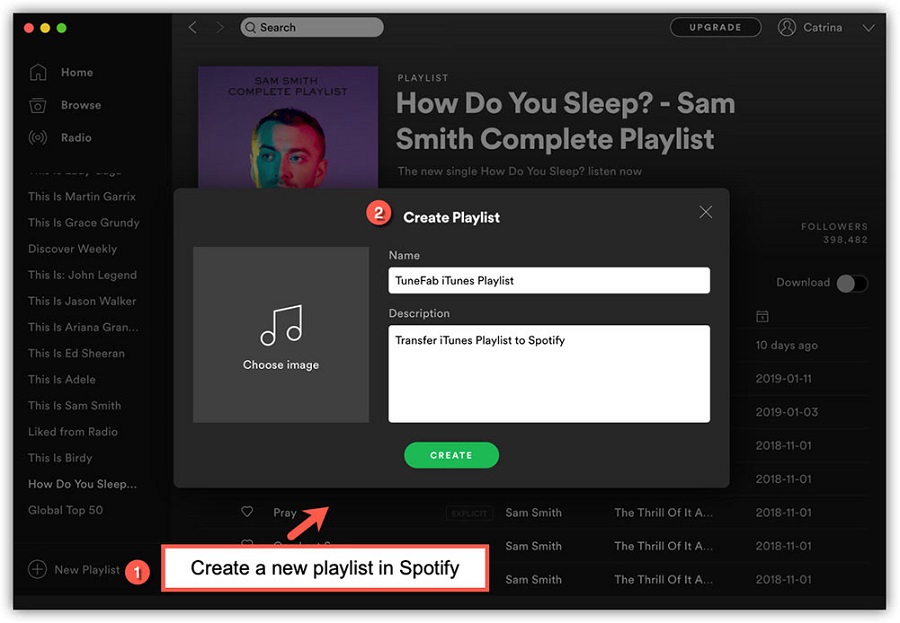 Go to "Your Library" > "Local Files", and select all the songs from the "New Folder" by entering "Ctrl + A" (or Cmd+A if you are using Mac). Then drag & drop the selected iTunes songs into the new playlist.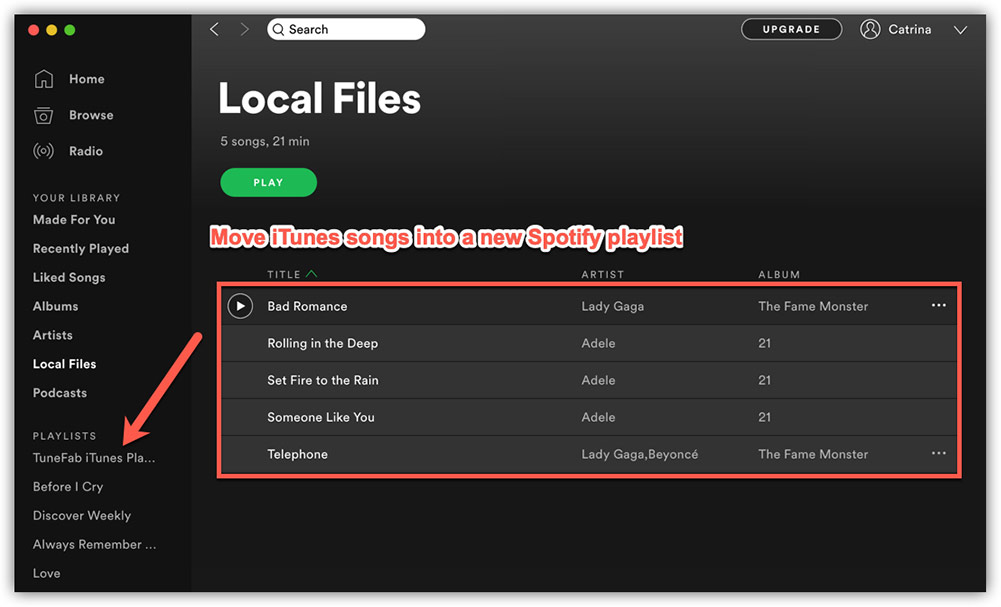 Now you've all done. Enjoy your music!
Way 2. Transfer iTunes Playlist to Spotify Online
Apart from importing iTunes playlist to Spotify manually, you can also use a free online tool to easily transfer iTunes songs to Spotify. TunemyMusic is a free online platform that is capable of moving playlists between different music streaming services, for example, from Apple Music to Spotify, or from iTunes to Spotify or vice versa.
There're two ways for you to sync iTunes playlist to Spotify via TunemyMusic:
Import from iTunes XML

Copy and paste iTunes playlist link
Here's what you need to do:
Step 1. Go to TunemyMusic website, choose "iTunes" as the source.
Step 2. Select playlist from iTunes by importing iTunes XML file or copying iTunes playlist URL.
Step 3. Select "Spotify" as the destination.
Step 4. Start moving iTunes playlist to Spotify.
Conclusion
Both of these two methods are able to import playlist from iTunes to Spotify. When the importing is done, your will be able to listen to iTunes music on your Spotify. Enjoy!
Was this information helpful?
TrustScore 3 | 2