"I have about 200 protected AAC audio files in my iTunes library, which are not playable on my MP3 player! How can I convert these iTunes protected files to MP3 so that I can put them on my MP3 player for listening?"

There are many people looking for available ways to convert protected AAC to MP3 on the internet. The truth is that unlike plain audio without DRM protection, protected AAC can't be easily converted to MP3 without a professional protection bypassing tool (which I am going to share with you in this post). Even though you can find some AAC to MP3 converters online, none of them supports converting protected AAC indeed. Because they are only equipped with a normal MP3 encoder but lack DRM-removal technology.
Key takeaway:
To successfully get your protected AAC audio files converted to MP3, you will need the right tool, TuneFab iTunes Music Converter, which is able to convert streaming Apple Music, audiobooks, podcasts, and even iTunes-purchased songs to MP3 without hassle.
CONTENTS
Part 1: What Is Protected AAC Audio File?
Generally, protected AAC audio file can be content from both iTunes Music and Apple Music.
* iTunes Music (Songs purchased before 2009 are protected with FairPlay DRM)
* Apple Music (Songs from Apple Music streaming service are DRM-protected)
FairPlay is a digital right management (DRM) technology developed and used by Apple to prevent content from being copied, shared or played on non-authorized devices. This makes sense why you can't play protected AAC audio files on Android phones, Zune, Sonos hi-fi systems and other non-Apple devices.
Songs purchased from iTunes before 2009 were called Protected AAC audio file. But since April 2009, Apple has stopped adding DRM protection in iTunes music and used a new, high-quality format called iTunes Plus as the default format for music buying from iTunes Store. The DRM-free AAC audio file is also called iTunes purchased AAC audio file. While music now in the Apple Music streaming service is protected, and it's called Apple Music AAC audio file. You need to remove FairPlay DRM protection so that you can play them on other devices.
Music Content
Music Type
Unprotect Solution
iTunes Music Purchased Before 2009
Protected AAC audio file
Use TuneFab iTunes Music Converter
iTunes Music Purchased After 2009
iTunes purchased AAC audio file
Streaming Apple Music
Apple Music AAC audio file
If you are not sure how to identify the songs from your iTunes library, you can check their song info following the guide (which is based on version 12.12.7.1):
1. Launch iTunes and go to the music section.
2. Right-click on the song you wish to identify.
3. Hit "Song Info" and go to the "File" tab. Then you can see the file type under "Kind".

Now you can just follow the guide in the following to check how to get them unprotected.
Part 2: How to Convert Protected iTunes & Streaming AAC to MP3
The quickest way to convert protected AAC to MP3 from Apple Music or iTunes purchases is by using TuneFab iTunes Music Converter. This is a desktop program compatible with both Mac and Windows and lets you convert songs, playlists, albums, or audiobooks from your iTunes library.
Not only does this converter support MP3, but also it provides output format AAC with a customizable sample rate and bitrate to let you get the converted audio matching the original sound quality. The best part is that you can keep the music in AC3 with Dolby digital, channel 6 to enjoy a true surround sound quality. Moreover, all original ID3 tags can be well-preserved. And if you like, you can even change the audio metadata information like the album cover on this tool.
Note: TuneFab iTunes Music Converter requires iTunes installation when converting. If you just want to convert streaming Apple Music, using the Apple Music web player-based converter in part 3 is much easier.
Key features of TuneFab iTunes Music Converter
#1. Remove DRM from Apple Music streaming content and iTunes purchases
#2. Convert iTunes songs, albums, playlists, audiobooks, podcasts, movies
#3. Save converted music to MP3, M4A, AC3, AAC, AIFF, AU, FLAC or WAV
#4. Keep original quality: 256 Kbps, 44,100 Hz
#5. Preserve original ID3 tags & metadata information
#6. Supports 5X speed to batch convert audio on Mac (1X on Windows)
Here's the step-by-step tutorial on how to use this tool to set your protected AAC free:
Step 1. Get the Tools Ready
Before you get the conversion started, you need to get two tools ready: one is iTunes (12.4 or above) and the other one is TuneFab iTunes Music Converter which you can download by clicking on the download button below. After the installation, you need to log in to Apple Music with your account on iTunes so that the converter can get the protected AAC files from it.
Launch TuneFab iTunes Music Converter and your iTunes will run automatically. You need to be aware that you can't shut iTunes down during the music conversion.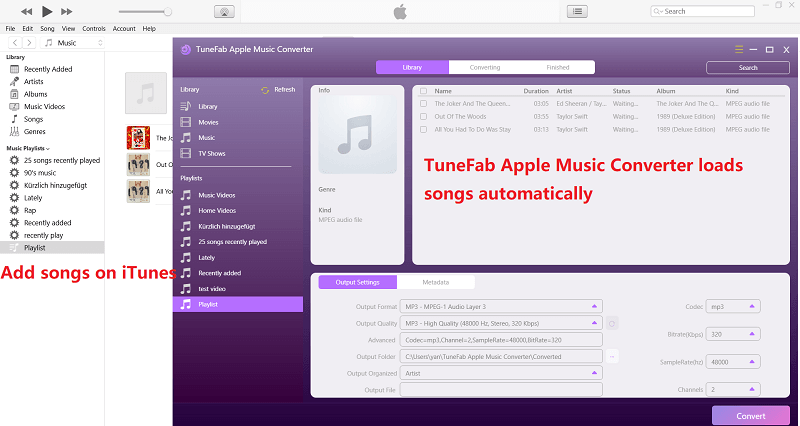 Step 2. Select the Protected AAC File
When the two tools are ready, you will see your iTunes library on the converter. Then you can select the protected songs or playlists you wish to convert to MP3.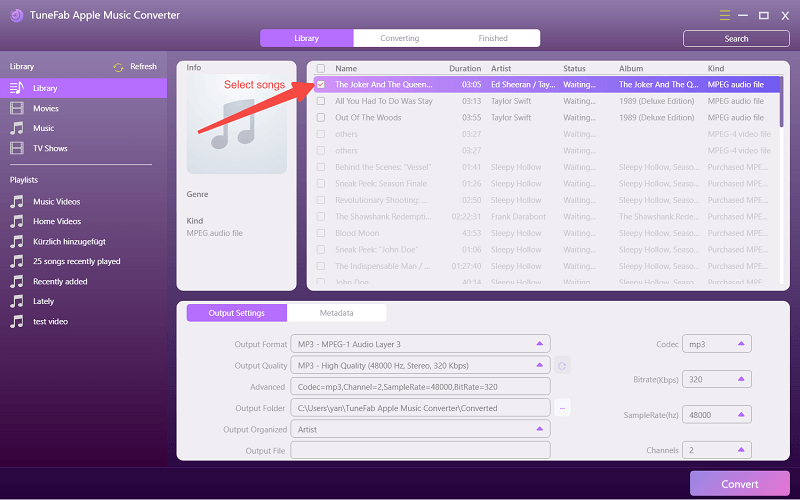 Step 3. Select Output Format as MP3
Hit the output format at the lower part, and you can select the output audio format from a list. Select MP3 - MPEG-1 Audio Layer 3. As for outputting music in original quality, you need to change the sample rate to 44100hz and bit rate to 320kbps.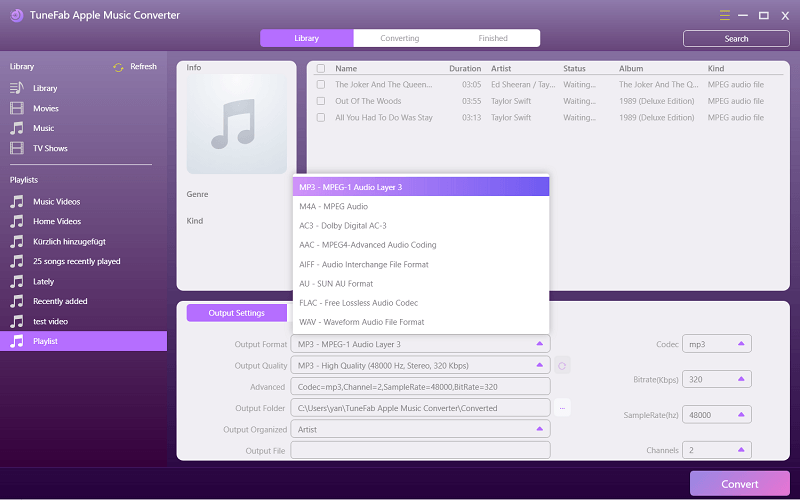 Step 4. Convert iTunes Protected AAC to MP3
Tap the convert button and then the converter will start to convert all songs you selected. When the conversion is done, you can find them on the "Finished" tab easily.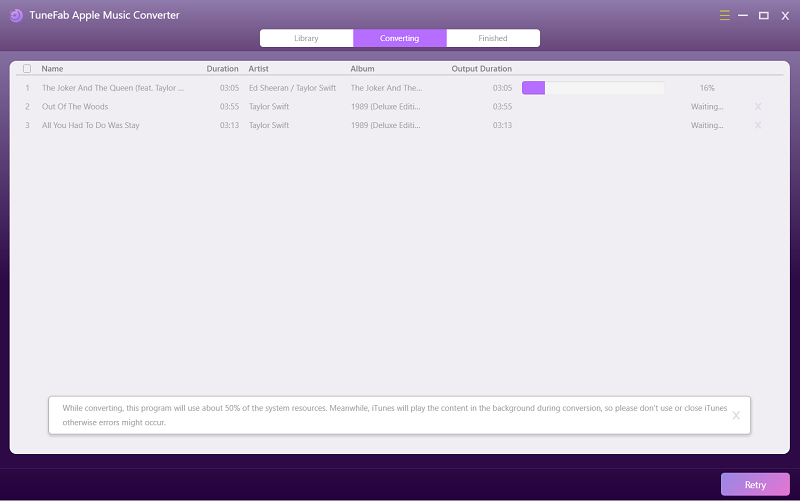 Part 3: How to Convert Apple Music AAC Audio File to MP3 (Easier)
Streaming songs from Apple Music are also protected AAC files. Even though you can download them on your Apple Music App or mobile iDevices, the downloaded files can't be read by other players or converted with simple audio format converters at all. If you wish to get those AAC files converted to MP3, TuneFab Apple Music Converter is all you need.
This is a tool that is built-in with the Apple Music web player and lets you convert songs to MP3 simply by drag-and-drop. Unlike TuneFab iTunes Music Converter, this tool allows you to browse the Apple Music library as you do on the Apple Music app and you are able to convert any music content on it. Songs from your playlists or even from an artist page can all be converted in one click. And thanks to the ID3 tag preservation, you can perfectly manage the protection-free MP3 files easily. Check more features about this converter:
#1. Convert Apple Music singles, albums, and playlists to normal audio files
#2. Support Up to 5X faster conversion speed and batch conversion
#3. Output MP3, M4A, FLAC, and WAV DRM-free audio formats
#4. Save Apple Music as MP3 in high quality with parameter settings
#5. Preserve ID3 tags including song title, album cover, title, etc.
Step 1. Get the Best Protected AAC to MP3 Converter Ready
The first thing you should do is to download and install TuneFab Apple Music Converter on your computer. It can help you perfectly convert protected AAC to MP3 on Mac or Windows. Once launched, the software will show you the Apple Music web player and ask you to log in to it.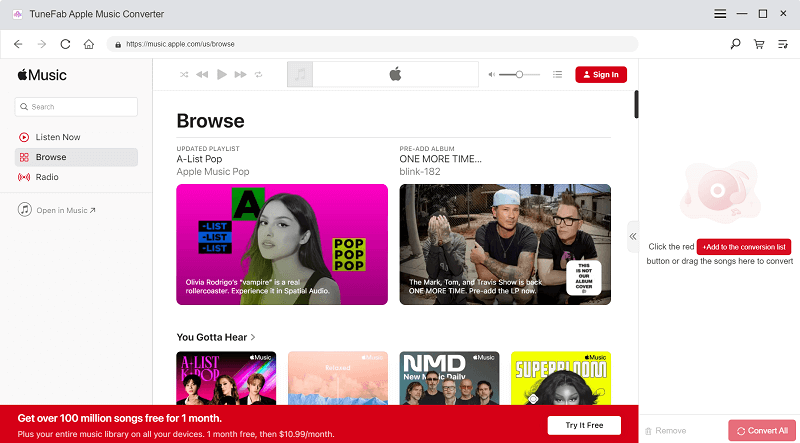 Step 2. Add Protected AAC Audio Files
After logging in to Apple Music, you can see your playlists and other content on the converter. If the songs you wish to convert to MP3 are in your playlist, you can just navigate to it and drag the song to the plus plugin on the right side. If you want to dig more songs, just search for them as you do on the browse tab. And then drag the songs and add them to the convert list.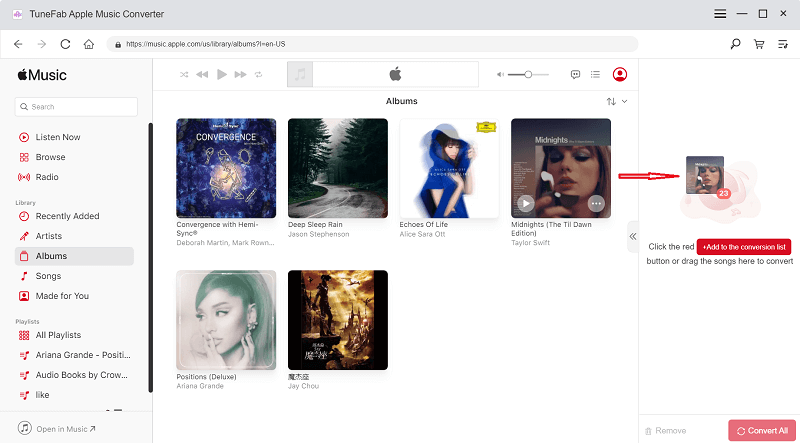 Step 3. Select MP3 as Output Format
Here comes the most important part. You can set up the output audio format as MP3 from the output setting on the top right of the list. If you wish to adjust the sample rate and the bitrate, just hit the hamburger icon at the upper right corner and change it from the preferences.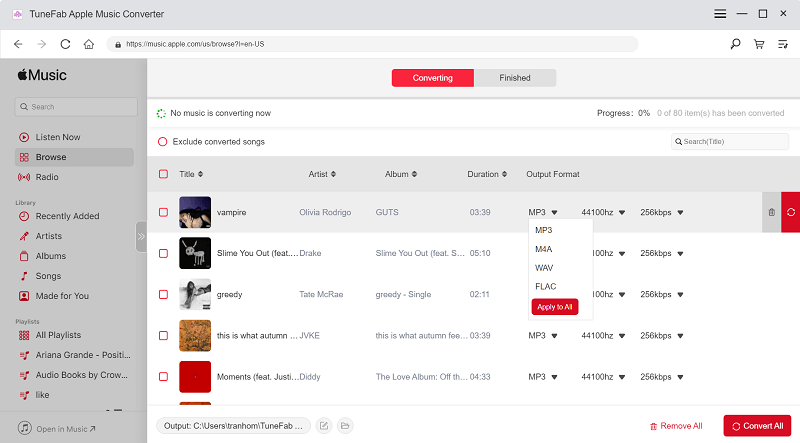 Step 4. Start Converting Protected AAC to MP3
Now simply click on the "Convert" button at the bottom and the TuneFab Apple Music Converter will instantly convert protected AAC audios to MP3.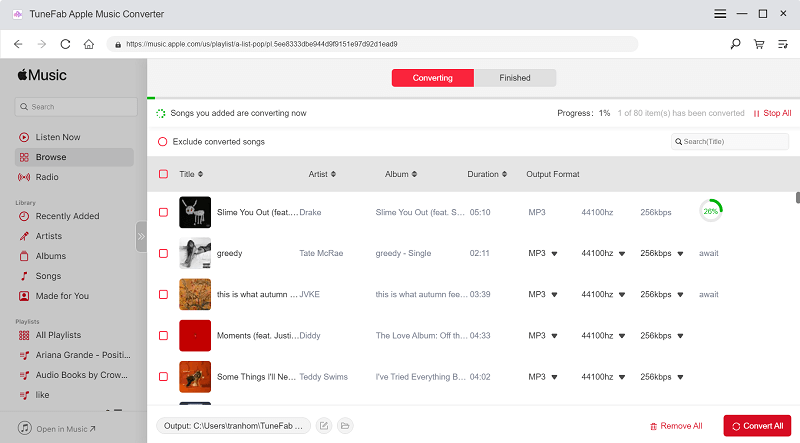 That's it. With TuneFab Apple Music Converter, you can easily convert protected AAC files to MP3. Therefore, you don't have to worry about the playback problem of protected AAC files. as MP3 files are compatible with portable devices such as iPod Shuffle, iPod Nano, MP3 players, Zune player, and various different non-Apple devices.
Part 4: Can You Convert Protected AAC Audio File to MP3 in iTunes?
You may ask is it possible for you to convert protected AAC to MP3 through iTunes? Actually, there're 2 options available for you. The first option is to use an iTunes Match subscription and the second option is to burn protected AAC audio files to CD, then rip them from CD to MP3 format with iTunes.
How to Convert Protected iTunes to MP3 on iTunes Directly?
You can use iTunes Match to upgrade protected AAC file to iTunes Plus which is completely DRM-free. When the DRM is removed, you can use iTunes to convert AAC to MP3 directly.
Step 1. Go to "Preferences " in iTunes.
Step 2. Click "Import Settings " and then choose as MP3 encoder.
Step 3. Select the AAC files you want to convert.
Step 4. Click "File " > "Create MP3 Version ".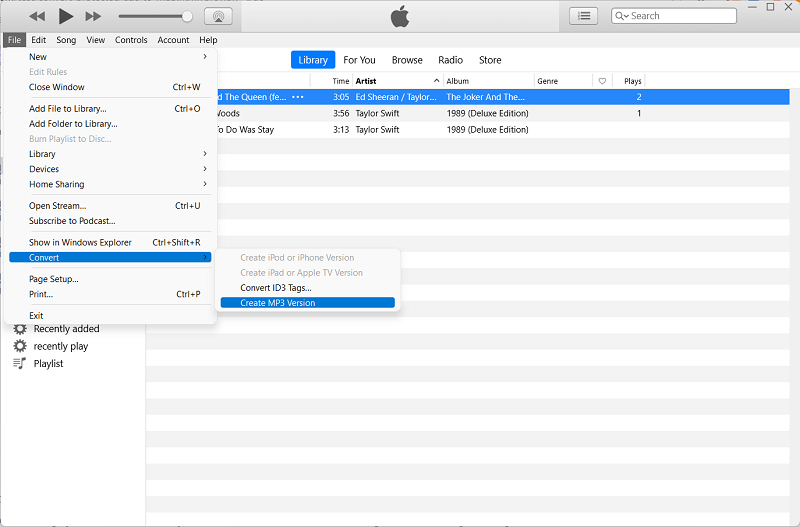 Note: There is no guarantee that all protected AAC songs can be upgraded successfully. Generally the same album or song must also still be available in the iTunes Store otherwise you won't be able to convert or upgrade these protected AAC or M4P files into DRM-free version.
TuneFab iTunes Music Converter
One click to convert protected iTunes AAC to MP3
How to Convert Protected AAC to MP3 Using the Burning Feature?
To convert protected aac to MP3 in this way requires you to prepare a blank CD first. If there are tons of songs you wish to convert, you'll need more than one and change the CD during burning. It's time-consuming to complete the whole process as well.
Moreover, it might cause quality loss after these burning procedures. Thus, I won't rank this method as the first option. Here's how to burn the protected AAC to CD and import the MP3 songs from the CD back to your computer.
Note: Streaming Apple Music AAC cannot be burned directly with iTunes.
Step 1. Launch iTunes and go to the "Music" category.
Step 2. Create a new playlist in iTunes and drag your AAC songs to it.
Step 3. Insert your CD to the CD drive that connects to your computer.
Step 4. Right-click on the playlist and burn it to disc.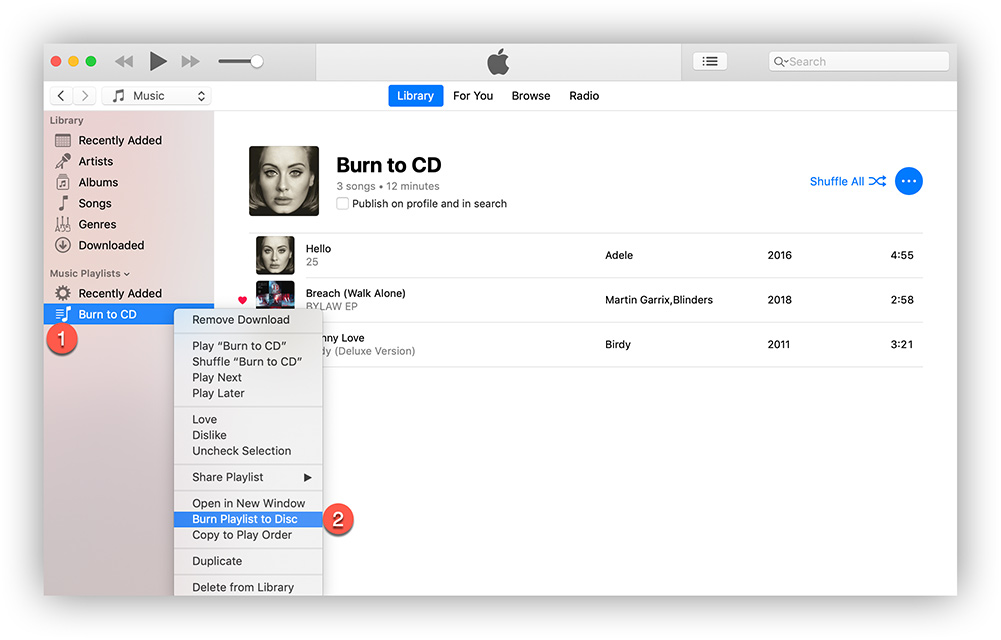 Step 5. Import the songs from CD back to iTunes using the MP3 encoder.
Conclusion
Given the methods above, you've already known TuneFab iTunes Music Converter is the most convenient and quickest way to convert protected AAC to MP3. Every beginner could easily finish the conversion as it's intuitive and efficient, and all the original quality of files will be ensured after conversion is complete. Now enjoy your MP3 music on any device you like freely.
Was this information helpful?
TrustScore 2.7 | 14