Many people tend to collect digital movies directly from Apple iTunes as it is a popular platform that provides movies of different genres. One of the greatest moments for digital movie collectors is when iTunes movies go on sale. Usually, you can buy $4.99 iTunes movies in HD during a sale.
However, after buying a movie from the iTunes Store, you may notice that you cannot watch the purchased iTunes movie on popular media players like VLC or Windows Media Player, and can only play the media content on your Apple device or iTunes. This is due to the fact that all iTunes videos are encrypted in the DRM-ed M4V format.
In such cases, is it possible to remove DRM restrictions from iTunes movies, TV shows, and music videos so that you can play your iTunes purchased and even rented items on any devices offline without compatibility limitations? This article is written to deal with the problem. It'll cover a lot of information you need to know about removing DRM from iTunes videos. I'll also offer 2 helpful tools - TuneFab M4V Converter and Requiem, to help you remove DRM from iTunes movies.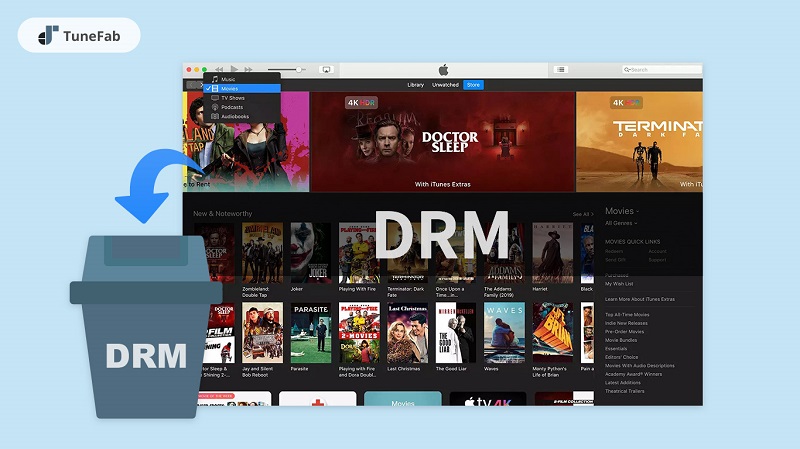 Contents
How to Remove DRM from iTunes Movies via Best iTunes DRM Removal Software
In the market, there are multiple DRM removal iTunes tools that can get rid of FairPlay DRM on iTunes files, among them, TuneFab M4V Converter is one of the best iTunes DRM removal software available. This powerful and reliable program can help you remove DRM from iTunes movies, Apple TV movies, TV shows, and music videos to widely-used MP4 files. In addition to converting movies available on the iTunes Store, it also helps you create a DRM-stripped file from TV shows that you purchased from iTunes.
Sparkling Features of TuneFab M4V Converter
TuneFab M4V Converter boasts an array of sparkling features designed to enhance the experience of removing DRM from iTunes movies. These features collectively make it a top iTunes DRM removal tool for users seeking to liberate their iTunes media content from DRM restrictions, enabling seamless playback across multiple platforms and devices.
Convert iTunes M4V Videos to MP4 in High Quality and High Efficiency
You may worry that the conversion may cause a drastic loss in quality. But with TuneFab M4V Converter, you can get a DRM-free MP4 file which is the same as your original SD, 720P, or 1080P HD iTunes movies.
Additionally, it supports batch converting iTunes M4V videos including your purchased movies, TV shows, and music video items at a fast speed to save time while maintaining the original playback quality. Also, you can keep all the subtitles, captions, and audio tracks of your purchased iTunes movies.
Watch iTunes M4V Videos Offline on Various Platforms
By using TuneFab M4V Converter, M4V DRM will be removed and the converted videos can be played on multiple platforms and devices including Android smartphones, Windows PC without iTunes, Xbox game consoles, smart TVs, and more at any time and anywhere. You can conveniently enjoy your purchased iTunes movies in HD quality offline even without the iTunes app or an Apple device.
Save iTunes Rental Movies
The biggest highlight of TuneFab M4V Converter is that you can somehow extend your rented iTunes movies beyond 24 hours and even save these iTunes rentals on your computer forever. Now you have a chance to watch your rented iTunes movies and TV shows without iTunes. Notice that DRM removal should be done for personal usage. You may invite trouble if you make any commercial or sale-related use of the media after the DRM removal has been performed.
How to Remove DRM from iTunes HD/SD Movies (Step-by-Step Guide)
Below is a simple guide to removing DRM protection from iTunes HD movies. Of course, you can also use TuneFab M4V Converter to remove DRM from your purchased iTunes TV shows and music videos, and the process is quite similar.
STEP 1. Download and Install TuneFab M4V Converter
Before you use TuneFab, make sure that iTunes is installed on your computer. When TuneFab M4V Converter is successfully installed, launch this iTunes DRM removal tool, and iTunes will be launched automatically as well.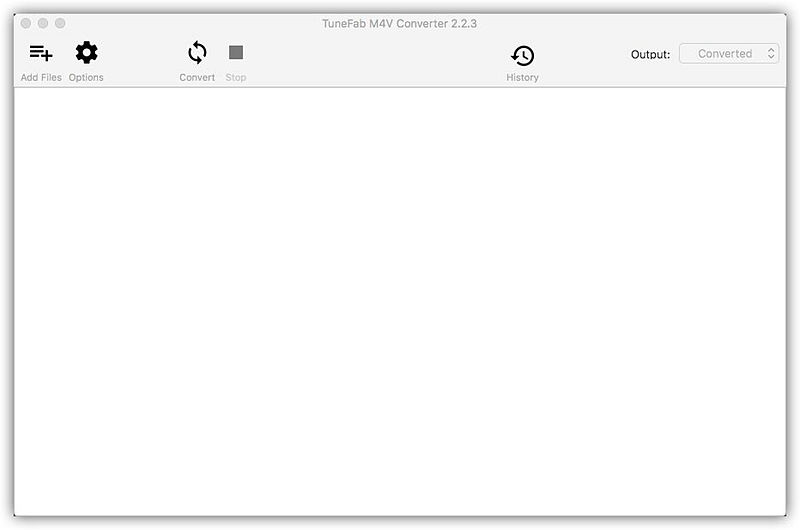 STEP 2. Add iTunes M4V Files
Click on "Add Files", and then all your purchased or rented iTunes M4V videos such as movies, TV shows, and music videos will be shown in the left panel. Click to select the iTunes video that you want to convert, and hit the "Add" button.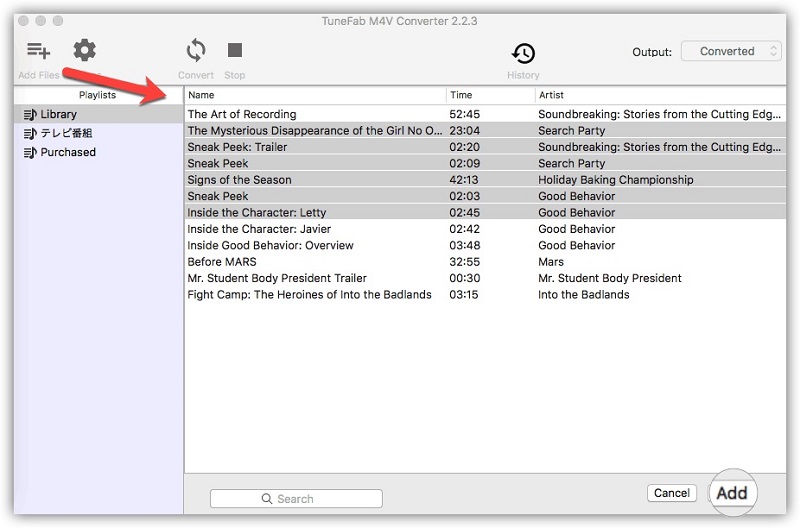 STEP 3. Select an Output Folder
Your selected iTunes movies, TV shows, and music videos are set to convert to MP4 by default, therefore, you don't have to select the output format for your iTunes videos. Now, just click on "Options" on the navigation bar to change your output folder according to your needs.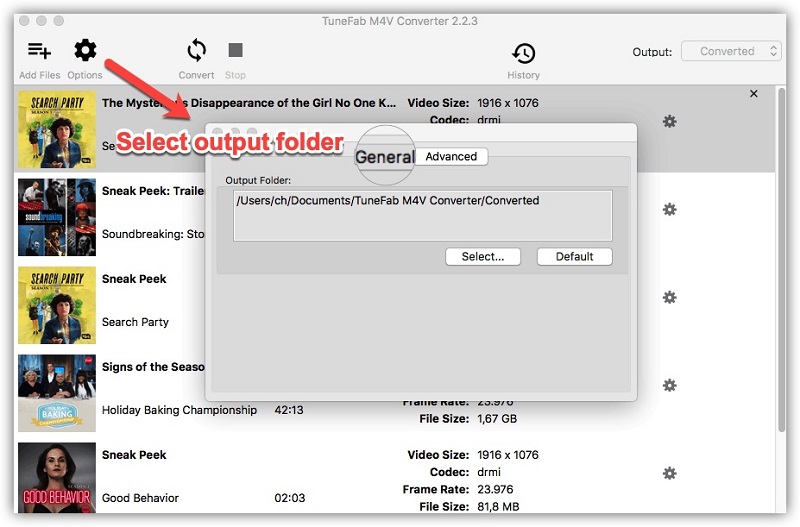 STEP 4. Choose Audio Tracks and Subtitles
Click on the gear icon on the left side of each item, and you can select to preserve the audio tracks and subtitles that you want. Also, you can skip this step and all original subtitles and audio tracks will be saved by default.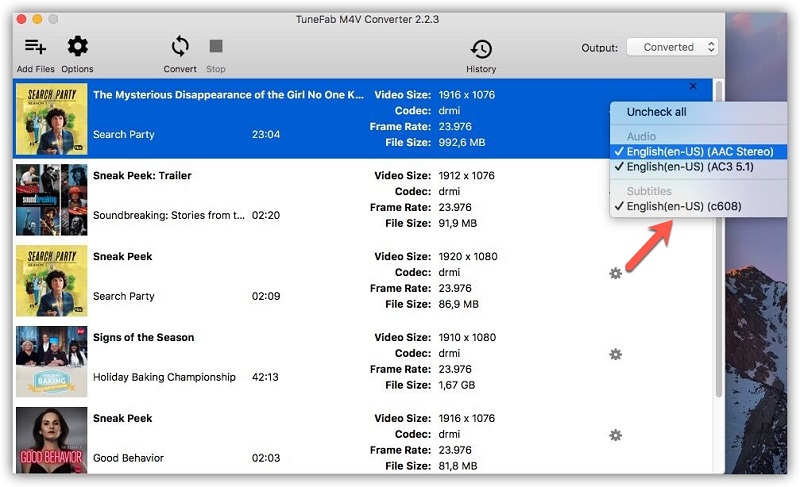 STEP 5. Start to Remove DRM from iTunes Videos
After you adjust all the settings, click on "Convert" on the menu bar, and after several minutes, the M4V DRM removal will be finished, and you can have your iTunes M4V video as an MP4 file without DRM protection. It may take some time if you select multiple iTunes movies to convert. Click the "History" button and you can see all the converted files.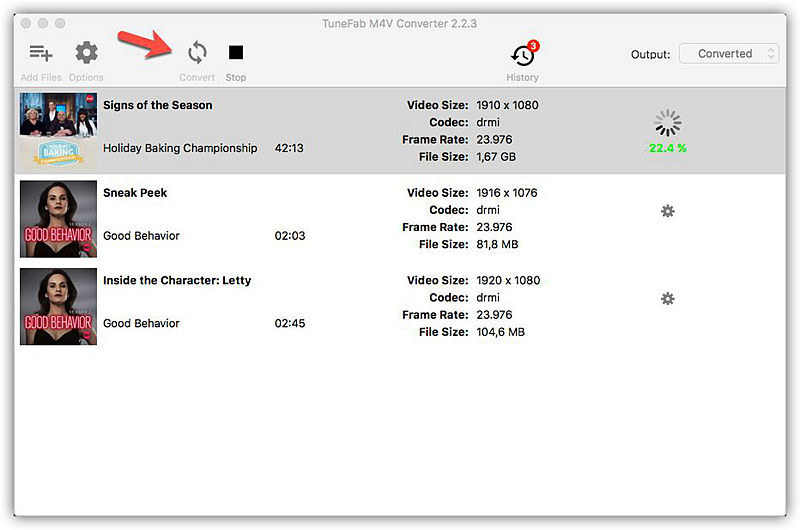 How to Remove DRM from iTunes Movies via Requiem iTunes DRM Removal
Requiem iTunes DRM removal is a free tool designed to remove DRM protection from media files purchased or rented through the iTunes Store, like iTunes music, movies, TV shows, and other content. With it, you can convert these files into DRM-free formats, so that you can play them on various devices and media players without restrictions.
However, it's important to note that Requiem is no longer actively maintained or updated. Its development ceased several years ago, and as a result, it can only support an older iTunes version, 10.7, and may not be compatible with the latest versions of iTunes. If your iTunes isn't this kind of iTunes version, or if you find Requiem fails to work, then you can use TuneFab M4V Converter as an alternative.
Follow the guide below to learn how Requiem works for DRM removal:
Step 1. Check your iTunes version, and make sure it's in version 10.7. If not, you need to uninstall your current iTunes, and reinstall the version 10.7 one.
Step 2. You can find a reliable source to download Requiem software, or you can just click the Zip files below to download and install Requiem 4.1 on your computer.
● Requiem 4.1 for Windows
● Requiem 4.1 for Mac
Step 3. Once installed Requiem, close your iTunes and open Requiem to import iTunes Movies. Then Requiem will automatically detect your iTunes library.
Step 4. Initiate the DRM removal process by selecting the DRM-protected iTunes movies you want to convert. Requiem will convert them into DRM-free files.
Step 5. Once the conversion is complete, transfer the converted files to other devices or media players of your choice and enjoy the content without DRM restrictions.
What is DRM? And Is It Legal to Remove It?
Definition and Concept of DRM
Digital rights management, short for DRM, is not a new thing. The term refers to a set of access control technologies for restricting the use, modification, and distribution of copyrighted works like computer programs and multimedia content.
DRM methods usually are employed in digital music and movies. For instance, when a movie is DRM-protected, you may find that you fail to screenshot or record the video. When it comes to iTunes videos, the DRM method, which is known as FairPlay, is mainly by limiting device compatibility. Added FairPlay DRM protection, iTunes M4V files cannot be edited, converted, and played on many common platforms, apps, and devices. This is also the reason that makes iTunes DRM removal a difficult task.
Is It Legal to Remove DRM?
There has been endless discussion on whether it is legal to circumvent DRM protection of digital copies. Generally speaking, DRM technology helps content creators retain ownership of their works and prevent illegal distribution. But it also brings inconvenience to content users.
Just take Apple's FairPlay as an example, the technology seemingly locks you in its proprietary ecosystem. You cannot play the media that you've brought from the iTunes Store on devices other than Apple products, which is a bit restrictive. And you may start to think about why you cannot get full access to the content after you legally pay for it, even if you just want it to be played on Windows or any other non-Apple device. This seems to be against the concept of consumer rights.
And if taking a look at the copyright law, the fair use doctrine indeed leaves room for making a private backup. In other words, it is okay to make a copy for personal use if you just want to watch an iTunes M4V movie on non-Apple devices. But if you are thinking of using the video commercially after decrypting it, then that is definitely forbidden by law.
Besides, laws, when it comes to copying copyrighted materials, vary from country to country. This article is not intended to promote piracy. Therefore, you should be aware of these laws and comply with them before you act.
FAQs About Removing DRM from iTunes Movies
Q1: Are all the iTunes DRM removal tools workable?
When I search for iTunes DRM removal software to create backups of all the iTunes movies I have bought over the years or remove DRM from iTunes movies, I find there are tons of tools, and not all iTunes DRM removal tools are workable. Some of them may be outdated or have bugs that prevent them from working properly, like Requiem. Others may be illegal to use in some countries. So, it is important to do your research before choosing a DRM removal tool to make sure that it is safe and effective.
Q2: Can HandBrake convert iTunes movies to MP4?
Of course, HandBrake can convert iTunes movies to MP4, but only if the movies are not protected by DRM. If an iTunes movie is protected by DRM, HandBrake will not be able to convert it to MP4.
If you are trying to convert an iTunes movie that is protected by DRM, you can turn to using a DRM removal tool first. There are a number of different DRM removal tools available, like TuneFab M4V Converter, DVDFab DRM Removal for Apple, TunesKit DRM Media Converter, etc. Once you have removed the DRM from the iTunes movie, you can then use HandBrake to convert it to MP4.
Conclusion
This is all you need to know about decrypting an iTunes M4V movie with TuneFab M4V Converter and Requiem. After getting a DRM-free iTunes video, you can transfer the converted video to any device you have for enjoyment. If you have any questions about this tool, feel free to leave comments below.
Was this information helpful?
TrustScore 1.9 | 101