When it comes to streaming music apps, it seems like Spotify and Pandora will be attractive and taken into consideration. So what is the best option for you? However, few people know exactly the differences between the Spotify and Pandora. Therefore, I will make some conclusions; you can decide which one is the best option for you. Here we go.
CONTENTS
1. Differences Between Spotify and Pandora
1.1 Feature Differences
Spotify is a music, podcast, and video streaming service that was officially launched on October 7th, 2008. It is developed by Spotify AB in Stockholm, Sweden.
On Spotify's apps, Spotify music can be searched through many channels like playlists, albums, genre, artists or record label. Its "Discover Weekly" playlist will update every week with new ideas or suggestions of artists for your checking based on your listening habits. So if you want the dance tracks, Spotify will definitely suit you.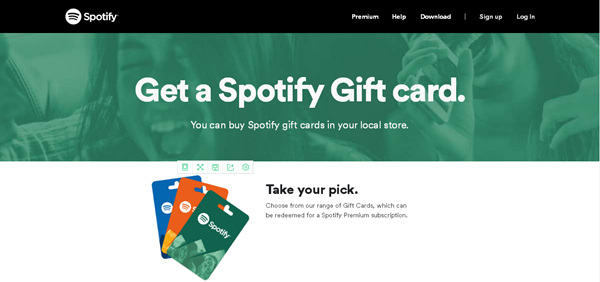 Pandora (also known as Pandora Radio or Pandora Internet Radio) is a music streaming and automated music recommendation internet radio service provided by the Music Genome Project. And it plays songs that have similar musical traits.
The algorithm of Pandora lets you understand your tastes better, no matter if you merely listen to Punk, Rap, Country, or Free Jazz. Besides, it has the amazing feature which is called an offline mode. However, it can merely allow you to download up to three of your most listened to stations. Most importantly, this function is only available for Pandora Plus Subscribers.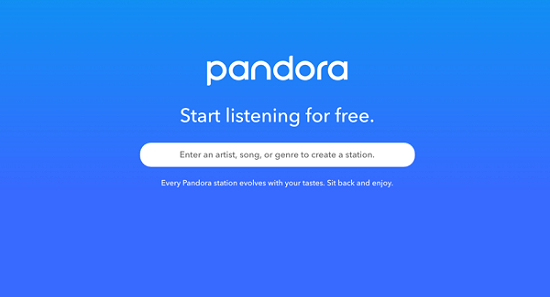 1.2 Music Catalog Differences
Spotify has more than 30 million songs, together with podcasts and music videos. It has a function called Spotify Singles where major artists record a few tracks, especially for the service.
Pandora also has more than 30 million songs as Spotify, however, you cannot listen to every song in Pandora. "We have access to the same music, but we are applying curation." CPO Chris Phillips explained in an interview. Not like Spotify, Pandora is less likely to play you filler tracks which may pop up on other services.
1.3 Music Service and Charges Differences
MUSIC SERVICE
Spotify is a private music player streaming on-demand media.
Pandora is a public one serving as the internet radio.
CHARGES
Spotify has free and premium versions. If you download the free version, the radio is streaming free but with ads. While students can have some discount like they just need to pay only $4.99. Spotify Premium would be $0.99 for the initial three months and $9.99 a month after that. If you want to get several accounts there would be Family version available, fetching $14.99 per month with 6 accounts.
Pandora gets 1-month free trial and after that, it costs $4.99, or if you want to get 3 months trial then you have to pay $9.99 a month for the premium membership. Pandora free version is like Spotify, also has ad and limitations.
1.4 Chart for Intuitive Comparison
SPOTIFY

PANDORA

Able to pick songs?

YES

NO

ADS

YES (free version)

YES (free version)

Able to download music?

YES (Premium version)

NO

Parental control?

NO

YES

Audio quality

160kbps for free users; 320kbps for some Spotify Premium songs.

64kbps for free users;

192kbps for Pandora One users.

Radio

Traditional-style radio

Music-recommendation radio
2. Know More: How to Download Spotify Music?
From the chart above, you have already known that only the Spotify premium can download the music on Spotify. Therefore, what if you want to download some of them which you are really interested? Then there is such a software strongly recommended: TuneFab Spotify Music Converter, which enables you to download the music on Spotify with only 4 steps.
TuneFab Spotify Music Converter is designed for converting and downloading Spotify Music, playlists, albums or songs to the non-DRM file format, like MP3, Flac, and other file formats. It has 2 conversion speeds to opt, from 1X to 5X. Besides, it maintains all the metadata when converting and sample rate and bit rate can be able to reset after adding the music to the converter.
The concise tutorial is given below for reference:
Step 1. Download the TuneFab Spotify Music Converter
Tap the Try It Free button to get the free download and then launch it.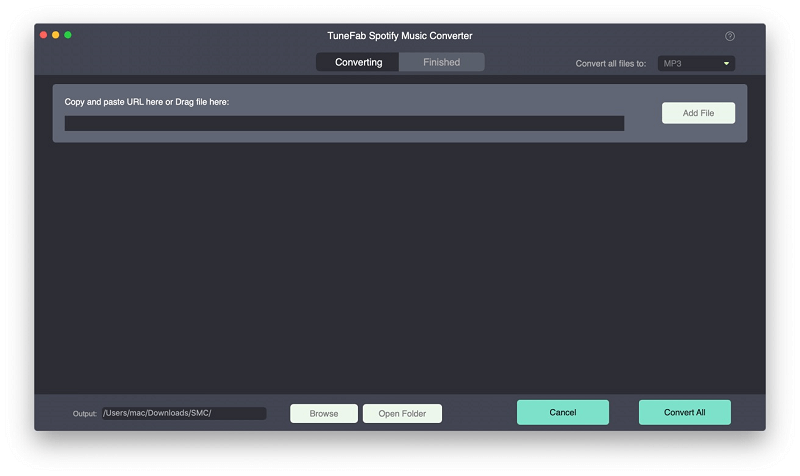 Step 2. Copy and Paste Spotify Music to TuneFab
#1 Copy music on Spotify
"Playlists" >> "Share" >> "Copy Playlist Link" / " Copy Embed Code" / " Copy Spotify URL"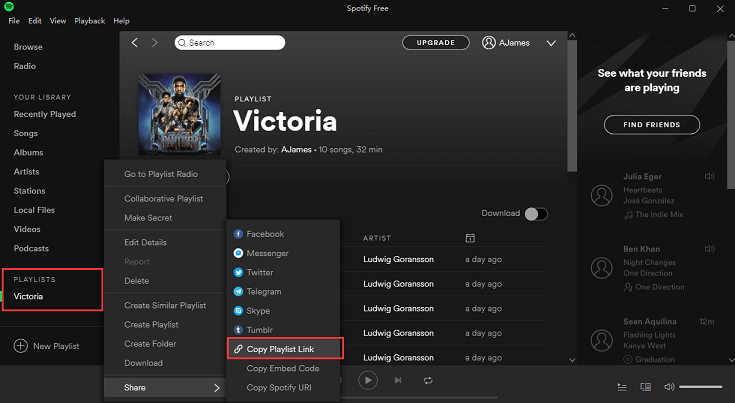 #2 Paste to TuneFab Spotify Music Converter
Click "Add Files" >> "Paste in search bar" >> "Add".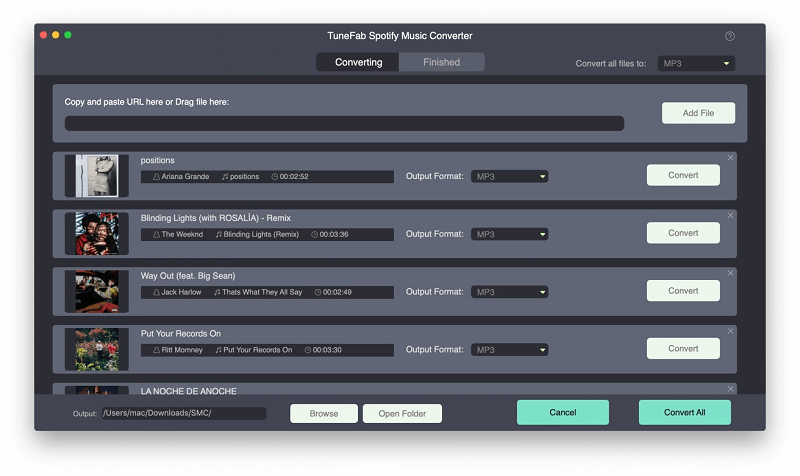 Step 3. Select an Output Format
Tap "Options", go to "Advanced" and choose one of the audio formats, MP3 is used for reference here.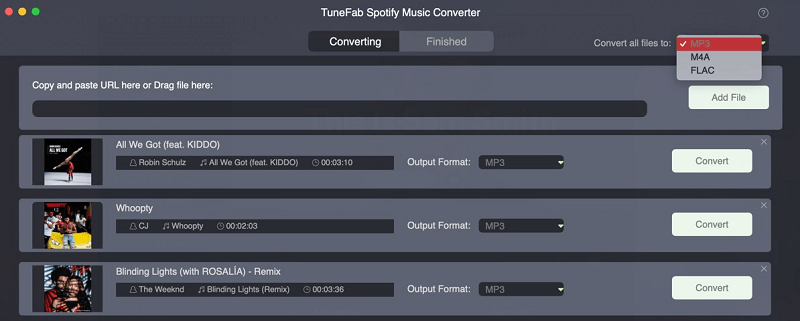 Step 4. Convert Spotify Music to MP3 Format
When the setting is all done, click "Convert" to start conversion automatically.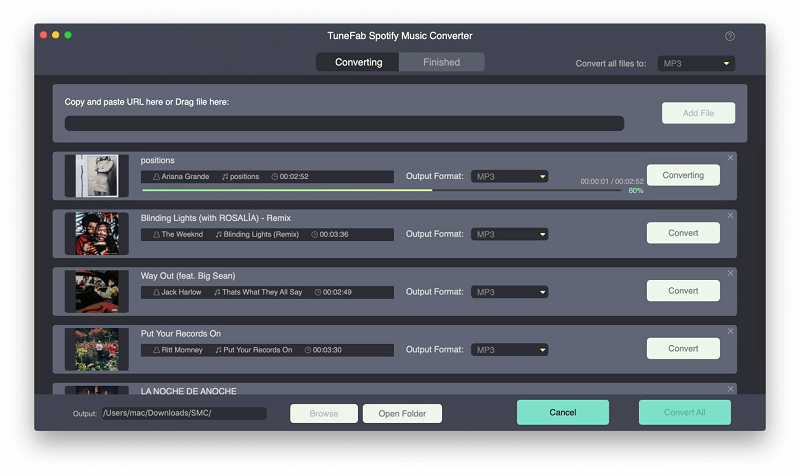 See, only with 4 simple steps, the Spotify music is downloaded successfully on your PC. Try it.
With the differences, I think the wise you have already had your own option, whether it is Spotify or Pandora. Whichever you choose, we can't ignore one thing: each app has its pros and cons. So I think which one is more suitable for you just to see whether there is some point hitting you. What is more, at the end of the article also provided a useful tutorial which may help you for music offline listening and sharing. Enjoy Spotify right on your fingertip.
Was this information helpful?
TrustScore 5 | 1