As the music-streaming service from one of the biggest tech giants in the world, Apple Music charges a subscription fee for all its plans, so there's no option to use the service for free. On top of that, Apple does have serious contenders facing it in the ring, like the very popular Spotify and the rising star Tidal. That's why the question must be asked: is it worth buying Apple Music?
The following insights will give you an honest assessment of the pros and cons of Apple Music, including its subscription fees and services. We'll provide you with an overview of Apple Music to help you weigh in on your decisions if the music streaming service is worth paying for.
CONTENTS
About Apple Music
Apple Music is Apple's music streaming service, and positioned as a direct competitor of other popular streaming services such as Spotify, Google Play Music, Amazon Music, and Tidal. Launched in 2015, the platform has racked up to 60 million songs in its catalog.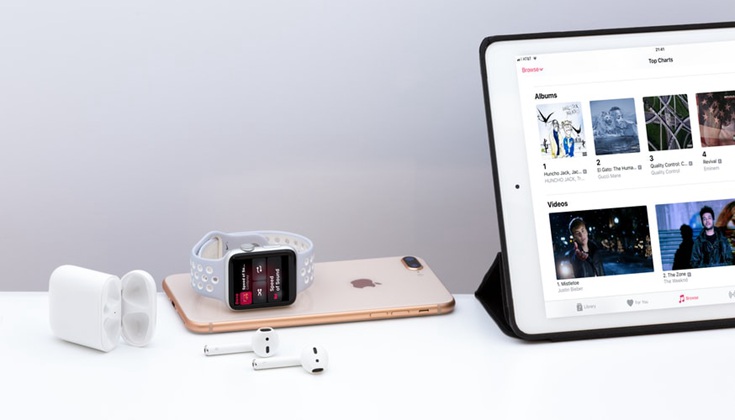 Since its launch, Apple Music quickly gained popularity - reaching 10 million subscribers in just 6 months. It has a wide array of music options, exclusive materials, and live radio shows. Apple Music is the way to go if you want to listen to ad-free music (and even download and play your favorite tracks offline) and access exclusive content. In addition, here are Apple Music's main features:
Ad-free music and music video streaming

100,000 songs downloadable to your library

Online and offline listening

60 million songs in your music library

Uploading & matching your personal music library to stream on any device

Access across all devices

Original exclusives, shows, and concerts

Beats 1 24-hour live radio station

On-demand radio shows
Free Trial Period
Apple Music gives you enough time to explore and use the service as much as you want at no cost. The free trial period lasts for 3 months for new subscribers. Once the trial period is over, you'll have to subscribe to one of its paid plans.
Subscription Plans and Pricing
Unlike Spotify, Apple Music doesn't offer a "free version" that plays ads. Anyone who signs up for this service will pay a monthly fee. But with its interesting exclusives and live radio shows, subscribing is worth it.
Before we dive in, we should note that all pricing tiers of Apple Music offer access to the same catalog of ad-free music, offline listening, on-demand radio shows, exclusive releases and Beats 1 live. The main difference is on its Family plan, which we'll discuss more in a bit.
Apple Music's most basic plan costs $9.99 per month in the US. Students can get a discount, decreasing the plan's cost at half, which mean they only pay $4.99 per month to subscribe to the music streaming service.
In addition, a Family plan is available where you can enroll 6 people in your household. Priced at $14.99 per month, users can save a huge cost as this accommodates access for up to 6 people, each with their own personal account. To do the math, that brings you at only $2.50 per user per month for 6 people to use Apple Music.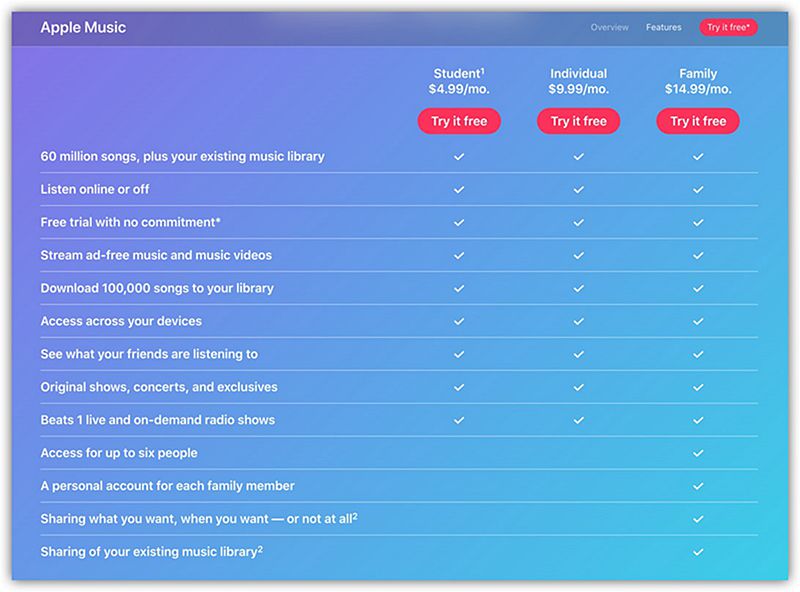 Availability
Apple Music is available in more than 100 countries and regions. Here's the complete list of the platform's availability where you can download or buy different types of media on the platform.
Device Compatibility
Apple Music is accessible on all iOS devices: built-in iOS Music app, iTunes on PC, Apple Music, Apple Watch, Apple TV, Apple CarPlay and Apple HomePod. Furthermore, you can also play it using Amazon Echo devices, Android devices, Sonos and Amazon Fire TV.
In April 2020, it officially launched music streaming on your web browser. This web version is convenient for users who are using a Windows computer so they can access the platform with ease, without having to download the iTunes software. Users who are using their desktop can easily access this even if they're not using a Mac computer.
Music Quality
Apple Music uses 256 Kbps AAC (Advanced Audio Coding) music files. Just for comparison, Spotify uses Ogg Vorbis format at 320 Kbps. At a glance, Spotify's higher number might look like better quality, but it's worth noting that these compression formats provide different sound profiles, so they aren't comparable at all. Suffice it to say, both offer strong baselines that are preferred by music enthusiasts over MP3. Hence, this means you'll be getting excellent music quality using this service.
DRM
Apple Music lets you download songs for offline playback. This means you can continue listening to your favorite music even when you don't have internet access, which is crucial during plane rides and no-service areas.
Just like many other music streaming services, downloaded content is protected by DRM (digital rights management). Additionally, all downloaded audio will no longer be playable when you cancel your subscription. This is to protect the materials for legal purposes.
Features of Apple Music
Aside from the basic features we listed above, Apple Music also boasts features that give you a more personalized music streaming experience. Its catalog of 60 million songs can be accessed with ease using any of your devices.
First off, the iCloud Music Library is a robust platform where you can add music on Apple Music via Mac, and then these will be accessible across all devices. This is where Apple Music's exclusives come in handy. For instance, when Taylor Swift released her Reputation album in 2017, it wasn't available on Apple Music or Spotify for three weeks. However, Apple Music subscribers can purchase it on iTunes where it's automatically added on your music library. Which means, you can listen to the album in your Apple Music account. This isn't possible at all on Spotify, as when you buy the album, it would live in your iPhone's music app.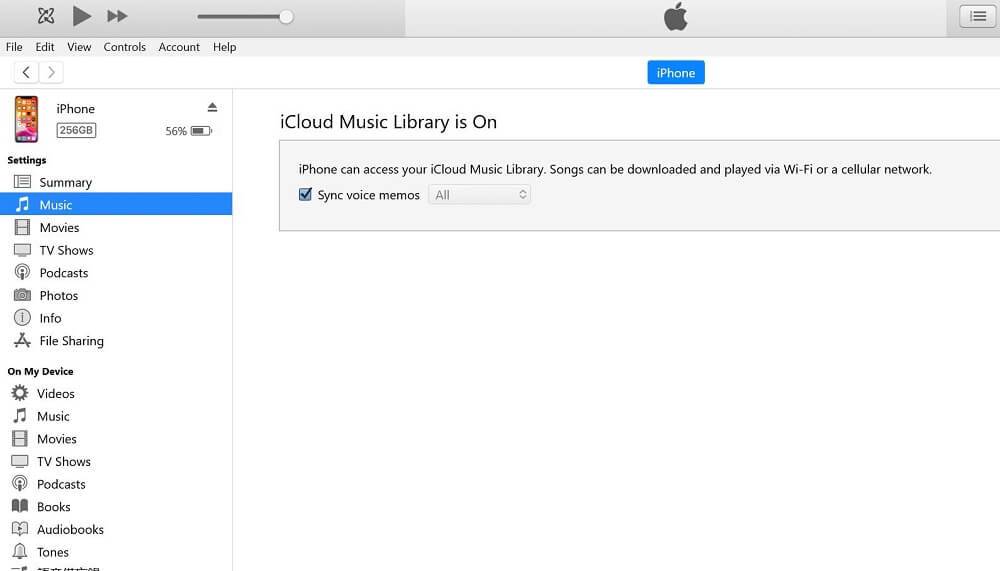 Another unique feature is the For You functionality. It smartly provides you suggestions on what music to listen to based on algorithms depending on the time of the day and it also suggests to you what your friends are listening to with social sharing. Personalized Playlists, which are updated weekly, also consist of "New Music Mix," "Friends Mix," "Chill Mix," and "Favorites Mix."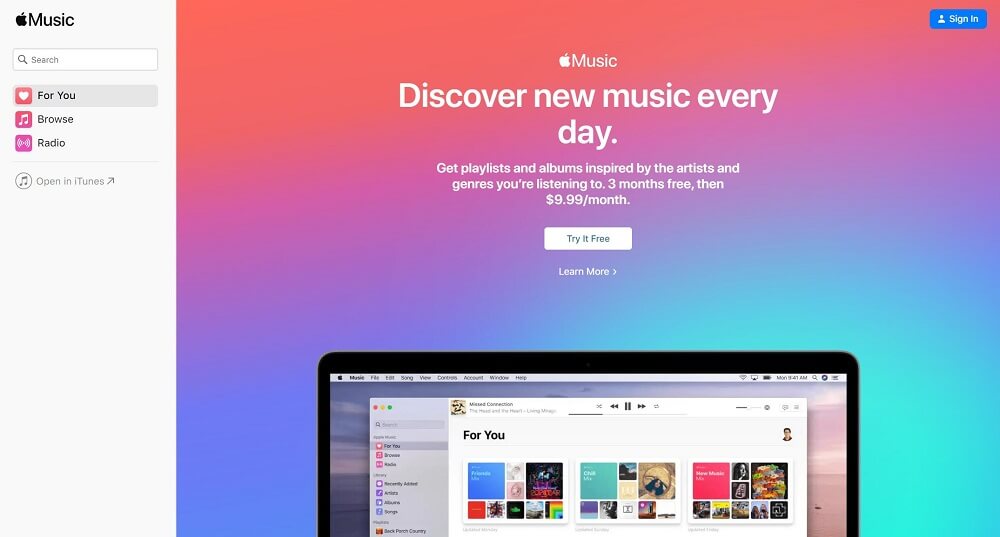 Replay is a new feature that debuted in November 2019 where users get a playlist of their most listened-to music in 2019. And not just that, as it can give you a wave of nostalgia as this collection also collates your listening history dating back all the way to 2015. It gives you interesting insights of your favorite artists, albums, and songs and it's continuously updated. Unlike Spotify Wrapped that's only available for year-in-review purposes, Replay is accessible all-year-round.
Quite a hidden feature that's worth mentioning is Apple Music's Lyrics. Not many know about it, but it's a handy functionality to access. Not only can you search for lyrics, but you can also view it within the app so you can sing along to your favorite tunes.
Beats 1 is a unique offering by Apple where you can listen to a live global broadcast for 24 hours. In fact, you don't even need an Apple Music subscription to access this.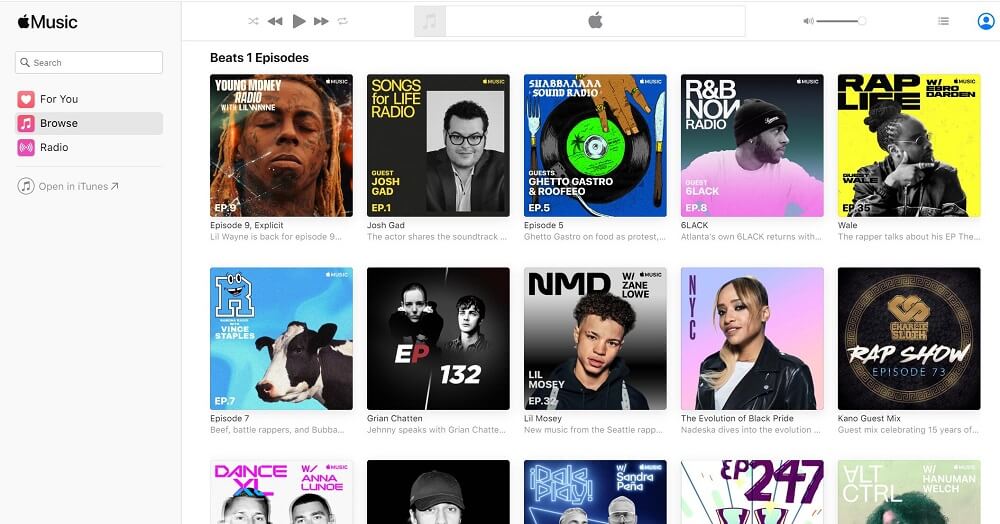 User Experience
All these features mentioned above can be accessed on Apple Music across any device. Each device offers Apple's signature minimalist, clear, and clean interface. Switching from different devices can also be done seamlessly as all your data is synced in real-time.
Navigation around the app is simple as well. On your mobile device (iPhone, iPad, iPod touch and Android device), you can explore the app using the tabs at the bottom of the screen. Meanwhile, it's on the sidebar on your Mac and at the tabs at the top of the screen on your Apple TV.
Meanwhile, all the music on your Apple Music can be accessed across all your devices. To provide more seamless connections, you can even control your music and listen on Apple Watch. Furthermore, you can play the same music across all stereos in your room, or play a different music on each one, using AirPlay 2. With all these mentioned, you have so much control over your music so you can personalize your listening experience regardless of which device you're using.
Pros of Apple Music - What We Like
#1: Adding your own music to Apple Music
The killer fature of Apple Music is that it allows you to add your own music into iCloud Music Library so that you can sync and listen to your music on all devices seamlessly.
#2: Offline listening
Apple Music gives you the ability to download song, album, or playlist in your library for offline listening. One feature that is loved by many Apple Music user is that you can download song from entire playlist/album or download song individually.
#3: Wide music selection
We already mentioned that Apple Music has 60 million (and growing) songs in its music arsenal. To date, its closest competitor Spotify only has 50 million, according to the Business of Apps. That's a staggering 10-million difference. But a closer look will show that the records indicate more than just the numbers --- it depicts the ferocity and speed with which Apple Music will get your favorite songs and playlist for you.
Music lovers who want to complete their favorite artists' playlists would go for the streaming service that is the most aggressive when it comes to musical acquisition. This ability to get more songs and playlists in record time is one of the advantages of Apple Music over Spotify.
#4: Beats 1 Radio
Apple Music's Beats 1 Radio brings the listener to the forefront of the music-listening experience. It offers a 24/7 live radio broadcast which is hosted by Apple's resident DJs based in Los Angeles, New York, and London. What gives Beats 1 Radio an edge over other streaming services, such as podcasts, is that it is live. Music, ranging from popular hits to the new tunes, is played with the heartfelt, smart commentaries of the DJs. Aside from music, Beats 1 Radio also gives you a front seat during the interviews of your favorite artists.
#5: Cost-effective Family plan
There is nothing like music that can rouse the tired or depressed soul. An hour or 30 minutes of chilling out with your top artist, plugged into his music away from the rest of the world, can keep away the quarantine blues. It is one way to recharge yourself if you are working at home as a remote employee. For more tips to improve productivity with a WFH arrangement, check out these 10 morale boosters for remote employees.
Your loved ones can enjoy this same musical sanctuary as among the benefits of Apple Music family plan. At $14.99 a month (or only $5 more than the individual-user plan), they can enjoy unlimited streaming time. Each one of them---your partner and children---can access their own personal libraries 24/7 on all of their devices. Each library would be customized to fit their listening tastes, and separated from the others to protect their privacy, choices, and listening time.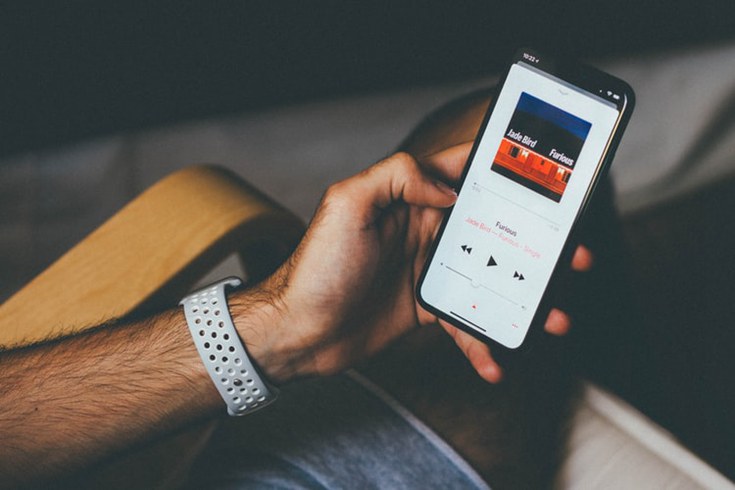 #6: Web browser listening
The Apple Music Web Player shifts your listening mode from the iTunes ear-plugged format to a visually exciting web experience. It synchronizes your iTunes capabilities with the web browser of your choice, such as Firefox, Google Chrome, Microsoft Edge, etc.

The transition from browsing to listening is seamless and applies to all your devices. For example, while clicking away doing research on your browser, you can easily log on to music.apple.com and listen to your favorite music. There would be no need for you to click on another app outside the browser.
Navigating through the Apple Music Web Player on your chosen browser is a visually attractive journey. The image-filled tabs can show you your options. Through "Browse," you can look at all the titles available online. "For You" provides a list of recommendations, based on your past selections, that you might just enjoy. Your own Library, synced from your original Apple Music playlist, highlights "Recently Added" music and "Artists" and "Älbums" that are on top of your list.
#7: Customizable options
Listening, saving, and repeating your favorite songs is just the surface of your music-streaming pleasure. With the right tool, you can actually edit your playlist to highlight their most memorable moments. You can rearrange their position in the playlist, putting the ones you really, really like to the number one listening spot. You can change genre, album artwork image, and even add lyrics to your favorite Apple Music tracks.
Cons of Apple Music - What We Don't Like
#1: No free plan
Unlike the main competitor Spotify, Apple Music does not offer any free plan. You do have to pay for its services and offerings upon registration. The upside of this is that, unlike in Spotify's free plan, no ads will barge in to intrude into your listening pleasure. However, for the budget-conscious or the just curious who just want to try Apple Music without paying an upfront fee at once, the no-free-plan scenario can be a turnoff.
With that said, Apple Music does offer ample time for interested users to check out the service for free with its free trial for 3 months.
#2: Subpar podcast
This is one of the few times that Apple Music loses out to some of its top competitors. As a comparison, Spotify streaming service easily mingles its podcast playlist with its musical tunes. A Spotify user can browse through the sections of podcast and musical numbers alike without leaving the app.
On the other hand, Apple keeps its podcasts separate from the entire body of songs and musical numbers in a separate app. As such, an Apple Music user who wants to use Apple's podcasts will have to get off Apple Music first, and then log into the new app.
#3: Limitation with protected songs
Apple protects the digital access to its songs, sometimes at the expense of the subscriber or user. That is one complaint that Apple Music critics lobby against it. A member can download songs and play them offline but only within certain conditions. First, he has to sign on to Apple before he can play those downloaded songs that are now on his smart device. Second, once he cancels his subscription, he cannot play them anymore even though they are on his smartphone for example. The lesson apparently being taught by Apple is clear enough: do not unsubscribe or stop being a member, or lose access to your songs. There is sound business pragmatism behind this practice, but angry customers can see it as a subtle way of control.
Conclusion
The advantages do seem to outweigh the disadvantages in subscribing to Apple Music. The near limitless amount of songs it can give you is attractive enough. But another thing going for it are the capabilities that it provides to move your own music-listening experience to the next level. After learning all of Apple Music's features, you might not look at music-streaming services the same way again.
Was this information helpful?
TrustScore 4.2 | 184