If you've ever tried to download music or videos from iTunes and transfer the files to devices and programs such as Android or VLC Media Player for playing, you should get failed and feel frustrated. This is because items that you purchase or rent from iTunes are all added DRM.
In fact, in addition to Apple Inc, DRM protection is so common that it is employed by many software companies such as Spotify, Amazon, Adobe, and more.
For people who want to remove DRM from protected files for backup, you don't have to be bothered about finding the right tool. In this in-depth review of DRM removal freeware and shareware, you will get to know a variety of free DRM removal software for music, movies, videos, audiobooks, and eBooks.
Note: DRM removal software is for private use only! Please do not distribute the converted DRM-free media files to others or use them for commercial purposes.
CONTENTS
Part 1. Best 3 DRM Removal Software for Music
#1 TuneFab Apple Music Converter for Mac & Windows (Shareware)
Best for: those who wish to play Apple Music on other players and have no idea how to bypass Apple Music DRM protection.
With TuneFab Apple Music Converter, breaking Apple's FairPlay DRM is actually workable. It is a professional tool assisting you to freely convert Apple Music, iTunes purchased songs, and Apple Podcasts to common audio formats such as MP3, M4A, AAC, WAV, and more. Its 10X conversion speed is also a highlight. Batch converting your favorite music doesn't have to be waiting for what feels like forever.
Furthermore, all the ID3 tags and metadata info of your Apple music can be preserved as well after conversion. You can even edit the ID3 tags, reset parameters such as bitrate and sample rate, and change the artwork for your converted music. Besides, when you import Audible audiobooks to iTunes, TuneFab Apple Music Converter can also detect your audiobook files and free your audiobook collections from the annoying DRM.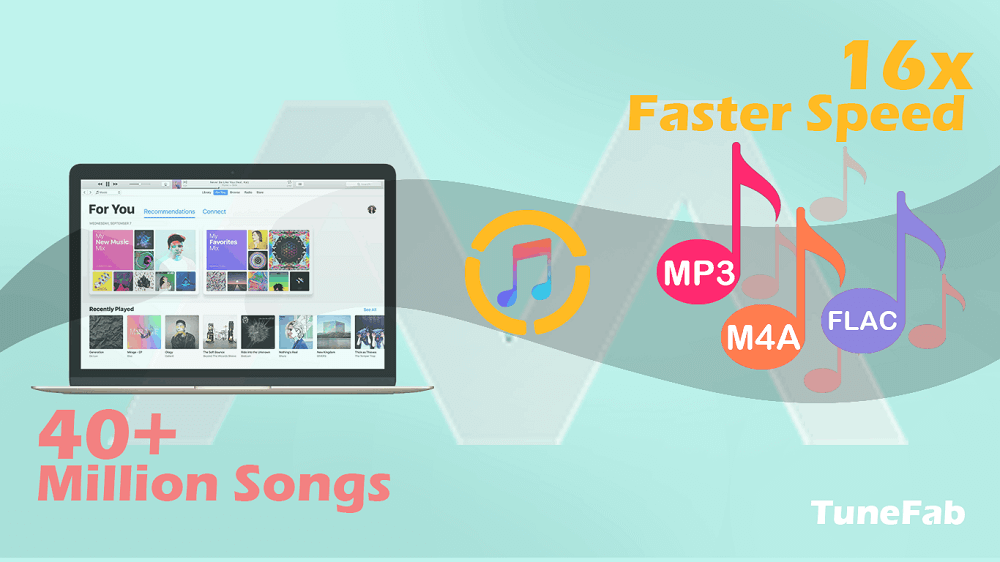 Pros & Cons of TuneFab Apple Music Converter
Pros
* Clean and straightforward UI
* Supports multiple output formats including MP3, AC3, AAC, M4A, M4R, AIFF, FLAC, AU
* Remove DRM from Apple Music songs, iTunes M4P songs, and imported Audible audiobook
* Extract audio from iTunes M4V videos
* Convert Apple Music to high-quality MP3 for offline playing on Zune player, iPod shuffle, iPod nano, and more.

Cons
* For smooth conversion, songs in your Apple Music library are advised to be downloaded first.
* Free trial version only lets you save 3 minutes of each song.
#2 TuneFab Spotify Music Converter for Windows & Mac (Shareware)
Best for: those who want to listen to Spotify with no ads without premium or offline enjoy Spotify music for free and play Spotify music on other players.
Spotify is the world's leading music streaming service letting you play millions of songs and podcasts for free. Still, there are some limitations that may affect your experiences. For instance, with a free Spotify account, you can only use the skip songs function 6 times an hour and you cannot download songs for offline listening.
Even if you are a Spotify Premium user, the song you downloaded can only be played on devices installed with the Spotify app. And there is no option to download Spotify songs as MP3 files. To free you from these restrictions, TuneFab Spotify Music Converter comes to help. It is a powerful tool to convert Spotify tracks, Spotify playlists, albums, podcasts, audiobooks, and radio playlists.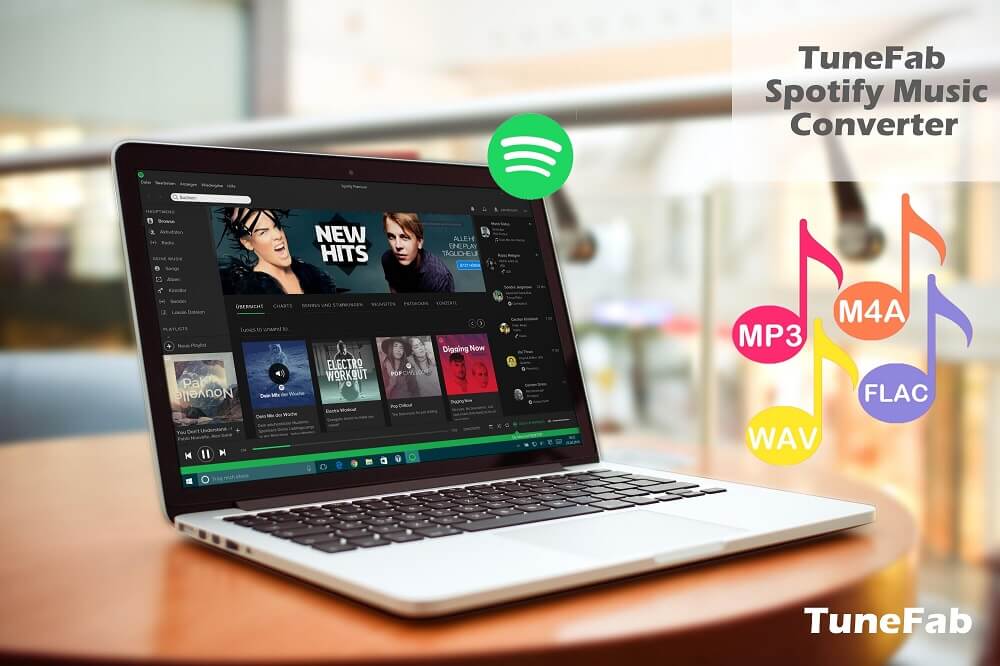 Pros & Cons of TuneFab Spotify Music Converter
Pros
* Useful Spotify DRM removal to convert Spotify OGG songs to MP3
* Preserves Spotify songs to high-quality MP3, M4A, WAV, and FLAC (reach up to 320Kbps)
* Useful customization settings to adjust bitrates and sample and edit ID3 tags
* 5X conversion speed to download Spotify songs

Cons
* Cannot listen to Spotify songs while converting
* Free trial version only supports saving the first 3 minutes of each song
#3 TuneFab Amazon Music Converter for Windows & Mac (Shareware)
Best for: those who wish to listen to Amazon Music offline with Amazon free, or play Amazon music on multiple devices at a time.
Most of you must be familiar with Amazon Music, one of the well-known online music streaming platforms similar to Spotify. Of course, songs in Amazon Music are protected by DRM, too. To remove it and have full access to Amazon Music, you can use TuneFab Amazon Music Converter as your assistant.
This software allows you to download songs from Amazon Music to MP3 and other frequently used formats, store the music locally, and enjoy high-quality playback even offline. Both Windows and Mac can run this tool at a 5X faster conversion speed, which means you won't waste much time waiting.
What's more, TuneFab Amazon Music Converter will retain all the ID3 tags and metadata info of your Amazon songs after conversion, which makes your music management an easy task. You can even adjust parameters such as bitrate and sample rate for a better listening experience.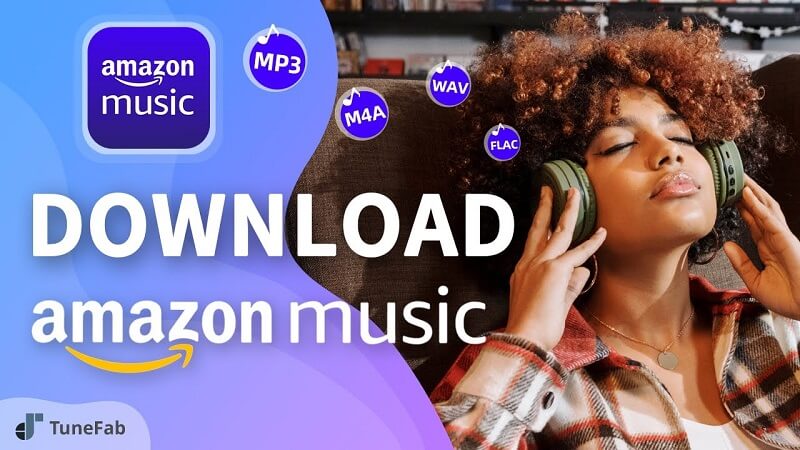 Pros & Cons of TuneFab Amazon Music Converter
Pros
* Freely Download songs, albums, and podcasts from Amazon Music HD, Prime & Unlimited
* Convert Amazon songs to multiple output formats including MP3, M4A, WAV, and FLAC in lossless quality
* Batch conversion of music and podcast episodes at 5X faster speed
* Keep ID3 metadata and customizable audio parameters (including sample rate & bitrate)
Cons
* Free trial version only supports saving the first 3 minutes of each song
Part 2. Top 4 DRM Removal Tools for Video
#4 TuneFab M4V Converter for Windows & Mac (Shareware)
Best for: those who wish to play iTunes movies without Apple devices.
Many people are poised to rent or buy movies from the iTunes store. However, the attached DRM of iTunes movies can be tricky for people to play iTunes movies outside iTunes player or Apple devices. To break the DRM restriction, TuneFab M4V Converter can professionally handle the job. It supports stripping DRM from iTunes movies, TV shows, and music videos and converting the DRM-ed iTunes M4V videos to a DRM-free MP4.
Also, you don't have to worry about the output quality after conversion. TuneFab can retain the original quality of your purchased or rented iTunes movies and provide a 1080p Full HD or 720p HD video. With 5 simple steps, you can get an unprotected iTunes movie and play it on multiple devices.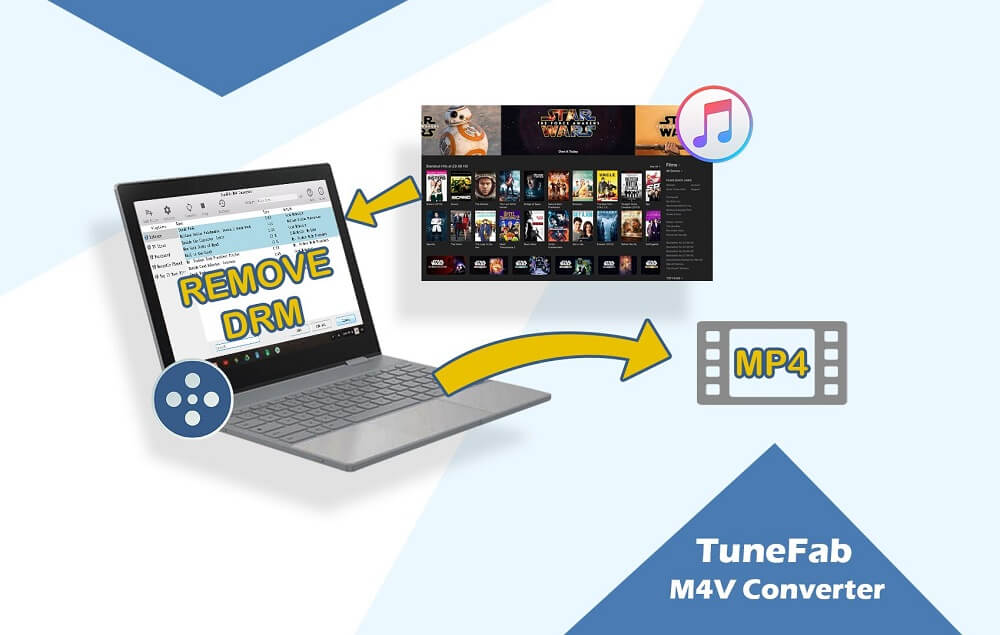 Pros & Cons of TuneFab M4V Converter
Pros
* Simple, user-friendly
* Quick and efficient conversion speed
* Keeps Dolby 5.1 soundtracks (AC3 audio track), multilingual subtitles, closed captions, and audio descriptions in the output MP4 according to your preferences
* Powerful DRM removal software for iTunes movies, TV shows, and music videos

Cons
* MP4 is the only output format
* Free-trial version only allows converting the first 5 minutes of each iTunes movie
#5 Requiem (Freeware)
Best for: those who wish to remove DRM from iTunes songs, videos or books.
If you are looking for a free and efficient iTunes DRM removal tool, Requiem should be an optimum choice. It is designed to remove DRM blocks and is able to decrypt most files within seconds or minutes. With Requiem, even songs, videos, and books you've bought and downloaded from iTunes are possible to be decrypted as DRM-free files. Moreover, the whole DRM removal process is lossless so that the original quality and all details of the source file will be well-preserved.
Pros & Cons of Requiem
Pros
* 100% Free to download and install
* Cracks DRM from audios, videos, and books without quality loss
* Available on Mac, Windows, and Linux

Cons
* iTunes is needed to be downgraded to 10.7 or a lower version to smoothly run Requiem
* Conversion speed is relatively slower than other DRM removal software
* No new update since version 4.1 has launched
#6 Get_iPlayer (Freeware)
Best for: those who want to enjoy BBC iPlayer news or sports offline without paying.
While you may be practicing self-quarantine and isolation, BBC iPlayer actually is a valuable resource for entertainment. Many classic live performances from David Bowie, Adele, Beyoncé, Rihanna, Coldplay, and lots more have been launched on BBC iPlayer. But when you try to record these valuable shows with a screen recorder, the sad truth is, videos on BBC iPlayer are protected by DRM and cannot be viewed even if record your screen.
To get rid of the DRM, Get_iPlayer is an effective tool to help you save BBC iPlayer videos locally. It is a utility for downloading TV and radio programs from BBC iPlayer or BBC Sounds. Programs that were scheduled for broadcast on BBC linear services within the previous 30 days can be searched with this tool. With the program ID or URL, you can directly download videos from the site.
Pros & Cons of Get_iPlayer
Pros
* Runs on multiple platforms including Windows, Mac, and Linux
* Allows multiple downloads at a time
* Indexing of most available BBC iPlayer/BBC Sounds programs from previous 30 days
* Can download metadata and grab subtitles

Cons
* Cannot download and search contents on BBC Three, Red Button, iPlayer Exclusive, or Podcast-only
#7 VideoSolo BD-DVD Ripper for Mac & Windows (Shareware)
Best for: those who have Blu-ray or DVD with DRM protection and want to rip them to normal digital formats like MP4, MKV.
Do you still collect physical discs? To promote sales, Blu-ray discs and DVDs always contain some exclusive content that may be hard to find on the Internet. And for people who want to digitalize Blu-ray or DVD collections but get frustrated by the DRM encryption and region code problem, VideoSolo BD-DVD Ripper can make the job a piece of cake. After the ripping process, you can have a digital version of your favorite Blu-ray or DVD movies and copy them onto an external hard drive or upload them to cloud storage services for backup easily and conveniently. Featured with GPU acceleration technologies, this ripper facilitates its process 6X faster while keeping the best and original picture quality.
Pros & Cons of VideoSolo BD-DVD Ripper
Pros
* Rips region-locked and encrypted Blu-ray and DVD discs
* Keeps original image quality
* Decrypts DRM and provides multiple output format options including the popular MP4, MOV, and MKV.
* 1:1 extract original audio tracks and subtitles
* Preserve Blu-Ray or DVD structures
* Excellent editing and customization tools after ripping the discs

Cons
* Free trial only lasts for 30 days.
Part 3. 3 Free DRM Removal Software for Audible Audiobook / eBook
#8 TuneFab Audible Converter (Shareware)
Best for: people who want to enjoy Audible audiobooks on MP3 players or other non-AA/AAX-supported players and with audiobook chapters and ID tags.
Besides iTunes Store and Spotify, Audible is another popular and frequent place that audiobook listeners prefer to locate books for listening. Very similar to these platforms, audiobooks that you purchase from Audible are DRM-protected in the proprietary AAX format. In other words, the Audible books are only playable on its supported devices. To make your audiobook playback experience flexible, you can try out TuneFab Audible Converter to break the DRM restriction.
As it is specialized in Audible audiobook conversion, you can conveniently convert Audible purchases from protected AAX format to common MP3 / M4A audio and get rid of the Audible DRM protection with just simple clicks. Its supported output formats include M4A, MP3, FLAC, and WAV, which is perfectly matched the needs of most users for exporting. You can also find out a built-in audiobook splitter to separate audiobooks by chapters, by a specific time length, or just split the book averagely.
In terms of management and playback experience, Audiobook chapters can be completely preserved and the Audible converter provides options to freely customize ID3 tags of your every Audible collection. Overall, the conversion process runs amazingly smoothly thanks to its intuitive user interface and outstanding performance.
Pros & Cons of TuneFab Audible Converter
Pros
* Unprotect Audible AA / AAX audiobooks easily
*Free to download and convert 2 Audible books to test its functions.
* Keep chapter info.
* Preserves original sound quality with common output options such as MP3, M4A, WAV, and FLAC.
* Flexible ID3 editor to organize your converted audiobooks.
* 60X conversion speed to convert and export Audible books

Cons
* Only support converting books from Audible
* Bitrate options only provide 128 Kbps, 256 Kbps, and 320 Kbps, which may somehow create a large file size if the audiobook has a really long time length.
#9 Calibre (Freeware)
Best for: people who want to convert or manage eBooks flexibly without paying a buck.
Calibre is an outstanding and easy-to-use e-book manager. And speaking of the DRM removal tool for e-books, a little-known fact is that you can use Calibre to remove DRM. As it is free and open-source software, you can find many useful plugins on the Internet. Apprentice Alf's DeDRM plugin for Calibre is stunning. Books bought from platforms such as Amazon can be decrypted by this plugin. All pages can be kept easily and after the DRM removal process, you can watch ebooks on several devices and apps.
Pros & Cons of Calibre
Pros
* Completely FREE and open source
* Comprehensive e-book viewer and manager
* Can download news and magazines
* Useful editing features

Cons
* Could be complex for some users to use
* Sometimes the loading speed is slow
#10 ePUBee (Free)
Best for: those who want to convert e-books to other formats like PDF, TXT for free.
Reading e-books on various platforms is actually possible. ePUBee is a free DRM remover for e-books. It supports converting ebooks to PDF, MOBI, EPUB, and TXT. You can also batch-convert your e-books and the whole process won't take you long. With only a few clicks, you can convert and keep a DRM-free e-book without loss in quality.
Pros & Cons of ePUBee
Pros
* Simple to use
* Provides desktop app for Windows
* Supports batch conversion with high quality

Cons
* Limited customization features
* Does not support conversion in some formats
Part 4. More Topic: How Does DRM Affect You?
DRM, which stands for Digital Rights Management, should be no stranger to many people. It exists to protect content creators' works from being pirated. But in the real world, DRM technology can be annoying. DRM locks a file so that the person who purchased it can use it, but only on the specific device or app from that vendor.
If someday you consider switching to other platforms or apps, it can be a significant problem because the items you purchased before cannot work on the new platforms or apps. Somehow, DRM gradually becomes a tool for companies to keep you as their customer longer and make more money. For users who have cross-platform devices, it seems better to find a way to bypass the DRM so as to smoothly play the contents they've bought.
DRM technology is out of good motives. Content creators put a lot of time and energy to make their works, and they don't want their works to be copied or stolen. Added DRM is understandable. But the technology indeed generates controversy and brings inconvenience to customers, as it can be a hassle for legitimate customers who would like to watch their purchased movies or read their purchased book on different devices.
Luckily, some artists are willing to label their works as DRM-free. But keep in mind that with or without DRM, it is illegal to share and distribute copyrighted works with others who haven't purchased them. Also, when using DRM removal tools, you should be aware that the converted DRM-free files are only for personal use.
Final Words
Here are the top picks of DRM removal software. Hopefully, you may know better about these tools and find out the one that suits your needs. DRM removal freeware such as Requiem and Get_iPlayer should deliver amazing lossless files. And some DRM removal shareware such as TuneFab Apple Music Converter and TuneFab Spotify Converter are also worth a try as they are simple to use while professionally handling the DRM removal job.
Was this information helpful?
TrustScore 2.6 | 49