You may have heard about the recommendation of TuneFab Deezer Music Converter when you are seeking a workable and reliable tool to download Deezer Music for offline playback. But to select a third-party software, you should know whether it can actually help in advance.
Therefore, for new users, this full review on TuneFab Deezer Music Converter will give you a complete introduction from its main function, benefits, using tutorial, and also pros and cons. After reading, you will find it out of great expectation. Now, follow the review and learn more about this top Deezer Music downloader!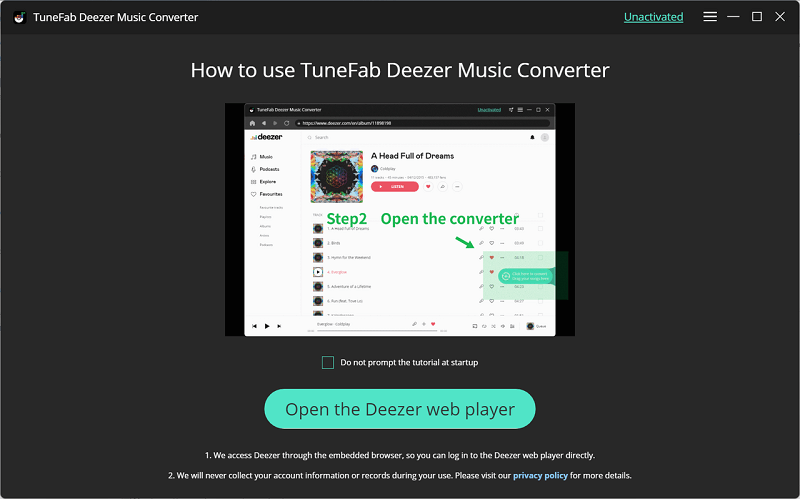 CONTENTS
TuneFab Deezer Music Converter: Its Benifits
The reasons why so many people begin to find an alternative to downloading Deezer Music main result from the limitations brought by Deezer official, which has limited the music playback experience on the platform by using DRM. Because of this protection, users would face the following inconvenience while playing Deezer songs through the official way:
● The offline playback function is only provided to Deezer Premium subscribers
● Even for Deezer Premium users, they can only play Deezer downloads within Deezer apps but not on any other media player
● All Deezer downloads will be removed once your subscription expires

Therefore, TuneFab Deezer Music Converter is invented as a great way to help you enjoy free Deezer Music playback without being limited by DRM protection. It works to powerfully remove DRM from all Deezer songs, and then you can:
● Download Deezer Music as common music files to play everywhere as you want
● Save Deezer downloads to Spotify, iTunes, and so on for playing with other playlists you have made in these platforms
● Burn Deezer songs to CD or use them to create your videos when you need

All in all, when TuneFab Deezer Music Converter works to help you break the limitations brought by Deezer, you will surely have a more flexible music playback offline!
Full Overview of TuneFab Deezer Music Converter
So, when there are also many other Deezer Music Converters provided online, why TuneFab Deezer Music Converter is the one we can trust? Now, to solve your confusion, you can see the attractive benefits provided by the software with details. Then you will know why it is welcomed by so many users to download Deezer Music offline.
All Deezer Contents Supported
When TuneFab Deezer Music Converter has added the Deezer web player inside the software, it means that you can download all its original resources and save them offline. No matter a song or the playlists, albums, and podcasts, you can directly add to download within the in-built Deezer player.
Set Output Format and Quality Freely
TuneFab Deezer Music Converter also lets you take full control on the output settings of all Deezer downloads freely. It offers the mostly-used formats such as MP3, FLAC, WAV, and M4A for choosing as you want. For the output quality, it offers up to 320Kbps and 48000hz for choosing, so you can just select the quality based on your needs.
Offer 10X Faster Speed
Because the software has used advanced hardware acceleration technologies, so you don't need to worry about the downloading speed at all. TuneFab Deezer Music Converter supports to download Deezer Music for you at 10X faster speed when your computer hardware and also the network condition are both good.
Keep All ID3 Information
Even when you have a lot of Deezer songs need to be downloaded at once, don't worry! TuneFab Deezer Music Converter will save the original ID3 tags, including the title, artist, album, album cover, and so on. This helps you better manage the downloaded songs offline.
How to Use TuneFab Pandora Deezer Converter
Because TuneFab Deezer Music Converter wants to make it simple for every user to use, it also makes the process of downloading Deezer Music in very simple operations. Now, you can simply see this tutorial and learn how to download Deezer Music with the software easily.
Step 1. Sign in to Deezer Account in TuneFab Deezer Music Converter
Firstly, you need to install TuneFab Deezer Music Converter on your computer. Then by opening it, you can select entering the in-built Deezer player and sign in your account to continue.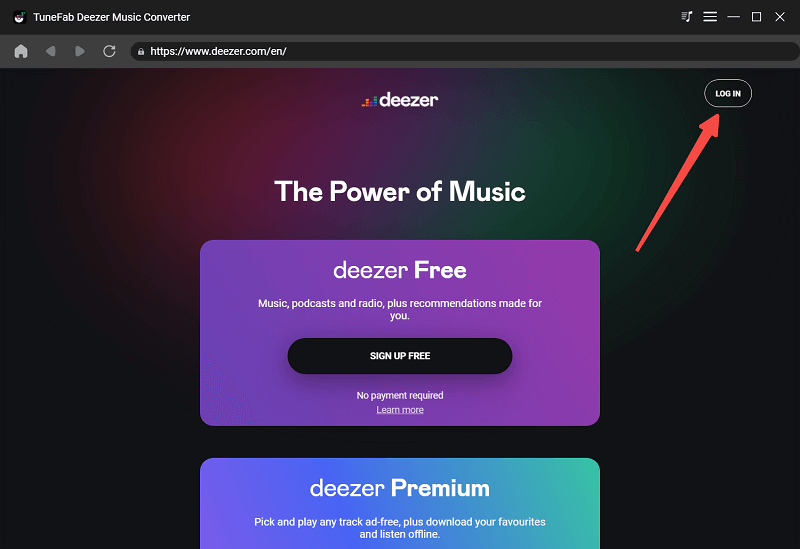 Step 2. Add Deezer Music to Download
After signing in the player, you can begin to search for the songs or podcasts you want to download offline. Directly drag them to the "+" button, and then the songs and podcasts will be added to the list and wait for converting.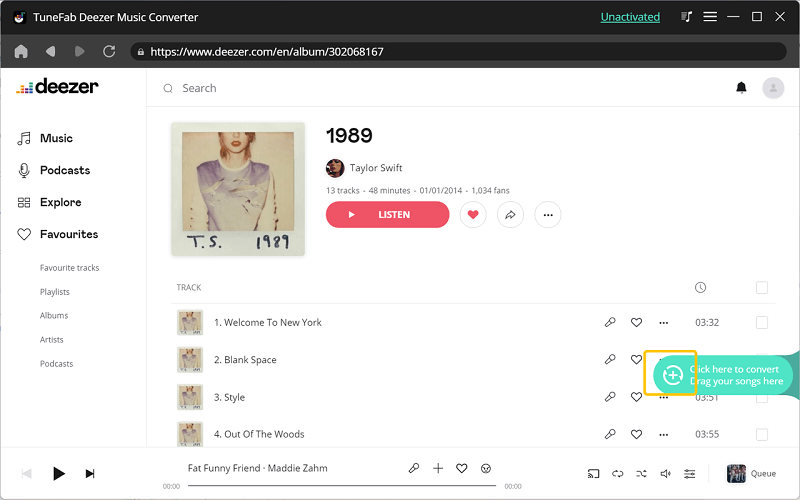 Step 3. Select Format and Quality
When the Deezer songs and podcasts are added, you can directly choose an output format from the 4 provided options, which are MP3, FLAC, WAV, and M4A from the "Convert all files to" format menu in the top-right corner.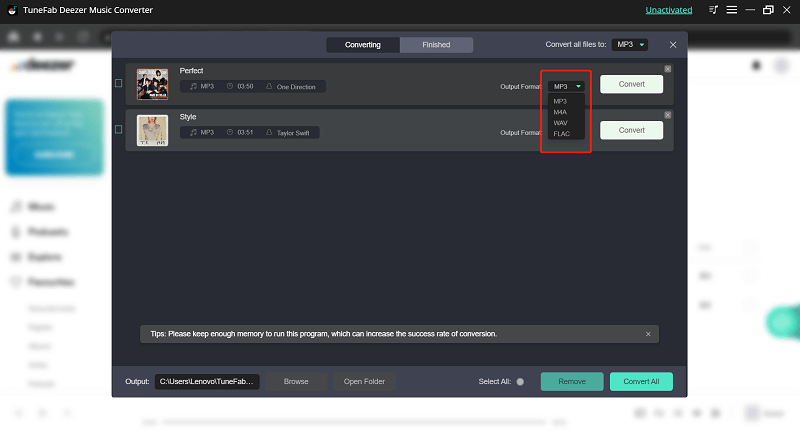 Or by going to "Preferences" under "Menu", you can switch to "Advanced" and change the quality by selecting both "SampleRate" as well as "Bitrate" based on your needs.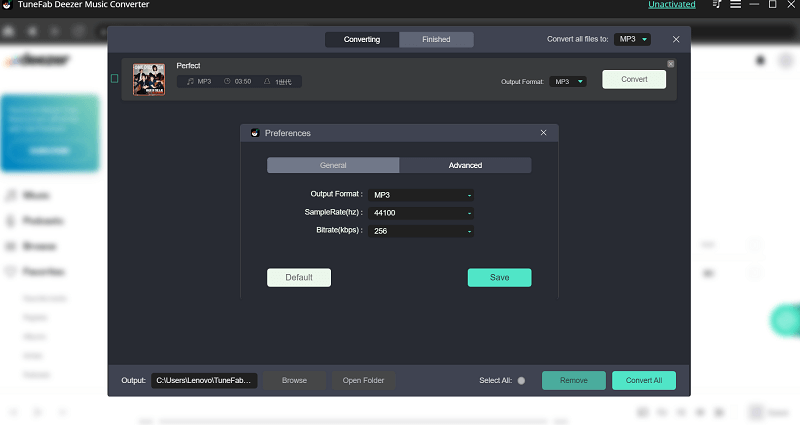 Step 4. Download Deezer Music Offline
Once the settings are also finished selecting, directly click the "Convert All" button, and you can download all selected Deezer songs for enjoying offline as common music files.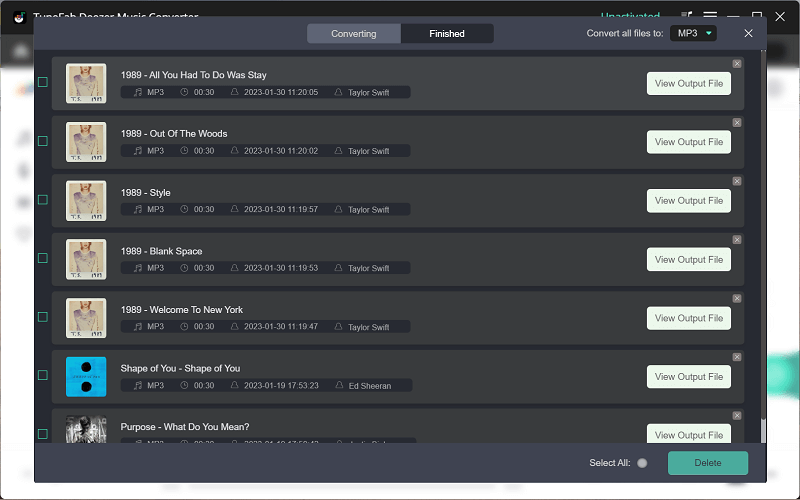 TuneFab Deezer Music Converter: Pros & Cons
Finally, let's review the overall pros and cons of TuneFab Deezer Music Converter and decide whether to select it or not.
Pros:
● Supports popular formats to download Deezer Music
● Offers the best 320Kbps or Hifi quality to select
● Download all Deezer contents without limitations
● Saves original ID3 information for all downloaded Deezer songs
● Batch download Deezer playlists at 10X faster speed
● Removes DRM from Deezer Music and makes them playable on all devices as well as players

Cons:
● The free version only lasts for 30 days
● You can't edit the titles of the outputted music files
● You can't stop the conversion while it is processing

Conclusion
As you can see, TuneFab Deezer Music Converter can help you remove DRM from Deezer Music, and then have the offline music playback in more convenient ways. Its features are also helpful and can make the Deezer Music download process more user-friendly. Therefore, if you are still finding a professional way to remove Deezer DRM and download the songs for playback offline more conveniently, TuneFab Deezer Music Converter can be the best choice for you!
Was this information helpful?
TrustScore 1 | 1