YouTube Music and Spotify are both popular music streaming platforms, offering comparable services with some variations in content. If you are more interested in content on YouTube Music, but simply tired of switching between YouTube Music and Spotify, it is undoubtedly a good decision to transfer your Spotify playlists to YouTube Music.
However, all Spotify music is protected by Digital Rights Management (DRM), which means you cannot directly play Spotify tracks on other applications or unappointed devices. But in this article, I will give you several solutions to transfer your playlists from Spotify to YouTube Music on your computer and mobile devices, including Windows, Mac, Android, and iOS. Just read on!
Related Article: How to Download Spotify Playlist to MP3 in One Click?
Move Spotify Playlists to YouTube Music with Easy Online Tool
If you are looking for an online tool, Playlist Buddy is undoubtedly your best choice. Playlist Buddy is a free web-based tool that allows you to transfer your playlists between different music streaming services without installing software. With Playlist Buddy's user-friendly interface and great accessibility, it guarantees you a smooth and simple music transfer process.
However, Playlist Buddy has a daily transfer limit, and content limitations due to copyright restrictions. Therefore, this tool is only suitable for people who need to convert a small number of songs to YouTube Music.
Here is the guide for you:
STEP 1. Go to Playlist Buddy with your web browser and then click Login to Spotify.
STEP 2. Select one playlist at one time, and click Sign in YouTube. Wait a few seconds and click Convert Playlist. By the way, the quota limit is 250 songs.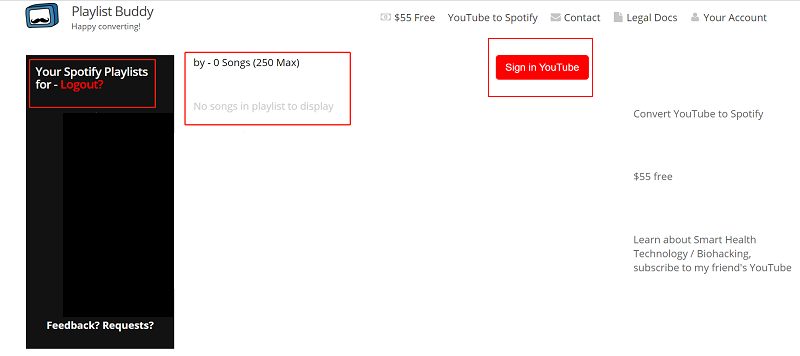 STEP 3. Then, click the red button, and you can see your Spotify playlist on your YouTube music account.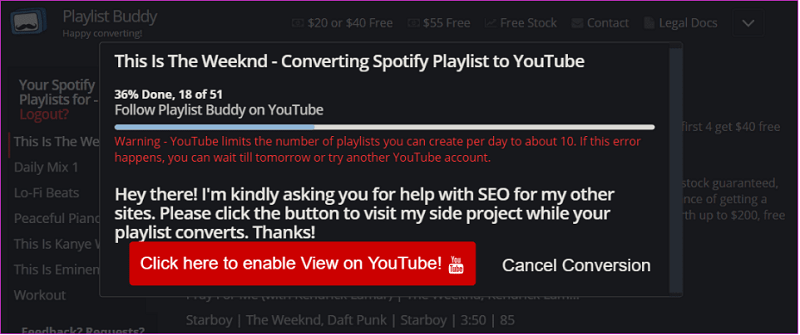 Convert Spotify Playlist to YouTube Music on Windows/Mac
Although Playlist Buddy makes it easy to transfer your playlists with just a few clicks, you may find this online tool not powerful enough, such as limited supported platforms, content limitations, occasional copyright restrictions, etc. Then let me introduce TuneFab Spotify Music Converter, an exceptional solution for both Windows and Mac users.
This user-friendly music converter empowers you to enjoy limitless MP3 downloads without any content restrictions. Now, you can download and keep your Spotify playlists forever, and effortlessly upload these tracks to YouTube Music or any other platform of your choice. Notably, TuneFab Spotify Music Converter can help you batch download playlists at 35X faster speed, guaranteeing a more efficient music transfer experience.
Key Features of TuneFab Spotify Music Converter
● Built-in Web Player: TuneFab Spotify Music Converter simplifies the music downloading process by offering a built-in web player, eliminating the need for installing Spotify. You can directly download your favorite Spotify songs, albums, playlists, and podcasts hassle-free.
● Permanent MP3 Downloads: With TuneFab, your downloaded Spotify songs are yours to keep forever. Enjoy the freedom of transferring your MP3 files across devices and platforms without any limitations or expiration dates, ensuring your music collection remains accessible.
● Multiple common formats included: It can help you convert playlists to common formats such as MP3, M4A, FLAC, WAV, AIFF, AAC, and ALAC.
● Best Audio Quality: TuneFab Spotify Music Converter ensures that your converted Spotify songs retain the highest audio quality possible. Experience the original fidelity and clarity of your favorite tracks!
● 35X Faster Conversion Speed: Say goodbye to long conversion times with TuneFab's impressive speed. With at least 35 times faster conversion rates, you can quickly transform your Spotify songs into MP3 format, saving you valuable time and effort.
Step-by-Step Guide
STEP 1. Launch TuneFab Spotify Music Converter, and click Open the Spotify web player. Then click Log in to connect your Spotify account.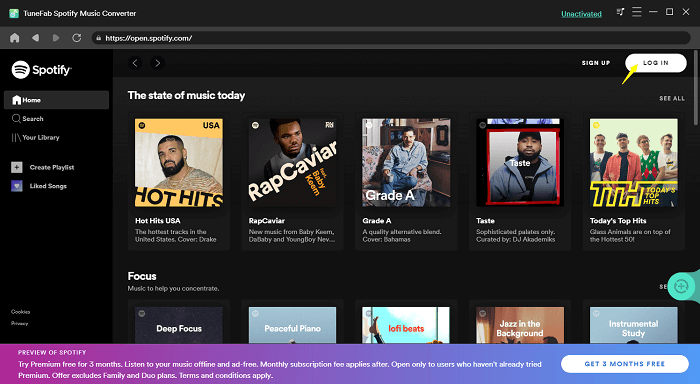 STEP 2. Select tracks for download. Drag and drop them onto the green "+" button.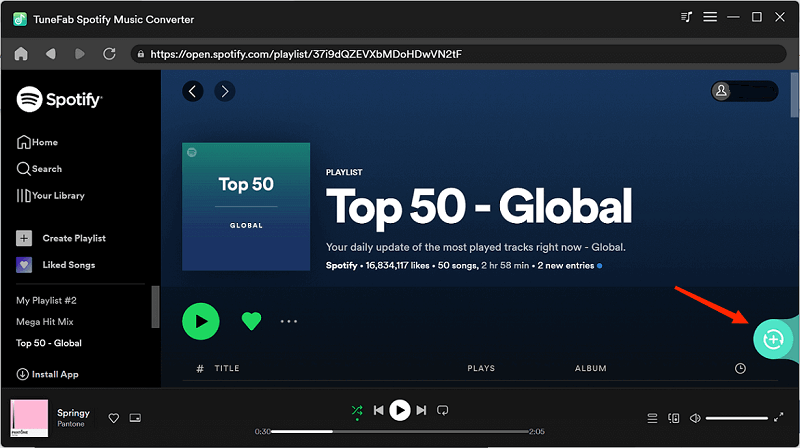 STEP 3. Click the three-line button in the top-right corner and then select Preference. In the Preference menu, adjust the output format settings according to your preferences.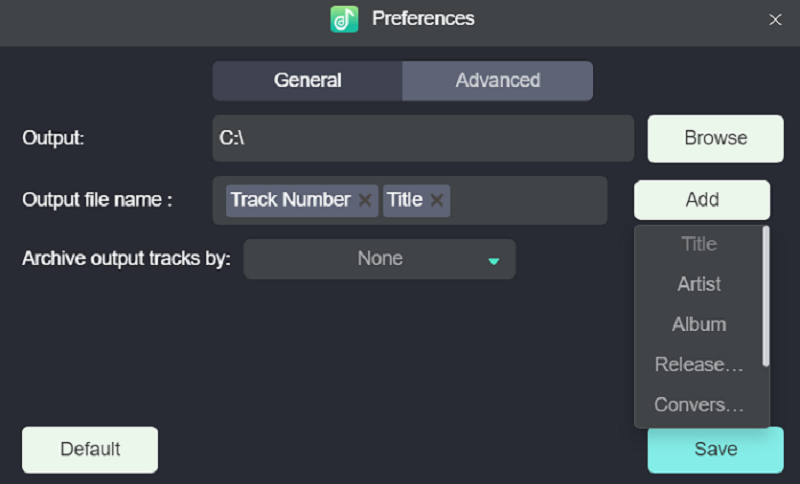 STEP 4. Click Convert to begin the batch downloading process. Then click View Output File to check the downloaded Spotify songs.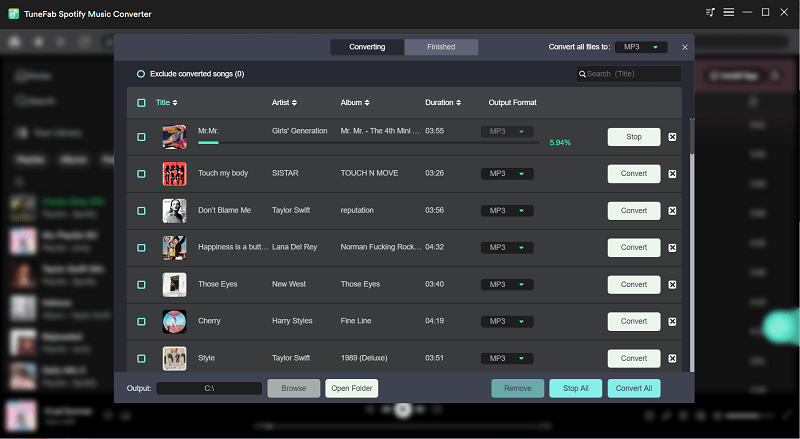 STEP 5. Go to YouTube Music, upload the downloaded local Spotify files from your computer to your YouTube Music account. Once the uploading process is complete, you can now enjoy your favorite Spotify tracks on YouTube Music, even offline.
Transfer Spotify Playlist to YouTube Music on iOS
For iPhone and iPad users, you will need SongShift. It is a free music transfer app available on iOS mobile devices. It simplifies the process of transferring music by automatically updating your playlists to YouTube Music when changes are made. In addition, it supports you to filter your playlists and customize the order of songs in your playlists.
However, similarly, it limits the number of playlists transferred to Youtube Music, and there might occasionally be copyright restrictions imposed by music streaming services.
STEP 1. Launch SongShift on your iOS device.
STEP 2. Click on the blue entry icons to connect your Spotify and YouTube accounts. Tap Continue, and then Get Started.
STEP 3. Tap the Plus (+) icon located in the top-right corner to start the transfer process. Choose Spotify as the source service and then select Playlist. From your Spotify playlists, pick the one you want to transfer to YouTube Music and tap Confirm.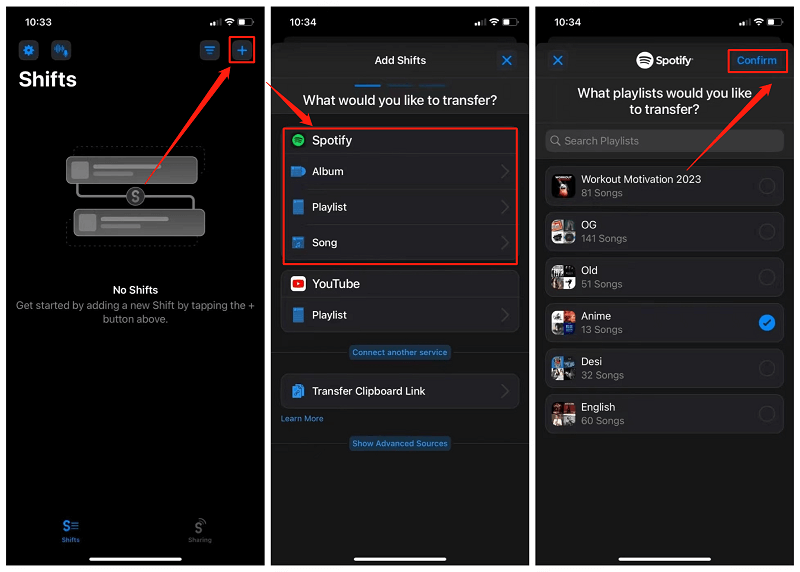 STEP 4. Select YouTube as the destination service. Tap Start Shifts to initiate the playlist transfer.
STEP 5. Once the transfer process is complete, you can tap Review to check if all the songs have been successfully transferred from Spotify to YouTube Music.
Congratulations! You have successfully transferred your Spotify playlist to YouTube Music using SongShift. Now you can enjoy your favorite music on YouTube Music without losing your carefully curated playlists.
Export Spotify Playlist to YouTube Music on Android
If you're an Android user looking to transfer your Spotify playlists to YouTube Music, Soundiiz is the ideal tool for the job. Soundiiz is available as a free download on the Google Play Store, allowing you to seamlessly transfer playlists, artists, and tracks from Spotify to YouTube Music. However, it's important to note that the free version comes with some limitations, such as transferring only one playlist at a time and a restriction on moving up to 200 songs simultaneously.
STEP 1. Open Soundiiz on your Android device. Tap Let's go to begin the transfer process.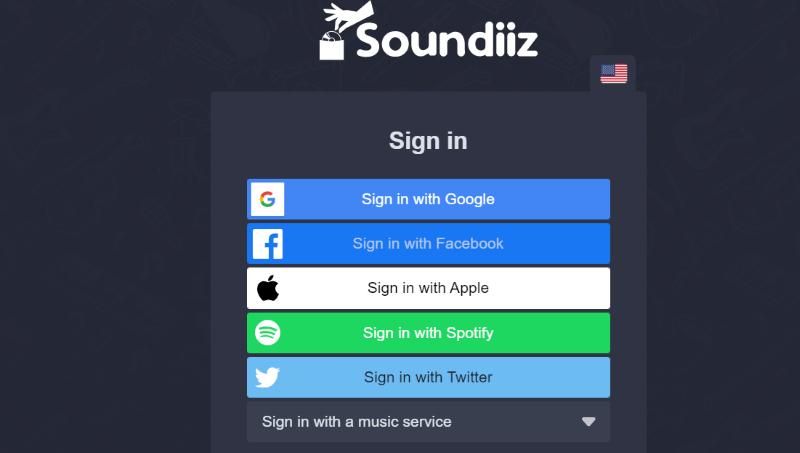 STEP 2. Connect your Spotify and YouTube Music accounts by following the on-screen instructions.
STEP 3. Tap the 3-line icon in the top-left corner to initiate the Transfer Process. Select Transfer and then follow the 4-step guide displayed at the top of your screen.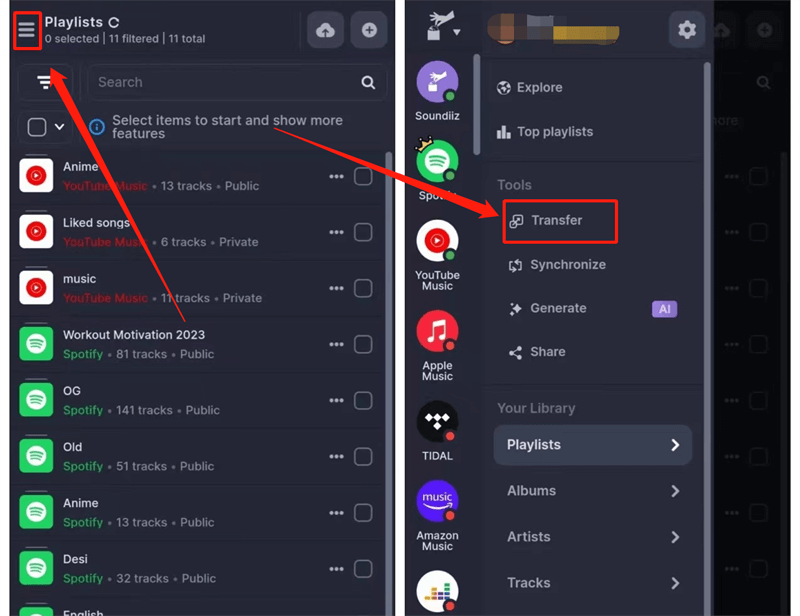 STEP 4. Choose Spotify as the source and YouTube Music as the destination for your playlist transfer. Tap Start to proceed.
STEP 5. Tap the pencil icon to select the specific playlists from your Spotify account that you want to transfer. Once you've made your selection, tap Confirm my selection and then continue by tapping Confirm.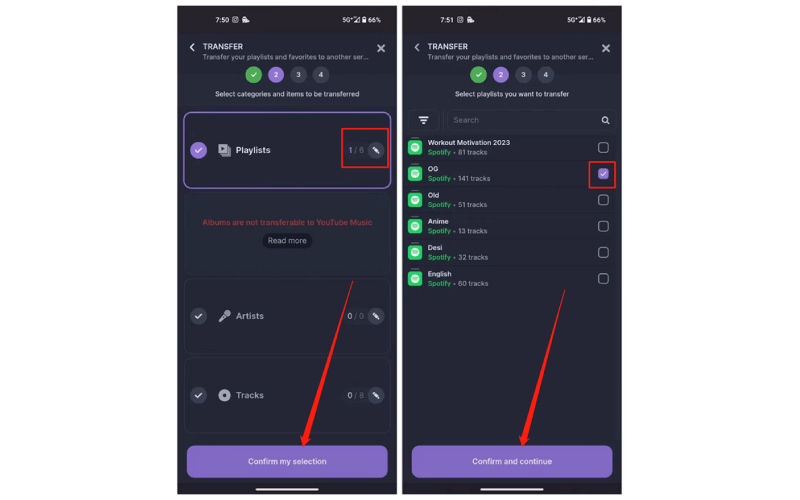 STEP 6. Customize your playlist settings and tap Save configuration to proceed.
STEP 7. Review the tracks in your playlist and select/unselect individual songs as desired. After making your final adjustments, tap Confirm. Then hit Begin the transfer to initiate the playlist transfer process.
STEP 8. Once the transfer is complete, Soundiiz will display a success message indicating that the conversion was successful. If any errors occur during the transfer, they will also be shown for your reference.
Conclusion
With the information provided above, you are now equipped with the expertise to transfer playlists from Spotify to YouTube Music. While there is no direct method to transfer Spotify playlists to YouTube Music, it is still feasible with the help of third-party tools.
● For those who need an easy and convenient tool, Playlist Buddy is your best choice.
● For iOS users, SongShift provides a seamless and hassle-free experience. Android users can count on the versatile Soundiiz.
● For those looking for a limitation-free converter and looking to expand their music library beyond streaming platforms, TuneFab Spotify Music Converter offers a powerful solution to download Spotify tracks and upload them on other platforms.
Each app has its own strengths, and you can select the one that best aligns with your requirements. With these music transfer apps at your disposal, playlist transfer and music enjoyment have never been easier.
Was this information helpful?
TrustScore 1 | 3
Copyright © 2022 TuneFab Software Inc. All rights reserved.