An Amazon Music converter is able to help us decrypt all streaming songs released for listening on the Amazon Music platform online and download them offline to files of mainstream formats such as MP3.
The distinguishing difference of the download feature between Amazon Music subscription (such as the Amazon Music Prime, Unlimited, and HD plans) and the third-party Amazon Music converter on market should be the ability to access the downloaded items. TuneFab Amazon Music Converter, the leading option among all other choices, enables users to stream encryption-free Amazon Music tracks offline no longer depending on the Amazon Music app.
But what drives TuneFab Amazon Music Converter to stand out from the competition? You will grasp this comprehensive review.
What Is TuneFab Amazon Music Converter?
TuneFab Amazon Music Converter is compatible with Amazon streaming music download, which has realized the feature by embedding the official Amazon web player inside the software. It will remove all the limitations set for different types of Amazon Music accounts, including the Amazon Music free accounts and the subscriptions such as:
● Amazon Music Prime
● Amazon Music Unlimited
● Amazon Music HD
Any of these users are available to use TuneFab Amazon Music Converter's integrated Amazon web player to download all provided tracks without any limitation. The downloaded Amazon Music songs will also be saved in DRM-free status with mainstream formats, including MP3, M4A, WAV, and FLAC for listening offline flexibly. With TuneFab Amazon Music Converter, users no longer require to depend on the Amazon Music app or its desktop software to download Amazon Music songs, with Amazon Music Prime/Unlimited/HD subscribed.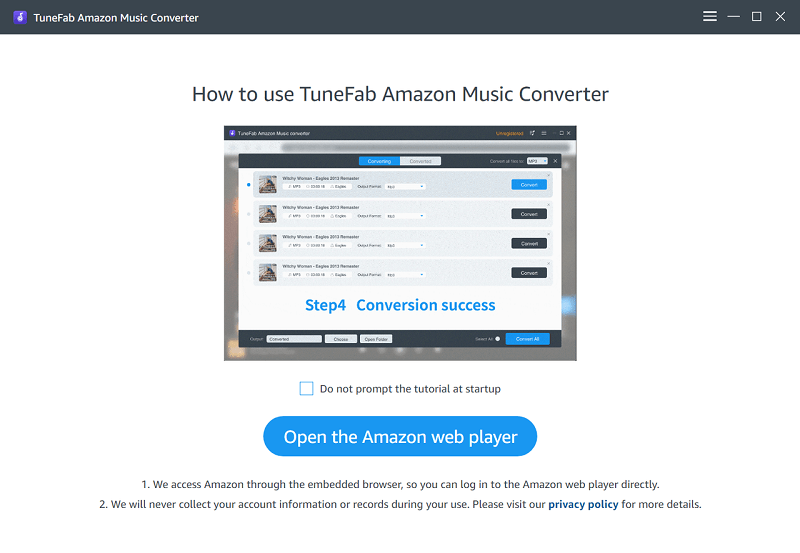 Currently, TuneFab Amazon Music Converter is compatible with Windows 7 or later on 64bit, or Mac computers running Mac OS X 10.11 or higher. Its free trial version also enables users to experience the download feature at first without paying a penny. Here are the download options provided for you to get started with the software right away:
Features of TuneFab Amazon Music Converter
For sure, TuneFab Amazon Music Converter stands out for reasons. From its great compatibility to download all Amazon Music titles, then the stable, speedy, and efficient performance, the software is able to drive users' digital life experience to be more convenient. Now, go through its highlighted features and you will know why TuneFab Amazon Music Converter is the best choice to convert Amazon Music to MP3.
Songs, Albums, Podcast Download
When TuneFab Amazon Music Converter has integrated with Amazon Music's web player inside the software, users are only required to log in via any of their Amazon Music accounts (Amazon Music Prime/Unlimited/HD/Free accounts are all supported) to access the official music library. They are available to search for accessing any Amazon Music songs, albums, and podcasts to process the download right away without any limitation.
Original Music Quality
As Amazon Music offers lossless audio in HD (with a minimum sample rate of 44.1 kHz), which is also referred to as CD-quality, TuneFab Amazon Music Converter will maintain it for you and enables you to freely customize the parameters in requirements. For sure, TuneFab Amazon Music Converter has provided the 44.1 kHz sample rate option and up to 320kbps bitrate for you to output the Amazon Music tracks, in order to maintain the best CD-like music streaming experience offline.
Multiple Output Formats
To ensure the downloaded Amazon tracks are able to be streamed on all devices or using any media player, TuneFab Amazon Music Converter provides mainstream options, including MP3, M4A, WAV, and FLAC for users to select outputting the music files. Then by transferring them to any device, you are able to have flexible offline Amazon Music playback even without the Amazon Music app installed!
High-Efficiency Music Conversion
To improve the download efficiency, the software is also embedded with multiple acceleration techs, working to accelerate the downloading process up to 5X or even faster (when connecting to a reliable network). Meanwhile, it is also possible to process multiple tracks download simultaneously, helping to save much time when users get a batch of Amazon Music playlists to download offline.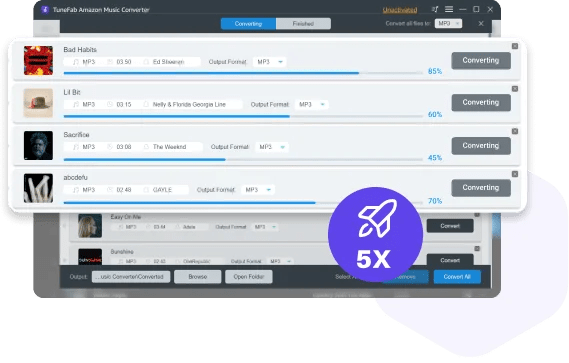 ID3 Metadata Preservation
In order to help users manage the offline music library conveniently, TuneFab Amazon Music Converter will preserve the full ID3 metadata info via each track. In this way, users are available to check the music tags, including the artist, album, and album cover to organize them without hassle.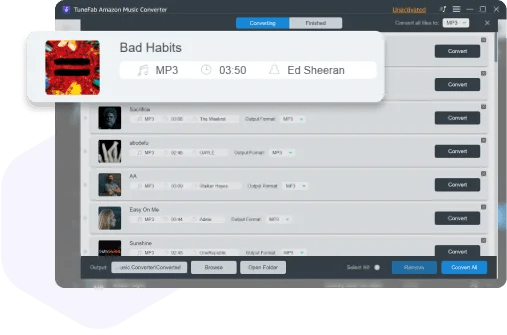 Pricing Plans
How to access TuneFab Amazon Music Converter's amazing download features to save your favorite tracks from the Amazon streaming platform? Does it take cost?
It is a pity that TuneFab Amazon Music Converter is a subscription product, which takes a subscription fee as you need to pay for the copyright fee. But still, the software offers a free trial period, enabling users to experience its download feature without paying a penny. However, only the first 3 minutes of each song can be downloaded offline.
To remove all the limitations and access the full download functionality, TuneFab offers 3 plans to subscribe:
1-Month Subscription: US$14.95
1-Year Subscription: US$39.95
Lifetime License (Single): US$69.95
You are able to access the online store and pick up your desired subscription plan to activate the full version and download Amazon Music tracks without limitations from now on!

Is TuneFab Amazon Music Converter Safe?
There also have users who would consider the security of the software. Why trust TuneFab Amazon Music Converter? For sure, this software is 100% safe to use.
From the software side, TuneFab Amazon Music Converter takes quite a simple setup, with no requirement to install extra bundled extensions or software to perform the music download. Meanwhile, its clear interface will not invite any ads to affect the user experience. In other words, there won't be malware or adware contained in the software. Also, there are strong protection techs applied to secure prevent viruses or hacker attacks, greatly ensuring your data and privacy security.
In addition, TuneFab has provided multimedia solutions to global users for years. It has reached people from 180+ countries and served over 30M individuals. There are also more than 200 authoritative media sites that have tried TuneFab's products and given us high ratings for both our software security and the great functionality provided.
How to Use TuneFab Amazon Music Converter?
Finally, take one more minute to grasp TuneFab Amazon Music Converter's usage, then you will exactly know how the software helps to complete the Amazon Music download just within one minute!
STEP 1. To get started, install TuneFab Amazon Music Converter on your desktop and launch the software. On the welcome page, enter the Amazon web player and log in via your Amazon account.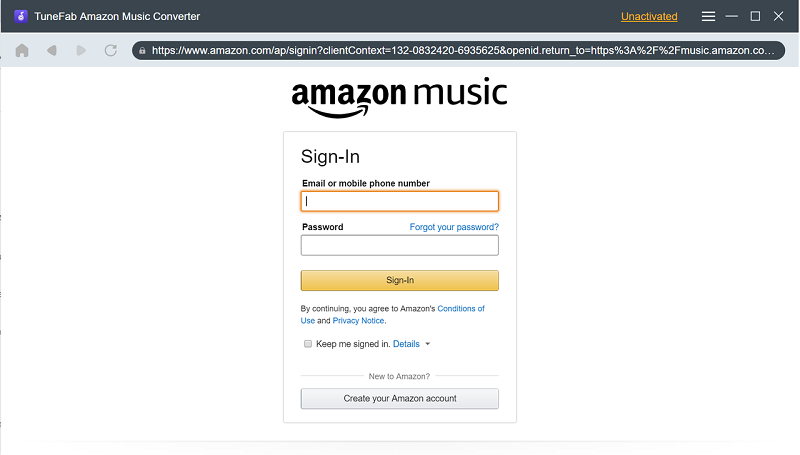 STEP 2. Once login, directly search for the Amazon Music tracks or playlists to download. When you access them, directly by dragging to the "+" icon and the songs will be added to the conversion queue.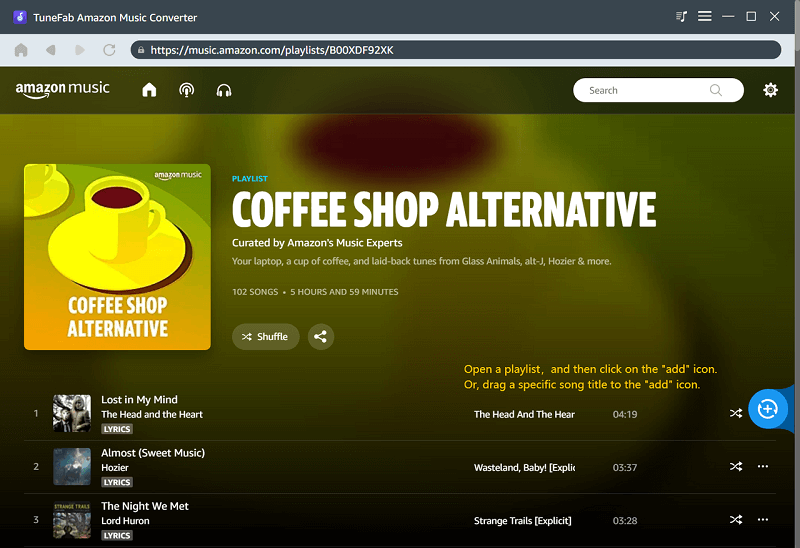 STEP 3. Now, select an output format from the upper-right "Convert all files to" drop-down menu. You are also available to navigate to "Menu" > "Preferences" > "Advanced" to customize other parameters such as bitrate and sample rate.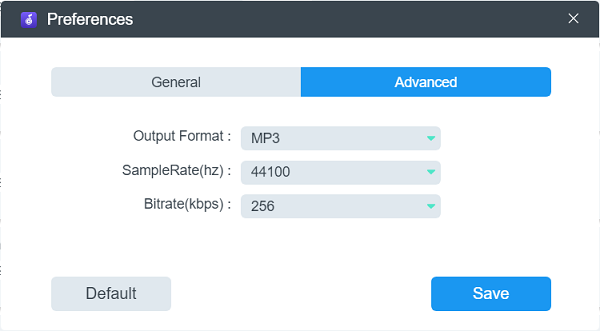 STEP 4. Finally, give a go on the "Convert All" icon, then the select Amazon Music tracks will be downloaded offline right away.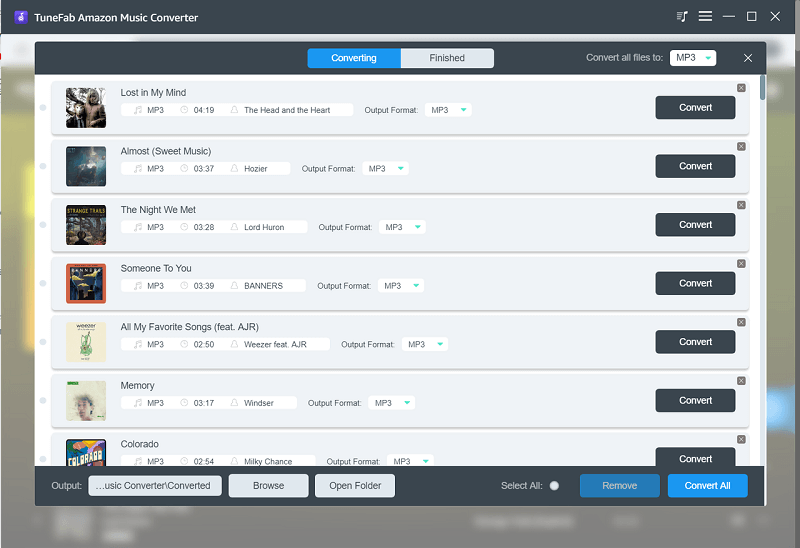 Conclusion
That's all about TuneFab Amazon Music Converter. From the review, you know clearly grasp how the software works to help you download tracks from Amazon Music, and convert them to MP3 or other mainstream formats with customized parameters. If you are also considering a secure but high-efficient way to save any Amazon Music resource, TuneFab Amazon Music Converter will absolutely be your best choice.
Was this information helpful?
TrustScore 5 | 49