Pandora, a popular music streaming service that features music recommendations based on the individual user's preferences, helps music lovers effortlessly discover new music that matches their tastes. Despite this advantage, there are still some annoying restrictions of Pandora. For example, offline playback is limited to smartphones, which means downloaded audio files can't be saved on MP3, computers, etc. Also, the downloads can't be accessed once the subscription ends.
To remove these playback and device restrictions, what you need are useful third-party tools. In the following parts, we will show you how to rip music from Pandora through the use of two powerful applications.
CONTENTS
Method 1. Rip Music from Pandora with TuneFab Pandora Music Converter
To learn how to save music from Pandora to a computer and keep it forever, you need a useful Pandora ripper which enables you to rip Pandora songs. In this case, TuneFab Pandora Music Converter is highly recommended for its excellent performance, fast conversion speed, and better audio quality after conversion.
TuneFab Pandora Music Converter is a professional music-converting application used to help listeners access Pandora Music by converting audio files to common formats. From Pandora tracks to playlists, albums to podcasts, TuneFab Pandora Music Converter can convert these at up to 10X faster speed without quality loss, allowing for offline playback on any device you like. With a user-friendly interface and ease of use, TuneFab makes the process of Pandora ripping easy peasy.
Features of Pandora Ripper
● Supports conversion of multiple audio contents from Pandora - TuneFab enables you to convert Pandora Music, be it songs, playlists, albums, or podcasts.
● Convert Pandora Music to MP3/M4A/WAV/FLAC format - With four types of audio formats available, TuneFab converts audio files to common formats so that you can enjoy music on MP3, PC, tablet, and other mobile devices at any time.
● Higher audio quality & 10X faster conversion speed - With a conversion speed ranging from 6X to 20X, TuneFab helps you convert audio files quickly while ensuring higher audio quality.
● Keeps original ID3 tags - After conversion, ID3 tags information, such as song title, artist name, album name, and other information, will be retained in the output files, helping you manage converted audio files with ease. (This does not apply to the converted files in the WAV format for now)
● Offers built-in Pandora web player - By saving you the bother of downloading the Pandora application on your computer, TuneFab enables you to search, and convert with a few simple clicks.
Steps to Rip Pandora Music
Step 1. Download TuneFab Pandora Music Converter
TuneFab Pandora Music Converter is compatible with Windows and Mac, and you can download the right version from its official site depending on your operating system. Then, install the application.
Step 2. Choose Songs You Want to Rip
After launching the software, a window will pop up. Click "Open the Pandora web player", and the window will jump to a web page where you can log into your Pandora account. After successful login, choose a song you want to rip. Drag-and-drop it to the "+" button so that the song will be added to the converting list.
Or you can just select a playlist (or album/artist), and click the plus button. Then, all songs in the playlist will be automatically identified and added to the list.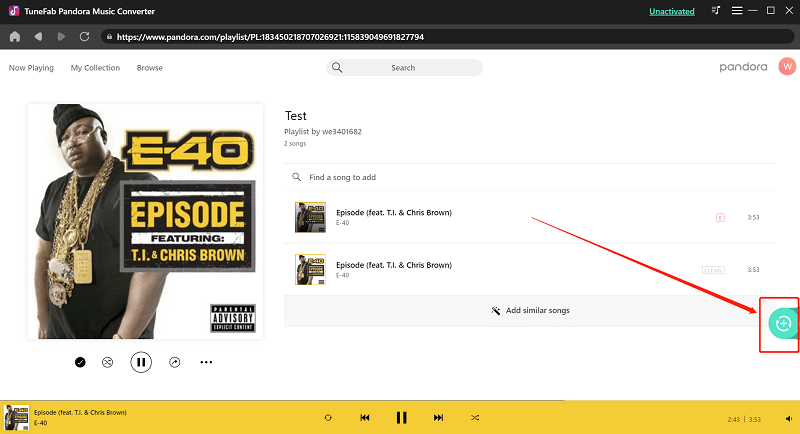 Step 3. Customize Parameters for the Output Files
To set advanced preferences, click the "≡" icon on the top right corner of the main page and select Preference. A Preferences window will pop up. Click Advanced to set the output format, sample rate, and bit rate.
You can either stick with the default settings as follows, or set them as needed. Remember to click Save after customizing the parameters.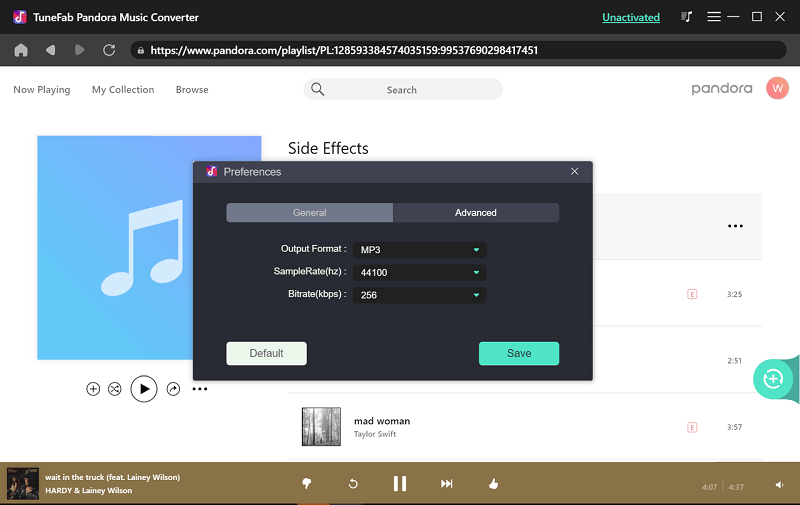 Click the first icon of the main menu bar in the upper right corner to go back to the converting window. If you want to rip all songs to the same output format, click Convert all files in. You can also set their formats individually in Output Format.
In the bottom left corner, you can set the download location. Then, click Convert All to start the conversion.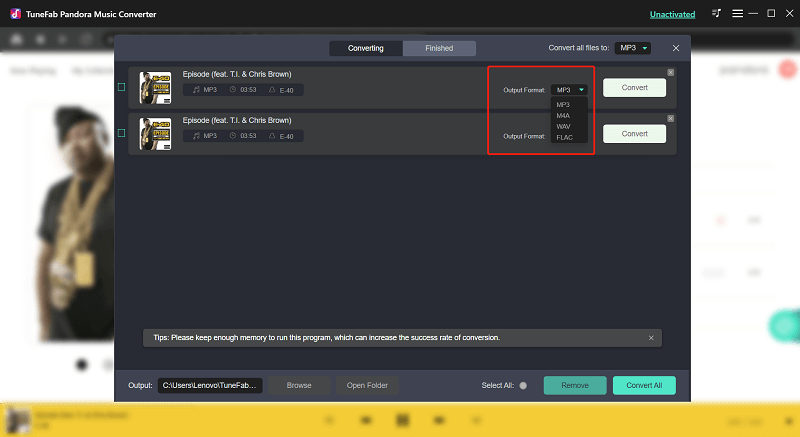 Step 4. Conversion Finished
When the audio files are being converted, the speed can be checked out in the Converting window. After the conversion is finished, you will find your newly converted Pandora songs on the Finished page or the destination location.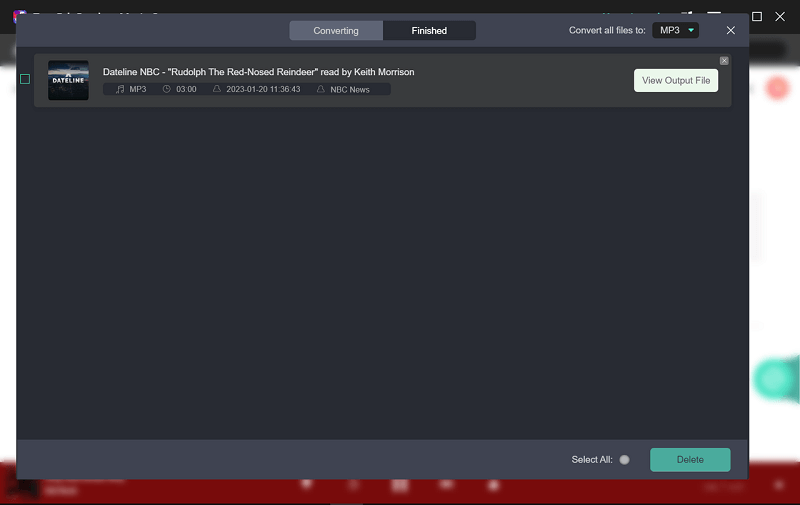 Method 2. Rip Music from Pandora via Screen Recording Tool
With TuneFab Pandora Music Converter, you can rip a Pandora song or playlist in a few clicks, having a time-saving and convenient ripping process. If you only want to keep several Pandora songs and don't mind recording songs one by one manually, then a screen recording tool is also a good choice.
Learn About Pandora Recorder
Unlike Pandora Ripper ripping songs and playlists at once, Pandora Recorder allows you to record song clips from Pandora if you want to create ringtones or background music. With so many versatile Pandora Recorders available, you may find it hard to choose one. To help you record Pandora songs efficiently, a reliable Pandora Recorder should at least:
● Be able to record songs from installed applications or websites.
● Support various audio formats to ensure high-quality recordings.
● Provide editing features for convenient song editing while being easy-to-use.
Here we recommend Cinch Streaming Audio Recorder. In addition to the advantages mentioned above, Cinch also is capable of recording music from 500-plus music streaming services and enables you to record wherever you are (even in quiet places like libraries).
Steps to Rip Music from Pandora
Step 1. Install and launch Cinch Streaming Audio Recorder. Before following the next step, remember to turn off other music applications and web pages, otherwise, those sounds will be recorded at the same time.
Step 2. Click the round yellow button at the top left to start recording. Then, play a Pandora song or playlist you want to rip and turn up the volume. Cinch will start capturing the sound.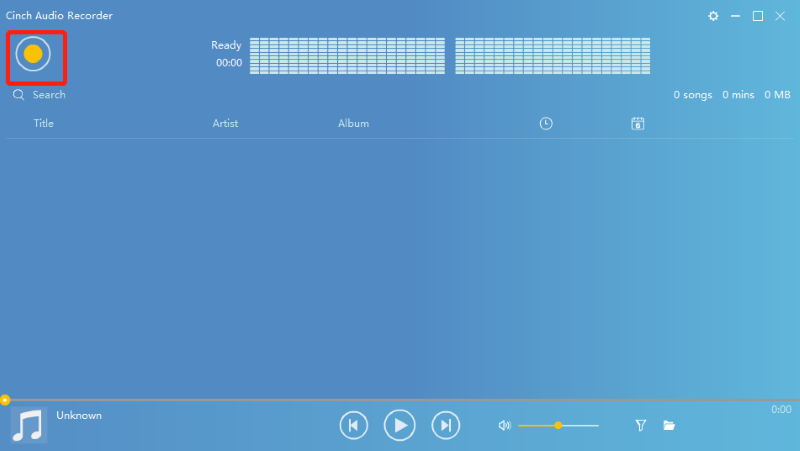 When you think it's time to stop, click the yellow square button to stop recording.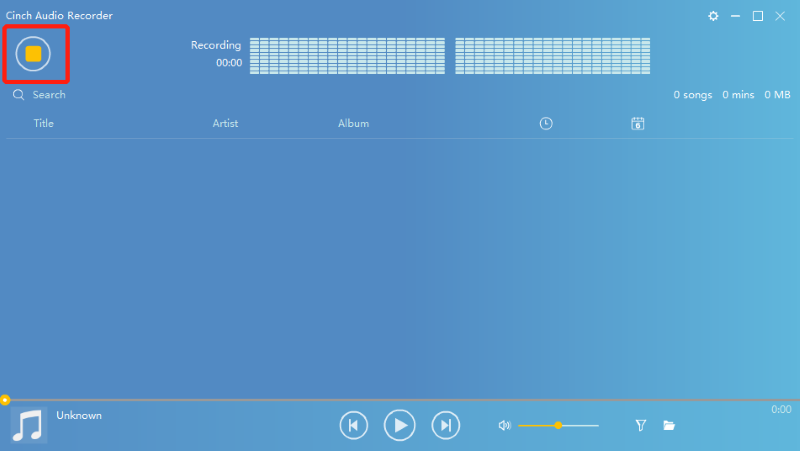 Step 3. To check the recordings which are automatically saved in the destination location after conversion, you can click the "Folder" icon at the bottom right of the screen.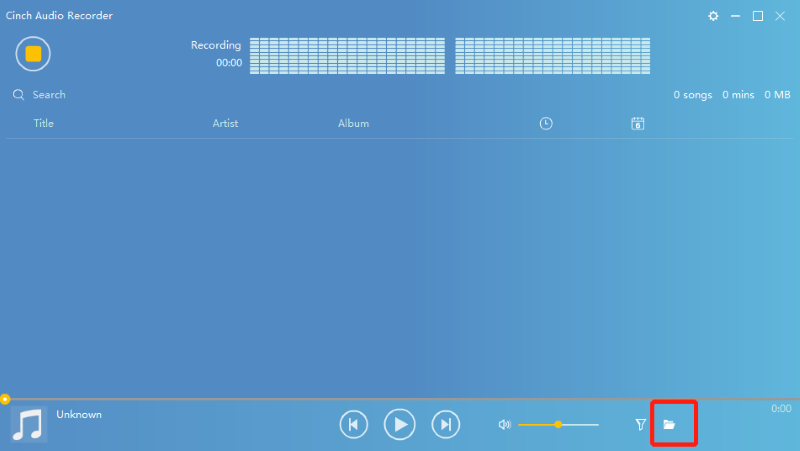 Conclusion
Despite personalized stations and music discovery based on preferences, Pandora does cause inconvenience to its users, such as offline listening only available on phones and low audio quality. However, with the two different methods above, you can easily rip Pandora Music and save it on your computer or MP3 for offline playback.
If you want to rip Pandora songs quickly and conveniently, TuneFab Pandora Music Converter is totally worth a try, not only for its ease of use, fast conversion speed, and superior audio quality, but also for supporting the conversion of Pandora tracks, playlists, albums, and podcasts.
Was this information helpful?
TrustScore 5 | 49