Apple Music is for sure one of the most popular services for streaming music either on phone or computer, for it provides over 60 million songs for commonly online music enjoyment. However, it is still not good enough as you may always come across a problem that how to play Apple Music when there is no network connection. Besides, you will find that even when you have subscribed to Apple Music, you can't play music on Apple's unauthorized devices.
I mean, if you only listen to Apple Music on Apple's authorized devices, everything will be getting not terribly so. However, if you want to take full control of your music file and do anything you like with them, such as playing music on iPod shuffle offline, burning music to CD, you definitely need to use a converter to convert Apple Music to unencrypted audio formats like MP3.

Even though there're many Apple Music Converters available in the market, finding the right one is tricky. If you are still fretting about deciding which one to use, you could consider using TuneFab Apple Music Converter which is one of the best Apple Music converters.
It is a reliable audio converter that can bypass Apple's Fairplay DRM protection and convert DRM-ed music to DRM-free efficiently, so that you can convert Apple Music into MP3 or any other more playable formats. In the meanwhile, it supports up to 10X conversion speed without quality compromise, thus it will save you tons of time obviously.
In the following, this article will cover the advantages, features, and all the information about why you need this Apple Music converter to make the most out of your subscription.
CONTENTS
1. Advantages of TuneFab Apple Music Converter
TuneFab Apple Music Converter is specially designed for converting Apple Music tracks from protected M4P format to more popular audio formats such as MP3, M4A, WAV and FLAC. so that you can play them offline freely.
However, you can only listen to Apple Music on a relatively harsh network connection. What's more, with this best Apple Music converter, you're able to keep all these Apple Music tracks for your personal evergreen collection after you cancel the Apple Music subscription. See more advantages below:
1. It supports further editing, backup, or playback without the need to use an authorized Apple device.
2. You are able to sync the Apple Music songs to your MP3 player or listen to Apple music in your car when it needs a USB stick or CD, while Apple Music only supports specifically authorized devices.
2. Features and Pricing of TuneFab Apple Music Converter
You may wonder why I called TuneFab Apple Music Converter one of the best and what is the best apple music converter? Well, the converter that can be regarded as the best should be able to convert songs successfully and efficiently. Besides those, there are some other features that can highlight the tool. In this part, we'll dig deeper into TuneFab Music Converter and know the answer.
An Overview of TuneFab Apple Music Converter
System Requirements
Windows 7 or later on 64bit required
Mac OS X 10.12 or higher
Supported Interface Language
English, French, German, Japanese and Traditional Chinese
Supported Input Formats
Apple Music M4P, iTunes AAC, iTunes M4B, AIFF, Apple Lossless, MP3, WAV, M4A
Supported Output Formats
Windows: MP3, M4A, FLAC and WAV
Mac: MP3, M4A, FLAC and WAV
Conversion Speed
Windows: 10X speed
Mac: 1X speed or 5X speed
Output Quality
Keep original quality with sample rate and bitrate selectable
ID3 Tag
Preservation are available
Support Services
Email and Submit a ticket
Licensing and Pricing
1-Year Plan: US$49.95
1-Month Plan: US$14.95
Lifetime Plan: US$79.95
Money-Back Guarantee
30 Days
Well-designed UI
As shown below, the straightforward and aesthetic interface will turn your conversion process into an enjoyment. Every beginner will become an Apple Music converter expert in seconds.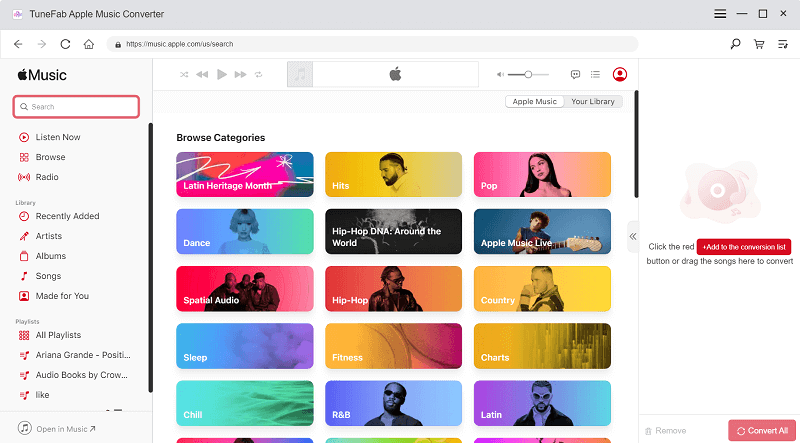 All-in-one DRM Removal Software
You know Apple Music tracks and digital content purchased from iTunes Store or Audible Store are DRM-encrypted, right? But how do you like DRM? Probably not much! The digital right management (DRM) makes it impossible for you to play your Apple Music tracks on unauthorized Apple devices. You are not able to make unauthorized copies of DRM-protected content, discover the beauty of music-making, or even adjust your favorite music into your ringtones.
That's the strong point of this tool. TuneFab Apple Music Converter makes stripping DRM easy by recording the encrypted Apple Music with a virtual recorder and re-encoding it as DRM-free audio while keeping the quality exactly the same. After removing Apple's FairPlay protection, you can freely use your Apple Music songs without any limitation.
Kind tip: Here're the types of files you can remove DRM from with TuneFab software:
DRM-protected Apple Music track (.m4p)
iTunes purchased DRM-protected songs (.m4p)
Fast-Speed and High-Quality Conversion
If you're looking at the best iTunes music converter for converting Apple Music songs (.m4p) into other formats, this is it. TuneFab Apple Music Converter is an advanced audio converter that is able to convert the DRM-protected Apple music in the built-in Apple web player and allows you to save them to your computer in a variety of digital formats including MP3, AAC, M4A, WAV, AC3, FLAC, M4R, AIFF, MKA and AU audio files.
Fast Speed Available: Windows users speed up the converting process with the default 10X speed feature while Mac users can choose the 1X speed for stable performance or 5X speed for a fast conversion.
High Quality Preserved: Value music quality more than converting speed? The good news is that TuneFab allows you to keep original music quality in converted songs, such as 320 Kbps, and 48,000 Hz in Apple Music.
You can also customize bitrate, sample rate, channel, etc. based on your need:
Bitrate (Kbps): 320, 256, 224, 192, 160, 128, 112, 96, 80, 64, 56, 48, 40, 30
Sample rate (kHz): 48, 000, 44, 100, 32,000, 22,050,16,000, 8,000
ID3 Tags Preservation
After converting the DRM-protected Apple music to the no DRM-protected music, TuneFab Apple Music Converter can finally help you save the ID3 Tags information, such as title, album, artist, cover, art, genre, etc.
Listening to Apple Music Offline on Multiple Devices
When the conversion is done, your Apple Music songs are truly DRM-free. You can freely transfer the songs to multiple devices such as MP3 player, iPod shuffle, iPod classic and more for offline playback. You can enjoy the music without authorizing that device with your Apple ID. In short, you have more flexibility in using the music your pay for.
Licensing and Pricing
TuneFab Apple Music Converter is not a free converter but it is absolutely worth more than it's sold for. If you are not sure whether to buy it directly, you can have a free trial for a certain period to know about its main features.
However, it only allows you to convert 3 minutes of each song. When you want to unlock the full features without limitation, you can buy a one-month plan, which costs $13.95 (both on Mac and Windows). Remember you can always enjoy a 30-day money-back guarantee, free lifetime software upgrade, and customer support as well.
Buy TuneFab Apple Music Converter (Mac )
Buy TuneFab Apple Music Converter (Windows )
3. Convert Apple Music to MP3 - Hands-on Experience
Now, with the basic knowledge of versatile TuneFab Apple Music Converter, you'll see how easy and quick the whole process would be when Converting Apple Music to MP3 with this tool in the following.
If you like this tool, you can just download it now and try it with me.
Step 1 When you launch TuneFab Apple Music Converter, sign in your Apple ID to go into the Apple web player.
Step 2 Choose the Apple Music tracks from the right panel to convert. This tool allows you to convert multiple tracks or an entire album at a time, which really saves your time when converting a large number of songs.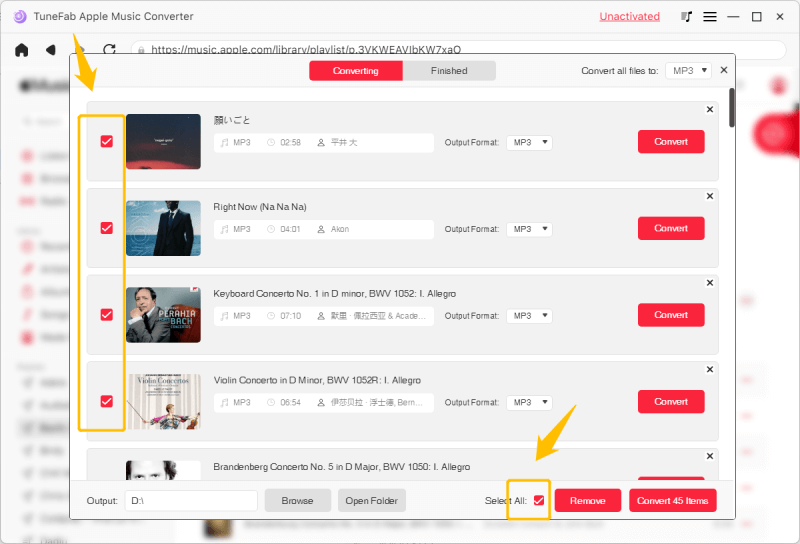 Step 3 On the "Preferences > Advanced/General" tab, you can select the Output Formats, Bitrate and Sample Rate or organize your output folder by artist and album. Here I am going to convert my Apple Music to MP3, so I select the first option here.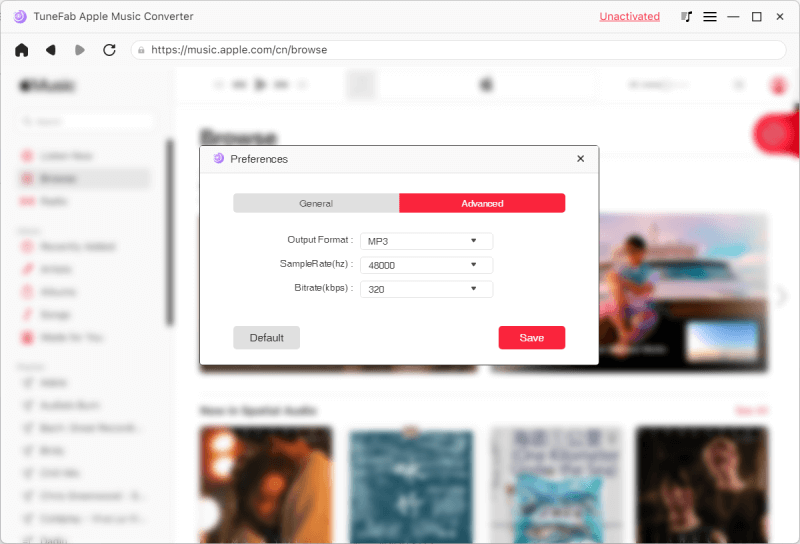 Step 4 Then, click on the "Convert" button and the conversion will start. The time it takes to finish the process will depend on factors like the total number of files, file size, the converting speed and the computer you use, etc.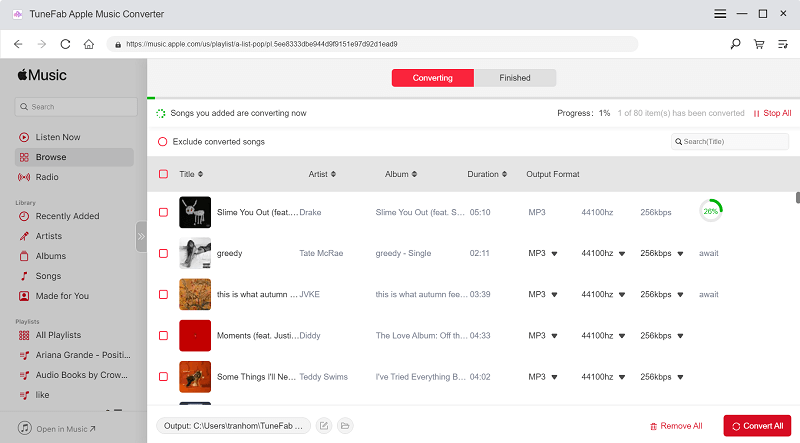 When conversion ends, click at "Explore Output File", then you will find the high quality MP3/M4A songs from the output folder on your PC/Mac.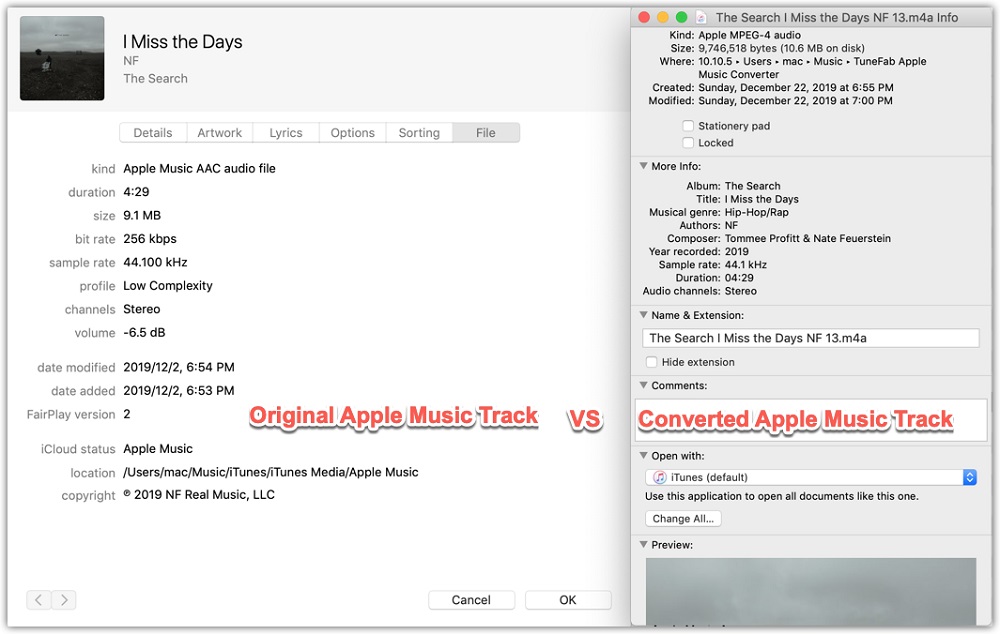 4. FAQs of TuneFab Apple Music Converter
Is TuneFab Apple Music Converter Safe?
TuneFab Apple Music Converter is a 100% safe and clean program that won't bring harm to your music library and computer. With no doubt, this program provides you with a more convenient and flexible way to enjoy encrypted music in life. You can trust TuneFab Apple Music Converter and if you meet any issue when using it, you are always welcome to leave a message.
Is it Legal to Convert Apple Music to MP3 or Other Formats?
Yes. It's legal to rip Apple Music for personal usage if you are an Apple Music subscriber. It's not likely you will be accused of infringing the content creators' copyright as long as you ensure all your ripped music tracks are for personal but not commercial use and not shared with other people.
What I Like About TuneFab Apple Music Converter (And You'll Like It Too):
#1 Ease of use, no technical skills required
#2 Never downgrade quality of your audio in any way
#3 Provide stable and quick converting process
#4 Converting multiple audio files at once without wasting your time
#5 Interface speaks the most widespread languages: English, French, German, Japanese and Traditional Chinese
#6 Responsible support team, which listen to all your suggestion and new ideas to improve the software
#7 A full-features tool that allows you listen to high quality Apple Music on all your gadgets
What Should I Do If TuneFab Apple Music Converter Is Not Working?
If you find your TuneFab Apple Music Converter not working, make sure your internet connection is stable and your Apple ID is logged in on iTunes. If it still doesn't work, you can try contacting the TuneFab support team and tell them your problem.
5. The Verdict
This is all you need to know about TuneFab Apple Music Converter. Unlocking the restrictions of Apple Music allows you to play Apple Music in more scenarios and devices. Moreover, all your conversion process is completed at up to 10X speed which is a real-time saver. Last but not least, the high-quality output it always keeps will never let you down. If you like this review, just give it a shot and share it with your friends now!
Was this information helpful?
TrustScore 3.9 | 7