Thanks to Deezer's enormous music library of more than 90 million HIFI music tracks, multiple channels, and a great number of playlists in high music quality, many people love using Deezer and are willing to further become Deezer Premium.
If you are one of those HiFi subscribers, you may be interested in the following aspects that we are going to cover: As a HiFi subscriber, it is believed that you quite well know the format restrictions of Deezer HiFi Music. It uses an encryption-protected FLAC format, which restricts your ability to play the downloaded music on other media players and devices. Meanwhile, there are concerns about inaccessibility following a dis-subscription or insufficient memory caused by the large music cache.
The above-mentioned factors, to a certain degree, drive you to explore ways to download your music from Deezer to MP3 format to achieve a wide range of usage. After you download Deezer Music to MP3 format, you can easily convert it to other devices like portable MP3 players, SD cards, USBs, etc. Moreover, secondary editing on the music is available too.
In the following sections, we will demonstrate three different ways for you to download Deezer music to MP3. The applicable tools are respectively the TuneFab Deezer Music Converter, an online converter named Soundloaders, and AudiCable. Let's cut to the chase!
CONTENTS
How to Download Deezer Music to MP3 with TuneFab Converter
Here we will give you some cognitive concepts of this software including positioning, functions, and most importantly operation guidance.
What is the TuneFab Deezer Music Converter and What Can It Do?
TuneFab Deezer Music Converter is a PC and Mac program that is specifically designed for Deezer Premium or Free members to convert Deezer music with high efficiency and stability. Its output formats include the most popular MP3, M4A, WAV, and FLAC. What's more, it can decode Deezer's encryption protection for media contents with user-defined output sound quality and fully reserved ID3 tags.
Operation Manual
With numerous advantages, TuneFab Deezer Music Converter is an excellent choice for converting Deezer Music to MP3. But how will you do so for the very first time? Don't worry, we'll show you how to operate it clearly step by step.
Step 1. Launch and Open TuneFab Deezer Music Converter
First, you need to download TuneFab Deezer Music Converter and install it. Then open it after the installation is finished.
Then, in the main interface, click on the green button "Open the Deezer web player" to enter the Deezer web player. Find the "LOG IN" button and start logging in to your Deezer Music account.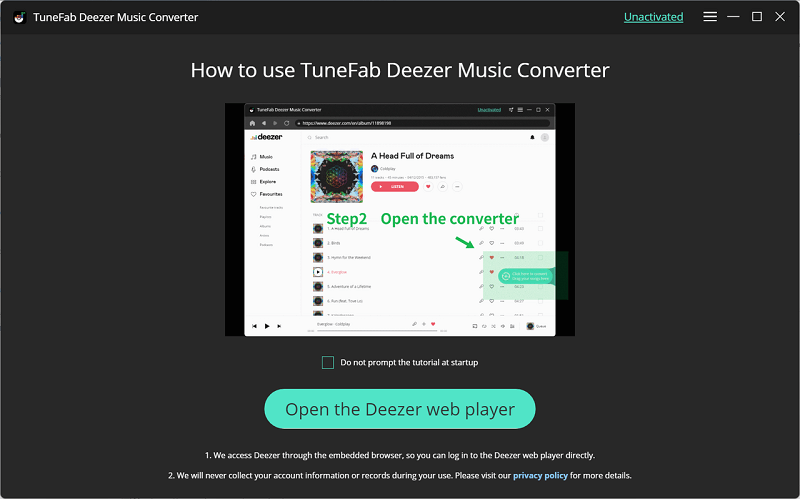 Step 2. Add Deezer Music to Convert
Once you log in, search for the Deezer playlist or podcasts that you want to convert. Then you can add the music to the conversion list by dragging and dropping it to the green button with the "+" icon. Or you can directly click the "+" icon to add music manually.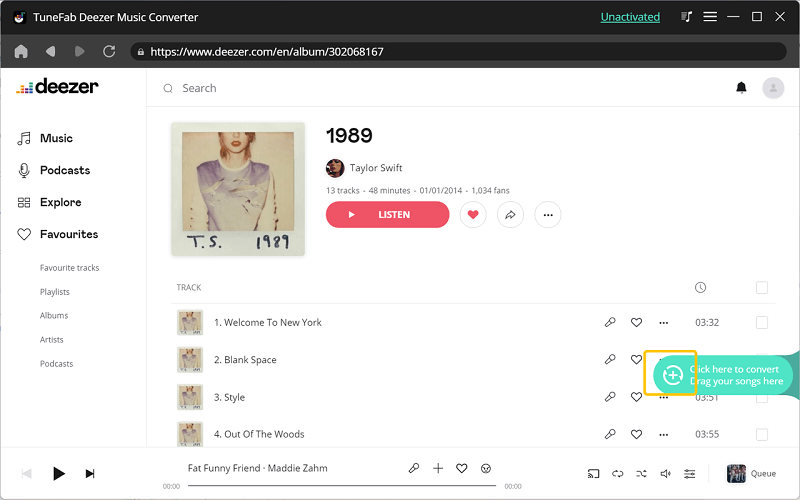 Step 3. Choose MP3 as Your Output Format
After the songs are added to the list, you shall select the MP3 format in the select box of Output Format next.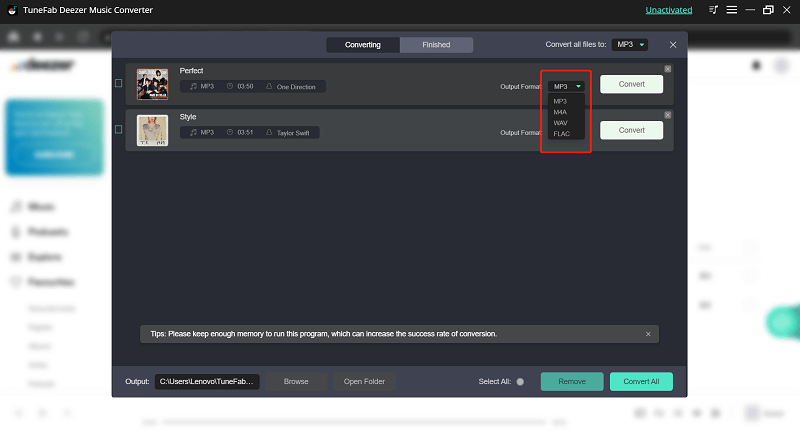 If you hope to set more parameters, like sample rate and bit rate, or the default output folder before the audio conversion, you can check the following setting paths:
For sample rate and bit rate, you can click the toolbar on the right side of the top corner, then choose "Preferences" > "Advanced," to set the numeric value.
For the output folder setting, choose "Preference" > "General" to set the final output path.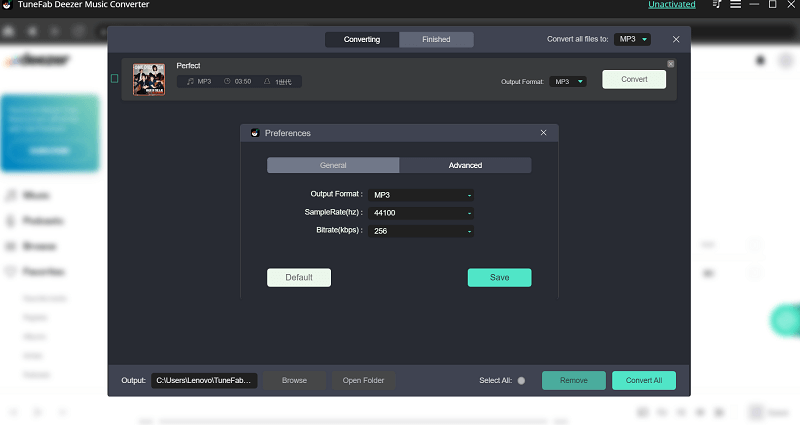 Step 4. Start Downloading Deezer Music to MP3
After you have perfectly set the MP3 output format and parameters, you can start the download process by clicking on the convert button. And thanks to the 5X processing speed of the TuneFab Deezer Music Converter, you don't need to wait too long during the processing.
When you've finished downloading Deezer Music to MP3, you can find the files by clicking "View Output Files" in the rightmost corner.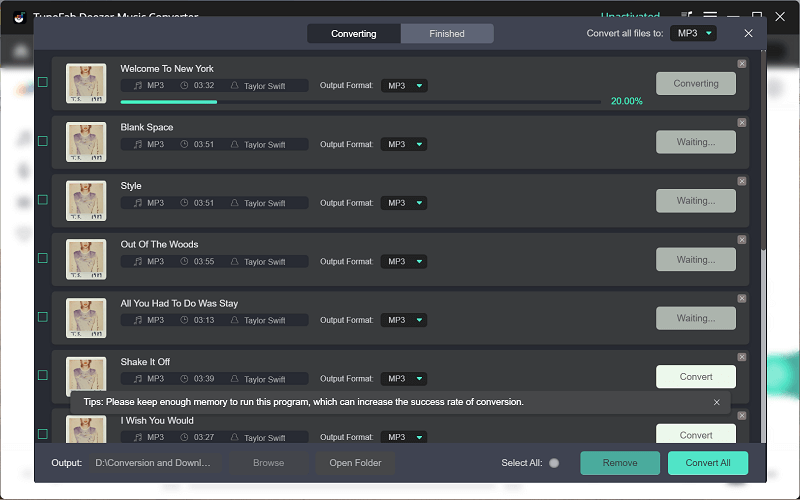 How to Download Deezer Music to MP3 with Online Downloader
Well, other than desktop software, there are also online converters, like Soundloaders, that can help download your Deezer music to MP3 too.
Compatible with both desktop and mobile browsers, Soundloaders is a 100% free online web tool that can help you convert Deezer Music to MP3 files in high quality. When using this Deezer downloader, you don't need to have a registration for your personal information, which can ensure your personal information security.
But as it's an online tool, it sometimes may be unstable for you to download Deezer Music to MP3 if you have a bad internet connection. Moreover, from time to time, it may fail to download the songs for you. You can follow the below operational guidance to start the conversion:
Step 1. Find and Copy the Share Link of Your Deezer Music
If you open Deezer music on a PC device, locate your playlist or albums, and then click on the three-dot toolbar on the rightmost corner of the song. Choose the sharing option and a share link will show. Here you can copy the link.
Step 2. Paste the URL to Soundloaders.
Once you have the share link copied, you can go to the website of Soundloaders, and paste the link in the box.

Step 3. Start the Download of Deezer music to MP3
Then you click "Search" to allow the website to detect the music information based on your link. An option for "Download music" can be easily found on the interface after the detection finishes. Here you click on it to finally download Deezer Music to MP3.
How to Record Music from Deezer to MP3 with AudiCable
Apart from a third-party tool like TuneFab Deezer Music Converter, there is another alternative software called AudiCable that allows you to download Deezer Music to MP3 from the sites by recording. It supports diverse recording formats such as MP3/AAC/WAV/FLAC/AIFF/ALAC, etc with Hi-Fi music quality retained. What's more, it can help you automatically add ID3 music information to all songs.
Note: As we mentioned above, AudiCable is an audio recorder. That means its download speed depends on the length of the songs. So, it may be relatively slow when using it to download Deezer music to MP3.
If it is your first use of AudiCable, please read on for a simple instruction manual:
Step 1. Install and Launch the AudiCable
First, you should download the software and install it.
Step 2. Preset the Parameters
Go to the top rightmost corner, and you'll find the setting button. A pop-up window will arise after your click. Here you can set the output format, output quality, and output folder based on your needs. You can choose the MP3 format and your favorite music quality in the select box. For the output folder setting, you can enter or browse the folder position to set it.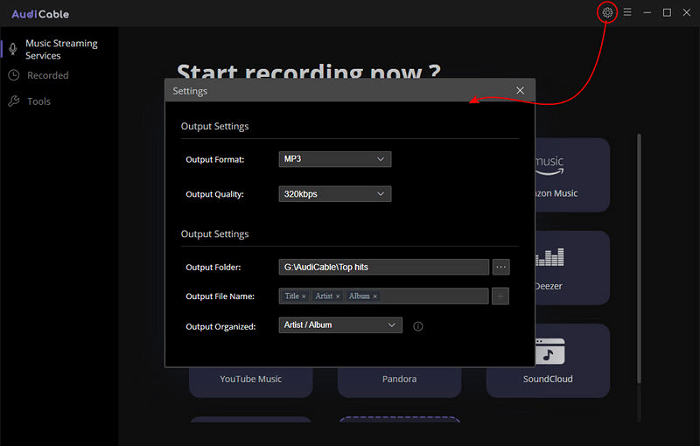 Step 3. Navigate to Deezer Music and Log In
Go back to the main interface when all the parameters are set and confirmed. The next step is to navigate to Deezer Music. You will see a Deezer Music button among the built-in samples. Click to enter the built-in Deezer Music, and log in to your account as requested.
Step 4. Start Recording by Playing the Songs.
After the login, you select songs that you want to download to MP3 from your Deezer playlists or albums. To begin the recording on AudiCable, simply press the play button for the song, and AudiCable will record automatically as the song plays.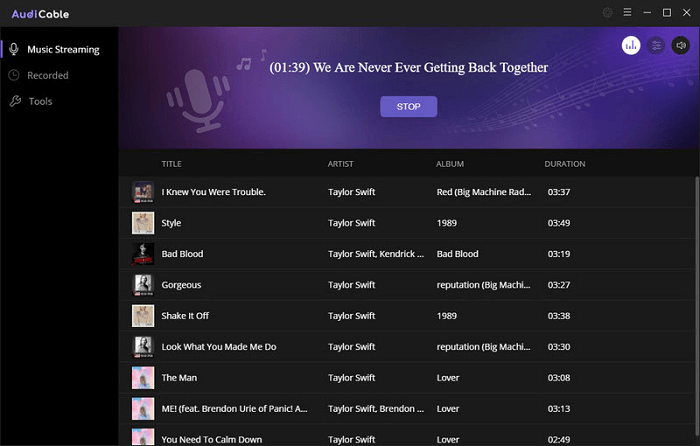 Conclusion
The above contents have been summarized into three workable ways for you to download Deezer Music to MP3 efficiently and effortlessly. Each tool has its advantages.
● If you are looking for the best user experience, high output quality, and a speedy processing rate when you convert Deezer music to MP3, you can use our most recommended tool, TuneFab Deezer Music Converter, for either batch conversion or single conversion.
● You can also use AudiCable, an alternative tool, to record Deezer Music as you listen to it. Then you can do your other things during the recording.
● If you want to easily download Deezer Music to MP3 without installing software, you can use the online converter Soundloaders.
You can choose either of those tools to meet your needs when downloading Deezer music to MP3. Now all the dice have been rolled. Try it out and enjoy your Deezer Music download to MP3 right away!
Was this information helpful?
TrustScore 5 | 49