As one of the most popular music streaming platforms, Pandora has provided countless radio stations in various music categories, helping every user to discover the music of their type to enjoy. However, as a way to regulate users' access to the resources, Pandora has adopted DRM, a technique utilized to lock up the songs, greatly restricting the music streaming experience.
To enjoy Pandora streaming in full control, some of you may wonder if it is possible to download Pandora to MP3. Definitely, Pandora won't allow you to do it directly. Instead, a third-party program is needed to help. Therefore, today's post will concentrate on this topic and offers the best solution to you.
CONTENTS
What Do You Need for Downloading Pandora Music to MP3?
As introduced former, Pandora has restricted Pandora music streaming and downloading by adopting the advanced DRM technique. To download Pandora to MP3, you need help from a program that supports removing DRM from Pandora songs, then saving the music offline as music files of the universally-supported format, MP3.
For this purpose, TuneFab Pandora Music Converter is no doubt the best program with brilliant features equipped. First, when it has embedded the Pandora web player within the program, you only need to log in it and browse any Pandora content to download, replacing the traditional copy-and-paste method, greatly facilitating the download efficiency.
When it comes to exporting quality, this outstanding Pandora to MP3 downloader will retain lossless quality to ensure the original music resources streaming experience locally. Meanwhile, the ID3 information will also be saved accompanying the music downloads, giving a favor to re-order and manage your offline music library by clicks.
In general, TuneFab Pandora Music Converter offers the following sparking features that have attributed to its great reputation in downloading Pandora to MP3:
● It will keep lossless quality to download Pandora to MP3 and other popular formats.
● One tap to save Pandora stations offline in batch at 10X faster speed.
● Retain full ID3 information accompanying Pandora music downloads.
● Popular format options such as MP3, M4A, FLAC, and WAV are provided to select.
● Stable performance is ensured to bring you nice DRM removal and Pandora music download experience.
It should be noted that TuneFab Pandora Music Converter now is free for new users to get started! If you wish to download Pandora songs for free, install the program and proceed with your first Pandora song download in no time!
How to Download Music from Pandora to MP3?
To facilitate higher efficiency to download music from Pandora to MP3, TuneFab Pandora Music Converter enhanced the manipulation and made it simple for everyone to control the program. Next, let's walk through the guide and master the way to download Pandora to MP3 utilizing TuneFab Pandora Music Converter.
Step 1. Log in to Pandora Web Player
First, please complete the installation of TuneFab Pandora Music Converter on your computer, then open the program and click on Open the Pandora web player. When you are landed on it, confirm to log in utilizing your Pandora Music account.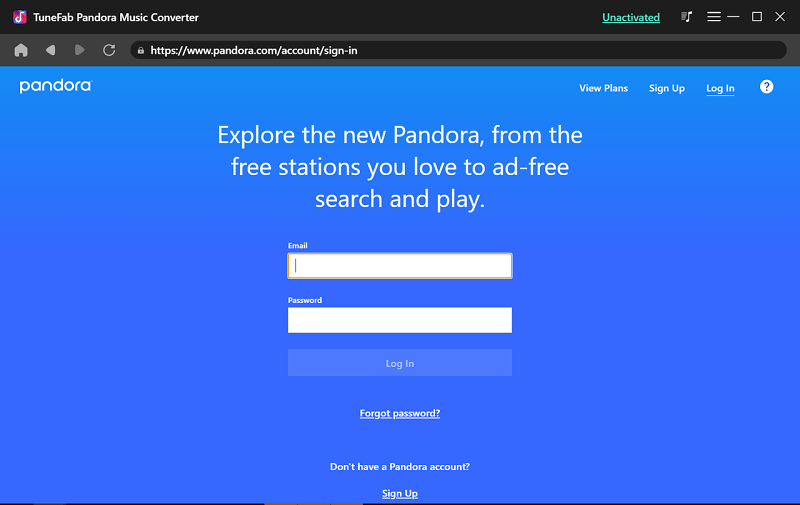 Step 2. Select Pandora Stations to Download
In the web player, you can use it as usual, like searching and browsing the stations or songs you like to enjoy online streaming. When you find any piece of song wishing to download to MP3, please drag it to the Add button aside, and TuneFab Pandora Music Converter will proceed with the music analysis for you.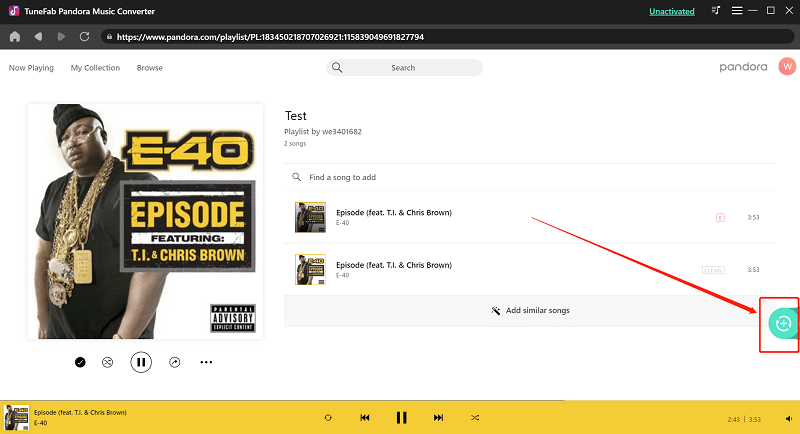 Step 3. Configure Output Settings
After adding Pandora stations, you can turn to Menu >> Preferences to personalize the output settings under the Advanced tab. The Format, SampleRate, and Bitrate are all available to be altered here in preferences. Remember to select MP3 as your output format!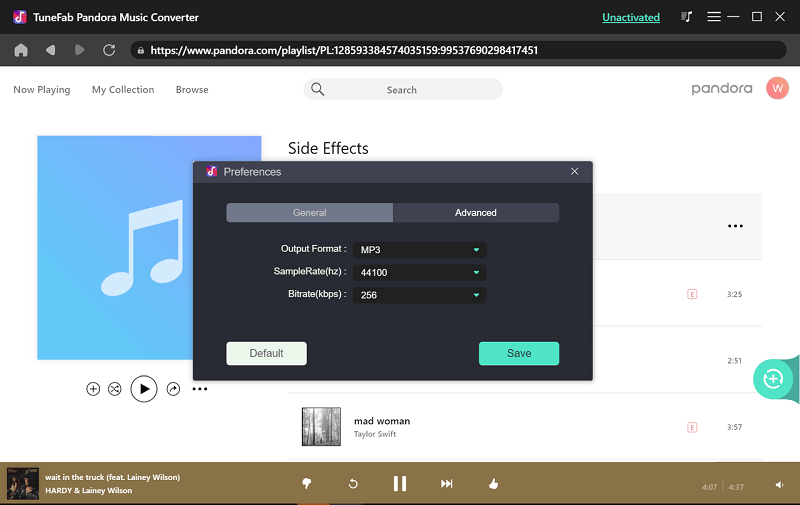 Step 4. Download Pandora to MP3
Eventually, proceed with Pandora to MP3 download simply by clicking on the Convert All button. TuneFab Pandora Music Converter will then initiate the conversion and quickly complete the music download for you.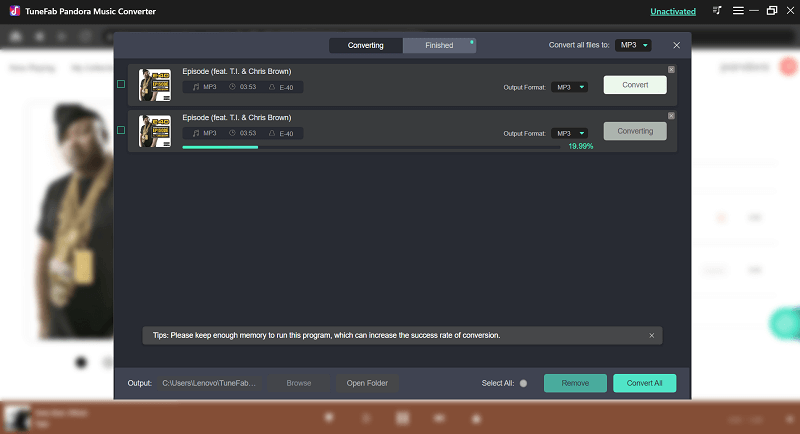 Once it completes, you can check the conversion history under the Finished tab. By clicking on the View Output File button, the destination folder will pop up and let you access the Pandora MP3 downloads to stream locally in no time.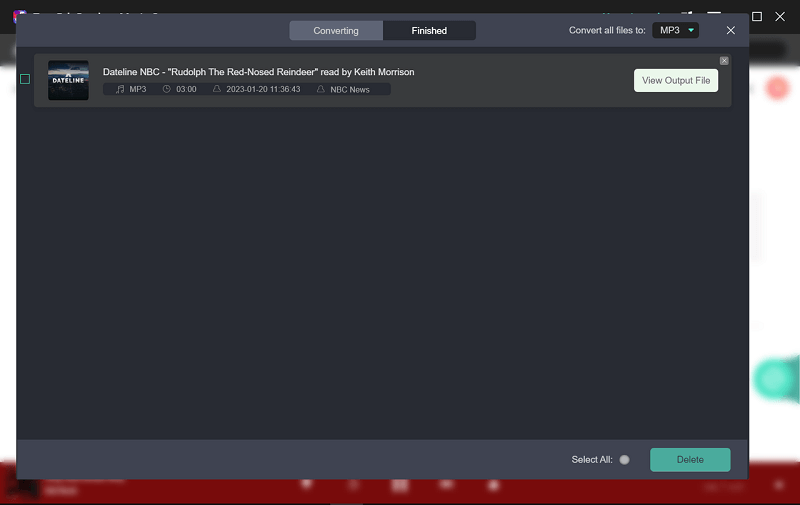 FAQs About Pandora MP3 Music Download
Have confusion about Pandora to MP3 music download? Hope these FAQs can help you!
How Do I Transfer a Pandora Playlist to My MP3 Player?
As most MP3 players are not supported by Pandora app, you are not possible to directly download Pandora playlists or transfer them to your MP3 player. Instead, you need to download Pandora Music to MP3 player utilizing TuneFab Pandora Music Converter to remove DRM and also convert them to MP3 music files first. Then you can process the playlist transfer and enjoy them on MP3 players directly.
Can You Download Music from Pandora to MP3 for Free?
Yes. TuneFab Pandora Music Converter helps everyone who has a Pandora account and is available to access Pandora music. No matter if you have subscribed to Pandora Plus/Premium or not, you can download Pandora music to MP3 for free with it.
Better still, there are other free services provided to help download Pandora to MP3 without any charge. If you are utilizing Chrome browser, the built-in web Developer Tool and DownloadHelper Chrome extension can both function to help. By installing any of them to the browser, you can directly stream music on Pandora web player, and enable the tool to detect the song. When the download button is provided, you then can directly download Pandora to MP3 in no time for free.
Conclusion
All in all, the main reason preventing you to download Pandora to MP3 should be DRM protection. To make music download possible, TuneFab Pandora Music Converter is surely the best help, with professional and quality-guaranteed features provided. Now, it's your turn to try it and download Pandora songs to MP3 for free!
Was this information helpful?
TrustScore 1 | 1