Many people don't know much about Audiobook DRM protection until someday they try to transfer and use their purchased content outside the formerly used device. The outcome is predictable: they fail. And this is how the DRM protection works: it locks you into using the proprietary software and devices of the platform where you purchase your audiobooks.
The DRM technology is also employed by Audible, the renowned industry-dominating audiobook service. Audiobooks from Amazon's Audible are all sold with DRM. As a result, you can only open the purchased audiobooks on specific Audible-compatible devices or players unless you can get rid of the DRM.
Hence, this article is written to help you remove DRM from Audible books to enable a more convenient audiobooks offline streaming experience, like transferring your audiobooks to play on an MP3 player, your car audio system, or any device with no hassle. To achieve this, the best software you will need is TuneFab Audible Converter. Now, just keep reading to learn more.
CONTENTS
Part 1. Remove DRM from Audible via TuneFab Audible Converter
With so many programs that can handle the Audible DRM removal task, TuneFab Audible Converter should be one of the easiest to grasp. Even if you are not a techie, removing the DRM on your Audible audiobooks will be just a piece of the pie.
Best Audible DRM Removal Tool to Crack Audible DRM
You are able to grasp the following characteristic features of the software and know exactly how it boosts your Audible books streaming experience offline.
Multiple Format Selections
The converter is actually an all-in-one program that is designed to break Audible DRM, split audiobooks, and convert AAX/AA books to common audio formats. Once you add the DRM-protected files to TuneFab Audible Converter, the program will professionally strip off the DRM and provide you with multiple output formats for conversion. You can simply convert Audible audiobooks to MP3, M4A, FLAC, and WAV for playback on different media devices and audiobook players.
Lossless Quality and Audiobook Info Preserved
While processing the Audible books conversion, TuneFab Audible Converter is able to maintain original quality to ensure the downloaded audiobooks are able to provide the best streaming experience to you. For people who care about your audiobook metadata, the converter even builds an ID3 tag editor to help you to keep audiobook information.
Quick Conversion Speed
If conversion speed is your top concern, don't worry, this Audible converter is able to convert Audible AA or AAX audiobooks to other formats with 60X faster speed. That said, an hour-long audiobook can be fast downloaded to MP3 within minutes. Meanwhile, the enhanced download ability also makes it possible for you to batch-process multiple audiobooks download simultaneously. But be sure to connect with a stable internet once you initiate the conversion process.
Easy-to-Use Audiobook Chapter Splitters
It is a well-known fact that all audiobooks from Audible are created with chapters that enable you to keep track of reading. With TuneFab, you don't have to worry about losing track of it because it gives the format option that can 100% keep audiobook chapters. Also, if you want to preserve your books more flexibly, make use of the program's in-built audiobook splitter! This helps you break down a large audiobook file into multiple small segments. You can split books by chapter, by time duration, or just divide them on average according to your needs.
Detailed Guide to Remove DRM from Audible
Before we start, let's take some time to know about the DRM-encrypted Audible formats. Briefly speaking, most of the audiobooks are named in AA or AAX format, so that when you see the two extensions, you can easily identify them as DRM protected.
Note: To better organize your audiobooks and always listen to the audiobooks you bought, you can copy the Audible files into iTunes. Doing this will create a .aax file in your library, and therefore DRM is still preserved. For more details, here is a how-to guide. How to Add Audiobooks to iTunes?
Related Guide: Connect your Audible account to iTunes
For more information, you can head to Part 4 to know more about the AA and AAX format, or just stay to see the complete guide on how to liberate your audiobooks from Audible DRM prison. By circumventing the DRM, you can enjoy your audiobooks on popular devices conveniently. For example, you can download Audible books to any MP3 player you like.
Tools You'll Need
* Windows or Mac PCs
* Audible AA or Audible AAX audiobooks
* TuneFab Audible Converter
Watch this video to know TuneFab Audible Converter or keep reading you will have a detailed guide with pictures.
STEP 1. Download Audible Audiobook to Your Computer
After purchasing the audiobooks, it is advised to download the Audible audiobooks to your computer. Only if you get the downloaded AAX or AA files can you use this tool to remove DRM from them.
Note:
Audible app no longer supports installation on Windows 10 today. If you need to download purchased Audible books to your computer, you will need to log into the Audible website in the browser instead of installing its desktop software.
STEP 2. Add Audible AA/AAX Audiobooks to the Converter
Download and install the appropriate version of the converter on your computer. The upgraded TuneFab Audible Converter doesn't require you to authorize your Audible account or import the books to iTunes, so the entire operation will become much easier. All you need is to add the downloaded .aax or .aa audiobook files to the program interface.
STEP 3. Customize Output Settings
The free trial version of TuneFab Audible Converter offers you the chance to completely convert 2 audiobooks to see if the software program suits you. As you add the books to the main interface, they all are displayed with detailed ID3 information including the narrator, title, time length and etc. Also, you can edit these tags by clicking the profile icon right beside the audiobook title.
Thanks to the easy-to-understand UI design, changing a new format for output is not difficult. Just directly select from the "Output Format" drop-down menu to alter the setting. The default output format should be MP3. To keep audiobook chapter information, you should choose the M4A format for exporting.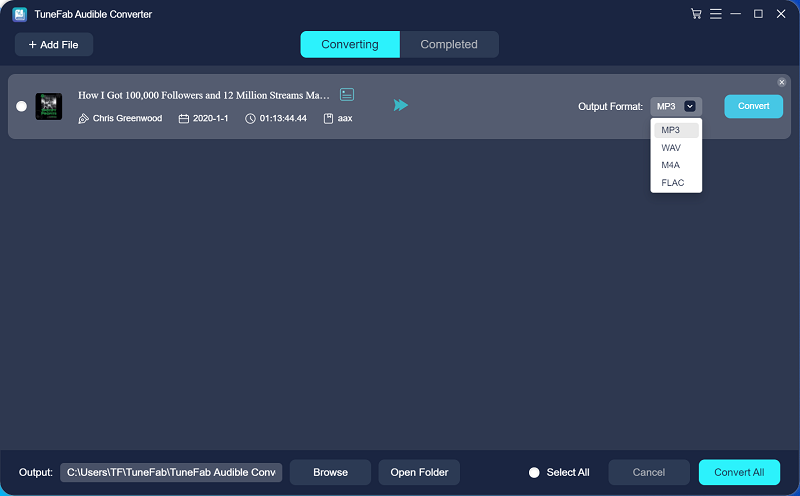 Besides, if you want to split audiobooks, you can locate the option by clicking the hamburger-like Settings icon from the top right corner. Then select "Output Setting", and choose from the "Split" section.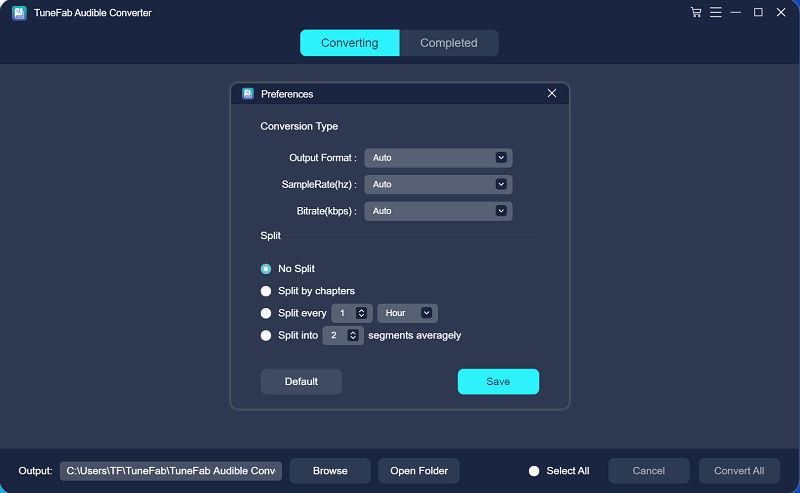 STEP 4. Remove Audible DRM in One-Click
Once you adjusted all the settings, you may click the "Convert" button to decrypt Audible and convert AAX/AA to MP3, M4A, FLAC, or WAV.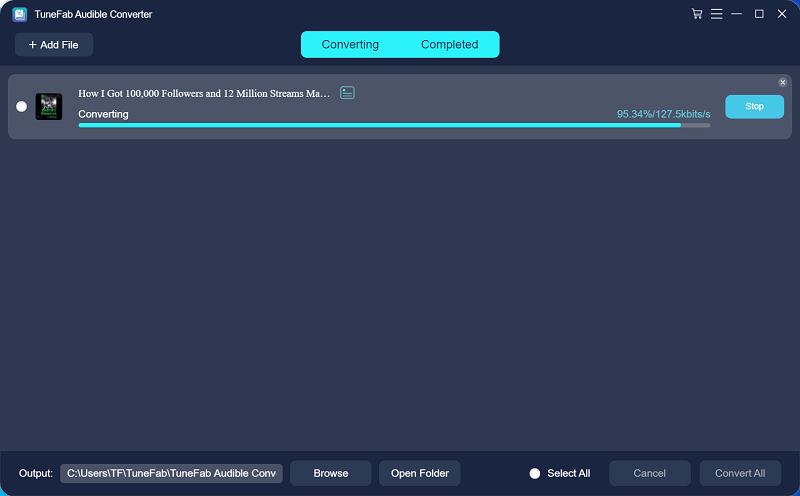 It won't take you long to finish the task. When the conversion process is completed, your Audible audiobooks will be in DRM-free MP3 or M4A format saved in your preset output folder. Click the "Open File" button then you can check your converted files.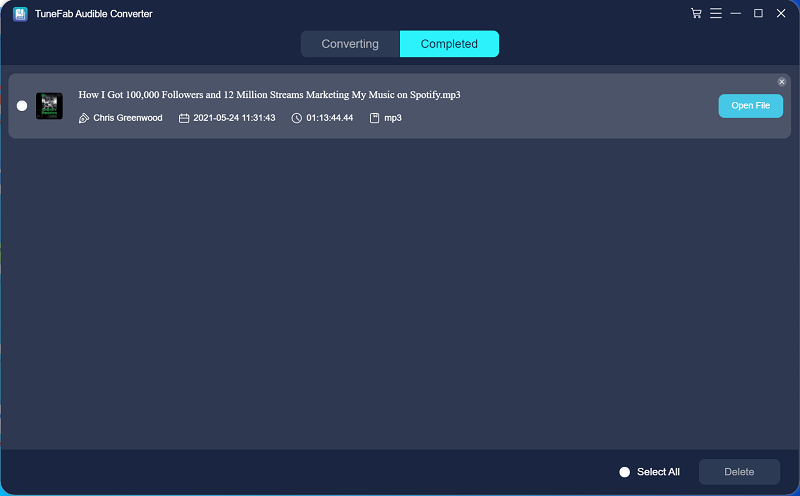 Right-click the converted file, and you can notice that all ID3 metadata information is kept as the original.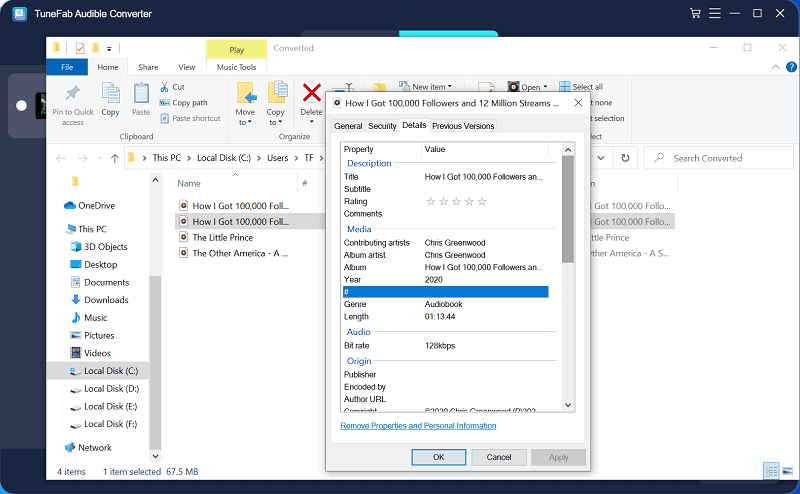 Part 2. Remove DRM Audible Freely with a Burned CD
Another practical solution that protects you not to lose access to your Audible audiobooks is to buy audio CDs and burn your audiobooks to CDs. Once you've done that, you have all your Audible contents in a DRM-free format removing the annoying DRM protection issue. The process that burning audiobooks to CDs is also easy to handle. You can have a quick preview here:
Tools You'll Need
* iTunes in the latest version
* Audible AA or Audible AAX audiobooks
* A blank CD
Note: Removing audible DRM by burning it to CD with iTunes is convenient, but inevitably there are some drawbacks, for example:
● CDs are not portable enough and cannot directly play on your phone;
● iTunes's burning process is slow and will take much of your time;
● It is not possible to burn audiobooks longer than 80 minutes;
● Each audiobook can only be burned once.

So, for those who desire to break the DRM more completely, transferring the AA or AAX files to common formats with TuneFab Audible Converter is still more viable.
Step 1. Launch iTunes.
Step 2. Add the audible books you want to burn to a new playlist.
Step 3. Insert a blank CD to your computer.
Step 4. After the CD is recognized, right-click the playlist with audiobooks and choose "Burn Playlist to Disc" and wait for it to finish.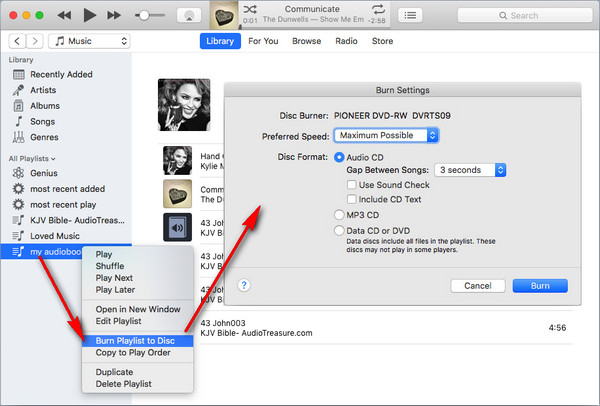 Go to this article and learn more information: How do I Burn Audible Audiobooks to CD?
Part 3. Can You Remove DRM Audible via Free Online Tools?
We discovered that some users are seeking help on forums, asking whether there is a workable free online DRM removal tool to remove DRM from Audible books. Fortunately, if you have pre-downloaded Audible books in DRM-free status, you are able to use some online converters to convert them to mainstream formats such as MP3.
However, you should know that such online free Audible DRM removal tools are only available for DRM-free audiobooks conversion. If you get encrypted Audible books and desire to remove DRM or convert to mainstream audio files, you will need more professional Audible DRM removal software like TuneFab Audible Converter to help.
Part 4

. What You Should Know About Audible DRM Format

This part is for those who want to know more about the DRM-protected formats: AA and AAX.

As you may notice, the Audible audiobook you download to your computer is in Format 4 or Enhanced format with the file extensions .aa and .aax respectively. Format 4 contains data encoded at 32Kbps, and the sound quality can be categorized at a standard MP3 level. In comparison, data contained in the Enhanced format is encoded at 64 Kbps which is often considered as having CD-quality sound. Both formats are DRM encrypted.

Update! As of June 2020, Audible ended support for .aa format and .aax format becomes the only supported format. Besides, if you previously purchased an audiobook in AA format, you will get an AAX file once you re-download it.

You can find out more differences between these two formats before you decide which one to choose for saving your downloaded Audible audiobooks.
| | | |
| --- | --- | --- |
| | Format 4 (.aa) | Enhanced (.aax) |
| Sound Quality | MP3 | CD |
| Bit Rate | 32 Kbps | 64 Kbps |
| Sample Rate | 22.050 kHz | 22.050 kHz |
| File size for 1 hour of audio | 14.4 MB | 28.8 MB |
| Download time (per hour of audio on 56k modem) | 35 minutes | 1 hour and 9 minutes |
| Download time (per hour of audio on broadband) | 1 minute and 19 seconds | 2 minutes and 37 seconds |
Tips: How to select Audible audio quality on PC?
Log in to Audible > Go to Library > Select Enhanced or Format from the Audio Quality section.
Part 5. Extension: Where Else to Find DRM-free Audiobooks?
Perhaps you may agree that the negative impact of DRM outweighs the positive. Then apart from Audible, are there any other options to find audiobooks? More importantly, what are some alternative suggestions as websites that allow you to buy audiobooks that are not DRM-restricted?
Here are some replacements for Audible:
* Downpour: What you purchased is DRM-free, but rentals still have DRM.
* LibriVox: Free and non-DRM
* Naxos Audiobooks: offers DRM- and watermark-free MP3s
* OverDrive: No DRM encryption
The websites listed above can give you access to DRM-free audiobooks if you are not looking to rip anything. But when comparing them with Audible, none of these come close to having the library as Audible does. Well… Just think about the bright sides, you don't have to wade through various DRM restrictions. With this to consider, having these DRM-free audiobook resources should save you more time to enjoy audiobooks and gets you less tiresome.
Part 6. Discussion: Is It Legal to Remove Audible DRM?
When you get into a discussion on DRM, it is not difficult to find complaints of this protection on most digital content. Essentially, DRM has led to users losing the ability to watch, listen to, read, or play media outside the platform that they purchase from. That is to say, if you decide to switch to a new platform to buy audiobooks, you potentially have to buy the same contents again on the new platform, and perhaps also need to find a new compatible device to use the content.
However, the issue may extend beyond inconvenience. DRM can also impact the ownership of digital media. When you buy an audiobook on Audible, what you bought is just a license that allows you to access the content. You don't really own the content you've purchased. And it can be revoked by the provider and disappeared from your library. In this situation, you may wonder how to protect your digital assets before they get revoked. Arguments may also be centered around whether and when copying should be allowed.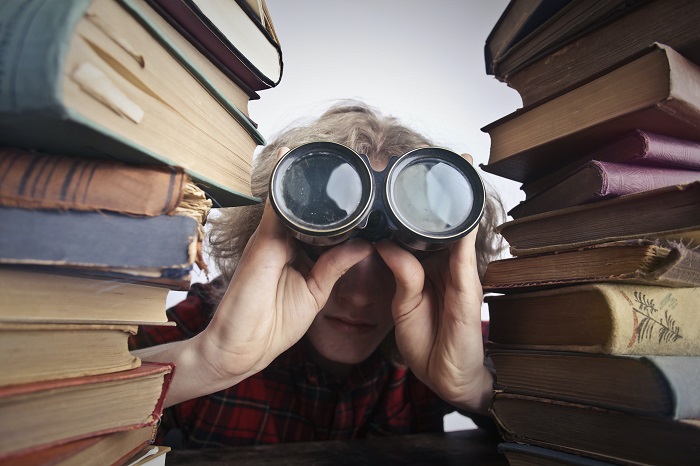 We know that DRM was initially created to prevent piracy, which is good for protecting content creators' hard work. But after all, it is quite understandable that some people want to remove Audible DRM for the purpose of keeping a local, personal backup. And let's just face the dark side of DRM. Is DRM really that good? Here are some situations that may make you feel assured when having a DRM-free backup around.
Leave the country, you may fail to play your audiobooks. Just take Audible as an example, contents available on the platform are region locked just like other service companies like Netflix. Many audiobooks on Audible are restricted to your geographical location and can be accessed only in that region. This influences people who travel internationally as well as those who move from one country to another.
Needless to say, if the company decides an account is involved in violating the terms of service, it can block the account and wipe all the contents. For instance, when an account is connected with multiple active devices and exceeds its download limits in a short period of time, the account has the risk of being blocked by the company.
Therefore, one of the safest ways to guarantee you to always listen to the audiobook you bought is to have a local, non-DRM copy on your storage device. And if you remove DRM from audiobooks you have bought only for your personal use, I don't think it's illegal.
Final Thoughts
Coming back to the topic of how to remove DRM from Audible, as we mentioned above, there are certainly different methods. If you want all of the Audible audiobooks to be easily and conveniently accessed for personal use, converting Audible to DRM-free formats seems a good idea. And you can try TuneFab Audible Converter to rip Audible to MP3 or any other format. It requires no complicated setup or operation, and with just a few clicks then you can get a high-quality, more compatible, as well as DRM-free Audible file. Also, you can burn Audible audiobooks to CDs to defeat the DRM.
And if you are not about to bypass DRM, switching to new platforms should be no better way. This enables you to use any app you want for listening and backup easily.
TuneFab Audible Converter
Remove DRM from Audible audiobooks in simple clicks
Was this information helpful?
TrustScore 4.5 | 8
Copyright © 2022 TuneFab Software Inc. All rights reserved.