1. Why Do You Need TuneFab Spotify Music Converter?
Spotify is a great app, and it allows us to listen to our favorite music just by accessing an app. Let's go back to 10 years ago when we wanted to listen to our favorite songs; we used to have phones with SD cards. We needed to connect our phones or SD cards with the PC from where we used to download the songs we wanted to listen to on our phones. Now, with apps like Spotify, we don't need to do all this hassle; we can access any song at any time.
But the only problem or downside is that you can't use this app when you don't have an internet connection. As we move further into a technological or technical world, digital music rights are getting strict, making it challenging to access our favorite tracks. This is where we need TuneFab Spotify Music Converter, which enables us to solve all these problems. But not many people have enough knowledge about it. By reading this article, you will know more about it and see how it can solve all your problems and helps you to download protected songs from Spotify with ease.
2. Advantages of TuneFab Spotify Music Converter
TuneFab Spotify Music Converter is the software that allows you to download the complete list of Spotify music and allows you to play it even when you are not connected to the Internet.
The main objective or goal of this software is to enable people to listen to their favorite music anytime, anywhere. You can also choose or select to download music by subscribing to Spotify Premium, but it won't allow you to download the music on all of your devices. TuneFab Spotify Music Converter has more advantages than built-in downloader of Spotify, such as:
* Rip audio from Spotify, which is almost impossible with Spotify's internal download manager.
* The audio file can be downloaded in any format
* Listen to offline tracks on MP3 players, iPod shuffle, Zune player, or more portable devices.
* Keep Spotify songs forever even after you cancel the Premium subscription
3. Features of TuneFab Spotify Music Converter
Friendly UI
The UI is very straightforward and lightweight, almost anybody with little knowledge of computers can use this software. It supports the drop-and-drop feature that allows you to easily add songs from Spotify to this program.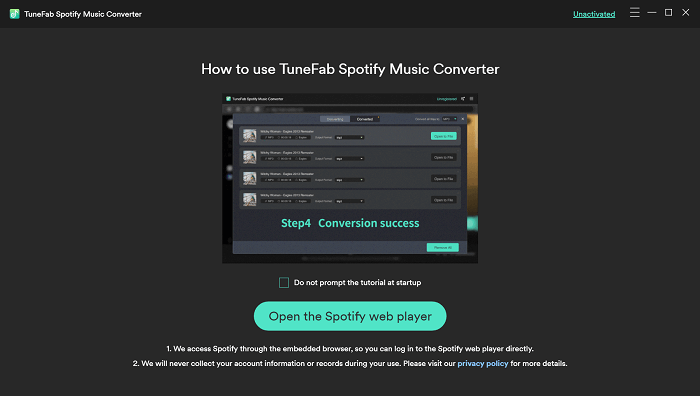 4X Fast Downloader & Converter
So, you have the Spotify app and TuneFab Spotify Music Converter both installed on your desktop, so what else do you need to download? Nothing. Just drag the music from the Spotify application to TuneFab's main interface and that's it, your music will be downloaded from Spotify instantly. After downloading, it can convert the song to other formats you like at 4X speed, which is a great advantage over any other conversion application on the internet. (Note: 4X speed is only available for the Windows version, Mac version is limited at 1X speed.)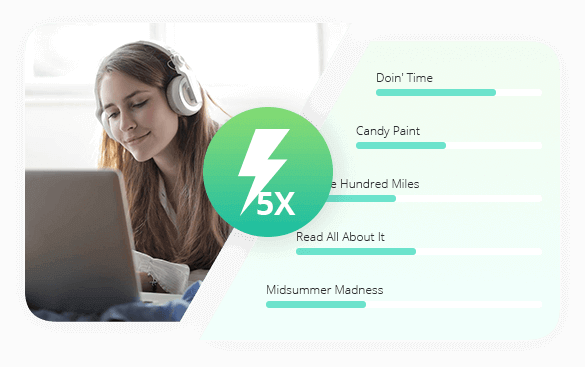 Remove DRM Protection
Yes, Spotify tracks are encoded with DRM, which is short for Digital Rights Management copyright protection. DRM enables Spotify to restrict its content so that it can be played only by the Spotify app.
But thanks to TuneFab Spotify Music Converter's DRM Removal feature, it becomes extremely easy to unlock the DRM restriction from Spotify's content. It can remove the DRM not only from the songs but from the whole playlists, albums, or artists. This indicates that any music that you own from there can be downloaded without any restriction and can be listened to almost on all devices.
Convert Spotify Music to Multiple Formats
This converter can convert music into almost all popular audio formats that include: MP3, M4A, WAV and FLAC.

High-Quality Output
To help you get the full taste of the original music, TuneFab Spotify Music Converter lets you preserve the max audio quality of Spotify, which is 320 Kbps. You can adjust the audio quality by customizing the output sample rate and bit rate by yourself. The audio output range of TuneFab Spotify converter has:
Sample rate (Hz): 44,100- 48,000
Bit rate (Kbps): 320/256/128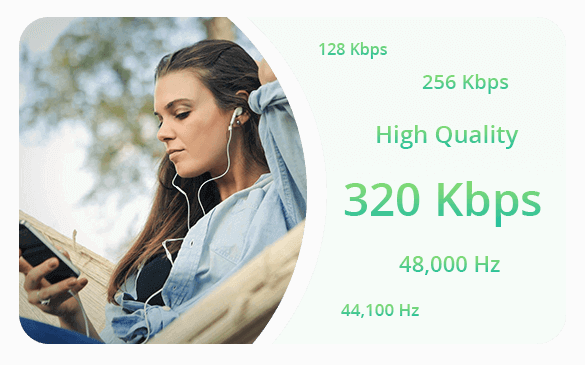 Save ID3 Tags
The ID3 tag explains the songs' original information, which will help you to learn about everything that the song has in it. Unlike many other downloaders, which download only the raw format file, TuneFab Spotify Music Converter comes with this Metadata information storage feature.
It can preserve all the information regarding the music, such as the name of the singer, song title, album artwork, when it was released, etc., and other details as they were in the Spotify App.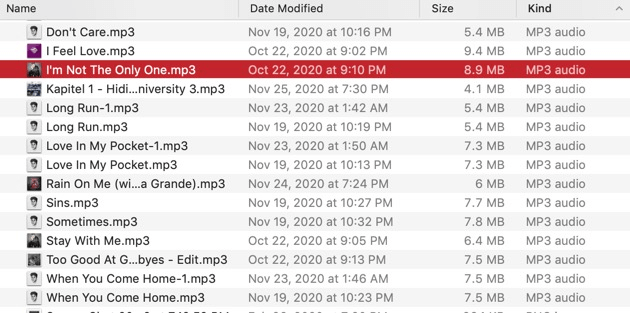 User Reviews
"Great! Downloaded Spotify Songs at blazing speed and all the downloaded songs played well on my iPod. Pretty easy to use, Loved it!" -Eros Court
"TuneFab Spotify Music Converter worked like a charm, no matter in registered mode or free mode during the trial period. The downloaded songs played well in all my devices, and all their sounds were pretty neat." -Damien Albin
Words prove the works, these are taken from major tech review sites, and most of the people gave five stars for TuneFab there. So, there is no confusion or question about the quality and the capability of TuneFab.
If you are still confused about why you should get it, then you shouldn't miss our next part, which will look at the people who should use it.
4. FAQs of TuneFab Spotify Music Converter
Who should get it?
Below, we made a checklist so that you can easily get to know if this app is the perfect app that you need to have. Just check out the points before you go further:
You are a Spotify user
Your workplace is far away from your house
You own a smartphone
Your smartphone battery often struggles to maintain its juice for a long time
You are an Audiophile
You often listen to music while working on your device for which you need to shut down the apps in the background
Sometimes you need to save your mobile data to use it for other purposes
You don't like to pay every month for your subscription. Instead, you like to pay a onetime payment and enjoy it for the rest of the year
You are living in a place where the internet connection is unstable
If you think most of these points are matching with your daily routine, then TuneFab Spotify Music Converter is the software you need to have. Because it is true that, unlike many developed countries, online streaming on the go is still very hard to enjoy. On the other hand, streaming online cannot give you precious audio quality, like CD standard, which is a 44.1 kHz sample rate.
So, in these cases, TuneFab Spotify Music Converter shall help you to get rid of these problems and can give a premium offline Spotify experience.
So, is it safe?
It's a software program that is providing a lot of support to people around. So, there is very little chance that it will come with malicious programs. TuneFab brand has over eight types of software that are provided for both the Mac operating system and Windows OS. So, if they want to stay in the market competition, they need to make their software stable and secure, which it is.
TuneFab does understand the important factors of protecting your data and information, and that made them committed to safeguarding every privacy in PC. According to their privacy policy statement, they cover the use, collection, control, disclosure, and security of your information and personal data, which may be able to be collected via TuneFab.
According to the European General Data Protection Regulation (GDPR), It has been updated according to their requirement. When you access their website or purchase their Windows or Mac applications, you will understand how much they strictly maintain these security policies. If you still feel unsafe, you can always refund the product without any hassle.
Wait, is it legal?
Well, in this case, it's a bit complicated. How about we put an example of the smartphone you are using. Suppose you are using an Apple product. So, at a certain moment, your Apple charger broke, and you need a replacement of the charger. Apple recommends the original charger, but you can also buy a third-party charger, which is also fine to charge your phone.
TuneFab Spotify Music Converter is legal as long as you use it for personal use, there is no question about it. Although Spotify recommends using their Premium feature to download Spotify content, they don't let you download music with the specific audio format you want to listen to, which leaves you no choice but to use this software.
5. How to Use TuneFab Spotify Music Converter?
Although we mentioned earlier about the UI, here we are giving you an overview of the steps on how you can use TuneFab Spotify Music Converter easily.
Download and install TuneFab Spotify Music Converter on your computer. Then, make sure that you've also installed Spotify's desktop application otherwise you will not be able to successfully launch TuneFab Spotify Music Converter.
Open TuneFab Spotify converter. Then on the welcome page of the converter, you should click on the "Open the Spotify web player" option. After navigating to the web player, log in to your Spotify account.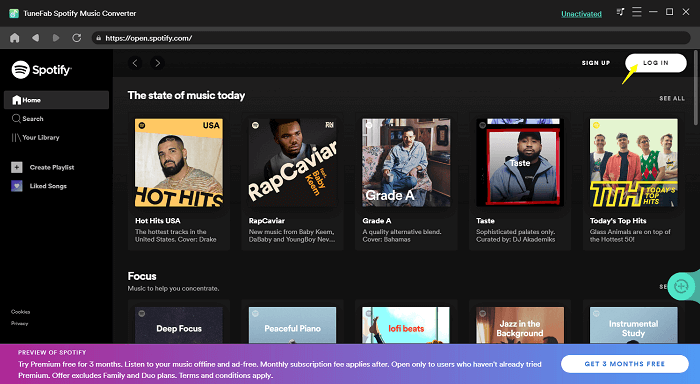 Now, select the Spotify playlist you need to convert. Open it and click on the green bubble icon located on the right side of the screen. Then TuneFab Spotify converter will automatically read and analyze the playlist for you. Simply select the songs you need to convert.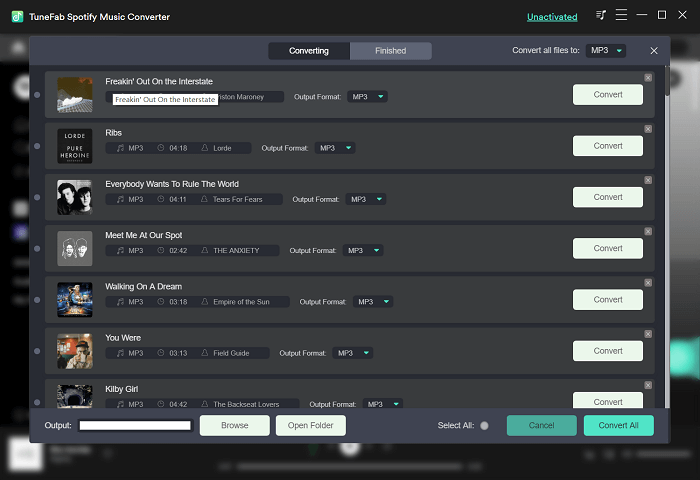 Now you can select the output format for converting the Spotify songs. Navigate to the drop-down format selection menu on the top-right corner and select the one you need.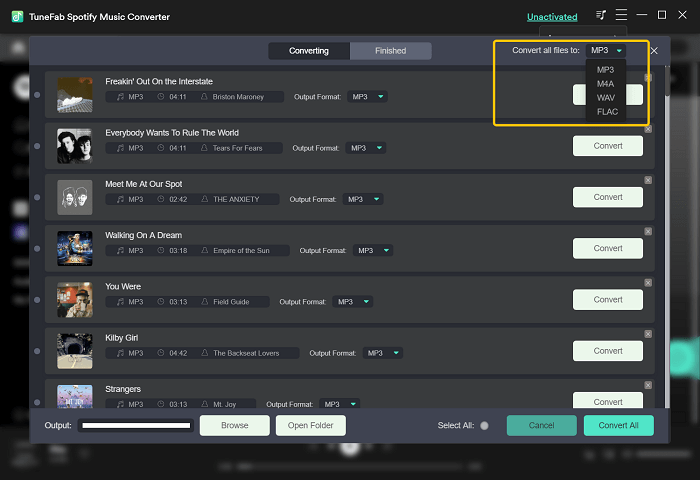 Lastly, you can simply click on Convert All button, and you can see the progress of your downloading files.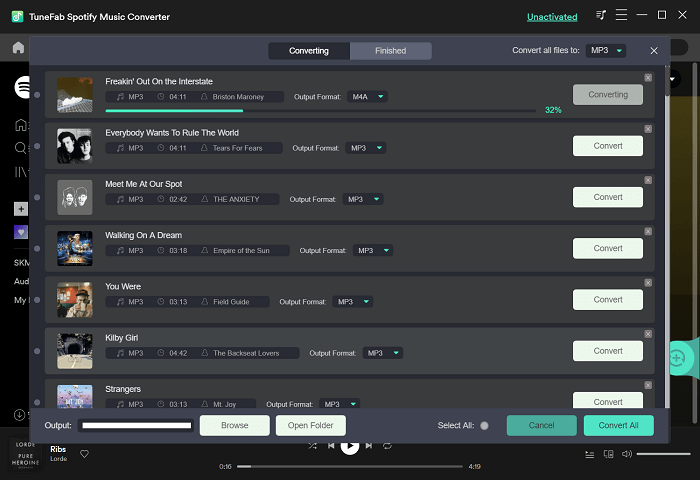 When the conversion is finished, go to the Finished window and you will see all converted songs listed one by one. You can click View Output File to get all the converted songs.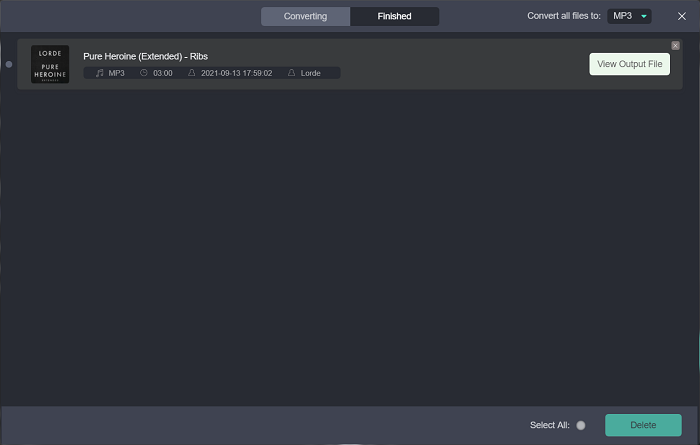 Test Findings:
After installation, TuneFab Spotify Music Converter will open automatically by itself in the Windows/Mac platform. But you should remember that you need to have the Spotify software installed on your Windows/Mac PC. Otherwise, it will ask you to download the Spotify software.
To get the highest quality of Spotify music, you can choose MP3 as the output format and select the bit rate as 320 Kbps and sample rate as 44,100 Hz.
The 5X speed is only available on the Windows version of the program. Mac version only supports 1X speed.
Another method to add songs in TuneFab app is to copy and paste the link of the song in the search bar of the application and then click the "Add" button.
6. Licensing and Pricing
You might be shocked to know that the TuneFab Spotify Music Converter does not come free of cost. It provides a free trial version which you can use for a certain period only for getting to know whether this application is capable of fulfilling your needs or not. But the free trial version only lets you convert 3 minutes of each song. If you want to enjoy full features without limitation, you can buy a license.
PRICING PLANS
Monthly Subscription
1 Mac
7. System Requirements
System Requirements
Windows 10/8.1/8/7; Mac OS X 10.12 or higher
Language support
English, Japanese, French, German, and Traditional Chinese
Support Services
Email and Submit a ticket
Money-Back Guarantee
30 Days
8. What I Like
1. It's a very clean application, and there is almost no hassle to use it. TuneFab uses Microsoft Visual C++, which allowed it to create a more user-friendly UI.
2. It lets you download the song in any size you want. You can download the song with the highest quality (320 Kbps, 48,000 Hz) or decrease the quality if you want to save space in your device.
3. You can customize the output audio format of the song that you want to download from Spotify to your device through TuneFab.
4. You also have access to change the name of the song and rename it according to your preferences.
5. You can save all original ID3 tags and metadata info of the music files after conversion.
6. Surprisingly, the conversion rate is in your hands, as well. The conversion speed can be increased up to five times if you want to download the song and want to convert it at a higher rate.
7. You can also add multiple songs to convert according to your preference since it supports batch conversion.
9. What I Don't Like
1. Not free
2. iOS and Android versions are not available
10. Final Verdict
TuneFab Spotify Music Converter is an excellent utility application widely used by Spotify users. It helps you convert Spotify songs to MP3, M4A, or other formats by removing DRM protection. It will also let you access the audio according to your customization. TuneFab Spotify Music Converter is highly recommended if you are thinking of listening to Spotify songs offline on any device such as an MP3 player, iPod shuffle, etc. Now, download it and check it for yourself! (Want to compare TuneFab with other similar Spotify converters? Check out our Top 7 Best Spotify Music Converter Review!)