There are 2 ways for you to enjoy the movies in iTunes Store – purchase or rent them. But as we known, even we have bought the iTunes movies, we could not enjoy them on the non-Apple devices, or the Apple one without authorizing by the same Apple accounts. As for the rented iTunes movies, there is another limitation that you could only enjoy them within 48 hrs once you start watching the movies.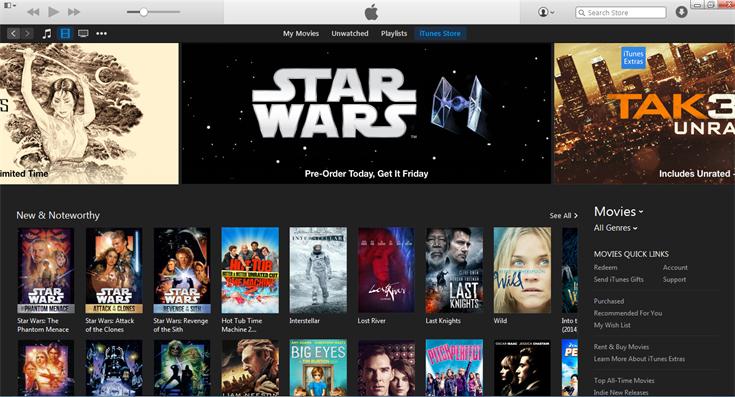 Unlike iTunes Music, iTunes movies are all protected by Apple's FairPlay DRM, a kind of DRM technology mean used to protect the digital contents of Apple. We could not replicate iTunes movies freely or save them outside iTunes Library. So, are there still any methods to rip iTunes movies? The answer is certainly YES, and you would have two ways to remove DRM from iTunes movies and convert iTunes M4V Movies to MP4. Just keep on reading the post.
CONTENTS
Solution 1. Rip iTunes Movies with TuneFab M4V Converter
The first method is to use TuneFab M4V Converter to help to rip DRM from iTunes Movies more professionally since the essential problem of the iTunes movies limitation has resulted from DRM protection. As a result, it would be the best choice to deal with this root problem. Here I recommend TuneFab M4V Converter due to the following admiring features of it:
Features of TuneFab M4V Converter:
* Remove DRM from iTunes videos (movies, TV shows, and music videos) professionally;
* Convert iTunes movies to the common format such as MP4;
* Up to 30X faster conversion speed;
* Up to 1080/720 HD high output quality;
* Both Windows and Mac are available;
How to Do It?
Follow the steps provided below:
Step 1. Download TuneFab M4V Converter
Click on the Try It Free button to install TuneFab M4V Converter. You could try the free-trial version for the first-time use.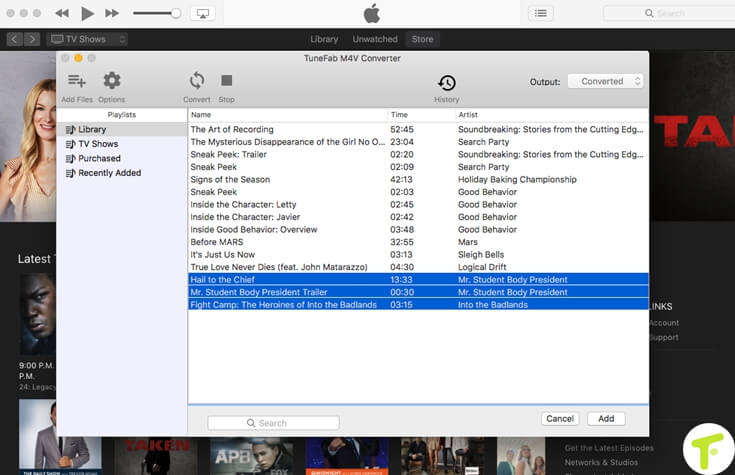 Step 2. Add iTunes Movies to TuneFab M4V Converter
Open TuneFab M4V Converter and click on "Add File" on the upper left corner. Then preview the iTunes movies lists from your iTunes Library and select the one(ones) you want to rip DRM from. After selection, click on Add to add them to TuneFab M4V Converter.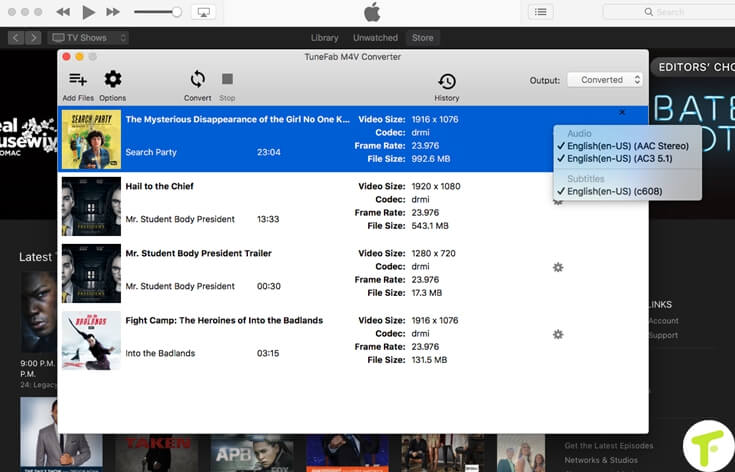 Step 3. Select Audio Tracks and Subtitles (Optional)
You are able to save the audio tracks and subtitles of the iTunes movies in your preference. This step is able to be skipped, and it would be saved by default.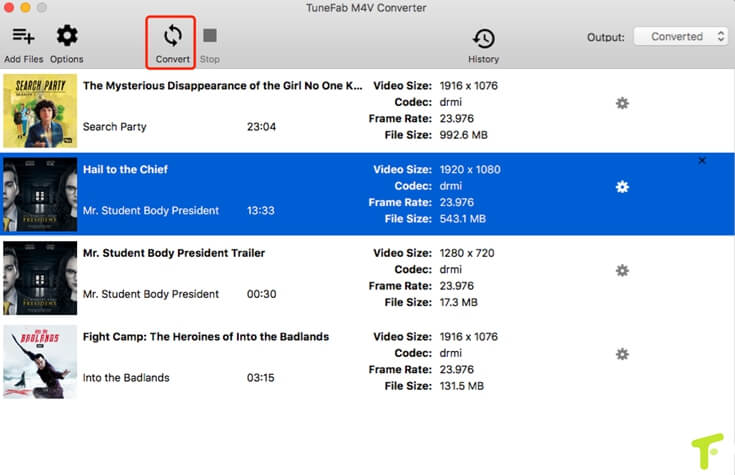 Step 4. Start Ripping DRM from iTunes Movies
Then you just need to click on "Convert" button to start the conversion. TuneFab M4V Converter would start ripping DRM automatically. You just need to wait for few minutes. When the conversion is done, you could get the DRM-free iTunes movies.
Solution 2. Rip iTunes Movies by Recording the Content
The second way to rip iTunes movies is to record the movies by yourself. To record the iTunes movies, you need a third-party recorder to help you. Bandicam Screen Recorder would be a good choice for you.
Bandicam Screen Recorder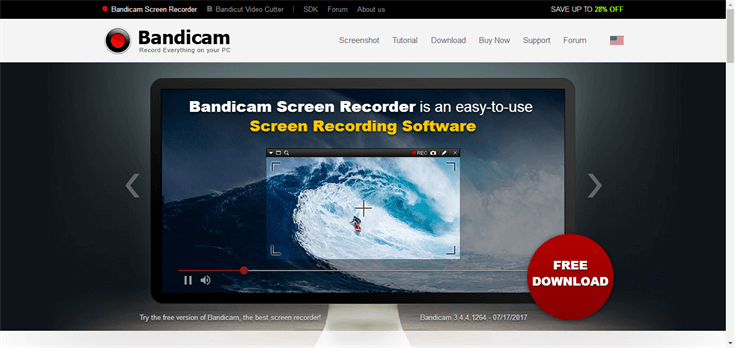 Bandicam Screen Recorder is a powerful and easy-grasped recording program. It could help you record the screen of your computer completely or just in a small window. The program is free for experience, which means that you could download the program for free.
View the following steps of how to record the iTunes movies.
Step 1. Select to "Screen Recording" mode.
Step 2. Click on "Rec" on the top-right to start your recording. When you finish, click on it again to pause.
Step 3. Click on "Open" to view your recording videos.
Step 4. Choose Game Recording to close the window.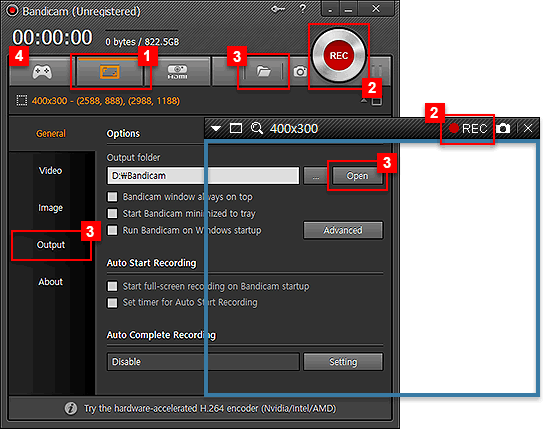 Write Behind
By comparison, both ways have some pros and cons. As for me, I would certainly choose to rip iTunes movies with TuneFab M4V Converter. Although recording the iTunes movies is also easy to operate and free, it would be more time-consuming. With TuneFab M4V Converter, you just need few minutes to get the high-quality iTunes M4V movies and play them freely. So why not choose the most convenient and high-quality one?
Tips. iTunes Movies FAQs
Q: How can I watch my rented iTunes movies offline?
A: There are three ways to watch iTunes rented movies offline. Firstly, download the rented iTunes movies when your network is available. Secondly, you could just press on start to watch the movie, since the 48 hrs time limitation starts even when you are offline. Last but not least, try TuneFab M4V Converter to save your iTunes rented movies. Through these 2 ways, you can certainly watch iTunes rented movies offline.
Read Related: How Can I Watch iTunes Rented/Purchased Movies Offline?
Q: What could I do if my iTunes rented movies fail to play?
A: Firstly, you could go to check if your network is poor. Mostly, the iTunes rented movies fail to be played since the network is too poor to stream the movie online. Or you could download the movie to your devices when the network is good. If you have made sure your network is perfect but the rented movie still fails to play, report the problem to Apple and ask for help.
Was this information helpful?
TrustScore 3.7 | 3