You may encounter a situation that you buy a movie from iTunes and want to have it downloaded to your device but somehow the movie won't download on iTunes. Or worse, you are experiencing an issue with downloading rented movies from iTunes and worrying it will go expired. No worry, you've come to the right place.
In fact, a number of reasons will lead to the iTunes movie not downloading problem. Therefore, we've come up with this article to help you figure out why it happens. Some tips to troubleshoot and fix iTunes movie download errors are also included. Hopefully, it may help you find solutions to the issue that you are having and quickly begin working on a fix.
CONTENTS
Part 1. Understanding What Causes iTunes Movie Download Failure
When browsing through the Apple Community, it is not hard to find complaints about iTunes won't download movies. Knowing the causes of the problem can help you diagnosed what leads to iTunes download error, and fix the problem as soon as possible.
Generally, if iTunes movies fail to download, the issue can be attributed to something wrong with the Internet connection, the iTunes program, or your Apple account.
Internet Related Issue
It is very likely that iTunes cannot download movies if your Internet connection is too slow. And if there is no connection to the Internet, both your purchased and rented movies won't download on iTunes. Under such circumstances, you may receive an alert saying "Download Error. Tap to retry."
iTunes Related Issue

If your Internet connection is up and running, you should consider if it is something related to iTunes. As you may know, iTunes is bloated. When running iTunes on your computer, the iTunes program will consume much of your CPU usage. And if your computer configuration is not good enough to support iTunes, iTunes may be down when you downloading movies. If iTunes quit before the download finished, when you re-launch iTunes, you may also receive an iTunes Download Error alert.
Furthermore, if you have enabled Automatic Downloads for movies, and iTunes is stuck at halfway when downloading movies, this may also lead to iTunes download failure. Besides, there could be some bugs appeared in iTunes that prevents you from downloading movies.
Apple Account Related Issue
Your Apple Account is important for you to download movies from iTunes. If you want to get access to your iTunes purchases movies or iTunes rentals, you should authorize the computer with the Apple account that you use to shop on iTunes. Therefore, if your Apple account cannot work, this can also cause the iTunes movie not downloading problem.
In addition, it needs to be mentioned that Apple only allows you to authorize up to 5 computers to access your purchased or rented movie contents. If your Apple account has already been authorized enough devices, the iTunes movie not downloading issue may also occur. Besides, if your computer is already associated with other Apple ID, you cannot associate that computer with another Apple ID for 90 days. This policy may also bring inconveniences to download iTunes movies.
Other Related Issue
Your computer or device doesn't have enough free space to download the movie. (HD iTunes movies or 4K iTunes movies may take up a lot of space.)

Your computer restarted during a download.

Another application such as third-party security software or a firewall restricts the download.

The iTunes movie you bought is greyed out due to a film age rating set in your device. (Sometimes, if the movie content provider is no longer to offer this title on iTunes or your location, this can result in the movie greyed out and not available for download.)
Part 2. Common iTunes Movie Download Error
The following are some common iTunes movie download error alerts you may encounter. Don't panic if you meet these iTunes Movie download errors, here we also have some tips to fix the download error.
"Error -50," "-5000," "8003," "8008," or "-42023"
According to the Apple Support database, these iTunes movie download errors occur when there is a timeout connecting to the server. Or it may be due to conflicts trying to write a file during download.
And if you meet with these download errors while downloading movies from the iTunes Store, you can follow these steps to fix. It should help you clean the partially downloaded file and avoid the alert that stops you from downloading iTunes movies appearing again.
Method 1
STEP 1. Locate the iTunes Downloads Folder on your PC.
Note: "iTunes Media" may appear as "iTunes Music". Also, the tilde (~) refers to your Home directory.
Mac OS:~/Music/iTunes/iTunes Media/Downloads
Windows Vista: \Users\username\Music\iTunes\iTunes Media\Downloads\
Windows 7: \Users\username\My Music\iTunes\iTunes Media\Downloads\
Windows XP:\Documents and Settings\username\My Documents\My Music\iTunes\iTunes Media\Downloads\
STEP 2. After locating the iTunes Downloads folder, quit iTunes, and delete the iTunes Downloads folder on your computer.
STEP 3. Re-launch iTunes. Select Account > Check for Available Downloads.
STEP 4. Enter your Apple ID and password to check for your downloads. Then click View Account. Your downloads should automatically restart, and you can choose which downloads to accept or pause.

But if the movie has been downloaded to other devices before, you will receive an alert saying that "There are no downloads available." This is because Check for Available Downloads is for purchases that have never been downloaded before.
And you should redownload the movie via the Purchased link under Movie Quick Links on the right-hand side of the iTunes Store homepage. This allows you to check your purchased history. Now you can click on the cloud download icon to redownload the movie.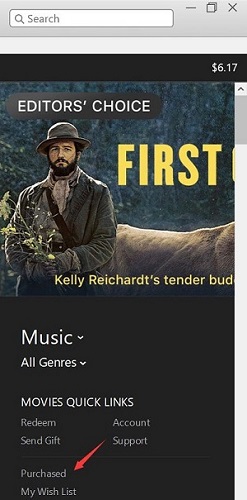 Method 2
STEP 1. Launch iTunes on your PC.
STEP 2. Select Edit > Preferences on the menu bar on the top of your screen.

STEP 3. Open the Advanced tab
STEP 4. Click on Reset Warnings and Reset Cache, and then click OK to save the change.
STEP 5. Restart your computer, run iTunes, try to redownload iTunes movie again.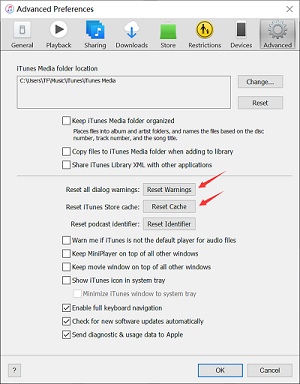 Part 3. How to Fix iTunes Movie Not Downloading? (6 Methods)
You've already known some potential causes behind the iTunes movie not downloading issue. Here are a handful of methods you can use to try one by one and hopefully fix the iTunes movie won't download issue.
Method 1. Check for Your Internet Connectivity
You can visit several other websites and download some files to check if your network is working well. If there is a problem, try resetting your router or forgetting and rejoining your Wi-Fi. If the Internet problem still exists, contact your Internet service provider for more help.
Method 2. Update iTunes to the Latest Version or Reinstall iTunes
You can check for if there is a new update for your iTunes program. In the new version, program engineers should fix some bugs that cause the download problem.
To update your iTunes, just go to Help > Check for Updates in the menu bar of iTunes, and then confirm if there is an available update.
You may also uninstall your current iTunes app and then download and install a new version from Apple's official site.
Method 3. Re-login Your Apple Account or Reauthorize Your Computer
Sometimes you can log out your Apple account and sign back in, or try to reauthorize your computer, this can update your purchase information and let your iTunes movie available to download.
Re-login Your Apple Account
In the menu bar, find and click on Account > Sign Out. Then, go back to Account > Sign In to login iTunes with the correct Apple ID and password.
Re-authorize Your Computer
Select Account in the menu bar, and then choose Authorizations > Deauthorize This Computer. After that, authorize your computer by clicking on Account > Authorizations > Authorize This Computer. You may have to enter your Apple ID and password to confirm.

Method 4. Update the Time Settings
If you cannot connect to iTunes on a Windows PC or a Mac, it is advised to check your time settings. This is because iTunes checks the computer's date, time, and time zone settings, just make sure they are correct. And if these settings are off, this could be the reason you fail to connect to iTunes and therefore, the movie won't download on iTunes.
Method 5. Get iTunes Support From Apple
The first four methods should solve most iTunes won't download movie problems. However, if you are not lucky enough to get the problem fixed, you can request support from the iTunes Store. Also, you can navigate to Apple's online help site which will ask you some questions about the problem you encounter. According to your answers, the site may provide a person to chat with or a number to call.
Method 6. Check the Parental Controls Feature
Sometimes, some of the movie titles that you purchased on the iTunes Store are greyed out for download, the parental controls are likely the causes that blocking you from downloading.
To unlock the settings, run iTunes as an administrator, and then go to Edit > Preferences, and then open the Restrictions tab to change the setting.
iPad or iPhone users should launch Settings > General > Restrictions to get access to the movies.
What Else You Can Do?
If you're still having problems getting your iTunes movie downloads started, try restarting your computer. Personally, I find that by turning the computer off and on again, the majority of small problems can be fixed. Besides, if it is a problem related to iTunes rental movie not downloading after trying all these fixes, then, before the movie is expired, perhaps you can consider to request and get a refund from iTunes.
Or, you may try another iTunes alternatives for movie purchases or renting. Some reliable iTunes alternatives include Google Play Movies, Amazon Prime, Sky Store and etc. The benefit of using options other than iTunes is that it ensures you can access movies on any device. But if you prefer sticking with Apple's iTunes, here is a feasible tool enabling you to watch iTunes movies cross platforms.
TuneFab M4V Converter is a professional tool designed to Convert iTunes Movies to MP4. As you may know, it is the DRM protection that iTunes uses to keep you locked to Apple devices. With TuneFab M4V Converter, you can remove the DRM from iTunes movies, TV shows, and music videos and convert these DRM-protected M4V videos to a normal MP4.
After the conversion, you can get a universal MP4 file that enjoys better device compatibility allowing you to watch iTunes movies on multiple platforms. Even if you are in an environment without an Internet connection, saving a copy of the converted iTunes movie makes it convenient to watch on any device or player as you like.
TuneFab M4V Converter Main Features
* Remove DRM from iTunes M4V movies, TV shows, and Music Videos
* Preserve original Dolby 5.1 soundtracks, subtitles, closed captions, and audio descriptions
* Batch convert iTunes movies or TV shows at a time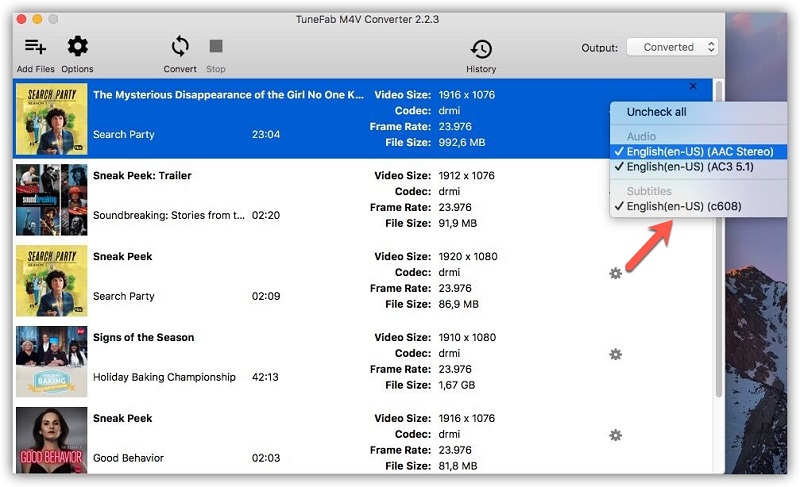 Summary
Dealing with iTunes movie download errors doesn't have to be stressful. Let's review several viable solutions you can use to resolve the iTunes won't download movie problem:
1. Check for your internet connectivity.
2. Update iTunes or reinstall iTunes.
3. Sign out and sign back in your Apple account or reauthorize your computer.
4. Update your system date and time.
5. Get iTunes support from apple.
6. Check if parental control is enabled.
If you have other tips and experiences about troubleshooting the iTunes movie not downloading issue, feel free to share with us.
Was this information helpful?
TrustScore 2 | 2