Apple provides great content on the iTunes Store. However, you may already realize that your purchases like movies, TV shows, etc are restricted to Apple-authorized devices due to its special DRM. That being said, it's Fairplay. It isn't very pleasant, for instance, if you want to play your purchased movies on your Smart TV.
So, what if there is a non-pirate way to remove DRM restrictions on your purchases on iTunes? The problem will be perfectly solved. Requiem DRM removal tool and its best alternative will help you out and enable you to play movies and TV shows outside iTunes on any device. You may want to grasp the idea in this post.
CONTENTS
Part 1. Introduction of Requiem - The Free iTunes DRM Removal Tool
In case you have no idea of Requiem, let's learn the way around this free iTunes DRM removal software before we go any further. Let's check out what it is and how it works.
What is Requiem?
Requiem is free Java-based software for Windows and Mac. It provides the sole feature of removing Apple's special DRM technology employed in iTunes content. The process is fully automatic, but the software requires knowledge of Java programming language for advanced settings.
Unluckily, the software has stopped maintenance for years and the developer seems to give up on this program. The function is still workable for an older version of iTunes, but there are some heads-ups you may want to look up before you get down to Requiem.
1. Requiem only works with an ancient version - iTunes 10.7, which was released back in 2012.
2. Requiem doesn't keep subtitles of movies or TV shows along with the conversion.
3. Requiem cannot preserve metadata info for the protected content you downloaded from iTunes.
4. Requiem will delete the source by default and replace it with the decrypted file.
5. Requiem can only keep the SD video quality of 720p for movies and TV shows.
6. Users need to disable the two-factor authentication of Apple ID before using Requiem.
7. It has been reported to cause errors during the process due to the lack of updates for years.

How Does Requiem Works?
Requiem takes advantage of the secret credentials in iTunes to authenticate with the DRM library and utilizes the decryption technology to break Apple's Fairplay. It converts the original content, which was previously downloaded from iTunes, such as movies, TV shows, and music videos, to unencrypted files without encoding the files again. So, there is no quality loss during the whole process. However, it's only able to convert SD videos of 720p, and users may fail to decrypt movies or TV shows of 1080p and higher resolutions.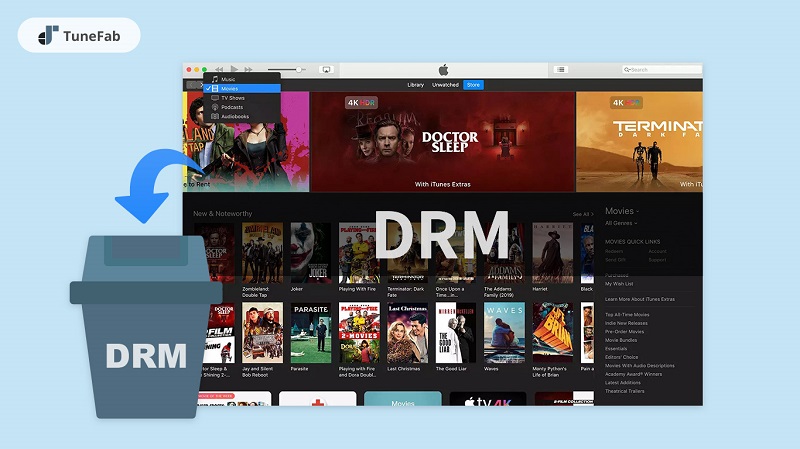 Pros and Cons of Requiem
Requiem has its silver linings to attract people who want to decrypt iTunes content by removing DRM restrictions. Meanwhile, it comes with some drawbacks that may not live up to your expectations. To have an overview of Requiem, the pros and cons are listed below for you to go through it.
Pros
Cons
1. Open-source software free of charge.
2. Offer an automatic process to do all the work.
3. Decrypt purchased movies and TV shows that are downloaded from the iTunes store.
1. No tech support for future maintenance.
2. Not easy to start for newcomers.
3. Support SD content of up to 720p.
4. Cannot decrypt rented content on the iTunes store.
5. Cannot save subtitles and metadata info.
6. Need to uninstall the latest iTunes that will reset your iTunes setup.
6. Need to uninstall the latest iTunes that will reset your iTunes setup.
Part 2. How to Use Requiem to Remove DRM
In this part, let's learn how to get Requiem DRM removal to work on iTunes videos. The software only cooperates with iTunes 10.7, so you will have to uninstall iTunes from your desktop/laptop in the first place. Therefore, you will lose the current setup of iTunes and cannot sync iTunes 10.7 with the latest iOS of iPhone and iPad.
In such a case, I recommend that you can run Requiem on a virtual machine or another computer instead. The process could be a bit complicated if you're a newbie using the Requiem DRM removal tool for the first time. However, no worries. This is a fully detailed tutorial for you to follow step by step.
STEP 1. Uninstall your current iTunes and all the following applications developed by Apple. Or, Requiem may not perform normally because it conflicts with the latest versions of Apple software.
● Apple Software Update
● Apple Mobile Device Support
● Bonjour
● Apple Application Support 32-bit
● Apple Application Support 64-bit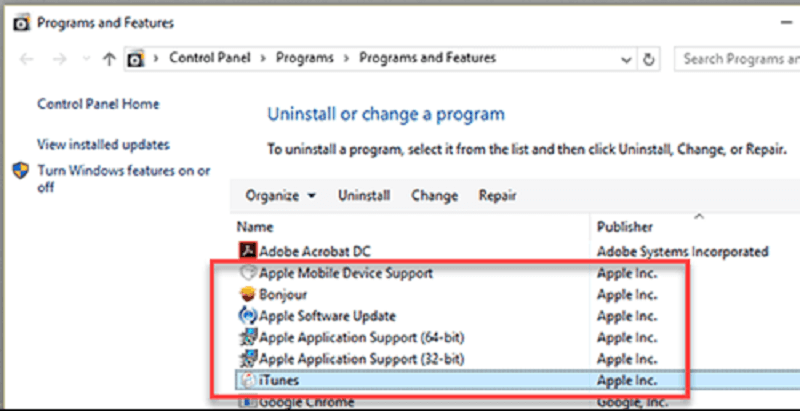 STEP 2. Download and install iTunes 10.7 on your computer. You can click the official link below to download the related package for Windows or Mac. Don't forget to disable the Automatically update iTunes and other Apple software options in the process of installation setup.
● iTunes 10.7 for Windows
● iTunes 10.7 for Mac

Note that if iTunes 10.7 cannot start properly on Windows, you may try to rename the folder -c:/Users/~username~/Music/iTunes to another name.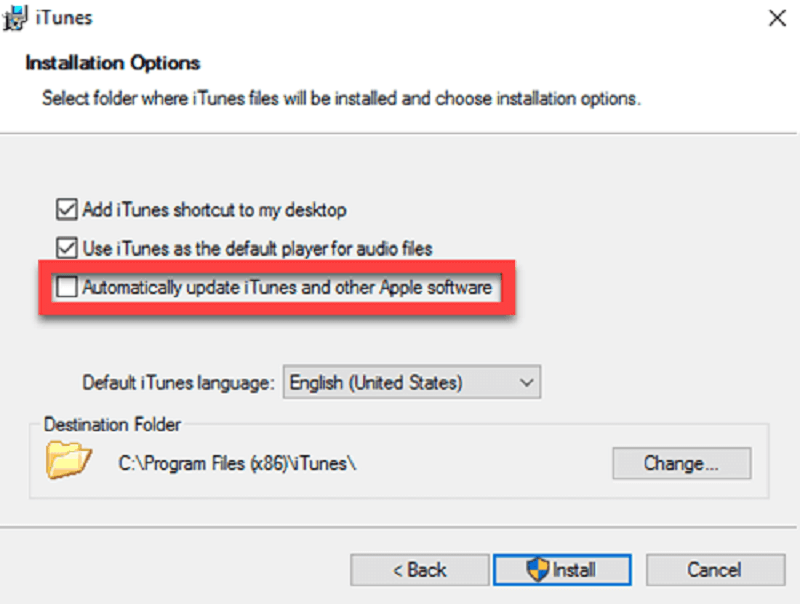 STEP 3. Disable the two-factor authentication on your Apple ID. If there isn't a popup, check out the code sent to your device and add it behind your password when you're logging in to your Apple ID on iTunes 10.7.
STEP 4. You need to redownload the content you want to decrypt from the iTunes store using iTunes 10.7. Or, if you know the path to the previous downloads, you can manually move them to the new iTunes library. You should ensure that the files can play normally before you use Requiem to remove DRM restrictions.
STEP 5. (For Windows Users Only) Windows users need to download and install Java Runtime environment so as to properly run Requiem.
STEP 6. Download the Zip file below and install Requiem 4.1 on your computer.
● Requiem 4.1 for Windows
● Requiem 4.1 for Mac

STEP 7. Now, close iTunes and launch Requiem from your desktop. Requiem will automatically scan your local iTunes library for protected content and start removing DRM protections. When the process is complete, it will move the protected files to the trash by default and replace them with the unencrypted version.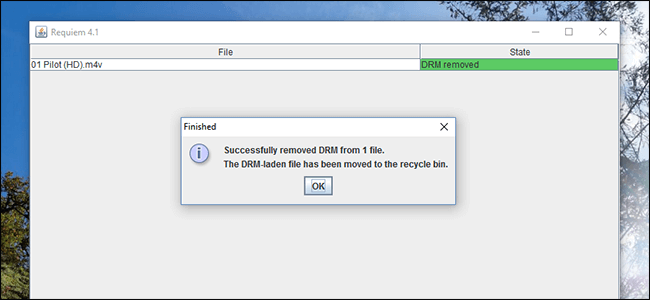 Part 3. Best Alternative to Requiem DRM Media Converter
Requiem is a good choice if you're considering a free program. However, the software has stopped updating for many years and supports an ancient version of iTunes 10.7 which was released almost 10 years ago. Moreover, Requiem cannot work for rentals on iTunes, for example, rented movies, and is reported to have errors when people try to use it. Therefore, you may need the best alternative to Requiem in case Requiem doesn't work for you.
TuneFab M4V Converter is a leading DRM-removal software on the market. It enjoys great popularity among iTunes users for its easy-to-go user interface and the high success rate of decrypting iTunes content. The program enables users to convert iTunes movies, TV shows, and music videos to unencrypted files without losing the quality. More sparking features are introduced as follows.
Main Features of TuneFab M4V Converter
● Advanced Decryption Technology - TuneFab M4V Converter can easily remove Apple's DRM protection on iTunes videos including movies, TV shows, and MV. It can convert your purchased or even rented videos on the iTunes store to unencrypted video files of 1080p and 720p high resolution.
● M4V to MP4 Converter - The videos you download from iTunes are saved in encrypted M4V formats, but TuneFab M4V Converter can convert your downloads to the MP4 video format and render the video files playable on any device including Smart TVs, projectors, your phone, and so on.
● Batch Download at 5X Rate - The program allows multiple converting tasks at the same time and speeds up the whole process at up to 6X rate, much faster than the Requiem DRM removal tool.
● Audiotrack & Subtitles Preservation - TuneFab M4V Converter can keep the original Dolby Digital 5.1 track and multilingual subtitles, closed captions, and audio descriptions along with your favorite videos.
● Easy File Management - It is able to keep the ID3 tags and metadata information including Titles, Artists, Cover, and so on. You can manage all the converted files with ease for sorting out your video collections.

How to Bypass Apple FairPlay DRM With TuneFab M4V Converter
Compared to Requiem, TuneFab M4V Converter is much easier to start for newcomers with its intuitive user interface. All you need is to add the protected files and let the program do all the rest.
STEP 1. Download and Install the Software
To begin with, you should download TuneFab M4V Converter by the button below and follow the on-screen instructions to finish the setup. Also, please make sure that you have already installed the latest version of iTunes on your computer.
STEP 2. Add Protected Files
Now, run TuneFab M4V Converter from your desktop while iTunes will be launched at the same time. Simply click the Add Files button and the program will scan your local iTunes library by default and list all the downloads of your purchased or rented movies, music videos, and episodes on the screen. You can select your desired videos and click Add or Add All to proceed.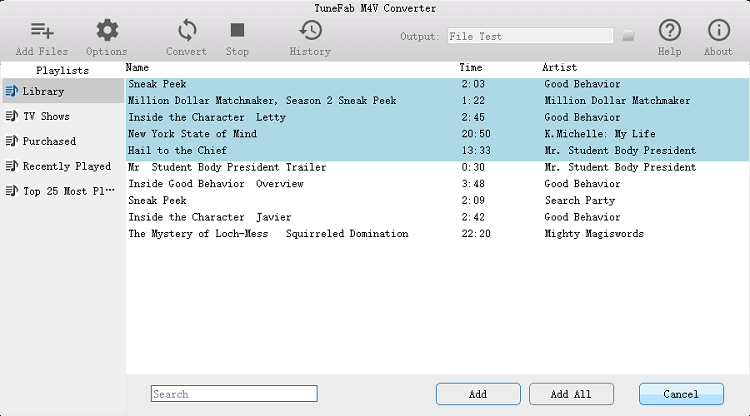 STEP 3. Start Converting iTunes Videos
You can see the feeds of your selected videos on the interface. Then, you can click the Gear icon behind each video and choose which audio track or subtitle to keep along the way. Also, you can change the output path if necessary. When you're ready, click the Convert button and the videos will be converted to MP4 so that you can enjoy them on any device you want.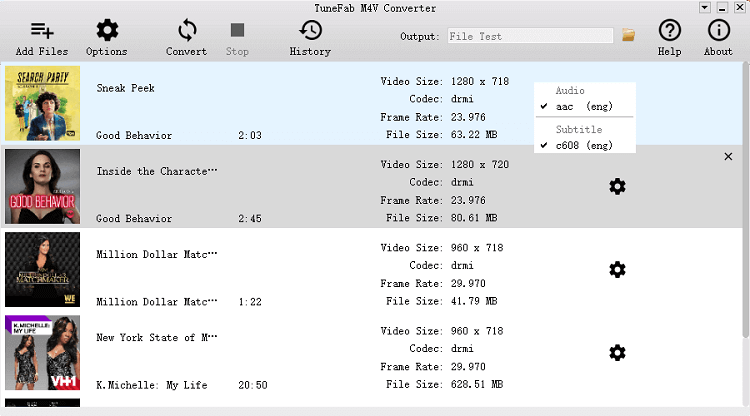 Conclusion
Now that you finish reading the whole post, you must learn all the things about Requiem. As a free DRM removal program for iTunes, it has a powerful feature to remove DRM protections on iTunes videos. However, Requiem has stopped updating for nearly 10 years. That's why many users fail to use it these days.
TuneFab M4V Converter has been updating itself to lead the way in decrypting iTunes content. If you have no expertise in Java or are looking for a simple and successful way to remove Apple's DRM protections, you should not miss this excellent tool.
Was this information helpful?
TrustScore 1 | 4