To prevent pirating, Apple locks their iTunes digital contents (music, video, audiobooks & iBooks) with the FairPlay DRM. However, this also punishes the consumers who legally purchase movies/music from the iTunes store because they cannot play these files on non-Apple devices. So many people want to get rid of FairPlay DRM. What's FairPlay DRM? How to remove it from iTunes Media Content? The following essay will tell you in detail.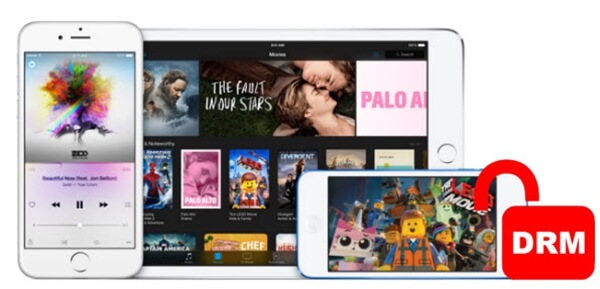 CONTENTS
Part 1. What is FairPlay DRM
FairPlay is the Apple DRM and was initially used only in the iTunes store to protect AAC encoded audio files but got soon also adopted for Apple's video products that are now part of the iTunes store.
Most of the controversy surrounding FairPlay is about Apple's refusal to license it, but not about the limitations it imposed - as far as DRM schemes go, FairPlay wasn't overly restrictive. However, since Apple doesn't license FairPlay to anyone, you can only play a protected file using the iTunes software or Apple's built-in apps. Also, the file can only be recognized and playable on an iPod, iPhone, or iPad, and devices that are authorized.
FairPlay limits you to:
• authorize up to five different computers to play FairPlay-protected files via iTunes or Apple's native app.
• burn a particular playlist containing a protected song up to seven times.
But FairPlay allows you to:

• burn a protected song to CD as many times as you want.

Part 2. How to Remove Apple's FairPlay DRM Protection
Since the FairPlay DRM is so annoying, many of you may want to get rid of it to play iTunes songs and movies freely. Now, I will show you different tools to remove FairPlay DRM from iTunes M4V movies, Apple Music songs, iTunes audiobooks, and iBooks.
Note: This is only legal as long as you are the original owner of the content and you are planning to remove DRM to fully gain the right of ownership NOT for sharing it.
1. FairPlay DRM Removal for iTunes M4V Videos
Many Apple fans have the habit to purchase or rent movies, TV shows, etc. from iTunes Store. After all, there are so many wonderful movies and TV series. But you can only play these iTunes videos in protected M4V format on your Apple devices or iTunes. You cannot play them on Android phones and tablets, let alone other common media players, such as Windows Media Player and VLC Media Player.
Worse, there are more limitations on iTunes rentals, which only give you 30 days from the time of rental and 24 hours (in the US) or 48 hours (elsewhere) after you've started viewing to finish it.
With a FairPlay DRM Removal for iTunes videos, you can bypass DRM with few clicks. Better yet, you can then keep all your rented movies forever and play them on any device you like.
TuneFab M4V Converter is the best choice. It can quickly crack the Fairplay DRM and convert the iTunes M4V videos to MP4 format without quality loss. It can convert iTunes videos to MP4 at 20X faster speed with all subtitles and AC3 5.1 audio track kept. After conversion and removing the DRM, you can watch all your movies and TV shows without having to authorize your device in your Apple account anymore. (More Information: Remove DRM from iTunes Movies)
2. FairPlay DRM Removal for Apple Music & iTunes Audiobooks
For bypassing FairPlay DRM on Apple Music and iTunes Audiobooks, TuneFab Apple Music Converter is my recommendation. This software can not only remove FairPlay DRM from iTunes songs and Apple Music but also can remove DRM from iTunes M4B audiobooks. In addition, it can remove DRM from Audible audiobooks.


After stripping away Apple Music DRM, you can play Apple Music tracks on any MP3 player, including iPod nano/classic/shuffle. And, you can play iTunes M4B audiobooks not only on Apple devices but also on Android devices.
• Remove DRM from iTunes songs and Apple Music Tracks
• Crack DRM from iTunes audiobooks
• Convert Apple Music and audiobooks to plain MP3/M4A format
• Available both on Windows and Mac
Get to Know TuneFab Products and Bring Free to Your Digital Life :)
3. FairPlay DRM Removal for iBooks
Requiem is a well-known software that allowed everybody to circumvent FairPlay DRM on iBooks. However, Requiem 4.1 is the latest version to remove DRM from iTunes (Music & Videos) and it can even work on the content that has HD quality of 1080p. But, Requiem 3.3.6 is the only tool to remove DRM from iBooks (Apple e-Books). Also, please note that:
• Requiem isn't compatible with iTunes 11 and higher versions because Apple has patched it.
• To remove the DRM from iBooks, you need the combination of Requiem (Version 3.3.6) and to install iTunes (Version 10.5.3).
• If you are a Windows user, install a 32-bit Java environment at first regardless of your system being 64-bit.
Where to find iTunes 10.5.3?
There are various sites providing free download links for old versions of Apple iTunes. Fortunately, I have gathered some of the links here and they are ready for you to use.
By now, you can bypass the FairPlay DRM easily. But if you can't, the tools we introduce above will help you.
By the way, what's your opinion about DRM? Let me know about your experience or opinion by posting comments below.
Was this information helpful?
TrustScore 5 | 1