iTunes is famous for its streamlined experiences and sleek interfaces. Also, with a large library of media content such as music, audiobooks, and movies provided, iTunes is a great place for many people to buy and download digital content.
This article is writing to help users who don't know where and how to download a movie from Apple's iTunes app. After reading this article, anyone who is new to iTunes should find it easy to buy and download movies from iTunes. Besides, if you are annoyed by iTunes Movie's DRM restriction and want to play iTunes movies on non-Apple devices, this article will also offer you a useful method letting you download and watch iTunes movies offline on any device. For people who are curious about why Apple kills iTunes, we will also try to dive deep into the topic.
CONTENTS
1. iTunes is Dying: Where Can You Find and Download a Movie?
After the release of macOS Catalina, iTunes is replaced by three apps, including Apple TV, Apple Music, and Podcasts. In other words, the movies and TV shows that you purchased before are now live in the new and separate Apple TV app. But for Mac users who are using earlier versions of the operating system, they can continue to use iTunes. And this change only affects Mac users. iTunes still survives on Windows, so, Windows users can be reassured as they don't have to get used to new software.
2. How to Download a Movie from iTunes to PC?
Since iTunes is still compatible with Windows, Windows users can follow these simple steps to download movies from the iTunes Store. Besides, be sure you have a stable and high-speed network connection while downloading iTunes movies.
Note: Downloading movies from iTunes to earlier mac OS is similar to downloading to Windows. Therefore, the following instructions also apply to iTunes 12.7 through 12.9 in macOS 10.12, 10.13, and 10.14.
STEP 1. Navigate to the Movies section of iTunes.
Launch iTunes on your computer, and then click Movies in the drop-down menu in the upper left corner of your screen. Open Store, which is in the top middle of the screen.
STEP 2. Buy or Rent iTunes Movie.
Buy or rent a movie from the iTunes Store.

STEP 3. Adjust Your Download Settings.
If you have some HD iTunes movies on your account, you can choose whether to download the HD version or SD version according to your preferences. Besides, iTunes will download 720p movies by default. Here's how to alter the setting.
Choose Edit from the menu bar, and select Preferences. And then click on the Downloads tab. Here you can choose the quality of the iTunes movie that you want to download.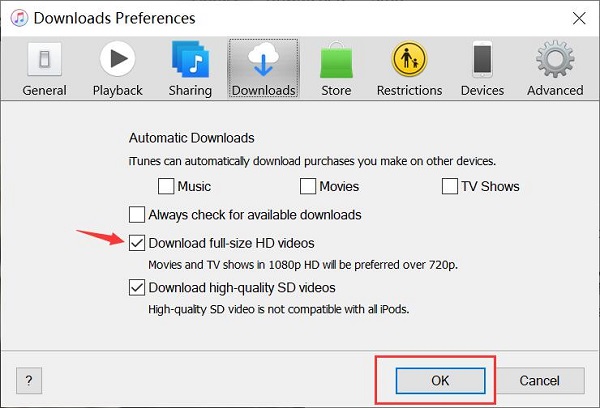 STEP 4. Download the iTunes Movie You've Bought or Rented.
Select Accounts from the menu bar, and then click Purchased to check the movies you've bought or rented. You can also choose Not in My Library to view items. To download a movie, you can directly click on the Cloud icon on the top-right corner of the movie thumbnail image.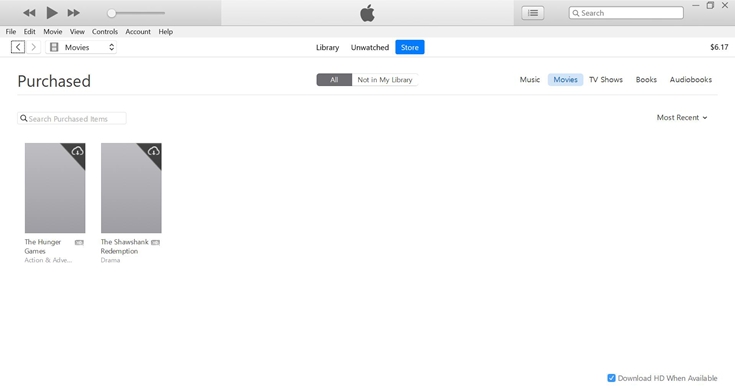 Also, for movies that you've already purchased or rented, you can search and go to the exact movie information screen, and then click the Download button located in the same area as the Buy or Rent buttons.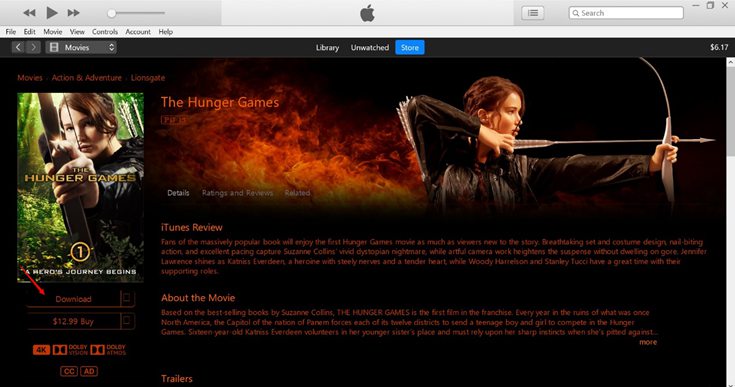 Besides, click to open the Library tab at the top of the screen, and you will find your purchased iTunes movies. Hover your mouse cursor over the movie you want to download and right-click to choose Download. Or, if there is a Cloud icon on the right side of the movie title, this means the movie is available to download, then you can click on the icon to download the movie.

After that, in the upper right corner of your screen, a circling icon will appear when the download is ongoing. Click on it to see the download process. You can either wait for the download process over or right-click to stop your downloads.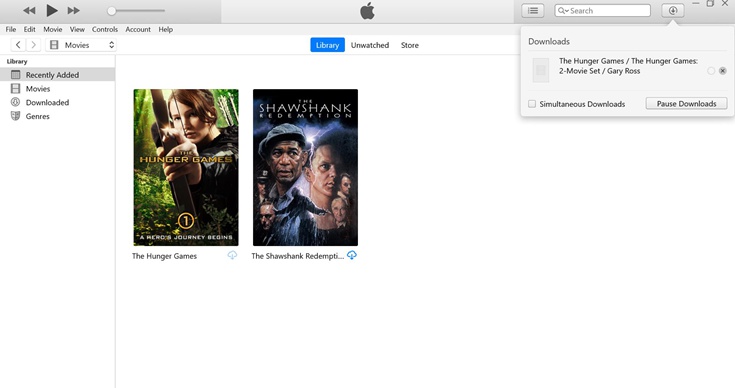 3. Download iTunes Movies from the Apple TV App
How to Download Movies from the Apple TV App on macOS 10.15?
STEP 1. Open the Apple TV app, and go to Movies at the top of the screen if you need to buy a movie.
STEP 2. You can either use the Search function or go to the Library tab to find your movies.
STEP 3. To download a movie to your Mac, just click the Cloud icon below the movie thumbnail image.
How to Download iTunes Movie on iPhone, iPad, or iPod touch
Note: This applies to iOS higher than 10.2, earlier versions should go to the Videos app.
STEP 1. Launch the Apple TV app.
STEP 2. When you need to buy movies on the app, just tap Watch Now > MOVIES, and find a movie. Then click the buy price, and you might need to sign in with your Apple ID to confirm your purchase. (If you've already purchased a movie, you can also use the search function to locate the movie and download it to your device.)
STEP 3. Tap Library on the bottom menu bar, and then tab the Cloud icon to download the movie to your device.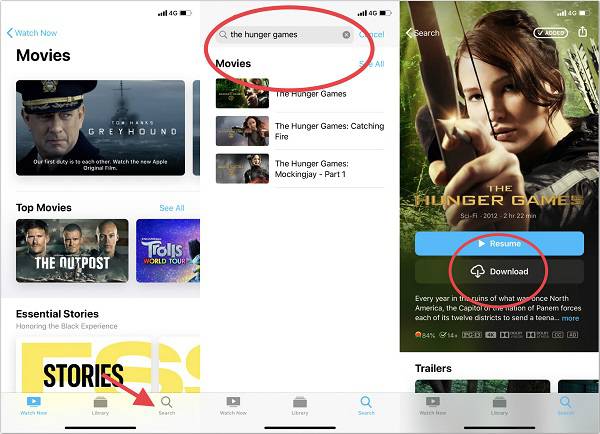 4. Where Are Your iTunes Movies after Downloading Them?
In Windows PCs or macOS 10.14 and earlier, iTunes is the app where your media lived. Open the Library tab and choose Movies in the drop-down menu on the top-left corner, you will see your purchased iTunes movies. A Rented tab will appear if you've rented a movie.
On macOS 10.15 and iOS higher than 10.2, the Apple TV app is the new home for all of your purchased or rented movies and TV shows. Also, your home videos can be found on this app. Just go to the Library section on your screen, and you will find your iTunes movies. If the video contents are downloaded to your devices, you will not see a cloud icon.
5. If Movies from the iTunes Store Stops Downloading…
Your movie downloads may get interrupted when the network condition is unstable, here's how to restart the download.
Restart a Download on Your PC
STEP 1. Open the Apple TV app or iTunes on your PC. Be sure you have signed into your account.
STEP 2. In the menu bar at the top of your screen, select Accounts > Check for Available Downloads…
STEP 3. Enter your Apple ID password, and then choose View Account. After that, your downloads will automatically restart. If it's still not downloading, you can check this article: Deal with iTunes Movie Download Error.

Restart a Download on your iOS devices
STEP 1. Launch the iTunes Store app.
STEP 2. On iPhone or iPad, touch tap More icon at the bottom of the screen and tap Downloads. On iPad, directly tab Downloads. If you don't have items available to download, you won't see the Downloads section.
STEP 3. Sign in your Apple account if it is necessary. And then find the download that you want to restart and tap the blue download arrow.
Note: If you can complete the download on your device, you can download the movie from the Apple TV app or iTunes on your PC, and then sync it to your iPhone, iPad, or iPod touch.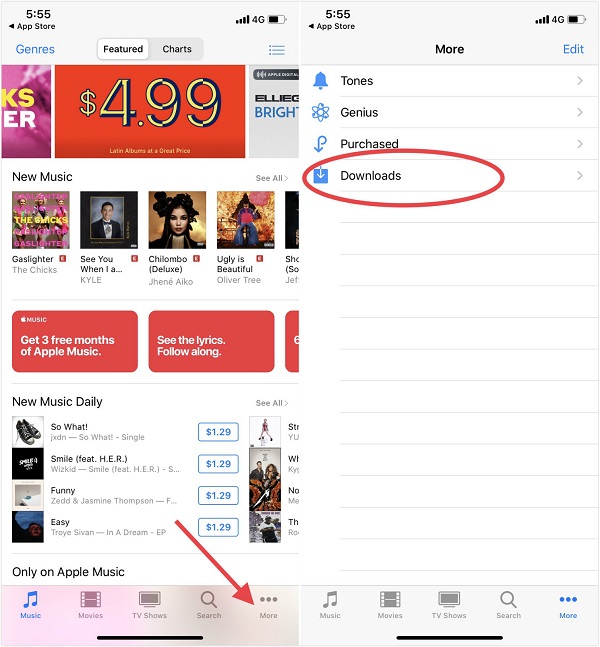 6. FAQs on iTunes Movies Downloads
Can You Redownload iTunes Movies?
If you accidentally delete your iTunes movie downloads, you can easily re-download the video content to your devices. For iTunes purchased movies, you have unlimited access to download previous movie purchases any time you like.
But for iTunes movie rentals, you can only download it to only one device at a time. And the good thing is, if your iTunes rentals are not expired, you can download it for many times.
Simply select the Cloud icon next to the item in your library, and then your iTunes purchased movies or iTunes rentals will start to download to your devices.
Tips: if you use Family Sharing, just tap the family member's name and you can see the movies that your family member purchased. Then tap the Cloud icon for the title, you can download the movie that your family member has bought.
Can You Watch iTunes Movies Offline on Any Device?
After downloading the iTunes movie through iTunes or the Apple TV app, go to the Library section, and you can watch your purchased iTunes movies offline. However, due to Apple's FairPlay digital right management (DRM) technology, you can only play these iTunes movies on Apple devices or PCs with iTunes player. Watching iTunes movies on such devices is simple, but for people who don't have any Apple gadgets but only PCs, things become much inconvenient.
Fortunately, it is still possible to watch iTunes movies offline on any device, and you first need to remove the DRM restriction from iTunes movies. TuneFab iTunes M4V Video Converter is such a useful tool that can help you do the job. After removing DRM from iTunes videos, it will convert your iTunes movie collection to MP4 videos that have great compatibility for most common devices. Ultimately, you can literally keep your iTunes movies forever and watch them offline on any non-Apple device.
Key Features
* Unlock DRM from iTunes Movies (Mac version can also strip DRM from iTunes rentals)
* Convert iTunes movies to MP4 at fast speed
* Keep original Dolby AC3 audio tracks and all subtitles
* Support multiple portable devices for watching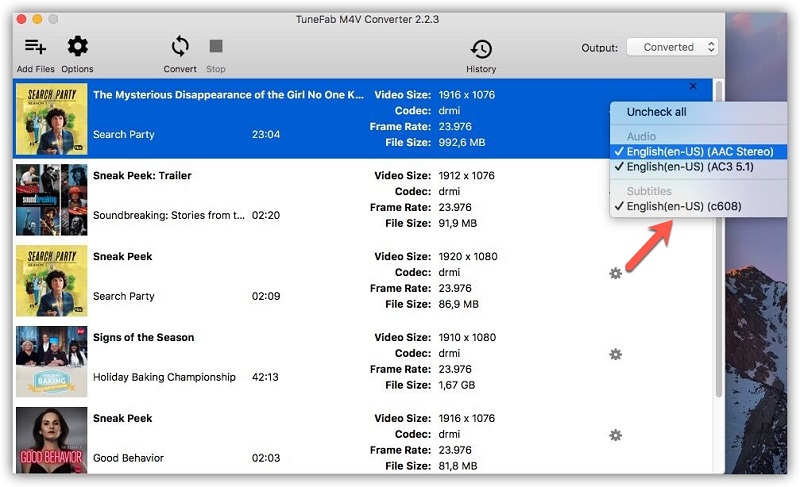 7. More Topic: iTunes is Going Away. Why It Makes Sense?
Nearly two decades after launching iTunes, Apple has finally killed iTunes. Although the arrival of iTunes basically had helped revolutionize the entire music, TV, and tech industries, it is not surprising that Apple made this decision.
At the very beginning, iTunes served as a place to manage the MP3s and other music files on desktop computers and provided a legal way for consumers to make digital copies of their physical CDs. Not long after, it transformed from a personal music player to an online store to buy digital versions of songs and albums.
There was only music of the time. But as the years went by and technology was improved, many updates and new features were added to the app. As a result, iTunes became bloated and cluttered. The intention was good, but this was somehow against Apple's renowned characteristics: simplicity, clarity, and singularity of purpose.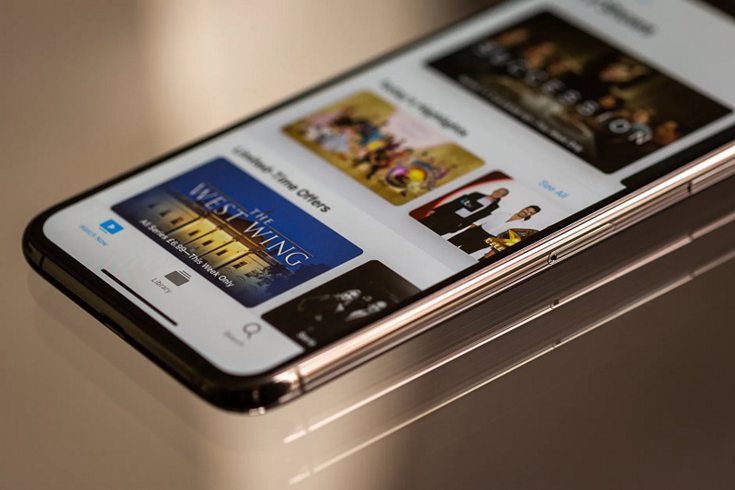 Also, as more people turn to music streaming services instead of buying music and the company has seen a decline in phone sales, Apple has changed its strategy pivoting on services businesses. In 2015, Apple Music was launched. Additionally, its video service Apple TV plus debuted in 2019, mostly focusing on new and original content. Meanwhile, Podcasts, have had a dedicated app for iPhones and iPads since 2020.
All these attempts made by Apple can also be the sign of iTunes' death. Besides, with the fact that subscription-based services becoming the company's most profitable and fast-growing division, Apple may keep on growing its content presence in entertainment industries in the future. Therefore, after splitting iTunes apart, this move should allow the apps to run more quickly and simplify the experience for consumers.
Final Thoughts
The change in iTunes makes downloading Apple movies become different. While Mac users should turn to the Apple TV app, Windows users can still buy and download movies from iTunes. Overall, Apple rolls out separate apps indicating the shifting of its focus. And certainly, the company still wants you to cling to its ecosystem as well as its services.
Was this information helpful?
TrustScore 3 | 4