Spotify is a prominent music streaming platform that empowers its users to create personalized playlists. Whether you are employing a personal computer or a mobile device, constructing a playlist on Spotify is a facile pursuit. With this comprehensive guide, you'll learn how to make a playlist on Spotify, add tracks, customize your playlist, and address common inquiries such as how to download Spotify playlists to MP3, how to create private playlists, and more.
CONTENTS
How to Make a Spotify Playlist on PC
The process of creating a playlist on the desktop version of Spotify can be distilled into three essential steps: first, the playlist must be created; second, songs must be selected and added to the playlist; and third, the playlist may be edited as necessary to ensure it meets the listener's standards.
Create a Playlist on PC
Step 1. To create a playlist on Spotify, simply open the app on your PC
Step 2. Select the "Create Playlist" button located on the left-hand side of the window.
Step 3. Then, it will prompt a pop-up window to appear, and then you can name your playlist.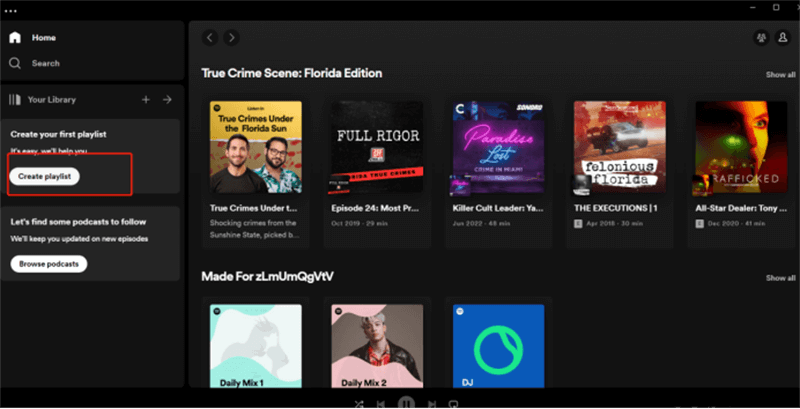 Add Songs to New Playlist
After creating a playlist, you have the option to add songs or other playlists based on your preferences or needs. Here are the steps to add songs to a new playlist:
Step1. Search for the song you want to add.
Click on the "Search" button located in the top left corner of the screen to access the search interface. From there, enter the name of the song or artist you wish to add into the search box.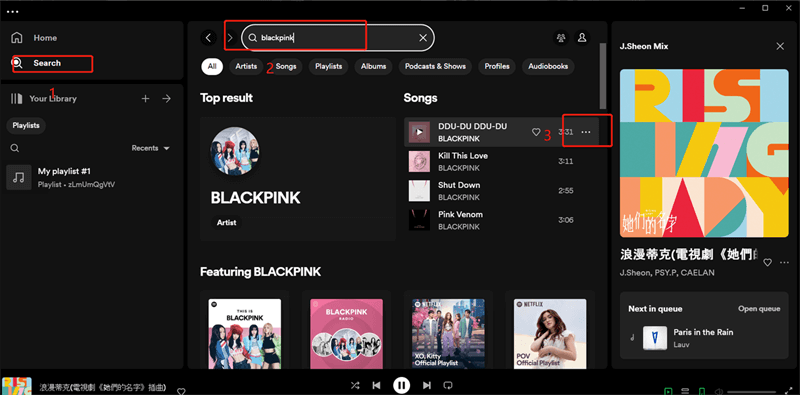 Step2. Add songs to the playlist of your choice.
Click on the three-dots icon and select "Add to playlist". Then, you can choose the playlist you want to add the song to.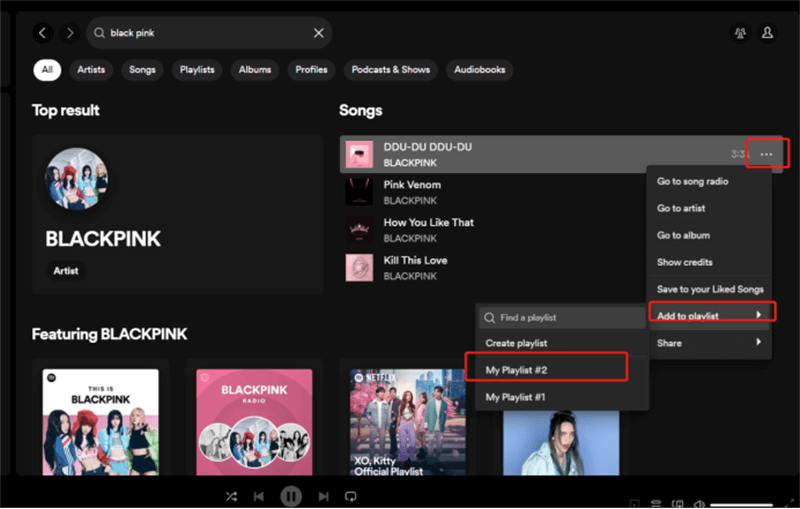 Edit a Playlist
We named the playlist at the beginning, but if we want to rename it or perform other actions, where should we go to do so? Please refer to the following steps.
Step 1. On the left-hand side of the screen, select the playlist you want to edit and click on the three dots.
Step 2. Select "Edit Playlist" and give your playlist a name and description.
Step 3. Make the desired changes to your playlist.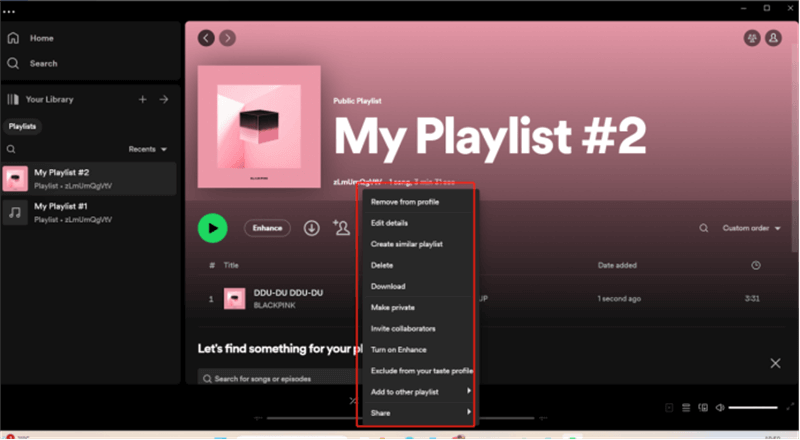 How to Make a Spotify Playlist on a Mobile Device
After familiarizing oneself with desktop operations, some may inquire, "I tend to utilize the mobile app more frequently, so how can I perform these same actions on my phone?" Below, we present simple and straightforward steps for mobile users.
Create a Playlist on a Mobile Device
Step 1. Open your Spotify app on your mobile device.
Step 2. Navigate to the bottom of the screen and select "Your Library".
Step 3. Next, click on "Create Playlist" to bring up a pop-up window where you can enter a desired name for the playlist before saving it.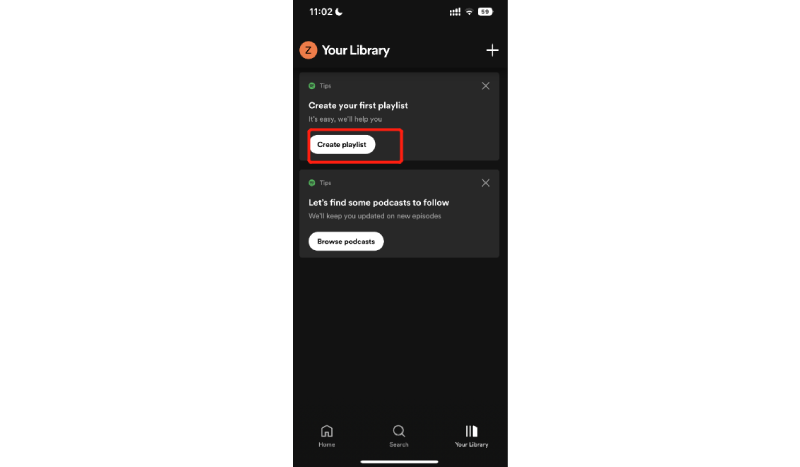 Add Songs to New Playlist
Once you've established a new playlist, it's natural to be eager to start adding your favorite tracks to it. But how exactly can you go about doing so? Don't worry, the process is quite straightforward - below is a step-by-step guide to walk you through it.
Step 1. To add a specific song to your playlist, click "Search" at the bottom of the main interface, and enter the name of the desired track into the search bar. Then, click on the three dots situated beside it to access additional options.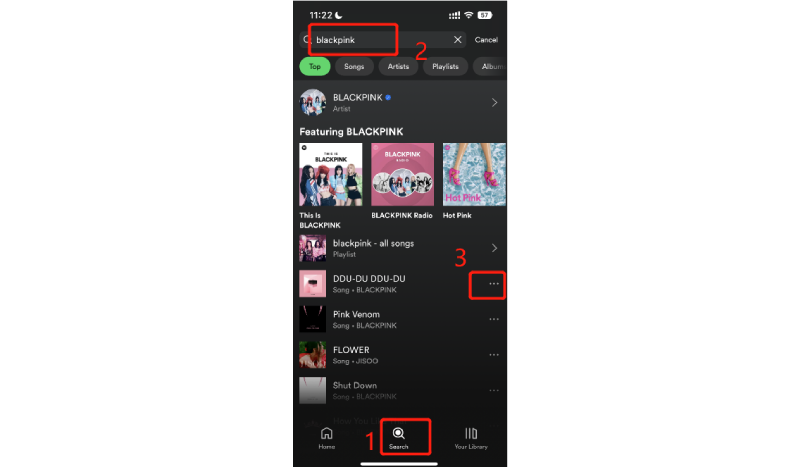 Step 2. Tap on "Add to Playlist", and select the playlist you want to add the song to. .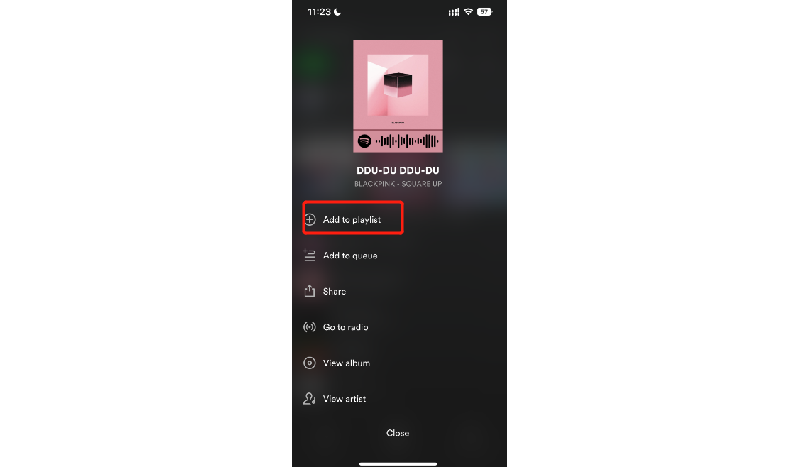 Edit a Playlist
Select your playlist and then click on the three dots located in the middle of the screen. Here, you can customize your playlist settings according to your preferences.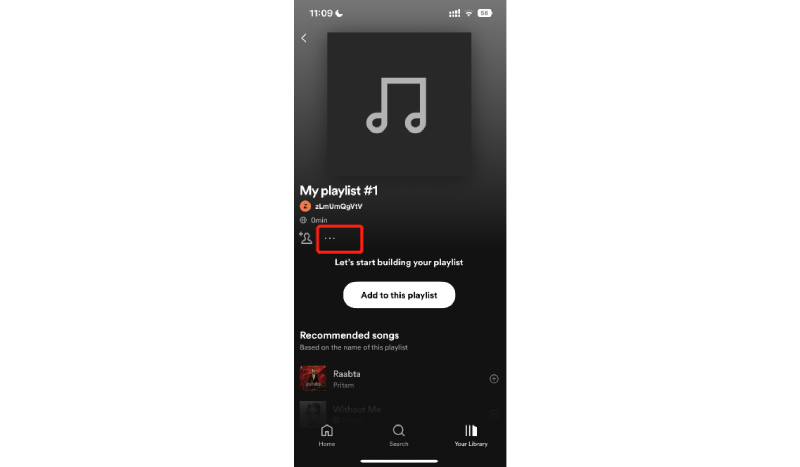 Note: The user interface on a mobile device is slightly different for free and premium users. Besides, Free users can create playlists, but they can only play them in shuffle mode. Premium users can play their playlists in any order and can also download them for offline listening.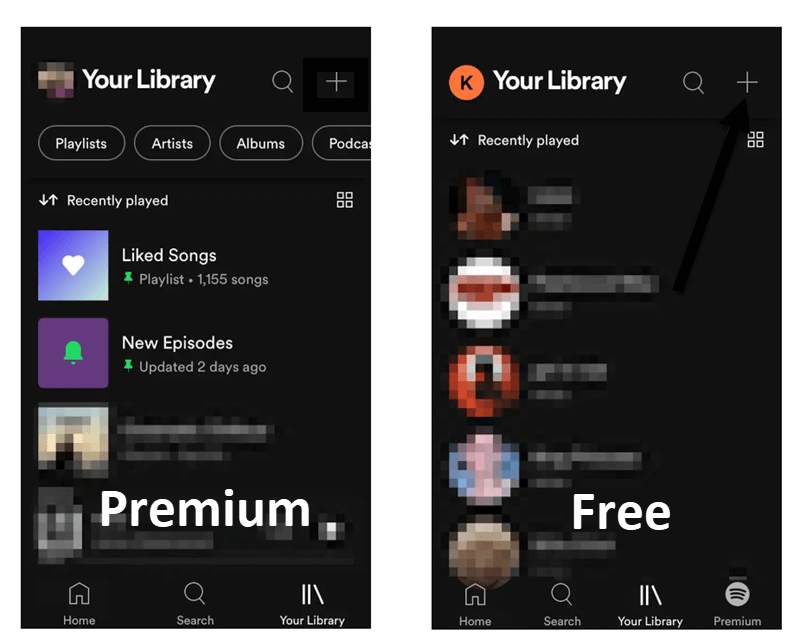 Extension: How to Download Playlists on Spotify
Having covered the basics of playlist creation earlier, it's reasonable to assume that most users are well-versed in the process. However, as users gain more experience with the app, they may come to realize that those with free accounts are not granted access to downloads. Even premium users are only permitted to temporarily cache songs within the app, without the option to permanently save them.
Thankfully, TuneFab Spotify Music Converter offers a remedy to this issue. It can help both free and premium users convert Spotify playlists to MP3, M4A, WAV, and FLAC formats with lossless quality. Therefore, you can keep them forever and easily share, edit or transfer them. Besides, with the built-in web player, TuneFab supports 35X speed, with which you can even download Spotify playlists in one click.
Learn how to download Spotify playlist to mp3 using TuneFab Spotify Music Converter with this step-by-step guide now.
Step 1. Get TuneFab Spotify Music Converter Started
Download and install TuneFab Spotify Music Converter on your computer. Then click the "LOG IN" icon on the upper right corner to sign in with your Spotify account.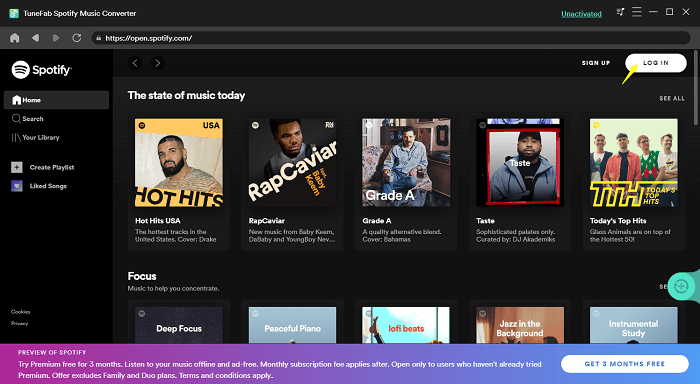 Step 2. Add Your Desired Spotify Songs to the List for Conversion
Search for the desired songs or navigate to your playlist. Once located, drag them to the green bubble plugin located on the right side of the converter.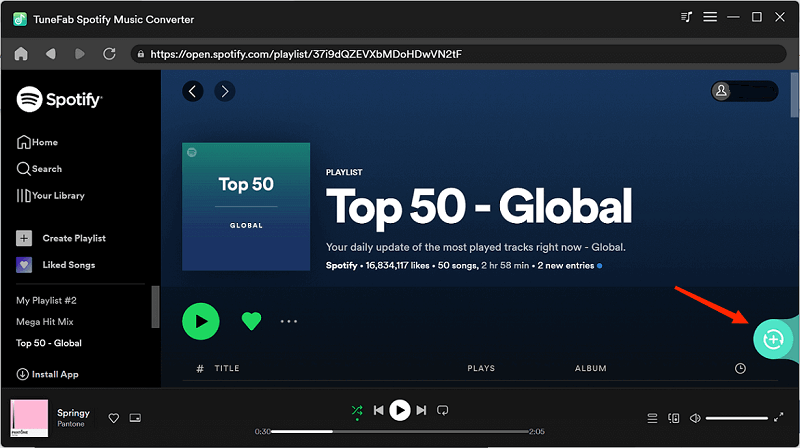 Step 3. Select the Output Format for Your Chosen Songs
Simply tick the boxes next to the songs you want to convert and navigate to the "Convert all files to" option. From there, choose your desired audio format, including MP3, M4A, FLAC, or WAV.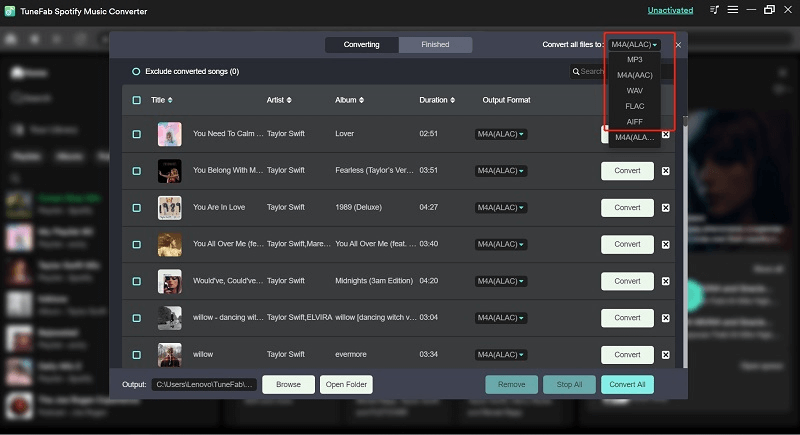 Step 4. Complete the Conversion Process for All Selected Spotify Tracks
Once the conversion process is complete, head to the "Finished" section and select "View Output Files" to access your converted MP3/M4A/FLAC/WAV tracks.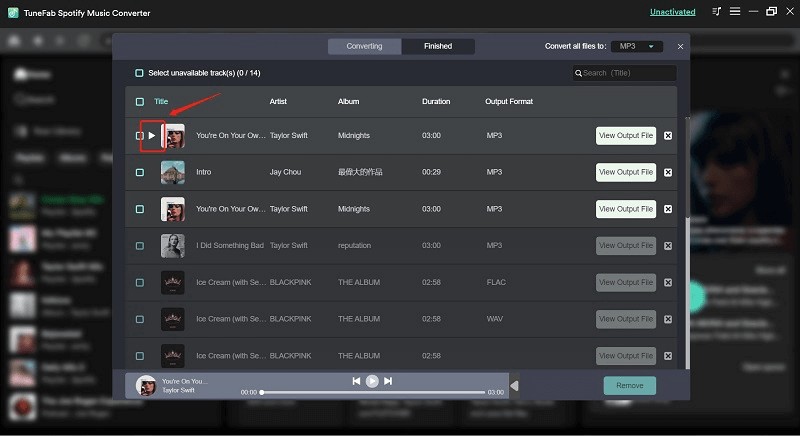 FAQs About Making a Playlist on Spotify
Can You Create a Playlist on Spotify for Free?
Yes, as of 2023, there are no restrictions on the number of playlists you can create, regardless of your account type.
How Many Playlists Can You Have on Spotify?
For Spotify's free users, there is no limit to the number of playlists they can create, but each playlist is limited to a maximum of 10,000 tracks. Only Spotify's premium users can create an unlimited number of playlists and have no limit to the number of tracks per playlist.
Conclusion
Now that you know how to make a Spotify playlist on your PC and mobile device, you can create your own personalized music collection. And if you want to download your playlists to MP3, TuneFab Spotify Music Converter is a great tool to use. With these tips and tricks, you'll be a Spotify playlist pro in no time!
Was this information helpful?
TrustScore 1.7 | 3