"I have already downloaded the music from Spotify. However, when I play the downloaded music out of the Spotify app, they are unplayable. Is there any way to extract music from Spotify? "
Spotify offers 2 kinds of music services, Free and Premium for music addicts. However, neither Spotify Free nor Spotify Premium can extract music from Spotify simply because of encrypted DRM protection. But it is not the main purpose for us to write this post.
If you want to escape from Spotify streaming and extract your created Spotify library just as the original, a Spotify Music extractor is essential. In this post, the best Spotify Music converter will be shared with you. It will be extremely helpful in extracting Spotify songs, tracks, and albums to MP3 format. Read and see how to make it.
Content
How to Extract MP3 from Spotify on Windows/Mac
TuneFab Spotify Music Converter is an extractor for Spotify that is accessible to extract music from Spotify. Not only can it help you to rip music from Spotify to MP3, but it can also rip Spotify to M4A, WAV, FLAC, AIFF, and ALAC. This powerful music converter has the ability to get rid of Spotify copy protection so that the extracted audio can be playable on various devices. Better yet, it offers you a 35X faster conversion speed to batch extract MP3 from Spotify with the original output quality (up to 320kbps).
🥛 Features of TuneFab Spotify Music Converter
• Extract music from Spotify Music at 35X faster speed, covering Spotify tracks, Spotify playlists, and albums.
• Output Spotify songs to 100% lossless quality with adjustable bitrates and sample rates features.
• Free from the problem of missing music info, such as ID tags and Metadata.
• Better Spotify music management by classifying your downloaded music files.
• Various music formats are accessible, such as MP3, M4A, FLAC, WAV, AIFF, AAC, and ALAC.
• Easy to use and batch conversion supported.
Designed with a built-in Spotify web player, TuneFab Spotify Music Converter provides you with an initiative interface, enabling you to extract Spotify music as MP3 files effortlessly. You first need to download and install this program with the download button above on your Windows or Mac. Then follow the steps below to learn how to get MP3 files from Spotify for offline listening without device limitation.
Step 1. Add Songs/Playlist to TuneFab Spotify Music Converter
Once you get the program installed, you can click "Open the Spotify web player" and log into your Spotify account. Then this extractor will access your Spotify playlists, you can select the songs or playlists you want, and drag and drop them to the "Add" button.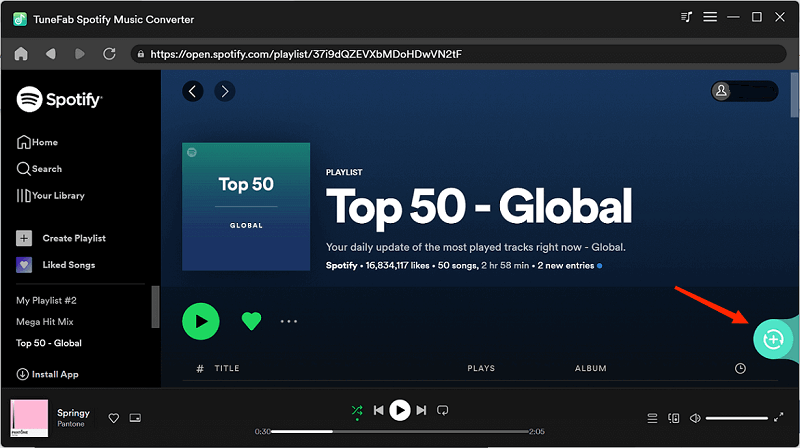 Step 2. Choose Output Settings
When all songs are displayed on the interface, you can choose the output formats flexibly by clicking the drop-down menu right next to each song title. Both Windows and Mac users are able to select the output formats from MP3, M4A, FLAC, WAV, AIFF, AAC, and ALAC.
After choosing the output formats, then you can hit the Convert All button from the bottom right to activate the whole conversion. Of course, you can also choose to extract and convert a specific Spotify track to test the software performance and output effect.
🐵 Note:
If you have multiple songs to extract and want to classify them into different folders, you can use TuneFab's music classification feature in the General window.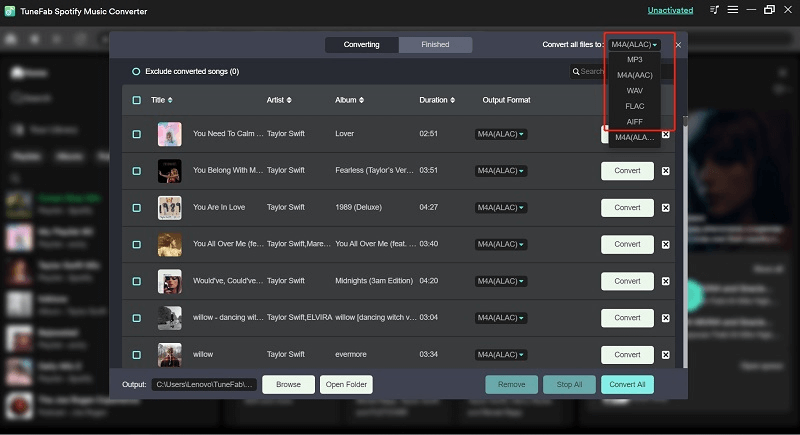 Step 3. Extract Spotify Songs to MP3
After starting the conversion, TuneFab will convert and download Spotify songs at 35X faster speed. You can also control the process by stopping and restarting it.
When the entire conversion is done, switch to the Finished tab, and then you can see all the converted music listed orderly.
To find where the downloaded Spotify songs go on your PC, you can click the "View Output Folder" to locate the Spotify downloads on your computer.
Watch a video tutorial to have a clear and visual understanding of how to extract music from Spotify to MP3 files:
How to Extract Downloaded Songs from Spotify on Android/iPhone
Once you extract Spotify music on your PC using TuneFab Spotify Music Converter, you can then transfer the MP3 downloads from your computer to your phone. Follow the guide below to move extracted MP3 Spotify songs from the computer to the Android/iPhone
On Android:
Step 1. Plug your Android device into your computer using a USB cable.
Step 2. On your Android device, use a file manager app on your Android device to create a new folder where you want to store the music.
Step 3. On your computer, open the folder where you saved the MP3 files that were extracted using TuneFab Spotify Music Converter.
Step 4. Copy the MP3 files from the folder on your computer, then open the folder you created on your Android device using the file manager and paste the copied MP3 files into the folder on your Android device.
Step 5. Safely eject or disconnect your Android device from your computer. Then open the music player app or any file manager app on your Android device to access and play the transferred MP3 files.
On iPhone:
Step 1. Use a USB cable to connect your iPhone to your computer.
Step 2. If you're on a PC, open iTunes. For Mac users, open Finder and locate your connected iPhone under the "Locations" or "Devices" section.
Step 3. In iTunes (PC) or Finder (Mac), find and select the "Music" tab related to your connected iPhone. Choose "Sync Music > Selected playlists, artists, albums, and genres."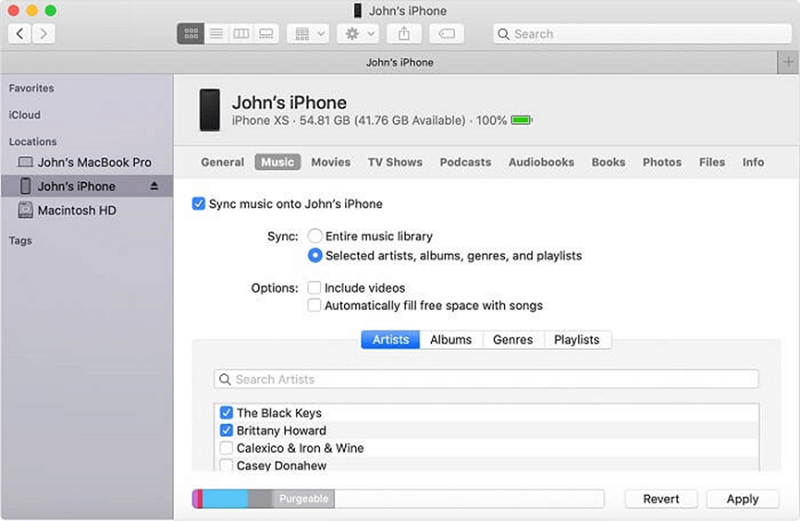 Step 4. Choose the songs you want to transfer to your iPhone from the extracted MP3 files obtained through TuneFab.
Step 5. Once you've selected the desired songs, click on the "Sync" button. This action will transfer the chosen tracks from your computer to your iPhone.
Step 6. After syncing is complete, disconnect your iPhone from the computer. Open the Music app on your iPhone to access and play the transferred songs.
Conclusion
With TuneFab Spotify Music Converter, you can effortlessly extract music from Spotify to MP3. Once you get the MP3 files from Spotify, you can choose to keep the downloads on your local PC forever, or you can transfer them to your Android/iPhone, or any compatible devices as you like.
Was this information helpful?
TrustScore 2.5 | 22