Spotify music is incredible except for the ads playing at intervals. However hard Spotify free users have done, the only way to get rid of the ads on Spotify is only to pay a monthly bill for the Spotify Premium. Hence, how to block ads on Spotify without Premium is increasingly vital for all Spotify free users. And that is why we write this post here.
In this article, we have collected and are going to share 5 effective ways with you all to get rid of ads on Spotify without Premium by yourself. And now, let's start with the first part of the tools for getting rid of Spotify ads.
CONTENTS
Solution 1. Remove Spotify Ads Without Premium by Spotify Music Downloader
The first method introduced here is converting Spotify music to local files which can permanently block Spotify ads without Premium. In this way, you can either listen to Spotify offline without premium or play the songs on any other music player. With an excellent Spotify music downloader, you can convert songs with their original ID3 tags preserved, and these local songs can be read by Spotify of the title, artist, and even the album. After the conversion, you can.
TuneFab Spotify Music Converter is the ultimate software that can download and convert Spotify music, audio podcasts, albums or playlists to MP3, M4A, FLAC, WAV, AIFF, AAC, and ALAC with few clicks. The ads will be removed at the time of converting and then you can even upload Spotify music to iTunes, Google Play Music, etc. for listening. Also, the function of customizing music parameters is available, like bit rate, sample rate as you like. Below is how to Get Rid of Ads on Spotify in 4 steps.
Step 1. Download and Run TuneFab Spotify Music Converter
Choose the corresponding version and then click the Download Button to get TuneFab Spotify Music Converter downloaded. Following the whole installation of the TuneFab Spotify Music Converter and then you will catch sight of the main interface of TuneFab Spotify Music Converter.
Step 2. Open A Spotify Playlist for Analysis
Login the Spotify account in the built-in web player, then you can either drag the song you want to the green plus plugin on the side or directly click on the plugin from a playlist/album/artist/audio podcast page, then TuneFab Spotify Music Converter will analyze them for your conversion.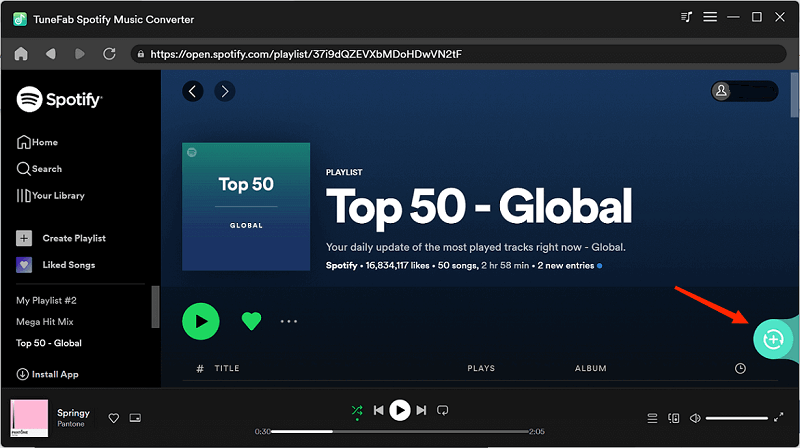 Step 3. Select the Music Parameters for Your Ads Free Spotify Music
For File Format, please go to the "Preferences"; "Advanced" to select the music parameters, like file formats, bitrate, sample rate and etc. There are various music file formats to choose and they are MP3, M4A, FLAC, WAV, AIFF, AAC, and ALAC.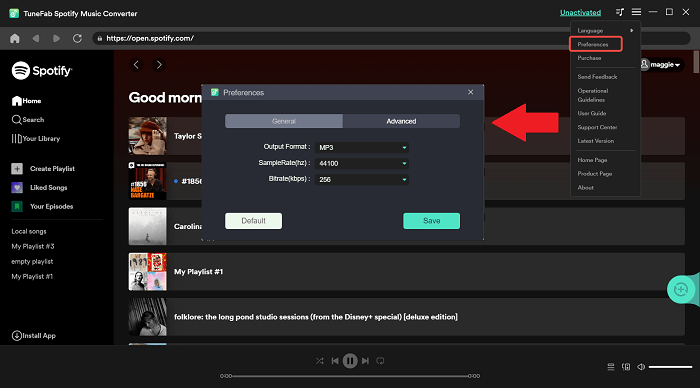 For File Folder, please click on the "Options" > "General", then you can preset the converted audio file title, and categorize the output files according to playlists, artists, albums, etc. You can let it be if you want to set the file folder as default.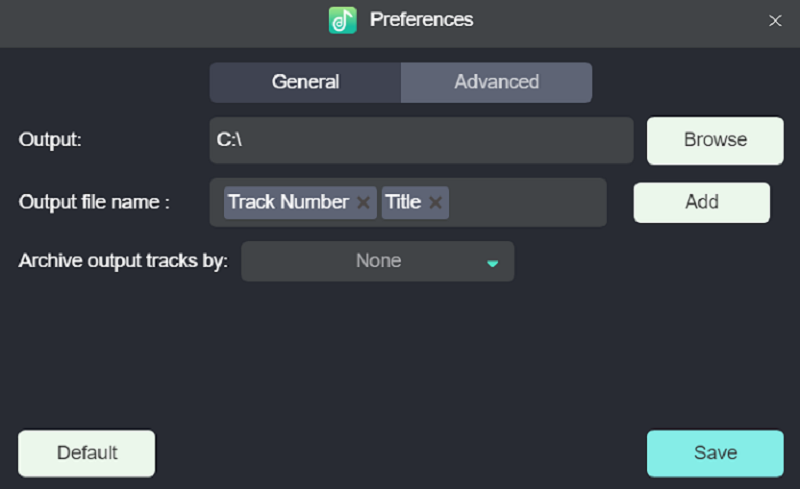 Step 4. Click Convert to Get Ads Free Spotify Music
When you have set all the parameters, you can move on to this step. Just click on the "Convert All" or "Convert X Items" button then you can download Spotify music for free After they are done the conversion, you can click the "Play" button to stream songs directly within the conversion page, and enjoy the local output folder on Spotify with Ads Free mode. If you prefer to listen to Spotify ads free on your phone, just transfer them to your phone and get them associated with the app.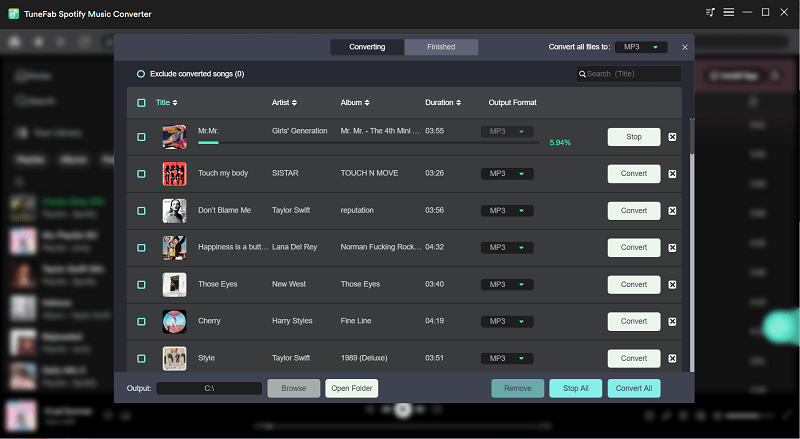 Pros:
• It's easy to use and free.

• It offers 35X faster converting speed to convert Spotify music to MP3 within seconds.

• You can even play Spotify songs on other players like iTunes or other devices like iPod.

• It can permanently block ads from Spotify on your computer Spotify app or phone app.

• You can get Spotify premium offline mode free.
Cons:
• You need to download your songs and keep them stored on your device.
Solution 2. Use Spotify Ad Blocker to Block Spotify Ads on Computers
If you are not a big fan of preserving songs on your computer or your phone, here's another workaround to listen to Spotify without ads – Using a Spotify ad blocker, such as SpotiAds. This is a simple way but can only be applied to the Spotify web player on computers.
SpotiAds is a more convenient Spotify ads blocker. It is a Chrome extension that can get your web-based Spotify ad free. This ad blocker is totally free and directly works after you install it without any further operation.
Here's how to block ads on Spotify using the SpotiAds ad blocker.
Step 1. Open Chrome web store on Chrome on your computer.
Step 2. Search for SpotiAds from the search box.
Step 3. Click the ad blocker from the search result.
Step 4. Click "Add to Chrome" and then you can directly listen to Spotify on the web player with no ads.
Prps:
Cons:
• Can't work for Spotify apps on desktop or mobile phones.

• It's possible to get your Spotify account banned.
Note:
In addition to SpotiAds, there are several workarounds. For example, EZBlocker, a free and simple-to-use program, is built specifically to help users stream Spotify without ads. It runs in the background and mutes ads on the Spotify desktop app to help users enjoy ads-free Spotify Music.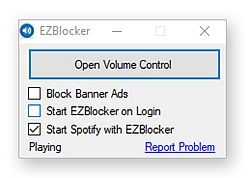 Solution 3. Connect A Proxy Server to Get Spotify Ads Free
Developed by some developers, lots of tools or applications, like a proxy switchers are available for Spotify free users to enjoy ads free without Premium in connecting to the proxy server way. Act like the services on your computer, it allows Spotify free users to get the ads free music on the Spotify app.
Range from free to paid version, you need to get the tool that met your need. For your reference, we will introduce the way that we tested and worked on blocking ads on Spotify without Premium. Here, we recommend the Elite Proxy Switcher, which is free but useable to block ads on Spotify without premium.
Why can users get rid of ads by proxy switcher? Because a proxy switcher allows you to connect proxy servers, which is act as a computer that connects your desktop/laptop to another computer network service. In other words, you could be sitting in a country where Spotify hasn't launched yet and using tools to connect a proxy server you could still run Spotify.
Following is the step-by-step guide on how to avoid ads on Spotify with proxy change.
Step 1. Download Elite Proxy Switcher.
Elite Proxy Switcher is a free program that allows you to change the Proxy Settings with one click. Click the link on the right side, to get the Elite Proxy Switcher downloaded.
Step 2. Install and Run Elite Proxy Switcher
With several minutes, you can finish the downloading task of the Proxy Switcher on your PC. Just following the whole installation to get the Elite Proxy Switcher installed on your PC. And then click to run it.
Step 3. Copy and Paste the Proxy List into Elite Proxy Switcher
Having successfully launched the Elite Proxy Switcher, you might have noticed that the main interface of Elite Proxy Switcher is blank. How can you switch the IP address and port and then get Spotify Music without ads?
Here is the Free Proxy List that you can use and import to Elite Proxy Switcher. We highly recommend testing the IP address and port on the Elite Proxy Switcher first, due to the list is free to use.
When you have chosen your Proxy list, then copy it. Go to the Main interface of Elite Proxy Switcher, there is a "+" button, click to the button and then you can see the pop-up windows, then you paste the Proxy list and the Port to the Switcher. Double-click to the list that you have just successfully added, then you can go to the Spotify Music app to listen to Spotify without ads. If you don't want to use the Proxy Switcher, then please don't forget to switch the proxy back to the original state.
Pros:
• You can directly listen to music on Spotify without ads.
Cons:
• You need to install a proxy Switcher.

• It's hard to surf the Internet and you need to change the proxy repeatedly.

• It only works for Spotify desktop app or web player on computers.
Solution 4. Change Computer Host File to Enjoy Spotify Without Ads
You can also hack the hosts file to remove ads from Spotify on your PC. It's totally free and you don't need to install anything on your computer. All you need to do is add a loopback address with the list of Spotify ad links to the hosts and refresh the DNS cache. However, as there will be more and more ads on Spotify, you'll need to repeat changing the hosts file whenever you find ads showing.
This is an advanced method because changing the hosts may cause some errors in your computer. But if you want to give it a shot, here's how to play ad-free Spotify with it(don't run your Spotify app when changing the hosts
For Windows
Step 1. Open the folders "Windows > System32 > drivers > etc" on the C drive on your computer in turn.
Step 2. Right-click on the hosts file and choose to open it with Notepad.
Step 3. After opening the hosts, add the entries at the bottom, save the file and the Spotify ad servers are blocked.
Step 4. Type "CMD" with the search tool from the taskbar. Right-click on the "Command Prompt" and run it as an administrator.
Step 5. Type "ipconfig /flushdns" and press Enter. Restart your computer and you can enjoy Spotify with no ads without premium.
For Mac
Step 1. On the Finder, click "Go > Utilities" and double click on Terminal.
Step 2. Type "sudo nano /etc/hosts" and hit enter.
Step 3. Type your password and enter.
Step 4. Add the hosts address at the end of the hosts file and save it.
Step 5. Right-click on Spotify and hit "Open Package Contents". Go to "Contents > Resources > Apps" and delete the file "ad.spa".
Pros:
Cons:
• It's not keeping Spotify ad free permanently.

• It's may cause computer ability issues.

• The Spotify app may crash after this.
Solution 5. Get Rid of Spotify Ads by Using A VPN
In addition to the above methods, you can also use a VPN to remove ads. NordVPN is not only a powerful VPN service, but also it can help users get rid of Spotify Ads with its CyberSec feature. This feature can serve as a built-in ad blocker to protect users from intrusive and unwanted ads, and disable specific website trackers. This ad-blocking feature is available on all NordVPN apps and browsers such as Chrome, Safari, Edge, and Firefox.
However, it has also been the subject of some controversy over slow speeds and dropped connections. Besides, it can't get rid of all the ads.
Here's how to avoid ads on Spotify with NordVPN:
Step 1. Download NordVPN from the official website and install it on your device.
Step 2. Once installed, launch the NordVPN app and sign in to your account.
Step 3. Enable ad blocking or Threat Protection.
Step 4. Open the Spotify app and start playing music. You can now listen to music without any ads.
Pros:
• Easy to use

• Blocks ads, trackers, and malware

• It has no effect on your internet connection
Cons:
• Not all ads can be blocked

• It has effect on your internet connection
FAQs on Blocking Ads on Spotify
Why Is Spotify Playing Ads After Every Song?
Spotify relies on advertisements as its primary source of revenue since it offers free music streaming service to more than 350 million users worldwide. The vast user base attracts numerous advertisers, making it an attractive platform for marketing.
The decision to play ads after every song is influenced by several factors:
• Generating Revenue: Spotify is a free service, thus it has to make money through advertising. The more ads that Spotify plays, the more revenue it generates.

• Promoting Spotify Premium: Its annoying ads are their means of getting free users to be able to upgrade to Premium on their own accord. The more ads that Spotify plays, the more likely they will upgrade to Premium.

• Targeted Advertising: Spotify leverages the data it gathers from user listening habits to deliver more relevant and personalized ads. By tailoring advertisements to match users' interests, Spotify enhances the effectiveness of its ad campaigns, which in turn attracts more advertisers willing to pay for targeted exposure.
How Often Does Spotify Play Ads?
For free users, adverts on Spotify last two to three minutes per hour. These audio advertisements are played at intervals of 5 or 6 songs, for about 15 to 30 seconds.
Luckily, you will enjoy 30 minutes of ad-free music after that. However, in order to get 30 minutes of ad-free music, you must keep the video ad in focus and not navigate to another app, browser, etc.
How to Block Spotify Ads Without Premium on Mobile?
If you prefer listening to Spotify on a mobile phone, StopAd will be a great option to remove Spotify ads.
StopAd is a free and easy-to-use ad blocker designed to block ads, banners, pop-ups, and other forms of online advertising. It also works on multiple browsers, including Chrome, Firefox, Edge, and Opera, which means you can use StopAd in your browser without installing the app on mobile.
Here are steps to block Spotify ads using StopAd:
1. First, download and install it on your mobile phone.
2. Enable it and navigate to Settings.
3. Hit Applications > Search App to open Spotify.
4. Tap on the checkbox then click on the Add to filtering
Conclusion
Overall, if you mind the subscription fee, and want to get rid of ads without Premium, there are several ways to block ads on Spotify: using a Spotify ad blocker, switching the proxy, changing the host file…… But the most effective and safe way to block Spotify ads forever is using TuneFab Spotify Music Converter to get the songs offline. Most importantly, play them as local files on Spotify, and save them permanently.
Was this information helpful?
TrustScore 2.5 | 104