As one of the most popular online music streaming services around the world, Spotify is highly favored by a massive amount of consumers who like to stream music online. It's pretty fantastic while playing Spotify's high-quality music normally at home or at work. But what if you can enjoy Spotify in your car on the road? Isn't it cool? For those who try to play Spotify Music inside the car, this post is going to introduce 6 skills for you.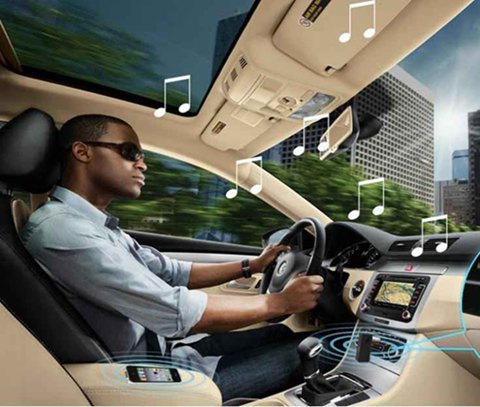 CONTENTS
Part 1. Stream Spotify in Your Car via Bluetooth
The key to play Spotify tracks in the car is to find a way to make Spotify hook up to the car. Today, the majority of car stereos have a built-in Bluetooth function. Therefore, users are able to stream Spotify in the car via Bluetooth since Spotify is also compatible with Bluetooth car radios. To do so, you just need to pair the device with the car stereo easily through Bluetooth.
Steps to Play Spotify in the Car via Bluetooth:
* Enable Bluetooth on your portable devices (smartphones, computer or tablet) and your car stereo.
* Select to link to your car stereo Bluetooth in the Bluetooth settings of your smartphone.
* After connected, open Spotify in your smartphone and then start playing Spotify songs in your car.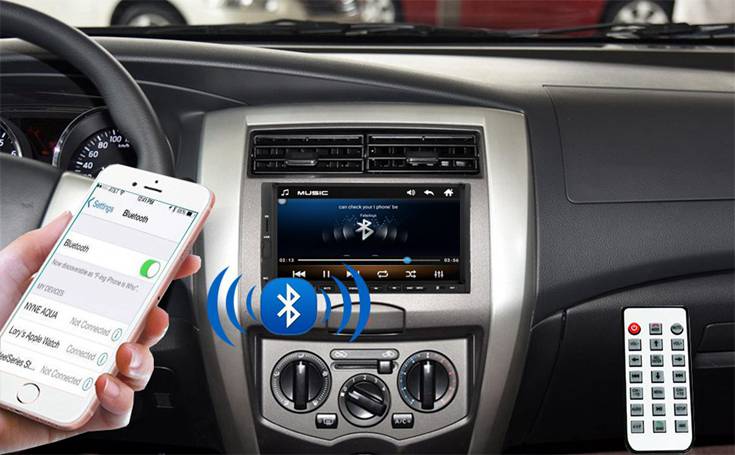 Part 2. Link Spotify to the Car through USB or AUX-IN Port
If your car is not Bluetooth-enabled, don't worry and Spotify can still be played if the car has a USB or AUX-IN port. It's the easiest method to link your car to Spotify. All you need is use a USB cable and connect it to the USB or AUX-IN port of the car with your smartphone (make sure the cable you select is compatible).
Note:
#1. If you play Spotify songs via USB port in your car, you are allowed to select Spotify tracks from your car's control panel.
#2. If you stream Spotify through AUX-IN port, it can only let you adjust the volume via the control panel. You have to skip forward or replay the Spotify songs on your smartphone.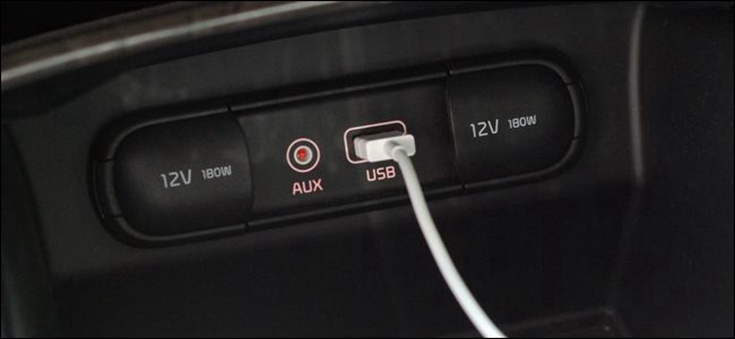 Part 3. Spotify on CarPlay
If you are using iPhone, streaming Spotify with Apple CarPlay in your car is a good choice. Apple CarPlay can easily connect iPhone to car system for playing music, and Spotify is well compatible with this function. With CarPlay, the car radio is enabled to be a display or a controller for iPhone music playing.
Steps to Play Spotify on CarPlay:
* Check if you've launched Spotify on your iPhone.
* Connect your iPhones through USB to a CarPlay enabled stereo.
* If Spotify is running, then the car stereo will keep playing Spotify tracks automatically. Otherwise, open and run Spotify on the car stereo with Siri.
Note:
#1. Apple CarPlay is only available on all iPhone 5 and later with at least iOS 7.1;
#2. CarPlay function is available on 2014 or later aftermarket car stereos.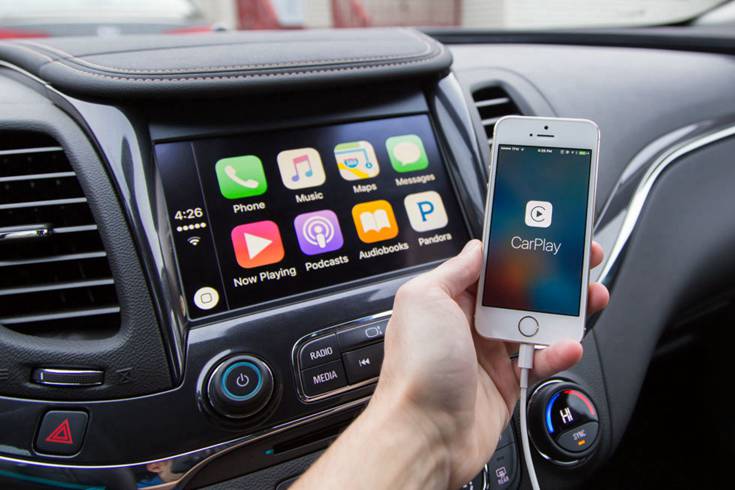 Part 4. Spotify on Android Auto
Playing Spotify on CarPlay is available only for users who have iPhones. Thus, for android phone users, streaming Spotify in cars via Android Auto would be a better choice. Similar to Apple CarPlay, Android Auto is also compatible with Spotify. With a simplified interface and powerful new voice actions, it can help you minimize distraction and stay focused on the road when driving your car.
Steps to Play Spotify on Android Auto:
* Log into your Spotify app to your Android phone.
* Connect your Android phone to an Android Auto compatible stereo.
* If Spotify is already playing, then keep it. Otherwise, run Spotify on your Android Auto available stereo display directly.
Note:
#1. Spotify on Android Auto is available for new vehicles and aftermarket car stereos;
#2. Android Auto requires Android Lollipop, version 5.0, or higher.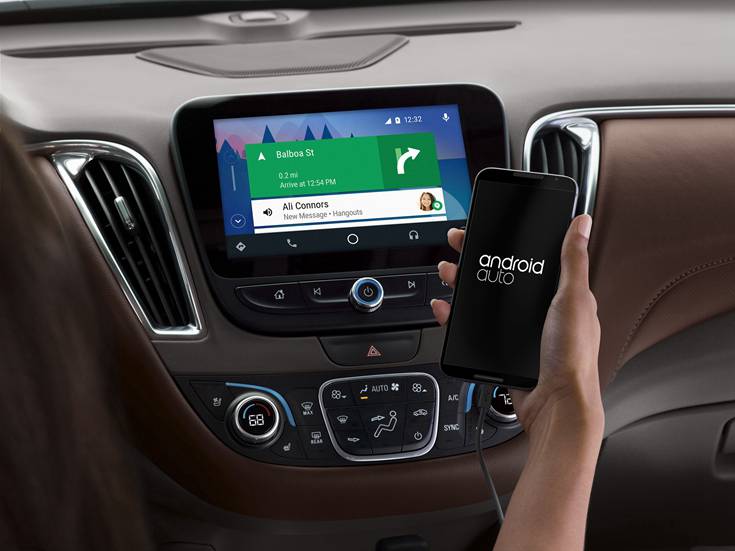 Part 5. Stream Spotify on Parrot
Parrot Asteroid Smart is ultra-complete multimedia entertainment car system designed for safe and enjoyable driving. It has a native Spotify client with which you can play Spotify in the car without using your phone. This car radio has powerful voice recognition.
In order to play Spotify in the car via Parrot, you need to download Spotify program to Parrot car radio first through the ASTEROID Market and log into Spotify with your account. The offline and stored Spotify Music songs will then be played and enjoyed in your car as you like.
Note: To stream Spotify in the car on Parrot, you must subscribe for Spotify Premium.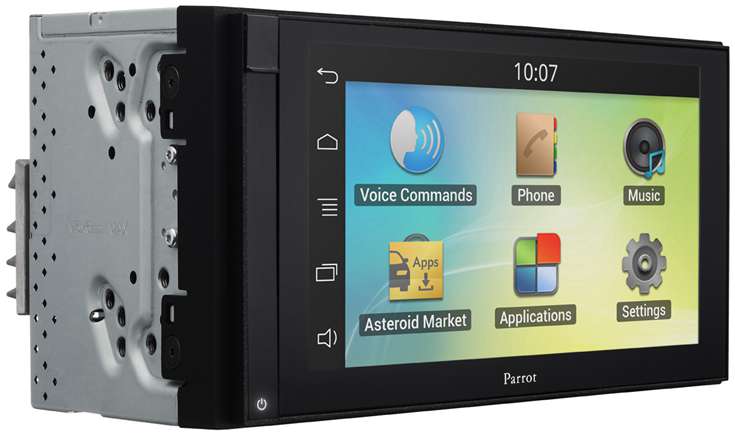 Part 6. Copy Spotify Music to USB Flash Drive
To store Spotify songs to USB flash drive for playing in the car can also be a good choice. But you will find it difficult to move the songs into USB because DRM protection is added to all Spotify songs, which makes the songs only available inside Spotify program. As a result, it's recommended that you should download and transfer DRM-protected Spotify music to DRM-free first and then copy them to USB drive for playing freely in the car.
Here we recommend TuneFab Spotify Music Converter to help you achieve this goal for better playing Spotify songs in the car. It's a professional Spotify Converter, which helps you remove DRM from Spotify songs, download Spotify tracks freely and convert them to common formats like MP3, M4A, WAV, FLAC, etc..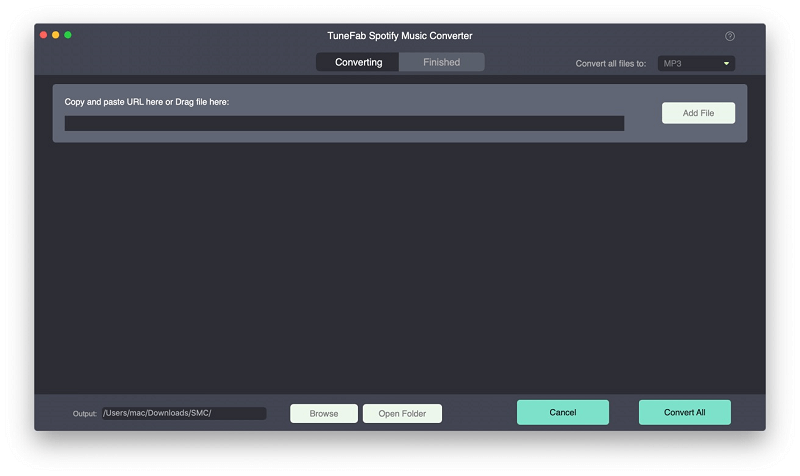 Guides on How to Copy Spotify Music to USB Drive:
Step 1. Download & Installation of TuneFab Spotify Music Converter
Download and install the free trial version of TuneFab Spotify Music Converter by clicking the button below.
Step 2. Add Spotify Songs to TuneFab Spotify Music Converter
After the installation, run TuneFab Spotify Music Converter. Then click "Add Files" to import songs from Spotify. You can directly drag songs, playlists or albums from Spotify program or copy and paste the song link.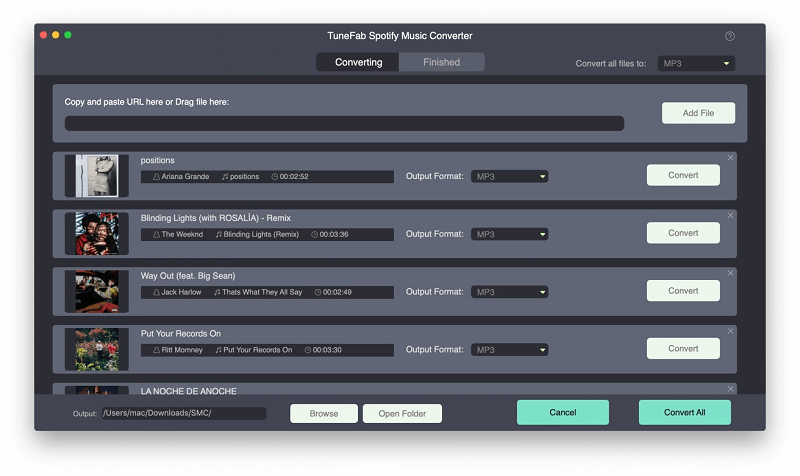 Step 3. Choose Output Formats
Press "Options" > "Advanced" to select the output format (MP3, M4A, WAV, FLAC) for your Spotify songs which is going to be played in your car. Also, you are free to change SampleRate and bitrate before conversion.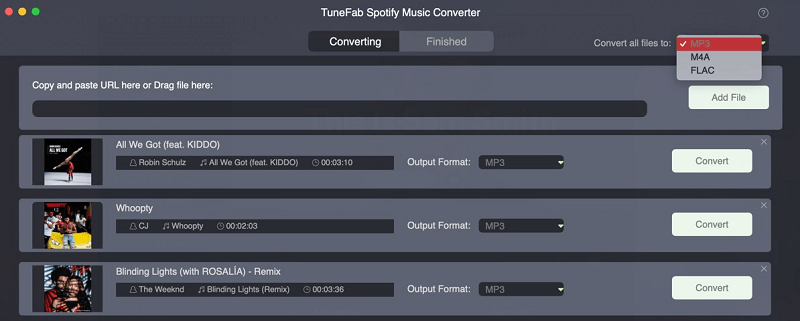 Step 4. Choose USB Files as the Output Folder
Plug in your USB drive to your computer. Then go to "Options" > "General" to select USB files as the output folder.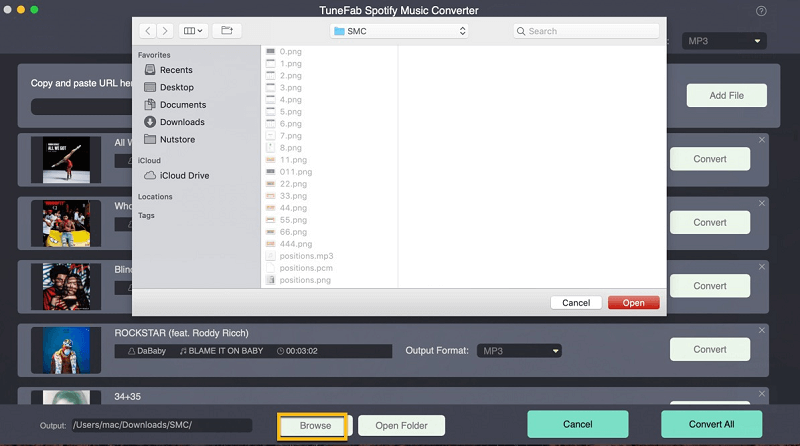 Step 5. Click to Convert
After all the settings, please click "Convert" to start converting the Spotify songs that you want to enjoy in your car for playback to DRM-free files. When the conversion is done, you could get them in your USB flash drive.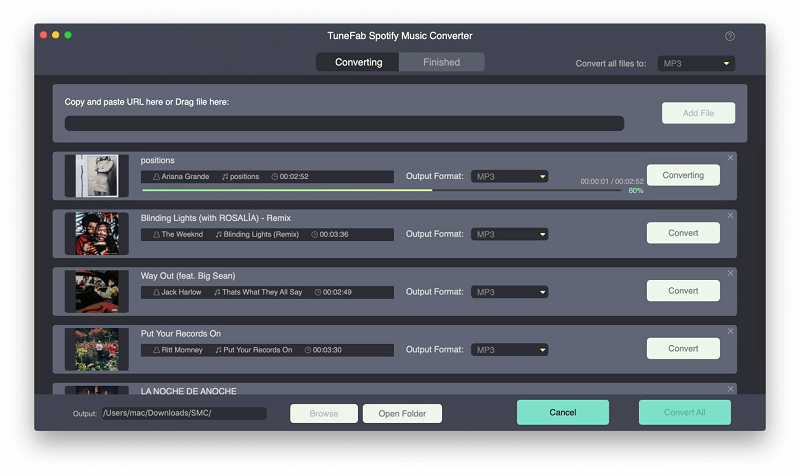 You may like:
Ways to Play Apple Music in the Car
Want to play and enjoy Spotify on the road while driving your car? These 6 skills on how to stream Spotify in your car are introduced above. If you're driving with internet inaccessible, try Bluetooth. If you're a Spotify free user, transferring Spotify music via TuneFab Spotify Music Converter to the USB drive is preferable. In a word, choose one way which is most suitable for you and enjoy the Spotify Music while driving freely!
Was this information helpful?
TrustScore 3.9 | 7