When streaming music has thrived today, you may consider whether you are possible to bring it in car for streaming while on a long road trip. Surely, leading music providers like Spotify have been well-compatible with some car models to deliver a nice music streaming experience in car. In today's blog, the all-around solutions will be provided to help you play Spotify Music in car without any limitation. Want to grasp the fun of playing Spotify while driving? Get started to take a look!
CONTENTS
All 5 Ways to Connect Spotify in Car for Music Streaming
Today, Spotify has been well developed to be compatible with many modern car models, in order to deliver nice music streaming experience for people to enjoy in car. Hence, for cars meeting specific standards, you are able to connect Spotify with them and directly stream Spotify music in cars. Here are the 6 ways to process Spotify connections.
Way 1. Use Spotify Connect
If your car supports the Spotify Connect feature, you are possible to directly use it to connect Spotify with the car and process music streaming from your mobile devices. Here's how to use it:
STEP 1. Open Spotify app on your mobile device and tap any song to start streaming.
STEP 2. Hit the device icon at the bottom of the music playback window.
STEP 3. When Spotify Connect detects your car sound system, select it and the music will be streamed directly.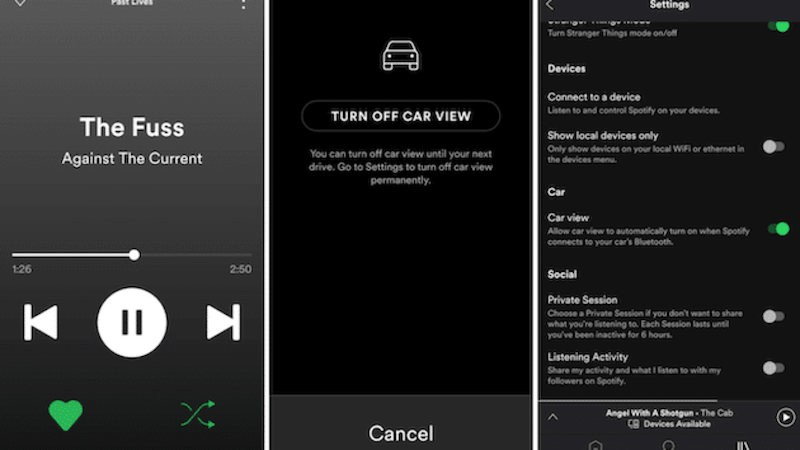 However, not all car models are compatible with Spotify Connect feature. If you find it not possible to directly process the connection through Spotify Connect, move down to the second method.
Way 2. Play Spotify Music in Car via Bluetooth
Today, when many car stereos are equipped with built-in Bluetooth feature, you are actually possible to try playing Spotify in car through this functionality. You are able to pair the stereos with your Bluetooth-enabled mobile devices, laptops, or tablets, then process Spotify music streaming in car without hassle following the steps below:
STEP 1. Turn on the Bluetooth feature on both your portable devices and the car stereo.
STEP 2. Process the device connection.
STEP 3. Once the connection is built, you are able to open Spotify app on your device and play a song. Then the music will be streamed through the car stereo for you to enjoy.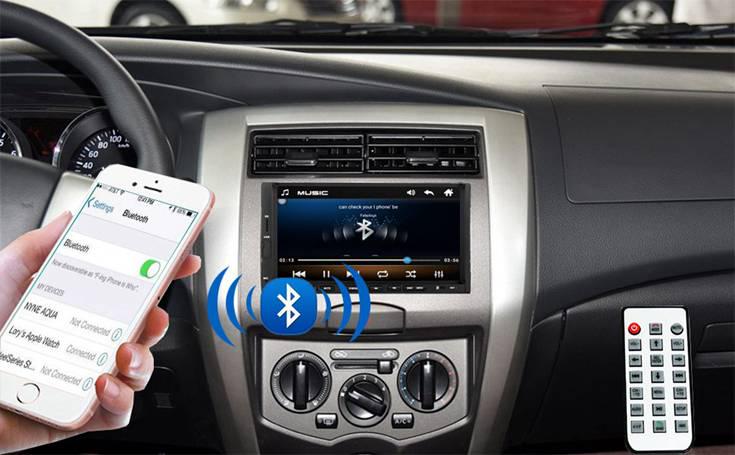 Way 3. Connect Spotify in Car via AUX or USB cable
Using the traditional cable-connection method is another workable idea to play Spotify in car with ease. For the older car models, it is possible for you to connect your portable devices like a mobile phone to the car stereo's control panel via the USB or AUX-IN cable. Once the connection is built, you are able to launch Spotify app and process the music playback in car. If you are connecting via the AUX-IN, you are even possible to control the music streaming volume directly on the control panel of your car stereo, instead of using the device.
Way 4. Use Android Auto to Play Spotify in Car
If you have heard about Android Auto, lucky for you! As Spotify has now been integrated with Android Auto, you are able to play Spotify in car with the Android Auto mode enabled on through Google Assistant. This feature enables you to install the Spotify app directly on the dashboard of the monitor in car, and it helps you to keep eyes on road.
To use Android Auto in car to play Spotify, you only need to log into Spotify app on your Android phone, then use a USB to link your device to the car stereo. Then, directly process the music streaming and the song will be streamed on car radio through Android Auto!
Way 5. Play Spotify in Car Through Apple CarPlay
Like Android Auto, if you are using an iOS device, the Apple CarPlay has provided a convenient way for you to enjoy Spotify on car without hassle.
The CarPlay feature has been embedded to the devices installed with iOS 7.1 or later systems. To use it for streaming Spotify in car, simply turn Siri on, then connect your iPhone to the car through USB (wireless connection is also supported). Then, turn on the CarPlay feature in "Settings" > "General", then you are able to play Spotify songs through the car stereo to enjoy a great music streaming experience.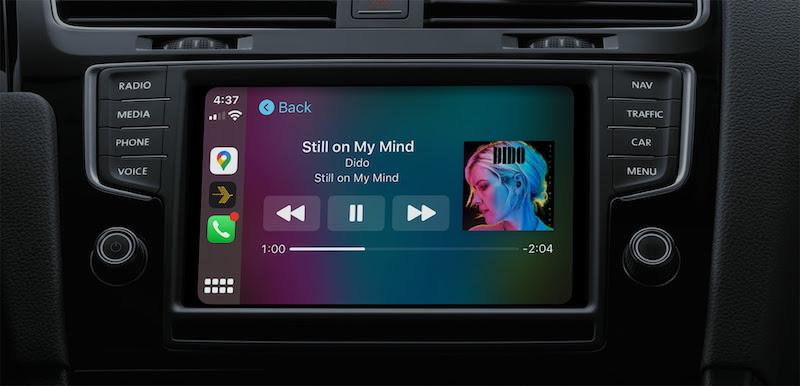 Download Spotify Playlists to Play Spotify in Car Offline
When your cars are not compatible with the above methods to directly play Spotify in car, here provides an ultimate way to do it alternatively! Actually, you are able to download all Spotify songs offline via a powerful Spotify music downloader, TuneFab Spotify Music Converter, then burn the playlists to CD or save Spotify to USB for importing to your car stereo to play locally, even without a network connection.
TuneFab Spotify Music Converter performs with the powerful music download feature, enabling users to easily download Spotify playlists from the official web player to mainstream music files in MP3, M4A, WAV, or FLAC formats. It also delivers personalized settings for you to freely define the output quality and preserve the Spotify downloads in the condition as you desire. With TuneFab Spotify Music Converter, you are able to grasp a nice music streaming experience after getting them to play in car.
Highlighted Features of TuneFab Spotify Music Converter
● Embedded Spotify web player to process music download without Spotify app;
● Compatible with mainstream MP3, M4A, WAV, and FLAC formats to save Spotify downloads;
● Available to transfer the downloaded songs to any device or burn to CD for playing in car conveniently;
● Customized parameter settings for defining the output quality as you need;
● Preservation of full ID3 info for easier music management offline;
● Accelerated conversion speed to complete the batch download for you at 5X or even faster speed.

Now, you are able to follow this brief guide to grasp the way to play Spotify in car via the help of TuneFab Spotify Music Converter:
STEP 1. Launch TuneFab Spotify Music Converter and hit the "Open the Spotify web player" icon provided on the welcome page.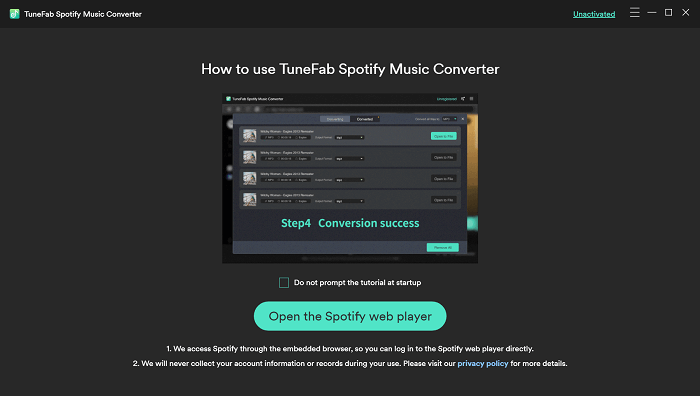 STEP 2. After opening the main interface of the built-in Spotify web player, tap the "Log in" icon on the upper-right corner to log in via your Spotify account.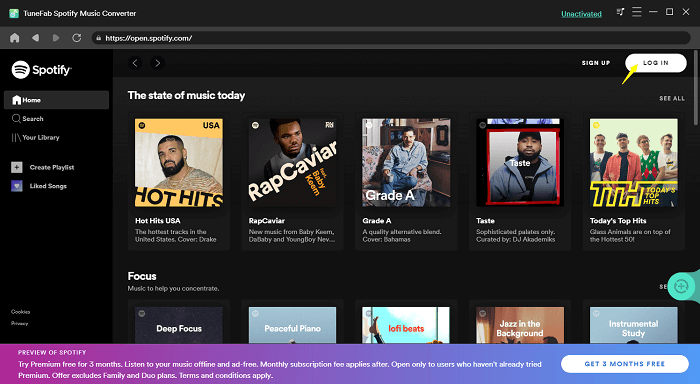 STEP 3. Search for the Spotify playlist you desire to play in car, then drag to the "+" icon to import to the conversion queue.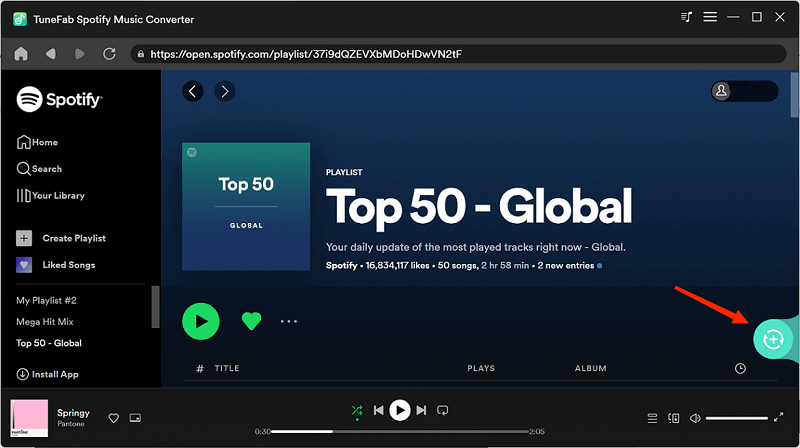 STEP 4. Now, select an output format to press the Spotify downloads. To further customize the parameters, navigate to "Menu" > "Preferences" > "Advanced" to adjust the sample rate as well as bitrate as you desire.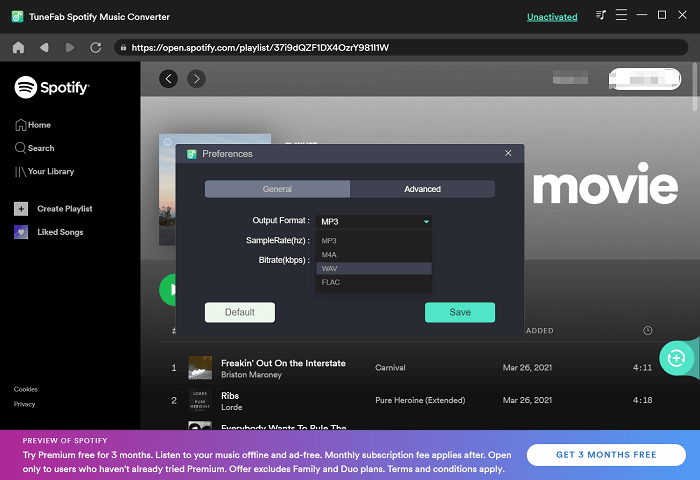 STEP 5. Finally, submit downloading the songs by hitting the "Convert All" icon and just wait for the download to complete within a moment.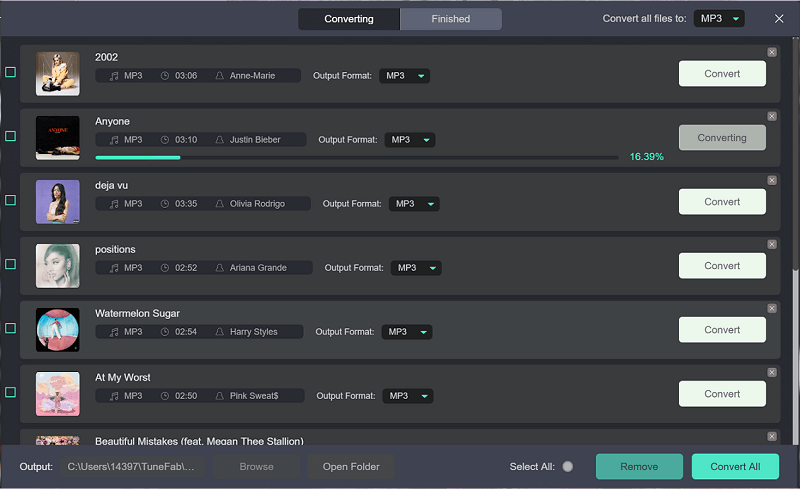 STEP 6. Once accessing Spotify downloads, use a USB drive to save them, or you are able to burn the Spotify songs to a blank CD. After that, you can carry them to insert into your car stereo to play while on a road trip!
To play Spotify in car, it is not a difficult task at all! Based on different situations, you could find the most suitable method to help enjoy the high-quality Spotify music streaming while driving without hassle. Now, simply grasp the method that works for you and enjoy your favorite Spotify tracks in car conveniently!
Was this information helpful?
TrustScore 3.4 | 11