Many people get audiobooks from Audible, but do you know that you can also get audiobooks on iTunes? The price of the same audiobook on iTunes seems to be lower than that on Audible. However, just like audiobooks on Audible, iTunes audiobooks are DRM-protected as well, because Apple uses its proprietary M4B container format to store audiobook files.
For Apple fans, this won't cause many hassles because protected M4B files are naturally compatible with Apple devices. But since you've been here, you may consider giving up on Apple devices. Then it is necessary to convert M4B to MP3, otherwise, you may be at risk of losing access to your purchased iTunes audiobooks. No worry. Here are 5 helpful methods to effectively convert M4B audiobooks to MP3. After converting to MP3, your M4B audiobooks will be playable on any device.
CONTENTS
Part 1. How to Convert DRM-Protected M4B to MP3 in 2 Ways
If your M4B audiobooks are DRM-protected, then you can either use an audiobooks converter or use a professional tool to help you remove the DRM encrypted within your audiobooks and then convert them to MP3. Here will show you 2 ways.
Convert Protected M4B to MP3 Easily
Before we show you how to convert M4B to MP3, it is better to know more details on the M4B audiobook format so that you can adjust the encoding settings much more wisely.
What is M4B format?
A file with the M4B file extension is a MPEG-4 Audio Book file. The .M4B extension is specially designed for labeling audiobooks purchased from Apple's iTunes Store. And it is almost identical to the M4A extension because both formats use the MPEG-4 Part 14 container format (commonly known as MP4). The difference is that the M4B format has a bookmarking feature which makes it convenient to find the exact point you were listening to.
When it comes to audio compression, the audio in an M4B file is encoded with the AAC compression format. Also, before Jan. 6th, 2009, much similar to other media content purchased from iTunes, the M4B audiobooks are protected with Apple's FairPlay DRM copy protection system. Therefore, if you want to convert DRM-protected M4B audiobooks, remind to find a converter that is capable of removing iTunes audiobook DRM as well as converting M4B to MP3.
There are so many iTunes M4B to MP3 converters available, perhaps you are getting lost in finding the viable one to convert iTunes audiobooks. To save you more time and energy, we highly recommend you try TuneFab iTunes Music Converter.
TuneFab iTunes Music Converter is a dedicated app that is able to remove DRM from iTunes and Audible audiobooks and then convert them to MP3, M4A, etc. 8 audio formats. Apart from converting iTunes M4B audiobooks, this converter also supports converting Apple Music, protected iTunes M4V videos, podcasts, and iTunes-purchased songs to a more compatible audio file. Also, the conversion speed can be up to 5X faster speed while preserving the original sound quality. Besides, all chapter information and ID3 tags will be kept in the resultant file as well.
Key Features of TuneFab iTunes Music Converter
● Convert iTunes M4B to MP3, M4A, AAC, FLAC, WAV, and other popular formats.
● Support converting almost everything in your iTunes: iTunes M4B audiobooks, iTunes songs, audible books, podcasts, music videos, M4V videos, and more.
● Efficiently convert the contents from iTunes at up to 5 faster speeds in batch.
● Flexibly customize the output parameters, like Bitrate, Sample Rate, and the Output Folder.
● Keep the chapters and ID3 tags of the converted audiobooks with high quality.

How to convert M4B to MP3 with TuneFab iTunes Music Converter
Follow the steps below to see how to convert M4B to MP3 with TuneFab iTunes Music Converter. Even for non-techies, it's easy to operate.
STEP 1. Both Mac and Windows support this audiobook converter. Just download and install the M4B to MP3 converter on your computer.
STEP 2. Launch both the converter and iTunes. Then TuneFab iTunes Music Converter will automatically sync the library from iTunes. You just need to add M4B files by clicking on the "Audiobooks" tab from the sidebar of the main interface. Choose the audiobook you want to convert and tick the checkbox.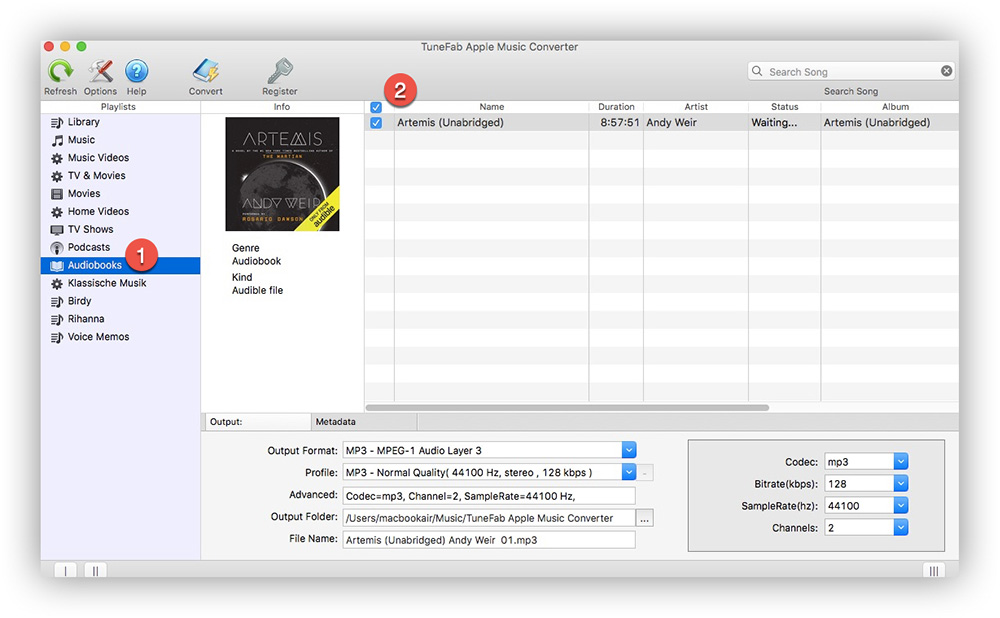 STEP 3. From the below of the main window, click on the "Output " tab then click the drop-down menu to select MP3 as the output format for your iTunes audiobooks.
The preset codec uses 44.1 kHz and a bit rate of 128 Kbps for 2 channels. You may change the settings according to your preferences. But we don't recommend you to set the bit rate beyond 128 Kbps because spoken word just doesn't have that much complexity in the audio. And it will be just a waste of disk space to use this setting for conversion.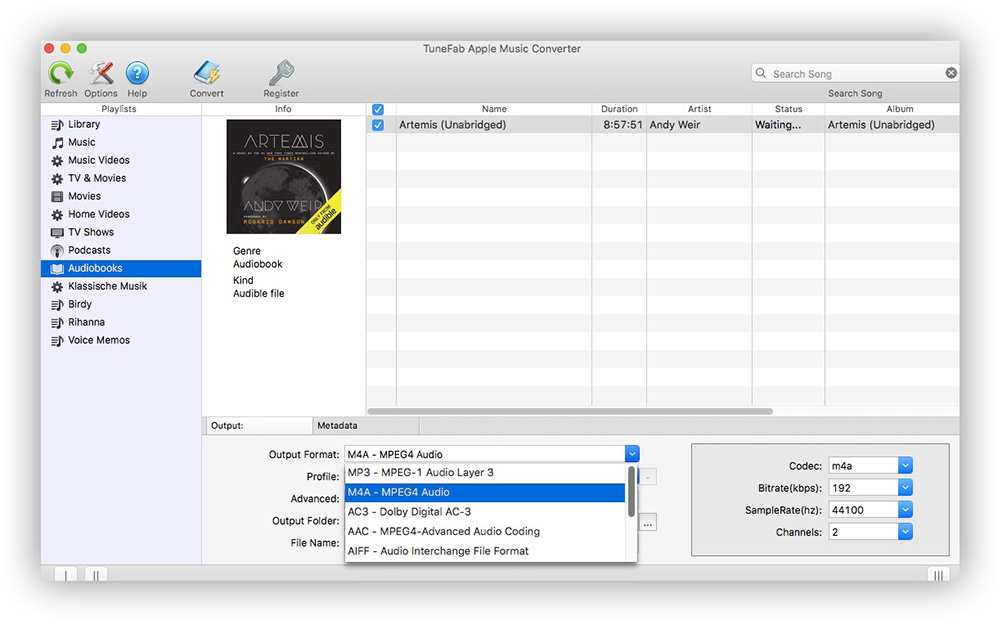 STEP 4. After adjusting all the settings, click "Convert" to start converting iTunes M4B to MP3. You need to wait for a while until the M4B files are all converted. And the converted MP3 audiobooks will be classified into Music so you may manually sort it into Audiobooks.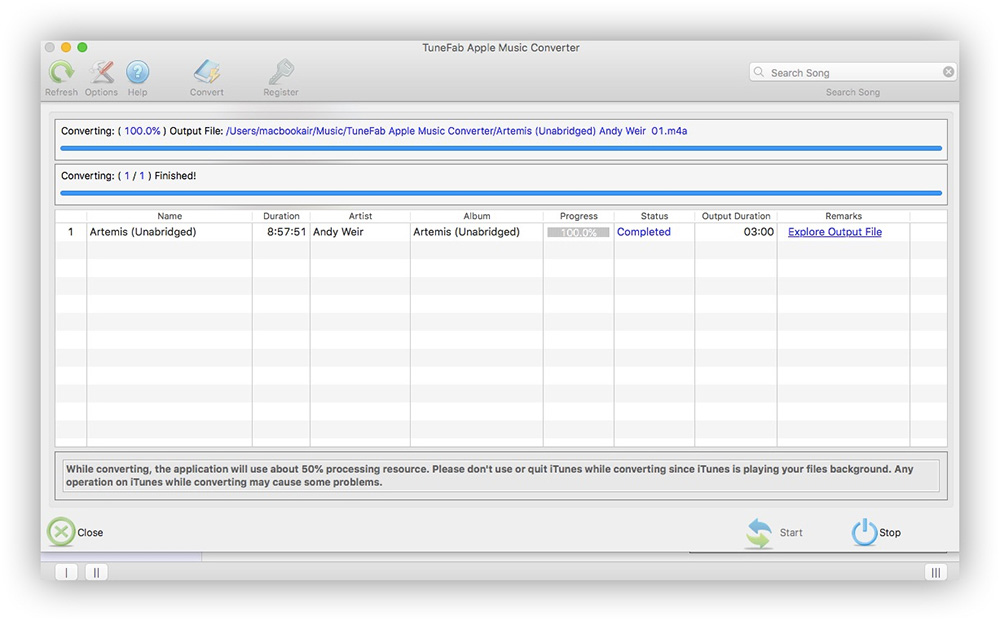 Note: If you want to save chapter information when converting M4B to MP3, the MP3 format might not be appropriate. You'd better choose the M4A format which can store chapters. And your large audiobook can be split up into chapters just like a physical book.
M4A vs M4B
When you choose to convert M4B to M4A, you may wonder if there is any difference between M4B and M4A. Technically speaking, M4B is virtually the same as M4A. M4B is just for convenience to let iTunes or Apple apps recognize that audio content is an audiobook. Compared to M4B, M4A has better compatibility provided that many third-party apps actually cannot smoothly play M4B files.
For a detailed comparison, you may visit this article: M4A VS M4B: What's the Difference?
Convert Protected M4B in a Tech-Savvy Means
When it comes to media conversion, FFmpeg is a feasible method that techies should not miss out on. It's a cross-platform tool for you to record, convert, and even stream audio and video. You can use it to convert the protected iTunes M4B audiobooks by decoding them. But it can be an arduous task for newbies to add FFmpeg to Windows PC. If you aren't a professional and technical person, you'd better use other easy-operating tools, like TuneFab iTunes Music Converter, to convert iTunes M4B audiobooks to MP3.
STEP 1. Head over to FFmpeg's official site to download the current stable build. Extract the contents from the zip file and rename the extracted folder to "ffmpeg" and install it.
STEP 2. Open the folder where your M4B audiobook is stored.
STEP 3. In the File Explorer, press Shift and Right-click, then select Open PowerShell here from the menu. Windows 7 and 8 users should choose the Open command prompt here.
STEP 4. In the PowerShell window, execute the FFmpeg command given below.
Don't forget to replace the input.m4b file path with the actual m4b file path and the output.mp3 file path with the actual mp3 destination.
Note: ffmpeg -i "C:\path\to\input.m4b" -acodec libmp3lame -ar 22050 "C:\path\to\output.mp3"
STEP 5. When the conversion is finished, you may find the converted mp3 file in your designated file path. The duration of the conversion process depends on the audio file size, playtime, and the tech specs of your computer.
Part 2. How to Convert DRM-free M4B Audiobooks to MP3 in 3 Ways
On Jan.6th, 2009, Apple announced the removal of DRM from most music and audiobooks. Therefore, if you want to convert these DRM-free iTunes M4B files to MP3, you can also use the following three tools to help you.
NOTE: Of course, you can also use TuneFab iTunes Music Converter, because it can work with both protected and unprotected M4B audiobooks with a more higher quality and efficiency. What's more, it's more easy-operating and supports the features of batch conversion and ID3 tags preservation, which aren't equipped in iTunes and VLC.
Convert M4B Audiobooks to MP3 with iTunes
In fact, iTunes has a built-in converter that can handle the M4B to MP3 conversion. If you've already had iTunes installed on your Windows PC or MAC, then this method should be your top choice to start with.
STEP 1. Launch the iTunes app. Remind that Mac Catalina 10.15 users should turn to the Books app.
STEP 2. Now open the Preferences window.
* On Windows: Click Edit and select Preferences
* On Mac: Click iTunes/Books on the menu bar and choose Preferences.
STEP 3. From the General tab, click on Import Settings… and then you can change the encoding methods.
* For Import Using, select MP3 Encoder from the drop-down menu.
* For Setting, choose Good Quality (128 Kbps), and then click OK to save all the changes.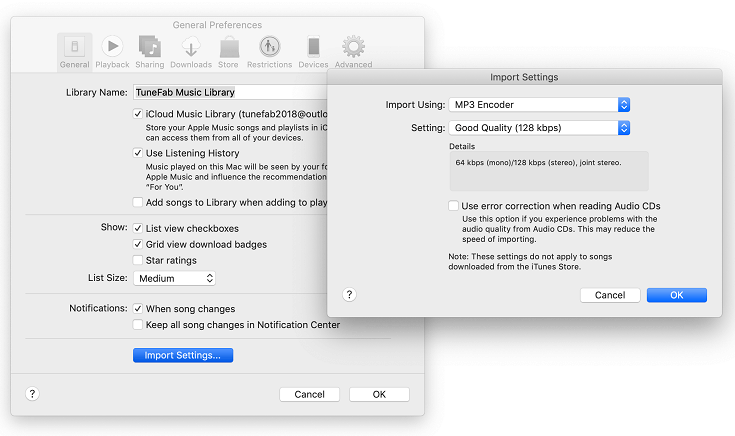 STEP 4. Head back to Books > Audiobooks and select the M4B audiobooks that you want to convert.
STEP 5. Choose File from the menu bar and then select Convert > Create MP3 Version. Now just wait until the audiobooks are converted.
Convert M4B Audiobooks to MP3 with VLC
VLC Media Player is a free, open-source, and cross-platform multimedia player that can play most multimedia files, as well as DVDs, audio CDs, VCDs, and various streaming media protocols. This popular and powerful software also enables you to convert M4B audiobooks. Let's see how it works.
STEP 1. Run VLC Media Player. From the menu bar, select Media > Convert/Save.
STEP 2. From the File tab, click on the Add button and choose your preferred M4B audiobook, and then click on the Convert/Save button to proceed.
STEP 3. A new convert window will open. Then from the Settings section, choose Audio-MP3 from the Profile drop-down menu. You may also customize a preset profile by clicking on the wrench icon.
STEP 4. In the Destination section, click on Browse to choose an output folder. And finally, click Start to get VLC to convert your M4B files.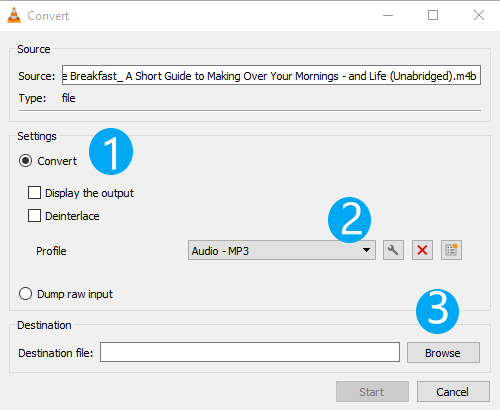 Convert M4B Files to MP3 Free Online
Rather than using desktop software, perhaps you prefer online tools. Certainly, there are a lot of free online converters that are able to convert unprotected M4B files. The following M4B to MP3 online converter - CloudConvert, is one of our favorites. It's an online file converter that supports converting multiple contents, such as audio, video, ebook, audiobook, and so on. It's a relatively secure tool that outputs the converted iTunes M4B audiobooks of high quality.
NOTE: If you find there are some ads or the conversion speed is too slow when using the online tools to convert M4B audiobooks to MP3, then you can try to use a desktop tool, such as TuneFab iTunes Music Converter recommended in part 1, which is mostly ad-free and high-efficiency.
STEP 1. Navigate to CloudConvert. And then click on the Select Files button to choose your iTunes M4B audiobooks.
STEP 2. When your M4B audiobook is uploaded, choose MP3 from the Convert to drop-down menu. Click on the wrench icon, and you may alter the encoding method. This online M4B to MP3 Converter even offers you options to trim your audiobook audio and adjust the volume.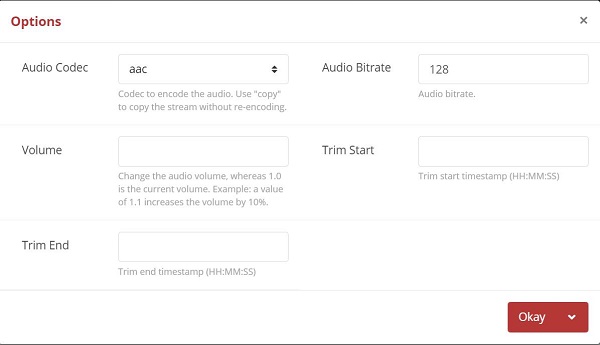 STEP 3. Choose Convert to start the conversion process. When your M4B files are uploaded, wait patiently until the converted files are ready, and then you may download your audiobook in MP3 format.

Note: Other free online converters such as ZamZar, FreeConvert, and AnyConv are also useful tools that you can rely on. Simply drag and drop your M4B audiobook to the upload area, and wait for the conversion completed, these free online tools should not disappoint you.
Part 3. More Readings: Some Audiobook Players Recommended for Android Users
Now you've got several tools for converting M4B audiobooks. Some tools should be helpful for Apple Books' frequent users. Even Android users can take advantage of these M4B to MP3 converters and listen to the converted iTunes audiobooks on their devices.
And compared with the popular Audible, Apple Books is convenient for people who just want a specific audiobook. It allows you to directly purchase an audiobook from its app on different devices. And it doesn't have many confusing membership plans but has regular sales. Therefore, if you haven't tried buying audiobooks on iTunes, just don't miss it.
Besides, you may have several audiobooks in M4B format but you are not about to convert all these audiobooks to MP3 at a time. For Android users, here are some audiobook apps that can directly play M4B files.
Smart AudioBook Player
Smart Audiobook Player is a popular choice for playing M4B audiobooks on Android devices. It provides a good selection of features, including changing playback speed, bookmarking, an audio equalizer, and application widgets for the notification tray and your home screen. For audiobook playback, it smartly saves your progress so you don't have to finish one book to start another. Also, it is an amazing audiobook organizer to classify your audiobook collections much more systematically.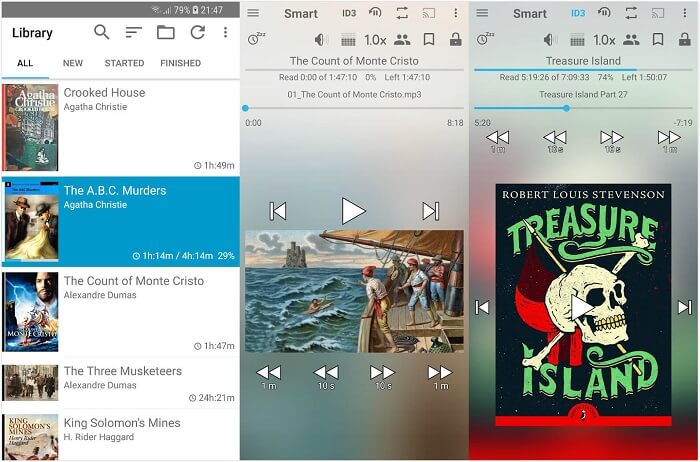 Listen Audiobook Player
Listen Audiobook Player is another useful Android app for playing M4B audiobooks. The helpful pitch control feature lets you change the voice of some narrators. In addition, this user-friendly player can perfectly handle DRM-free audiobooks from sites such as Librivox, Overdrive, and DownPour. Its Folder based library automatically stays in sync with your audiobook folder. Each book should be placed in its own folder. In other words, your books can be organized within subfolders.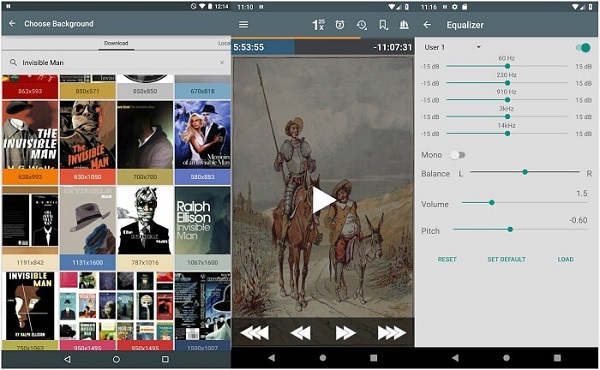 Voice Audiobook Player
If you are not deciding to spend a penny, then Voice Audiobook Player should be an optimum choice. It has a clean and tidy user interface and delivers useful features. Common options like variable playback speed, bookmarks, and a sleep timer are well-functioning. Besides, the free Voice Audiobook Player is open source that can be a flexible tool for techies.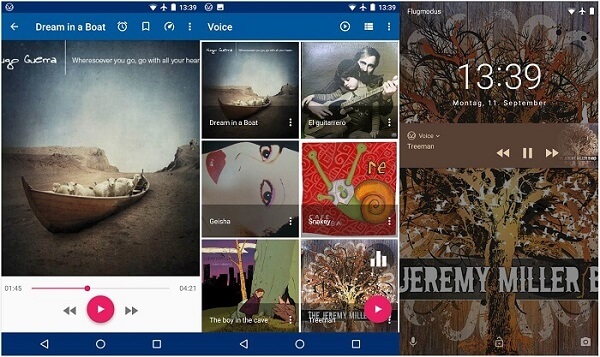 Additional Tips: If you are actually looking for a tool to separate a lengthy M4B/MP3 audiobook, or want to merge audiobook segments into one long file, you can try Audiobook Builder, it is a program that combines audiobook splitter, audio joiner tools, and many other tools for audiobooks.
Summary - Which Method Suits You the Most?
Listening to audiobooks is essentially good in enhancing information retention. When you listen to an audiobook, it immerses you in a different world. And no matter whether you are on a solo road trip or during your daily commute, an audiobook can always be your perfect companion.
Needless to say, after converting your M4B audiobooks to MP3, you can enjoy your audiobook collections on a lot more devices and players. Let's take review of these different ways to convert M4B to MP3.
* Best for converting both protected and unprotected M4B audiobooks with batch conversion and ID3 tag kept: TuneFab iTunes Music Converter
* Powerful command line that gives you more control on audiobooks: FFmpeg
* Helpful Desktop M4B to MP3 converters for DRM-free audiobooks: iTunes and VLC Media Player
* Free Online M4B to MP3 converters for temporary use: CloudConvert, Zamzar, FreeConvert, AnyConv
Hope that helps. If you have other feasible solutions or any idea of audiobook encoding settings you finally settle on, feel free to share them with us.
Was this information helpful?
TrustScore 2.5 | 13