If you are an audiobook lover, you may know that DRM protection makes audiobooks formatted in AAX(AA) format only available on Audible. That means, audiobook playback will fail on devices that are not compatible with Audible, which causes much inconvenience. So if you want to enjoy Audible audiobooks without restrictions, all you need to do is to get a reliable audible converter to convert the AA/AAX audiobooks to MP3 or other common formats for a more flexible playback on various devices.
Then, how do you choose an audible converter? With careful evaluation and assessment of aspects including converting speed, quality of converted files, ease of use, customization options, and so on, this article will show you a list of the 5 best Audible converters.
CONTENTS
Top 1. TuneFab Audible Converter
TuneFab Audible Converter stands out from the rest as it offers you a pleasant user experience in all respects.
It can convert Audible AA/AAX files to MP3, M4A, FLAC, and WAV. The available output options are all frequently-used audio formats for many playback devices. Better still, the output quality is kept virtually the same as the original of your Audible books after conversion. With a fast conversion speed that helps you convert an-hour long audiobook in just a few minutes, the converter saves you much time and efficiency for getting a more applicable file.
In terms of UI design, the converter has a concise and simple interface that won't cost you much effort to get started. Easy operations like dragging and dropping files and batch conversion are available. To help you better manage the converted audiobooks, TuneFab Audible Converter can retain all ID3 metadata info. Then you can easily arrange the books by the author or narrator of the audiobooks.
If you want to reduce file size, you can customize parameters like bitrate to 128 kbps, which can balance file storage. And this operation will not have much impact on your listening experience.
👍 Pros:
● Multiple output formats available (MP3, M4A, FLAC, and WAV)
● A 60X faster speed without taking much time to wait
● Preserve 100% original sound quality
● Clear classification with ID3 tags
● Customization options available
● No need to authorize an Audible account

👎 Cons:
● In the trial version, only 2 Audible audiobooks can be completely converted
💰 Price: $45.99 (Lifetime)
Top 2. Epubor Audible Converter
Epubor Audible Converter is an easy-used Audible converter. If you're looking for a simple program that does not demand much effort, you'll like it. Very similar to the previous TuneFab Audible Converter, it has a concise but informative interface, you will immediately get the point to use it. Batch conversion is supported, as well as drag-and-drop operation.
It provides you with basic functions like easy DRM stripping from your purchased Audible audiobooks. During the DRM protection removal process, it can also convert Audible AA & AAX to mp3 or other compatible formats like M4B. Epubor Audible Converter will meet most of your needs. Epubor Audible Converter will meet most of your needs. Besides, compared to some other Audible converters, it is cheaper.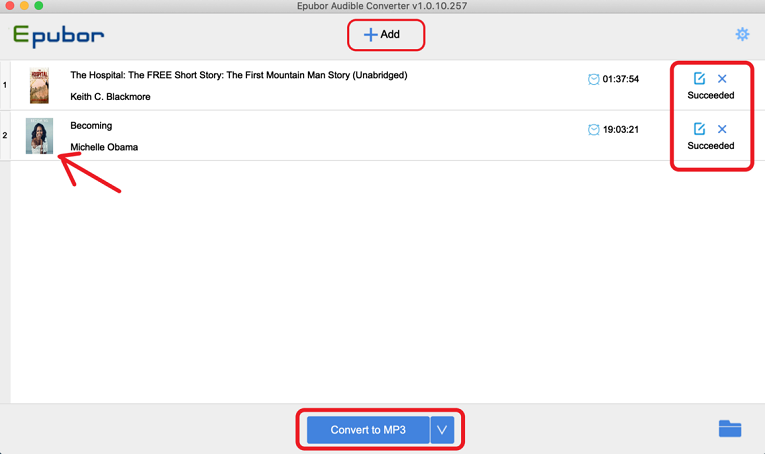 👍 Pros:
● Concise interface and easy operation
● Cover most of the users' needs
● Cheaper than some other Audible converters
● No iTunes or Audible authentication required

👎 Cons:
● Customization unavailable
💰 Price: $29.99 (Lifetime)
Top 3. AudKit Audible Converter
AudKit Audible Converter is a faster Audible audiobook converter that suits users who cannot even tolerate wasting one single second. The conversion speed introduced in the product page reaches 100X, but based on our actual test, it only can reach to 60X that is also very fast. And according to our test, we recommend choosing the M4A format for exporting, which ensures great efficiency.
It also has a very simple and minimalist UI design that makes the whole process understandable for you. ID3 tags will be retained, and you can change the settings such as format, codec, sample rate, and bitrate as you like. Of course, removing DRM and converting AA & AAX to MP3 are the essential features for Audible converters, and AudKit Audible Converter can sure make it.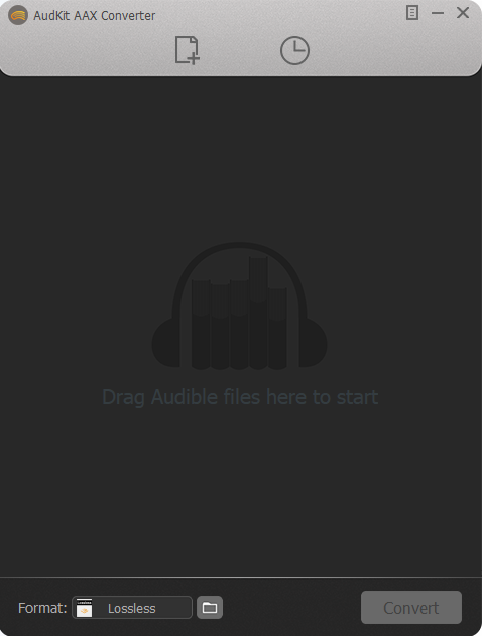 👍 Pros:
● Run at a faster 60X conversion speed
● Basic functions covered
● Customization available
● No need to install iTunes on the computer

👎 Cons:
● Interface a bit outdated
💰 Price: $45.95 (Lifetime)
Top 4. ViWizard Audio Converter
ViWizard Audio Converter is a smart AAX to MP3 converter in the market. It may not be outstanding in many aspects, but it has no obvious shortcomings. Basic functions such as converting Audible AA and AAX to MP3, WAV, and FLAC work just fine that the converted audiobooks can be easily shared and played on many media players. The converter also helps you keep chapters and ID3 tags for flexible playback and file management. But the operation steps are a bit traditional, as the converter needs to work together with iTunes. And you may think it a bit troublesome.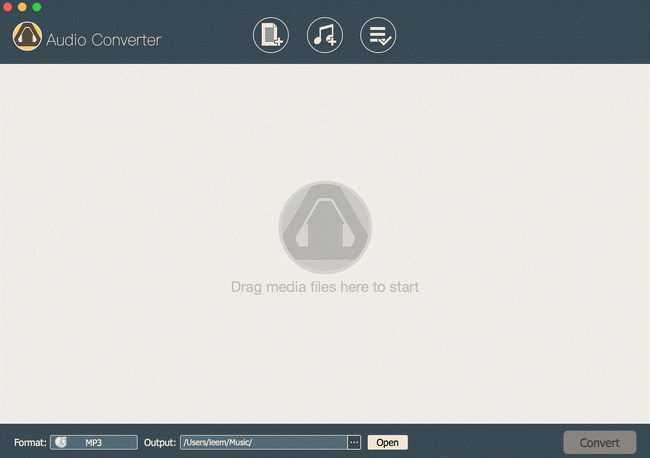 👍 Pros:
● Cover the basic functions to convert audiobooks
● Be available to customize some parameters

👎 Cons:
● Need to work together with iTunes
● A bit slower than some other converters
💰 Price: $49.95 (Lifetime)
Top 5. InAudible Converter
Just as its name suggested, InAudible is a program designed to convert AA & AAX to MP3 for free. Besides removing DRM from Audible audiobooks, InAudible Converter provides output options including MP3, FLAC, WAV, M4B, or other common formats on Windows and Mac computers. It also saves all the metadata and covers the art of the audiobooks after conversion, with the Samplerate up to 44100hz and Bitrate up to 128kbps. To convert audiobooks to mp3 with InAudible, you will need another two software packages (inaudible-NG's tables and FFmpeg).
It needs to be noted that InAudible is not an official program and it doesn't have an official website if you need technical support. And some beginners may consider the operation process is somehow complicated. Due to these reasons, it may not be your first choice even though it costs no extra fee.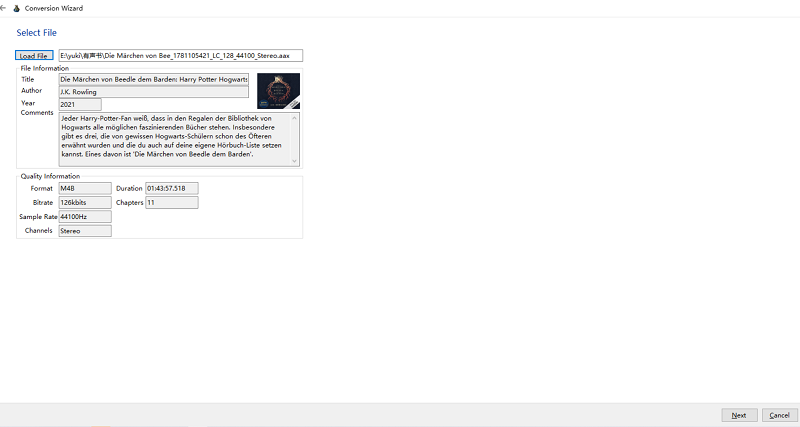 👍 Pros:
● Totally for free
● The conversion speed is relatively fast

👎 Cons:
● Too complicated for non-tech-savvy users
● Not available for downloading and using on other available platforms
💰 Price: Free
Conclusion
After the detailed introduction, here we will offer you a form for a quick check of the features of the 5 converters respectively.
| | | | | | |
| --- | --- | --- | --- | --- | --- |
| | TuneFab Audible Converter | Epubor Audible Converter | AudKit Audible Converter | ViWizard Audio Converter | InAudible Converter |
| Supported OS | Wins & Mac | Wins & Mac | Wins & Mac | Wins & Mac | Wins & Mac |
| Supported Output Format | MP3, M4A, FLAC, and WAV | MP3, M4B | MP3, AAC, M4A, M4B, FLAC, AC3, WMA, WAV, M4R, MKA, OGG, AIFF, etc. | MP3, WAV, and FLAC | MP3, WAV, M4B, and FLAC |
| Conversion Speed | Fast | Fast | Fast | Medium | Medium |
| ID3 Tags & Chapters | Yes | Yes | Yes | Yes | Yes |
| Adjust Parameters | Yes | No | Yes | Yes | Yes (partial) |
| Require iTunes | No | No | No | Yes | No |
| Easy Operation | Yes | Yes | Yes | Yes | No |
| Price | $45.99 (Lifetime) | $29.99 (Lifetime) | $45.95 (Lifetime) | $49.95 (Lifetime) | Free |
The 5 best AAX & AA to MP3 converters can all easily remove DRM. You can decide to use any one of them that meets your expectations. Features of each Audible converter have been displayed above.
For users who want to have the best experience with an Audible converter, TuneFab Audible Converter is perfect for you.

If you are looking for easy operation with basic functions, Epubor Audible Converter can be a reliable choice.

If you think yourself a bit short-tempered, can't go wrong with AudKit Audible Converter. Its fast conversion speed should not let you down.

What if you just want to have a try and wonder how an Audible converter works? You may try ViWizard Audio Converter, an average yet practical Audible converter. Also, make sure iTunes is installed on your computer before using the converter.

Finally, if you have grasped some tech knowledge and want to have in-depth research on the Audible converter, InAudible Converter may be good.
Now just choose a suitable audiobook converter and create an MP3 copy for your favorite Audible books!
Was this information helpful?
TrustScore 4.3 | 9