iTunes is one of the best audiobook players that you can use for free. It allows you to play protected audiobooks from Audible (or iTunes Store), or free audiobooks you find online. If you've collected a bunch of audiobooks from other sources and would like to transfer them to iTunes for enjoyment, this tutorial should be useful to you. It will guide you through the steps to import multiple audiobook files into iTunes so that you can listen to your songs and audiobooks in one place.
CONTENTS
1. Import Audible AAX/AA Audiobook to iTunes
Note: Audible audiobooks are DRM-locked, that's why authorization is required to import or play Audible AA or AAX audiobooks in iTunes. By connecting your Audible account with iTunes, you can sync, download and play Audible audiobook in iTunes directly.
Adding Audible AA/AAX to iTunes on Windows 10:
Step 1. Download Audible app from Microsoft Store, then log into the Audible app with your Audible account.
Step 2. Go to "Library" tab and all your purchased items will appear automatically.
Step 3. Click the "Download" button under the audiobook title to download your audiobook to PC locally.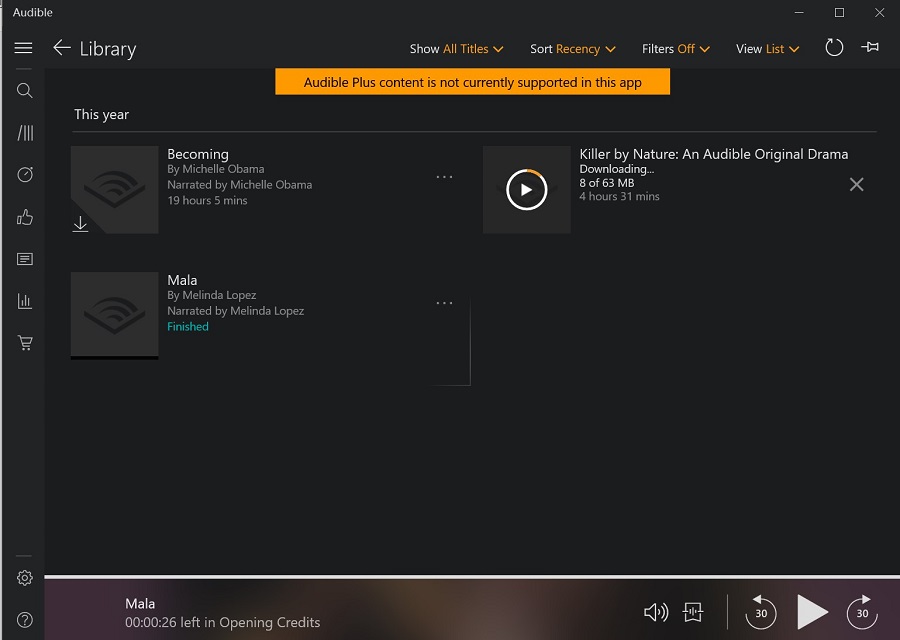 Step 4. When it's done, click "…" button and select "Import to iTunes".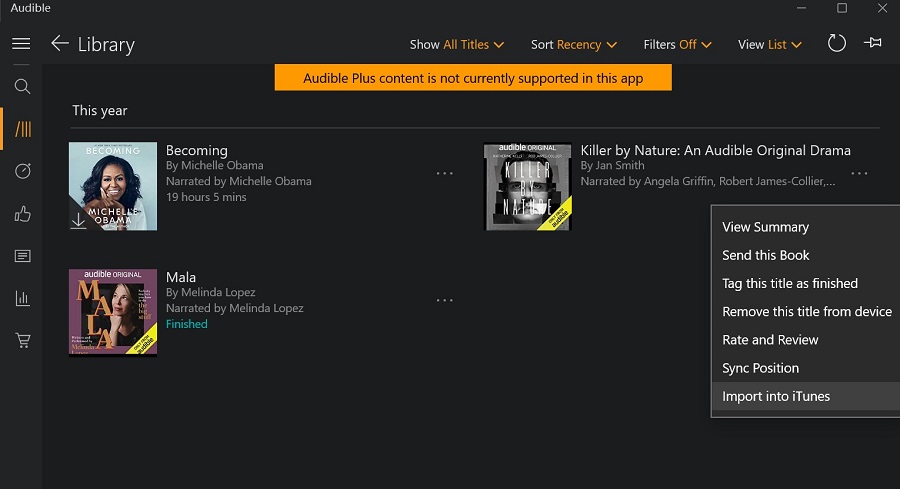 Step 5. iTunes will be launched automatically, and you will see a pop-up window saying "To use the file you must authorize this computer for your Audible account. Would you like to go to Audible's web site now to do this?" Click "Yes" to continue.

Step 6. You will then be directed to Audible's sign in page. Sign in with your Amazon account by entering the email address and password in the appropriate boxes, then click "Sign In" button.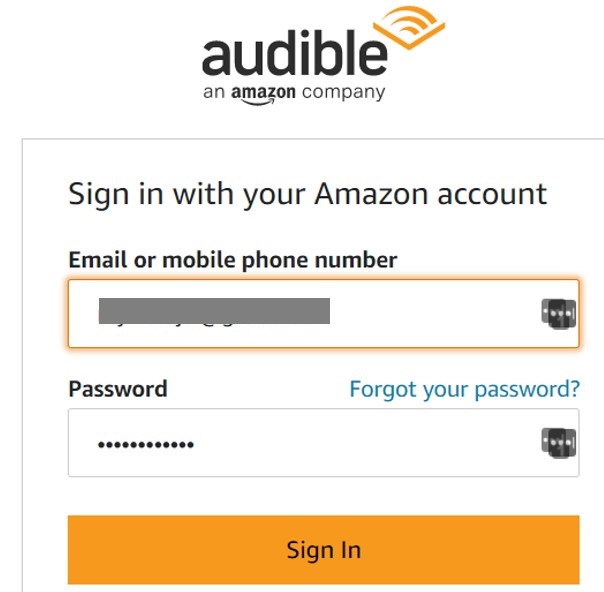 Step 7. Click at "Activate Now" and a new pop-up will show asking for your permission to open iTunes. You can click at "Open iTunes" button.

Now the Audible files should be imported to iTunes successfully, you can find all your audiobooks in Library > Audiobooks. Enjoy listening to your audiobooks on iTunes now!

Adding Audible AA/AAX to iTunes on Mac:
Step 1. Go to Audible official website and log in with your Amazon account. Then go to "Library" to find the audiobook title you want to import to iTunes. Click at the "Download" button at the right side to download the books to your Mac.
Step 2. When the titles have been downloaded successfully, right click at the file and choose "Open with iTunes".

Step 3. To play your Audible purchases in iTunes, you may need to authorize your Mac first. If you see a pop-up windows asking you to authorize your computer with your Audible account, click "Yes" button.
Step 4. Then you can follow the same steps described above (Step 6 and Step 7 of the Windows PC tutorial) to sign into Audible and finish the authorization. After that, your audiobook will be added to iTunes' Audiobooks tab immediately. You can click at the "Play" button to start listening to your Audible books.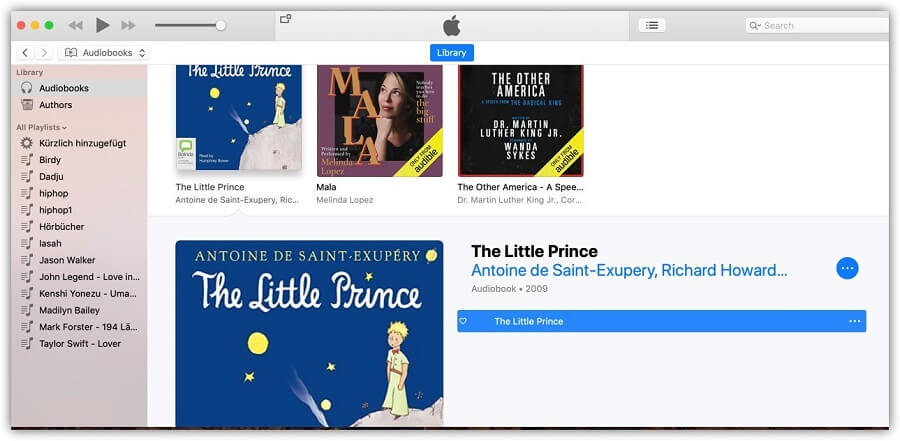 2. Add MP3 Audiobooks to iTunes
It's much easier to import MP3 audiobook to iTunes because MP3 audio file is not DRM-protected, meaning you can easily drag and drop it into iTunes library with no authorization required. But as you may notice that MP3 is a popular audio format mainly used for music files, so iTunes will recognize the MP3 file as music instead of audiobook. After you put the MP3 audiobooks into iTunes, you may need to do the following to sort them into the correct category: Go to "Library" > "Song" and find the MP3 audiobook, right click at it and select "Song Info" > "Options" > "Media Kind" > "Audiobook", then click "OK" to save the changes.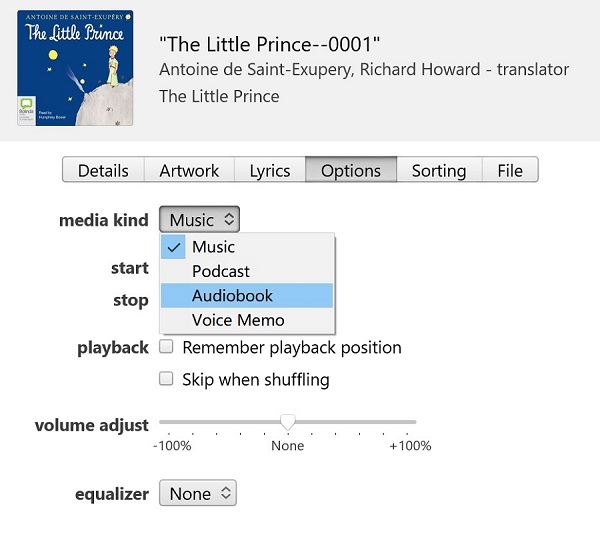 Now select "Audiobook" in the top menu bar, you will see your imported MP3 audiobooks from there.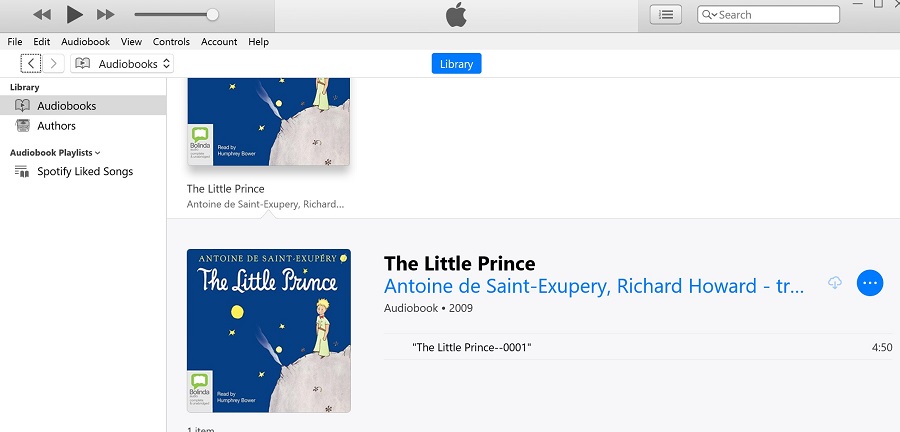 3. Add M4B Audiobooks to iTunes
M4B is an audiobook file format mostly used by iTunes audiobooks. Different from an .m4a audio file, the .m4b extension file can contain audiobook info such as chapter markers, images, hyperlinks, etc. You can open an M4B file with iTunes directly if it is not DRM-encrypted. All the M4B files will be automatically added to iTunes's Audiobook category.
That's all about how to add audiobooks to iTunes. If you are trying to add Audible AAX or AA files, make sure you've authorized your PC or Mac with Audible account in Tunes. For other audiobook files such M4A, MP3 or M4B, you can simply drag and drop them into iTunes for streaming.
Was this information helpful?
TrustScore 1.7 | 3