iTunes Store offers lots of content for users to enjoy, such as music, movies, TV shows, and audiobooks. If you are interested in audiobooks, you can try the iTunes Audiobooks, which are of good quality. Here's everything you need to know about iTunes audiobook, including its format, its compatible devices, and methods to convert iTunes audiobooks.
About iTunes Audiobooks
Audiobook refers to a talking book, which means the recording of a text being read. The production of audiobooks consists of a narrator reading the text while a studio engineer and director record and direct the performance. At present, Audiobooks are distributed into these downloadable digital formats - MP3, WMA, and AAC.
iTunes audiobooks are encoded by AAC, and M4B is one of the most common file extensions of it. To enjoy iTunes audiobooks, you must purchase them on iTunes Store. There are a massive collection of audiobooks on iTunes, and the prices vary differently. For example, Stephen Colbert's remark of the White House Correspondent's Dinner costs $1.95, while Hemingway's A Farewell to Arms goes for $25.95.
iTunes audiobooks are sorted by the type of the audiobooks and authors' names. To search for an audiobook, you just need to click on the proper classification and then the authors' first name, then you can find the audiobooks. iTunes audiobooks are also embedded with bookmarks and chapter information, which can help users listen according to their progress in a much more convenient way.
What is M4B Format?
As mentioned above, the common format of iTunes audiobooks is M4B. The M4B file extension also uses the MPEG-4 Part 14 container format. Also, iTunes M4B audiobooks are also encoded in AAC format. What differentiates iTunes audiobooks is that they are protected by FairPlay DRM encryption, a DRM technology developed by Apple Inc. With DRM protection, the locked files cannot be recognized or be played on other unauthorized devices. There are also some DRM-free M4B audiobooks on the Internet. But if you purchase audiobooks from the iTunes store, they are DRM-ed. Therefore, if you want to enjoy iTunes M4B Audiobooks on other devices or media players, you have to remove DRM from it and convert the format of M4B into MP3.
How to Convert iTunes M4B Audiobooks to MP3 Format
To convert iTunes M4B Audiobooks to MP3 format, you need a third-party tool. TuneFab Audiobook Converter can do a pretty good job on DRM removal and format conversion. Not only your iTunes audiobooks but Audible books can be converted to a DRM-free audio format. After converting iTunes M4B audiobooks to MP3 format, which can help them be recognized by a majority of MP3 players. Then you can enjoy iTunes M4B Audiobooks whenever you want.
• Convert Audible AA to MP3 Converter at ease;
• Enjoy DRM-free Audiobooks on MP3 Player;
• Efficient conversion speed and high-quality output files;
• Comfortable conversion experience with all original info fully preserved;
Note: TuneFab Audiobook Converter will help to keep the chapter information (only for M4A, MP3 format).
The guidance is shown below:
Step 1. Launch TuneFab and Import iTunes Audiobooks
Download and launch TuneFab Audiobook Converter. Besides, the converter provides a free trial. Both Windows and Mac support this helpful audiobook converter. Then, you need to import the iTunes Audiobooks to TuneFab Audiobook Converter and click on the "Refresh" button on TuneFab's main interface.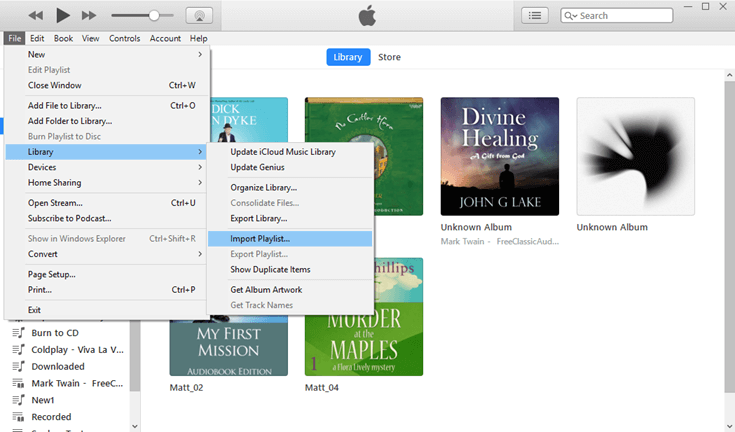 Step 2. Find your audiobooks lists and select them
When you run TuneFab Audiobook Converter, the program will connect with your iTunes and catch the lists of audiobooks you have added. Find them in "Audiobooks" from the "Playlists" sidebar, and tick those you want to convert.
Step 3. Choose MP3 as output format
In the "Output Settings" section, you can preset the output format for your target audiobooks. Here we can choose MP3 as the output format. Also, you can select a particular output folder to save the converted audiobooks.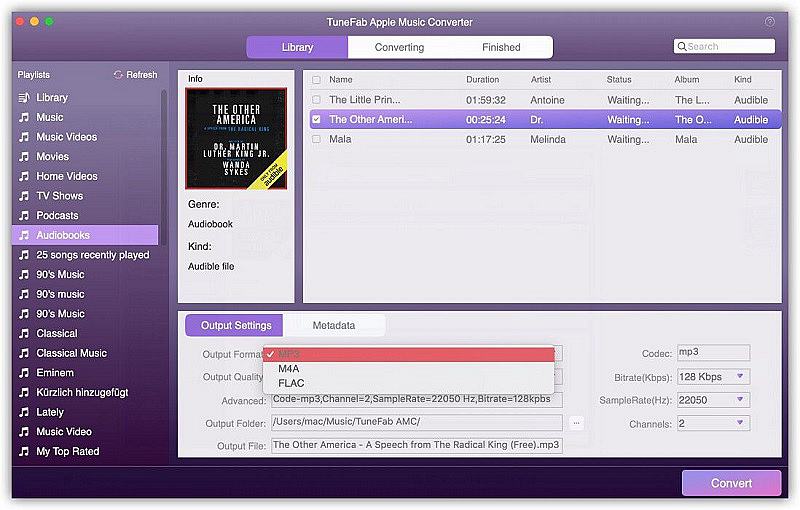 Step 4. Start conversion
Click on the "Convert" button to start the conversion. The whole procedure will be finished in few minutes. After conversion, you can get the converted audiobooks.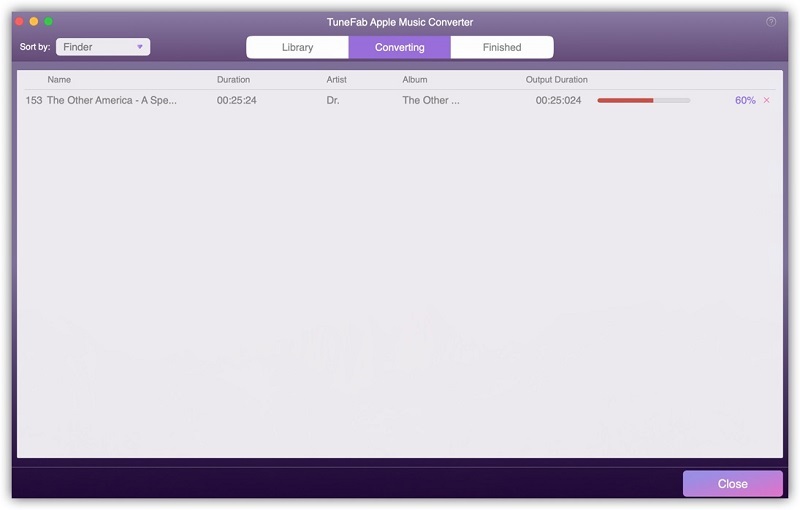 Tips: Convert DRM-free M4B Audiobooks to MP3
Except for DRM-ed audiobooks such as iTunes M4B audiobooks, for other DRM-free M4B Audiobooks, iTunes has offered you a simple way to convert them into MP3 format.
Step 1. Open your iTunes and add the DRM-free audiobooks to the Library.
Step 2. Select "Preferences" in the "Edit" tab, then click on "Import Settings".
Step 3. Drop down "Import Using" and select "MP3 Encoder", then click on "OK".
Step 4. Go to the Audiobooks lists in your iTunes Library, and select the DRM-free M4B audiobooks you want to convert. Click on it, then click on the "Advanced" menu. Select "Create MP3 Version". Then you can get the MP3 audiobooks.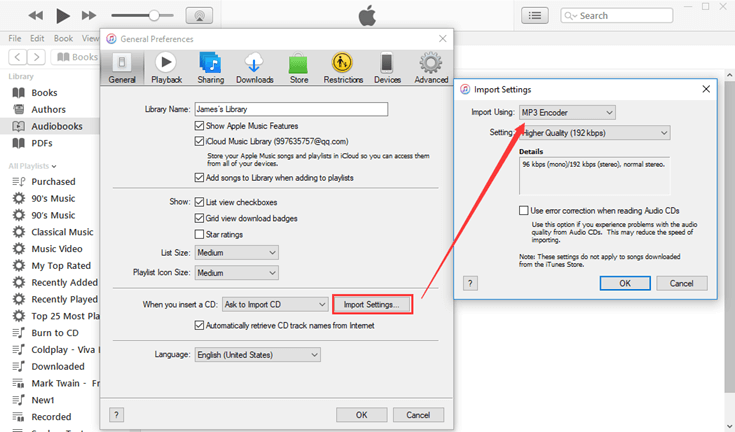 PS: If you still have any questions concerning the iTunes audiobook, including its format, usage, or any problems you encounter during the conversion, feel free to leave your comment below and let us know. We will keep this post fresh and continue to update more knowledge about iTunes audiobooks, letting you form a comprehensive overview of audiobooks in iTunes.
Was this information helpful?
TrustScore 3 | 2