Nowadays, the popularity of audiobooks is on the rise. This can be due to many reasons. On the one hand, audiobooks are easily accessible. Simply browse through the Internet, you can find as many audiobooks as you wish from sources including Audible, Google, and Kobo. On the other hand, listening to an audiobook can be more immersive and intimate than reading, especially when you have a good device to play audiobooks.
In fact, your MP3 player is also a great option for playing audiobooks. If you are an Audible frequent user and looking for a specific device to listen to audiobooks, some MP3 players are actually designed with Audible audiobook support. Therefore, simply download Audible books to an MP3 player, then you can listen to your audiobooks whenever you want and wherever you are. But what if your MP3 player is not an Audible-ready device, does it really mean that you can't use it to listen to your Audible book collection?
Well, in this article, some practical methods will be introduced allowing you to play Audible audiobooks on MP3 players.
CONTENTS
Part 1. What are Some Audible Compatible MP3 Players?
It is a well-known fact that Audible company utilizes DRM (digital rights management) to protect audiobooks from being pirated. And as a result, you can only listen to Audible books on authorized devices. Also, Audible audiobooks are uniquely formatted as .aa or .aax files which makes it difficult for MP3 players to recognize these audio files.
But don't get frustrated by the DRM. To give users an easy and convenient listening experience, the company launched the Audible app which is compatible with many devices even some MP3 players are included. That said, if your MP3 player supports the Audible app, you can handily download Audible books to the MP3 player and even directly stream the audiobooks onto the compatible device.
You can listen to audiobooks on the following MP3 players:
* Apple iPod (Touch)
* Creative MP3 Players (Zen)
* SanDisk MP3 Players (Sansa, Clip Jam, Clip Sport, and Clip Voice)
* MP3 player powered by Android (check if the Audible for Android application is provided)
If your MP3 player is on the list, luckily, you can directly enjoy the audible books with it. Part 3 will give you full instruction on how to download and transfer audiobooks to your MP3 player. Or if you consider purchasing one of the Audible-compatible devices, have a look at Part 4.
If your MP3 player is neither listed above nor able to find the Audible app and recognize the Audible format, then the optimum choice is to remove Audible DRM and convert audiobooks to supported formats. The following Part 2 will provide you with a powerful tool to download and convert Audible books.
Part 2. How to Download Audible Books to Any MP3 Player? (Universal Method)
As it is mentioned above, few MP3 players can recognize the protected Audible AA/AAX format. However, when I browse through some Audible forums, questions like "Can I convert Audible audiobooks to MP3 files?" can be frequently seen. It really seems that many people want to play Audible books not only on the already compatible devices but also on popular MP3 players such as Sony Walkman or FiiO MP3 player.
Good news for you. It is possible to play Audible books on an MP3 player on the condition that you remove DRM from Audible. And a useful tool – TuneFab Audible Converter can help you convert Audible AAX books to popular formats including MP3, M4A, WMA, and AAC without having to worry about DRM or file compatibility. But remind that it is considered legal to break DRM only for your own use, and you must not share the resultant files with others.
For more information about the TuneFab tool, click to see the video overview:
The instructions below should help you get your Audible book collection in MP3 audio format and let you freely enjoy it on an MP3 player, be it famous or little-known.
Tools You'll Need:
* A serviceable MP3 player (no brand or model limited)
* A computer available for TuneFab installation
STEP 1. Download Audible Books to Your Computer
The decryption technology that TuneFab employs is quite different from the common methods, and therefore, you are no longer having to import the Audible books to iTunes. Although TuneFab Audible Converter allows you to convert AAX or AA books without installing iTunes or authorize with your Audible account, it is necessary to download the audiobooks beforehand if you want to convert the protected audiobook files.
STEP 2. Select the Audible Books You Want to Convert
Download and install TuneFab Audible Converter, and then run the software. Even Mac users can benefit from this easy-to-use yet powerful audiobook converter.
Click to add your Audible AAX or AA audiobooks from the main interface. And then all selected audiobooks will display on the interface. ID3 tag information such as audiobook title and time length will be shown. Each audiobook you added can be converted singly. TuneFab also supports batch conversion so you can conveniently convert AA or AAX files.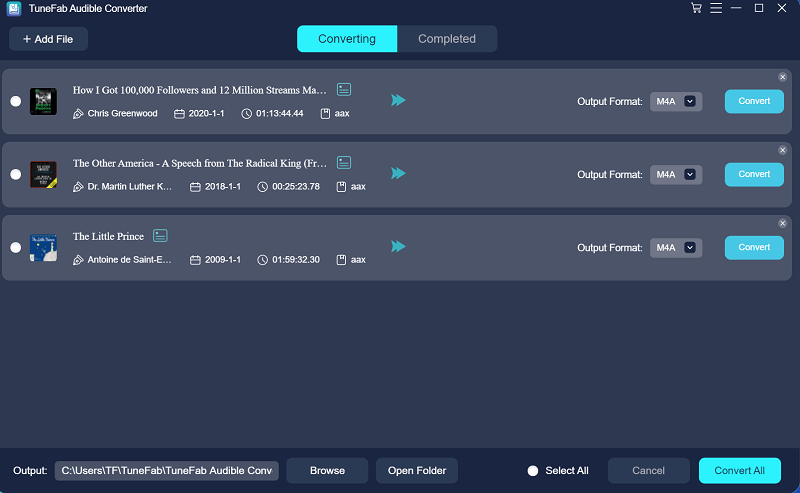 If you click on the profile icon next to the audiobook title, you may also edit your Audible book information.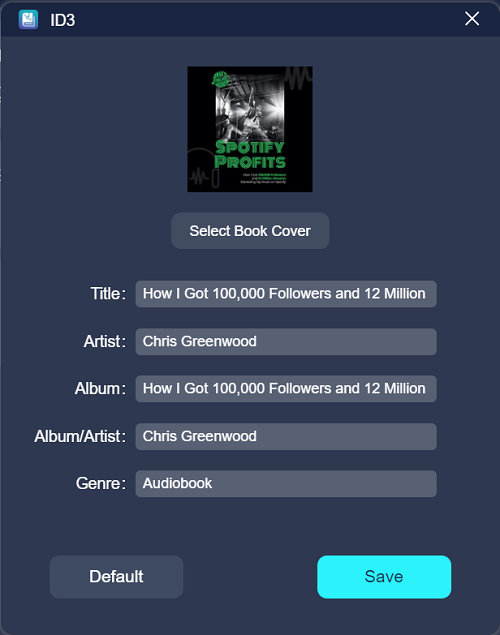 STEP 3. Customize Your Output Settings
Choose your desired output format from the "Output" section below. You can also customize the profile settings according to your preferences. To adjust the bit rate and sample rate, just click on the Settings icon from the top right corner, and then select "Output Settings", then the "Preference" window will be opened.
Note: If you don't want to lose the special features built into Audible files, for instance, the chapter information, we advise you to choose M4A as an output option. As long as your MP3 players can recognize the chapter info and support the M4A format, there should be no concern.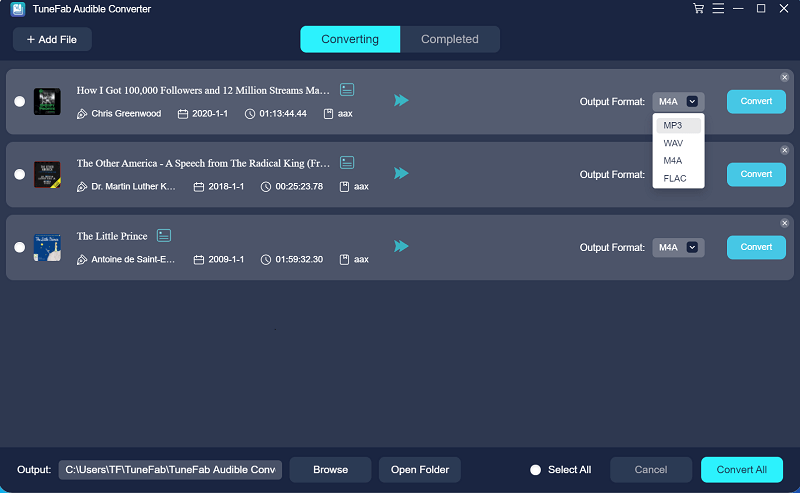 STEP 4. Convert Audible AA/AAX to MP3
Once the customization is done, click the "Convert All" button on the bottom right corner. and TuneFab Audible Audiobook Converter will begin to convert Audible AAX to MP3. The conversion process on Windows and Mac versions can reach the maximum at 60X faster which can save you more time.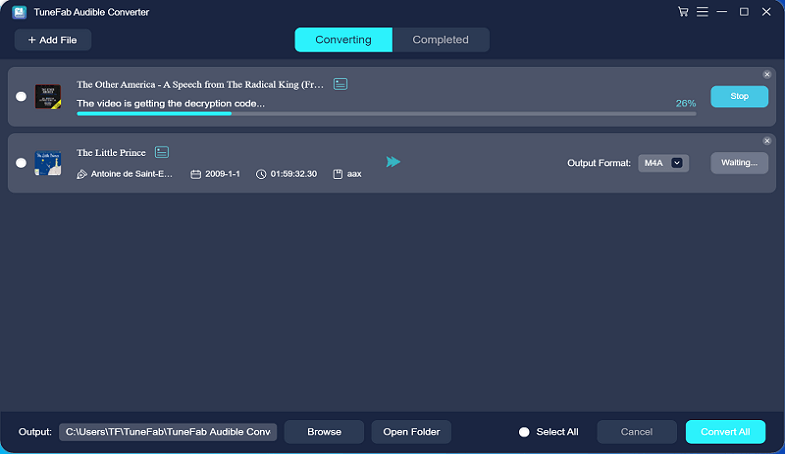 When the conversion process is over, you can enjoy the Audible audiobooks in MP3 format on your Sony Walkman MP3 players or any other MP3-compatible device. Go to the "Completed" tab and click on the "Open File" button, then you will be navigated to your chosen output folder to get your converted books.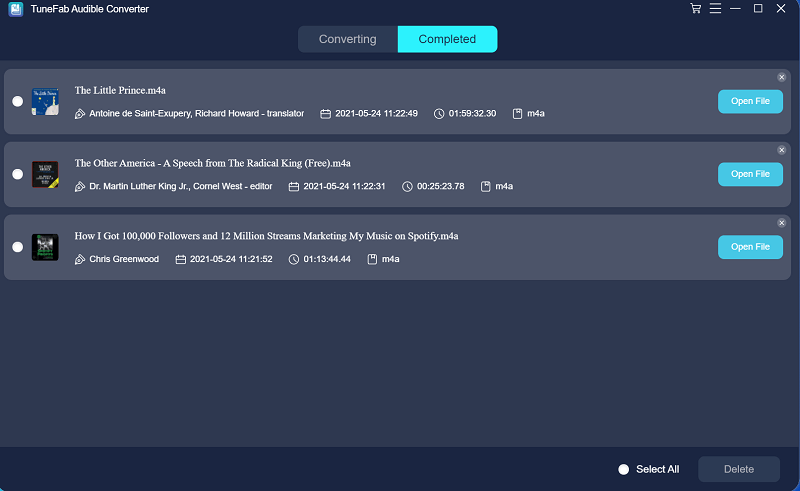 Right-click the file and select "Properties", then you will see more details with ID3 information included.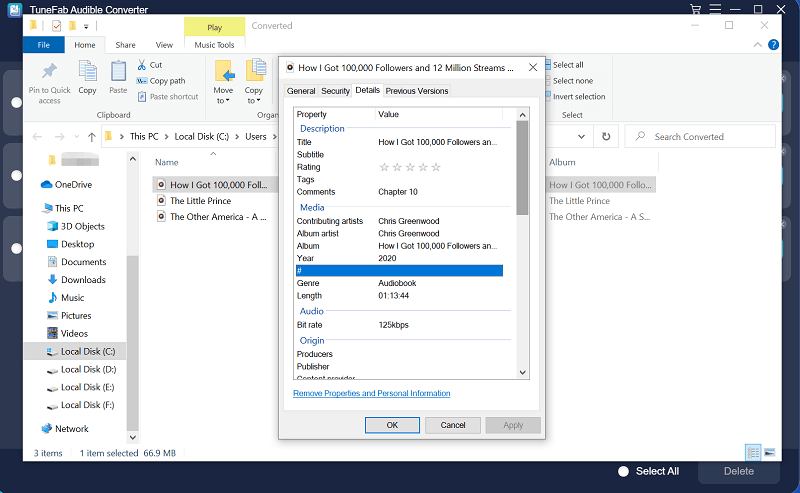 Part 3. 2 Ways to Transfer Audible Books to MP3 Player (Audible-Ready Devices)
The following are 2 tutorials to help you download audiobooks to Audible-ready MP3 players. If you own an iPod or other MP3 players that support Audible formats, keep reading this part to learn more details.
Note: iPod Touch owners can directly download the Audible app from the App Store. After logging in to your Audible account, you may select and download your purchased Audible audiobooks with no hassle. Simply launch the Audible app and then go to the Library section > Tap a specific Title > and then tap the small arrow icon near the cover art of the audiobook to start downloading. When the title is download, you can tap the Downloaded tab to find your downloaded Audible books.
1. How to Download and Transfer Audible Books to iPod
Assisted by the iTunes software, your Audible audiobooks can be smoothly downloaded to your computer and effortlessly transferred to your iPod for playback as well.
Tools You'll Need:
* iTunes (Mac Catalina users should go to the Books app)
* Your iPod
STEP 1. Connect Your iPod to your computer via USB cable, and launch iTunes. (You may have to "Allow Access" when iTunes opens.)
STEP 2. Once your iPod device appears in the sidebar, click the device icon at the top of iTunes.
STEP 3. Select Audiobooks from the left-side menu.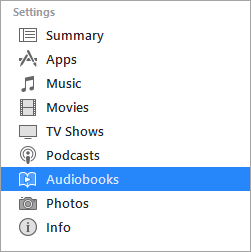 STEP 4. Check the box next to Sync Audiobooks then choose either All Audiobooks or Selected Audiobooks. After that, click the Eject icon to the right of your device name when your audiobooks are downloaded and transferred to your iPod. Now you can enjoy your Audible books on the iPod.
Note: If you select All Audiobooks, iTunes will automatically add the audiobooks whenever you plug your iPod into your computer. But if you check the Selected Audiobooks box, you can manually move specific audiobooks onto your iPod by clicking and dragging them from your iTunes Library and dropping them on top of the iPod on the left-side menu.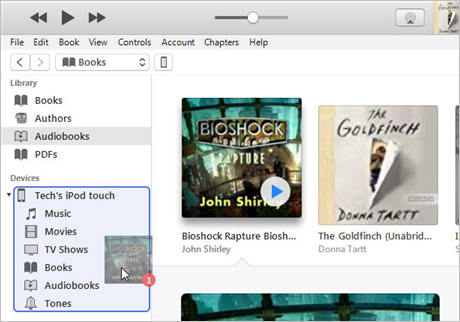 2. How to Enjoy Audiobooks on Audible-Compatible MP3 Player
As long as your MP3 player is an Audible-ready device, you can easily download any of your preferred Audible books with the help of the AudibleSync app or Audible Download Manager which are apps provided by Audible.
Tools You'll Need
* Audible-compatible MP3 players
* Audible Download Manager (works on Windows 7/8.1)
* Audible app/ AudibleSync app (Both work on Windows 10)
The following steps will illustrate how to transfer Audible books to SanDisk MP3 Player using the AudibleSync app on Windows 10.
STEP 1. Download and install the AudibleSync app on your Windows computer. And then sign in to your account on the app. Within seconds, you will be brought to your Library.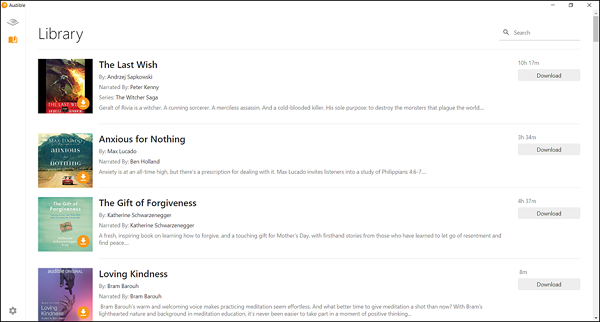 STEP 2. Click the Download icon next to the title you want to download. Once the download process is finished, the Download button will no longer show.

STEP 3. Connect the Audible supported MP3 player to your computer, and click on the device icon on the left side of the screen.

Now click on Activate Device. You may need to enter your Audible/Amazon account information to proceed.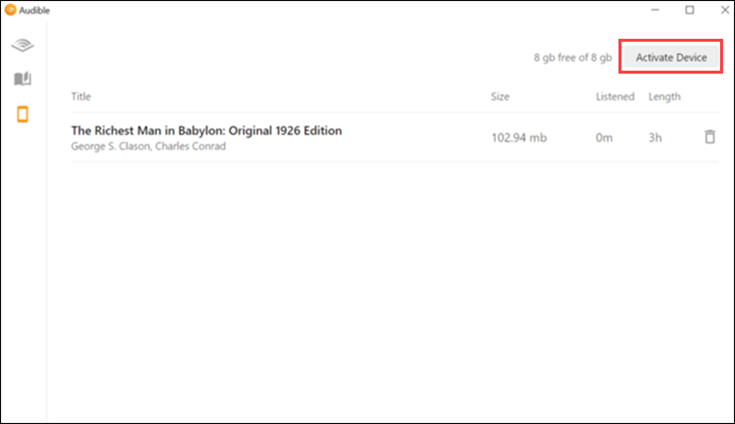 STEP 4. Click on Copy to Device or just simply drag and drop the title into the device, and then your desired Audible books will begin transferring to your MP3 player.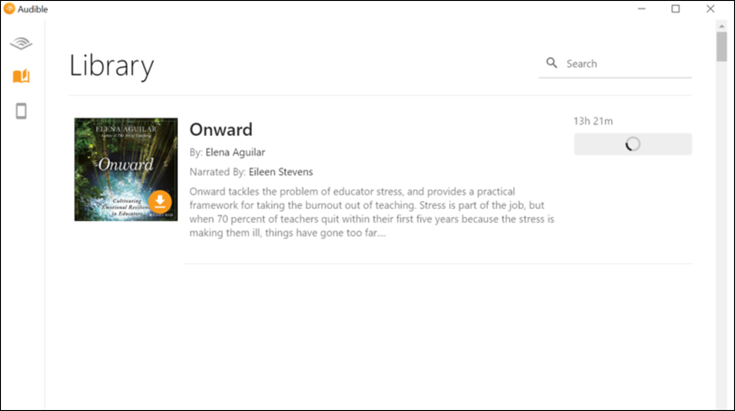 Windows 7/8.1 users may turn to the Audible Manager app. After installing the app, go to the menu bar and click on Device > Add New Device to add your MP3 player to Audible Manager. And then right-click your MP3 device name and choose Activate… from the menu. After that, you can select and transfer your preferred Audible books by clicking the Add to Device button to complete the process.
Pitifully, there is no Audible Manager available for Mac computers. In order to transfer Audible files using a Mac, you must first activate the MP3 player on a Windows PC using Audible Manager.
Part 4. Extension: Popular MP3 Players for Audible Books
It cannot be denied that MP3 players are not so common as before because of the widespread use of phones. However, if you are an audiobook or music lover, you may still consider buying one just for listening to audible books. Here we collected some information of the top Audible–compatible MP3 players in the market for you to refer to.
As the form suggests, these MP3 players are compared from several dimensions including storage, battery life, compatible formats, weight (portable), and price. Hope this can help you find the ideal one.
Device

Apple iPod Touch (6th)

SanDisk Clip Jam

Creative ZEN Vision: M

Zune HD

Storage

32/128/256GB

8GB

30GB

16/32GB

Battery life

Up to 40 hours

Up to 18 hours

N/A

N/A

Compatible

Formats

AAC-LC, HE-AAC, HE-AAC v2, Protected AAC, MP3, Linear PCM, Apple Lossless, FLAC, Dolby Digital, Dolby Digital Plus, and Audible

MP3, WMA (NO DRM), AAC, WAV, and Audible (DRM only)

WAV, MP3, ADPCM, Protected WMA (DRM), WMA, DivX 4, DivX 5, XviD5, MPEG-1, MPEG-2, MPEG-4, WMV9, MPEG, JPEG, BMP, GIF, TIFF

WMA, WMA Pro, AAC, MP3

Weight

3.10 ounces

0.80 ounces

5.70 ounces

2.6 ounces

Price

$199/$299/$399

$29.99

Starting from $650

Starting from $199.99
Final Words
Compared to music files, audiobooks do require more space because an audiobook can last for 5 or even 50 hours. Therefore, an MP3 player will surely be worth an investment if you are an avid audiobook listener. Due to the fact that not all MP3 players are Audible-compatible, you need the right tool to convert Audible books to MP3 or other DRM-free audio formats. And TuneFab Audible Converter is a trustworthy tool that makes it easy for you to play Audible books on MP3 players. Do give it a try!
Was this information helpful?
TrustScore 5 | 1