As a treasure trove of knowledge and entertaining audio content, Audible enriches our fragmented time, such as commuting and cooking, by offering so many interesting audiobooks to listen to. However, the only bummer is that its audiobooks are encrypted with DRM in AAX format, which means you can only stream them within its app or authorized services like iTunes even if you have paid for and downloaded the Audible files.
To listen to Audible books on an MP3 player or other devices you like, you can download Audible books to MP3. That way, you can play and enjoy your favorite audiobooks whenever and wherever you want.
CONTENTS
Download Audible to MP3: Why Do You Fail?
When you hope to download Audible books to MP3 format from the platform or try to stream them on other players, you will find you can't. This is because Audible encrypts its audiobooks with digital rights management (DRM) in aax format. So what is DRM? What does it mean for Audible and its users?
DRM - Protector of Copyrighted Digital Content by Encryption for Platforms
DRM is commonly used by audio and video streaming services, and Audible is no exception. As the largest audiobook publisher, Audible makes a profit based on subscriptions and purchases. Therefore, the platform adopts DRM to ensure its books are only accessible within the app or other authorized apps and no one can access its media files without purchasing them, and prevent unauthorized copying and distribution. In fact, this DRM technology indeed acts as an essential helper for Audible. But what does this mean for Audible users?
Rights to Use ≠ Ownership
If you are one of the Audible listeners who have paid for the high-quality audiobooks or opted for a subscription, you may assume you own the paid digital content and thus have the right to listen and download it whenever your want. Actually, such an idea is totally wrong. The payments only let you enjoy your bought audiobooks within Audible, or access them before the subscription ends. In other words, Audible users only pay for the right to use Audible books, not control over them. Their ownership still belongs to Audible.
Besides DRM, Audible also only allows for downloading its encrypted digital files in AAX. As a result, you have to listen to its audiobooks by using the app and can't download and listen to audiobooks wherever you want.
While it is impossible to download Audible audiobooks to MP3 directly from Audible, you can turn to powerful third-party tools to convert Audible audiobooks to MP3 for flexible playback and listening. Here we recommend TuneFab Audible Converter, for its speedy performance, 100% successful download, and high audio quality.
As a professional tool, TuneFab Audible Converter is designed to help listeners who want to remove the Audible DRM and convert Audible aax. files effortlessly to other widely-used audio formats such as MP3. With a conversion speed of up to 60X and a batch download feature, TuneFab helps you download multiple audiobooks efficiently and painlessly. To help you manage audiobook downloads, the app can retain or edit ID3 tags. Better still, if your downloaded Audible book is really long, you can split it by chapters, time, or segments with its in-built splitting function.
Note: For every new user, TuneFab offers you two free trials to download two complete audiobooks for free.
Key Features of TuneFab Audible Converter
Format Conversion - Convert Audible files from AAX to MP3 format

Easy Management - Preserve and edit ID3 tags info such as titles, artists, albums, and genres.

Lossless Sound Quality - Convert Audible books to MP3 with the same superior quality as the original ones.

60X Conversion Speed - Convert and download Audible books to MP3 at a blazing-fast speed. No need to wait a long time.

Batch download Feature - Download multiple Audible books to MP3 in one go.

Ease of use - User-friendly interface and designs enable you to download Audible books to MP3 with just a few clicks.
Enough introduction about the tool we will use later. Here is the detailed guide to download Audible books to MP3.
How to Download Audible to MP3 Successfully?
The Prerequisite: Download AAX Audible Books to Computer
Before we can download Audible to MP3 successfully, the first but necessary step is to download your bought AAX audiobooks directly from Audible on your computer. If you don't want to download the Audible app, just go to its website by visiting Audible.com where you can access and download your purchased Audible books as well. Here is the step-by-step guide.
Step 1. Head to the Audible website and click Library in the site navigation to access your audiobooks.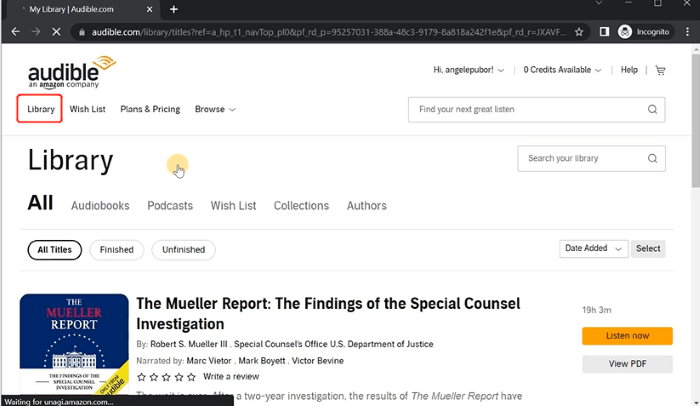 Step 2. Choose an audiobook you want to save and click Download next to it.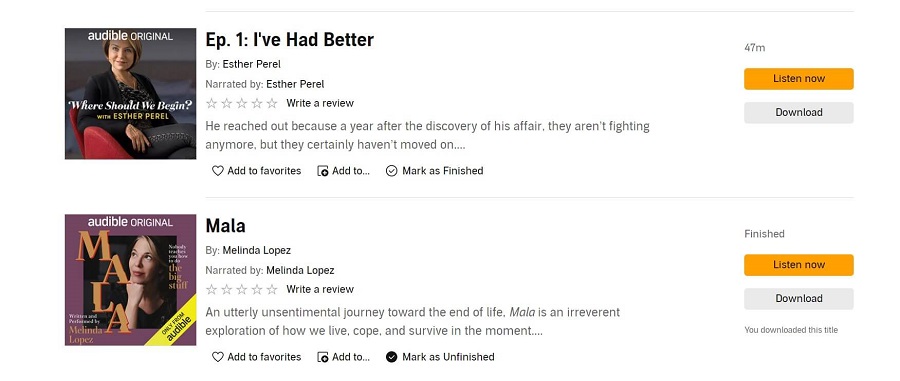 Step 3. Then, the audiobook will be automatically downloaded in AAX format and stored on your computer.
If you're still in doubt, read this article: How to Download Audible Books to PC for more detailed steps.
Convert Audible Books to MP3
Now that you've downloaded the audiobooks successfully to your computer, the next step is to convert them to MP3 with the help of TuneFab Audible Converter. Otherwise, they still can't be played on other devices and platforms since these AAX files are still encrypted in digital copyright management (DRM), and at the moment can't be recognized by most devices and players.
To remove the Audible DRM and convert their AAX format to MP3, we will use TuneFab Audible Converter to show you how.
Step 1. Download and Launch TuneFab Audible Converter
To begin converting Audible files to MP3, first download and install TubeFab Audible Converter on your Windows or Mac. Once the download is finished, launch the app.
Step 2. Upload the Downloaded AAX Audiobooks to TuneFab
After opening the app, a blue round button will appear right in the middle of the screen. Drag and drop the downloaded audiobooks onto the button.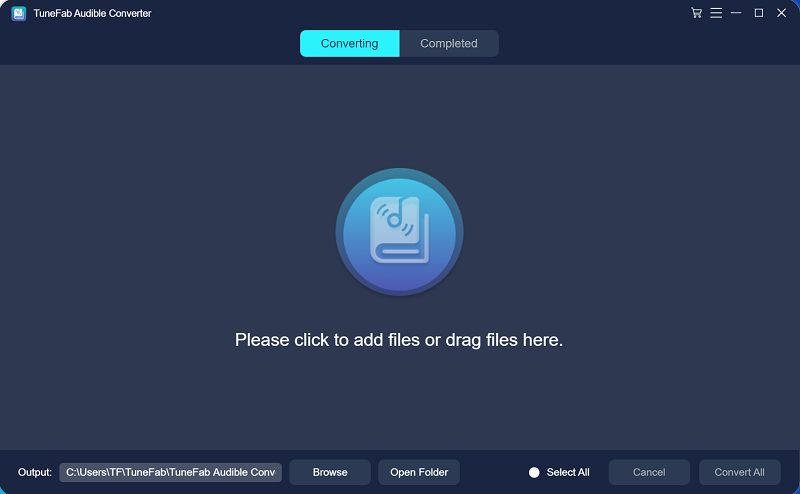 Step 3. Customize the Parameters
In the Preference window, you can set their parameters as you like and split the audio files. To start with, choose MP3 as the output format and set other parameters such as sample rate and bitrate to get your desired audio quality. Alternatively, you also can go with the default options.
If the audio file is too long, you can split it into chapters, hours, or segments.
Note: If you want to keep the chapter information in the AAX file, M4A is the recommended output format.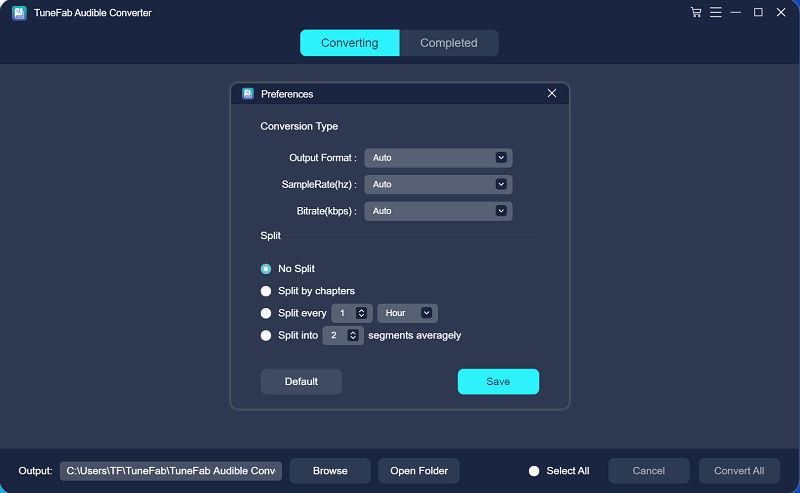 Step 4. Edit ID3 Information
If you want to manage your Audible books with ease, click the square icon next to each audiobook to edit its ID3 tags, such as titles, artists, genre, etc. Remember to click Save to keep the changes.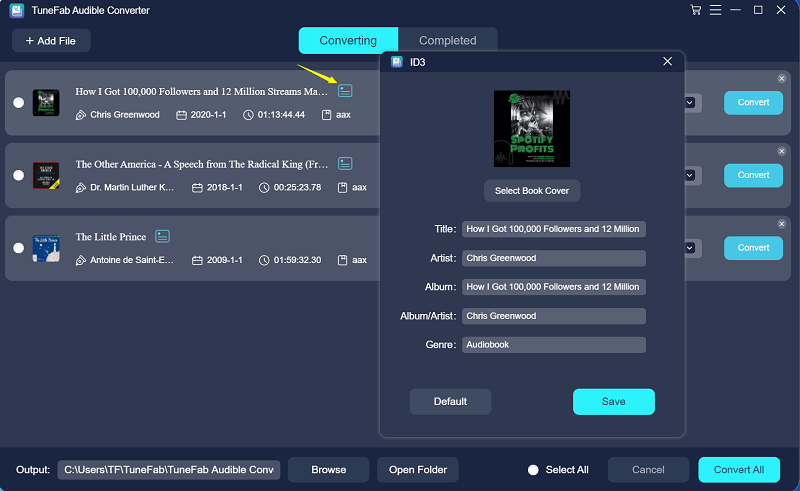 Step 5. Convert Audible Files to MP3
The last thing is to hit Convert All. Wait for a few seconds for the conversion. After the process is complete, your audiobooks in MP3 format will be stored in the destination folder. You can also check them on the Completed list.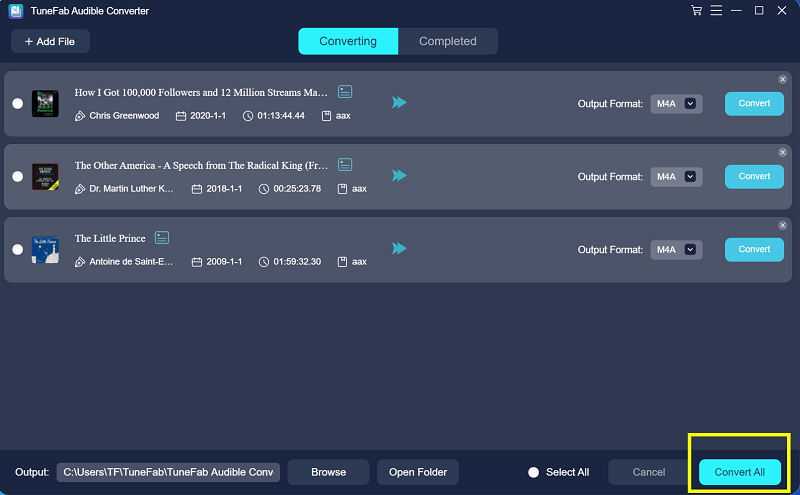 Conclusion
Though Audible DRM-encrypted books are in AAX format and the platform doesn't allow you to directly download its audiobooks to mp3, there is still a way to go. By using powerful third-party tools like TuneFab Audible Converter, you can download and convert your Audible books to the MP3 format easily. Now you can enjoy them on any device or platform you prefer!
Was this information helpful?
TrustScore 5 | 5