Nowadays, reading lovers don't have to bring a book with them anymore if they had Audible on their smartphone or PC. Audible is an app that offers huge amounts of audiobooks as well as other audible materials like podcasts, meditation programs, and so on. For people who love to listen to audiobooks in their spare time, Audible will be a perfect choice for them.
If you were a loyal user of Audible, you would be fascinated by this app and want to own the materials from it. To this end, you need to register for audible plus or audible premium plus to download what you want on your devices. However, these two methods are not free for users. If you are looking for a free way to have your favorite audiobooks, you come to the right place. In the following paragraphs, we will show you the way to make materials from Audible free.
CONTENTS
Get Audible Books from Free Listens
Audible provides free audiobooks in Free Listens, from which you can listen to the books for free. To gain these free audiobooks, you can open Audible and sign up for your account to access Free Listens. Once you find the book you are interested in, you can add it to your library or buy it directly to make it yours. Here are the steps on how to get free audible books from Free Listens:
Step 1. Open the Audible app/website, and sign into your account
Step 2. Find Free Listens to choose the audiobook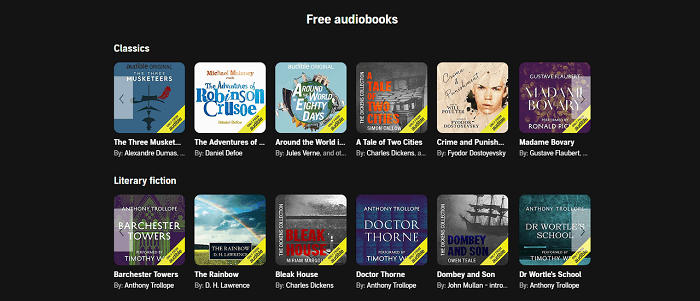 Step 3. Click the book you like to go to the detailed page
Step 4. Click the button "Add to library"

Step 5. Now the book is in your library. Choose "Listen now" to start your audio reading time.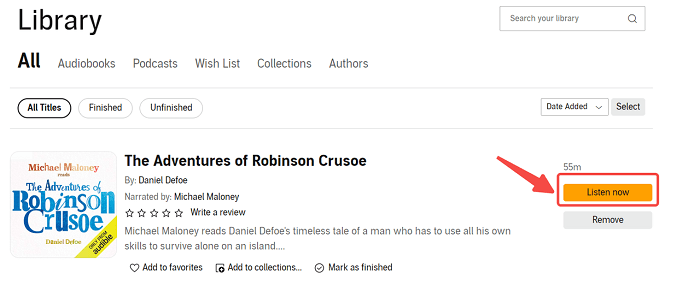 Get Audible Plus Free Trial and Get Audiobooks for Free
Though Free Listens is convenient for users, sometimes you cannot find the book you want from it, since the audio materials in Free Listens are limited. And for the sake of obtaining plentiful audiobooks, you have to register for Audible Plus or Audible Premium Plus to update the privilege of your account.
Luckily, Audible provides a 30-day free trial for its users who haven't subscribed to it. You can get free Audible books by upgrading your account and enjoying the subscription features for free.
Generally speaking, Audible Plus differs from Audible Premium Plus in these aspects:
● Audible Plus needs to pay $7.95 per month to gain sound materials like originals, audiobooks, sleep tracks, meditation programs, and podcasts, while
● Audible Premium Plus needs to pay $14.95 per month to gain everything from Audible and own a new release per month.

Note: You should remember to cancel the subscription, or else it will charge you according to your plan when the free trial ends.
Step 1. Open the Audible app/website, and sign into your account
Step 2. Click "Plans & Pricing" to find the free-trial entrance
Step 3. Click "Start my free trial" to complete the information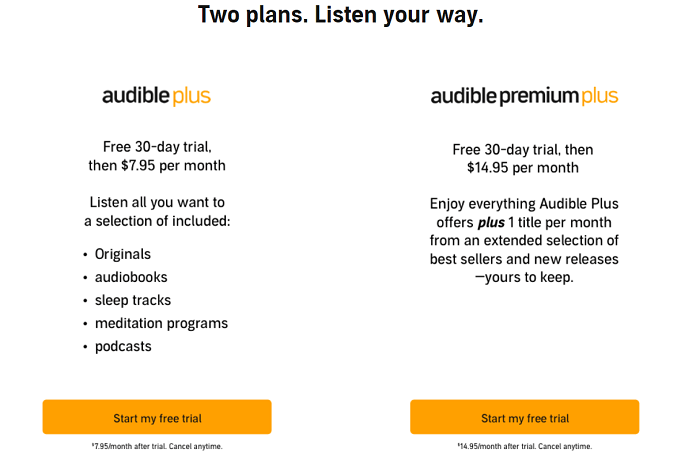 Step 4. Fill all the blanks and click "Try for $0.00"
You will be able to access the Audible Plus or Audible Premium Plus audio library after finishing all these steps. In the following 30 days, you can enjoy reading the huge amount of audiobooks provided by Audible.
Make the Best of the Free Trial - Download Books and Convert Them to MP3
You can also download the audiobooks on your devices during this 30-day free trial period. If you have the Audible app on your smartphone, you can listen to books whenever you want. However, when the free trial is over, some of you may not want to continue to pay for the privilege. You may even want to delete Audible from your smartphone to save more space. So, what about the free books on Audible? Is there any way to listen to them while not having Audible on the devices? The answer is YES.
You may question that, the audio formats from Audible are AA or AAX, which are protected by DRM (Digital Rights Management), and can only be played on Audible or iTunes, how can we listen to these books? The key to solving this problem is to change the limited formats into commonly used formats, like mp3.
To realize this goal, you need TuneFab Audible Converter, a tool that lets you convert your downloaded audiobooks into common formats. With this wonderful tool, you don't need to open Audible or iTunes to listen to audiobooks anymore. It will help you to change the peculiar formats, to the formats that can be opened by your devices directly, to make audiobooks easy for everyone.
TuneFab Audible Converter is a powerful tool that helps you:
● Convert AA or AAX to MP3, M4A, FLAC, and WAV audio formats
● Divide Audible books by timeline or chapters
● Keep all chapters and ID3 metadata info
● Convert the materials at 60X fast speed
● Keep high-quality original sounds

It is also a very user-friendly tool. There are no complex instructions for you, just follow the 2 steps, and you can convert your books successfully:
Step 1. Download and install the TuneFab Audible Converter on your computer. When you open the app, it will guide you to drag the files you want to convert to the converter.
Step 2. Launch the converter and drag your AAX files to it.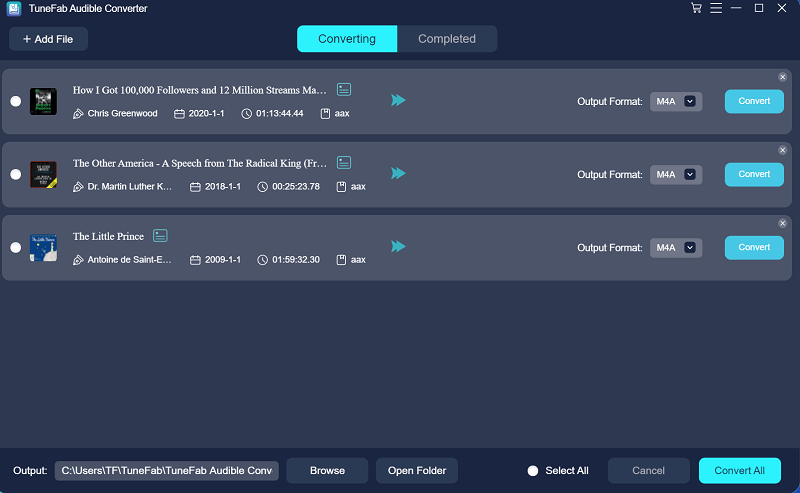 Step 3. Hit the convert button and you can get all AAX files converted to MP3.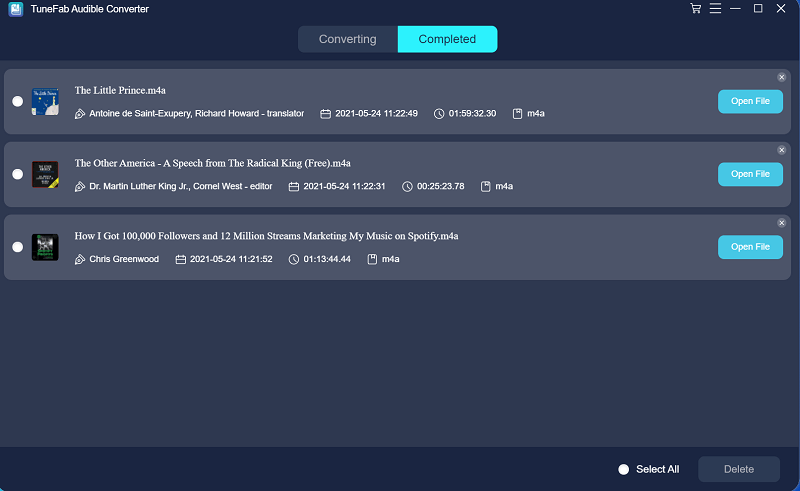 A few minutes later, all the free books on Audible will be converted into mp3 and saved on your computer locally, and you can transmit these books to your smartphone and listen.
Conclusion
Now you are clear about how to get free books from Audible. You can choose Free Listens, or you can take the free trial and register for Audible Plus or Audible Premium Plus to get free books from Audible officially.
When you want to download books and listen to them on your device, you can use TuneFab Audible Converter to convert the AA or AAX formats of Audible into mp3 formats. With the handy TuneFab Audible Converter, you will be able to have common formats of audiobooks and enjoy listening to the literal works under any circumstance.
Was this information helpful?
TrustScore 5 | 1