Audible.com is a place where you can buy and listen to best-selling audiobooks, exclusive music as well as free podcasts easily and quickly. The downloaded Audible audiobooks, however, employ the AAX format with DRM protection. As a result, these files can ONLY be played on Audible.
Therefore, you may find a way to remove DRM protection and convert AAX to M4A, so you'll be able to listen to your audiobooks outside the Audible app or on other unauthorized devices. Better yet, you can share your favorite oral stories with your besties. Then, you'd not like to miss the following methods to convert AAX to chaptered M4A with ease.
CONTENTS
Is M4A a Good Audio Format for Audiobooks?
Similar to MP3, M4A is a popular and unencrypted audio file that is compatible with most computers and mobile devices. Better yet, M4A can reach up to higher sound quality with more advanced compression than MP3 does. Thus, M4A is an ideal audio format for audiobooks if you want to enjoy all types of audiobooks on any device you like.
M4A Format Explained
What is M4A? M4A is an audio file extension encoded using AAC (Advanced Audio Coding), which features higher quality and smaller file size. Meanwhile, M4A uses the MPEG-4 container format as MP4, but it can only hold audio content. Also, it's a universally used audio format that is supported by most players and devices.
Is M4A Lossless?
Being one of the most popular audio container formats, M4A is never lossless. It encodes with lossy compression to keep the best sound quality with the smallest file size. Thanks to that, it becomes the successor to MP3.
As a rule, lossless compression takes up much larger storage for more refined details. Therefore, you can also tell from the file size whether an audio file has higher or even lossless quality. Usually, a lossless file is about 10MB per minute, so a lossless 4-minute song should be around 40MB.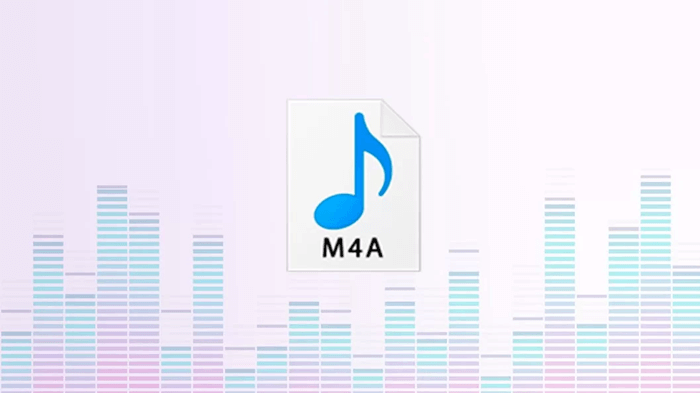 How to Convert AAX to M4A on Windows/Mac (Best for Audible AAX Books)
TuneFab Audible Converter is the ideal tool to convert audiobooks from AAX to M4A while keeping the chapters. Better yet, it can strip off the DRM protection of audiobooks that you downloaded from Audible. That means, your audiobooks are free from restrictions and playable anywhere. You can also burn your audiobooks to a CD disc and share to anyone if you want.
Outstanding Features Included
● Various DRM-Free Formats - It enables you to convert AAX to MP3, M4A, WAV, and Lossless FLAC without DRM protection, so you can enjoy flexible playback on any media player, gaming console, Car audio, unauthorized apps, etc.
● Original Chapters and ID3 Tags - The chapter info and ID3 tags will be saved along the way, making it easy to access the climax of every story. Also, you can modify ID3 tags before conversion if needed.
● Lossless Sound Quality - If you are an audiophile, TuneFab Audible Converter lets you keep the best sound quality of up to 320kbps and 48kHz in a lossless format. Never let any audio detail behind.
● Batch Download 60X Fast Rate - The program allows multiple tasks at the same time. With its marvelous acceleration technology, you're done converting all the stories to be DRM-free in no instant.
● In-Built Audiobook Splitter - Want to make a long story short? It's easy to divide a long story into parts by chapter, time, or average segments using the in-built audiobook splitter.

Meanwhile, it cannot be easier to use TuneFab Audible Converter, which only takes 3 steps to complete with its user-friendly interface. Now, let's walk through how it works.
STEP 1. Add AAX Audiobooks to TuneFab
First off, click the button above to download and install the program to your Windows or Mac. After that, launch TuneFab Audible Converter. Now, click the button in the middle or directly drag AAX files into the program.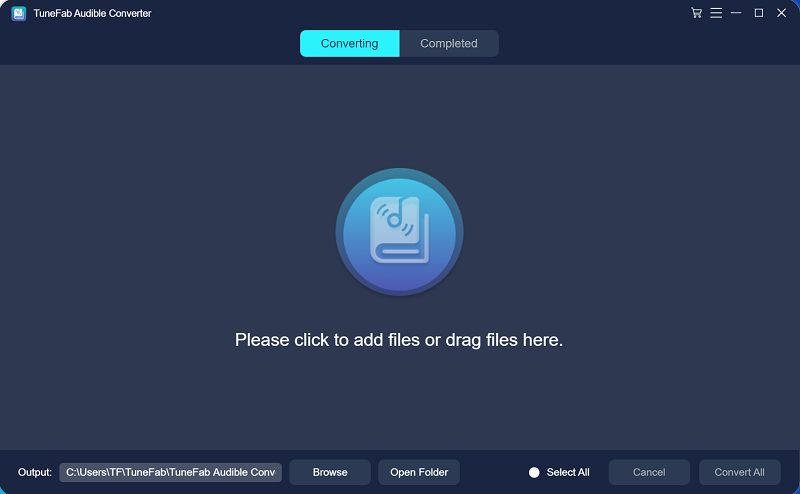 STEP 2. Select Lossless M4A to Output
You'll see your audiobooks added in a row, and you can click the icon behind the title to edit the ID3 tag if necessary. Then, navigate to the Menu icon on the upper right and select Preferences. Here you can set the Output Format as M4A, and modify Sample Rate and Bitrate. Also, you can split the audiobook as you wish. When done customization, click Save to proceed.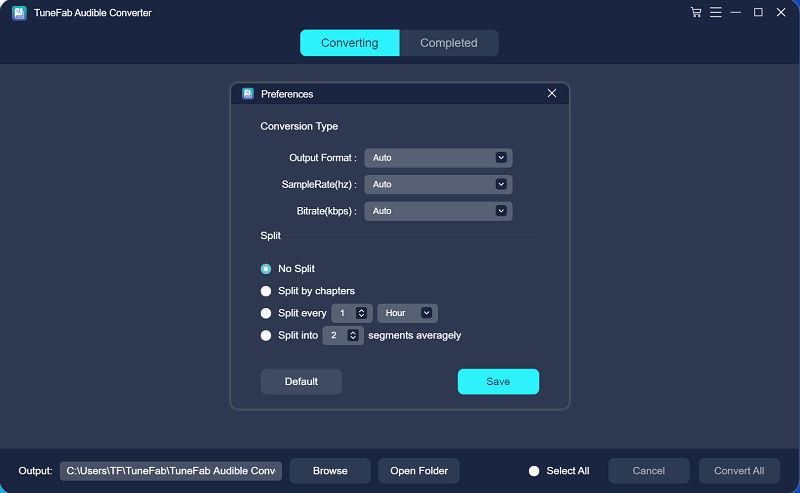 Now, click the Convert All button and let the program do all the rest. It will start removing DRM protection from Audible and convert audiobooks from AAX to chaptered M4A. When complete, you can find your audiobooks in the Completed tab.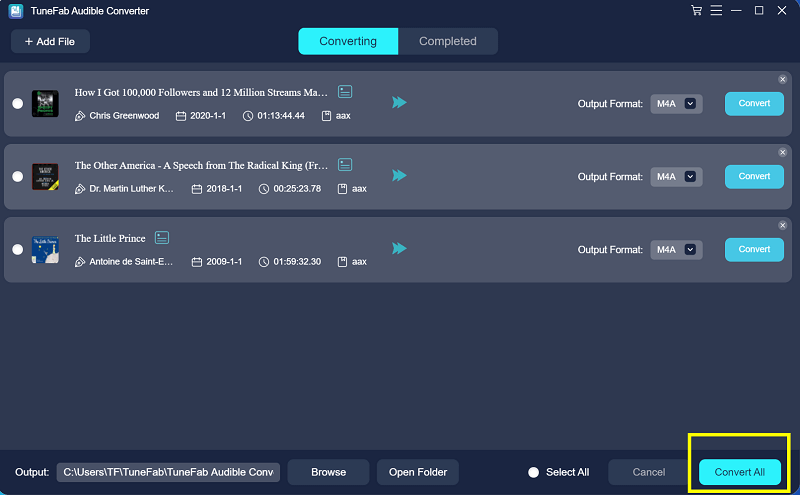 How to Convert AAX to M4A Online (Best for DRM-Free AAX Files)
If you prefer to use a free online AAX to M4A converter, Aconvert will make a perfect match for you. With no need to download any software, it also works as an AAX to MP3 converter for a range of formats including WAV, OGG, WMA, AAC, FLAC, AIFF, OPUS, and AMR.
Moreover, it allows you to convert an audio file of less than 40MB over the cloud and resubmit your file when failed. However, it only enables you to convert 2 files at max and the output quality will be a low value. Now, let's go over this online tool and see whether it lives up to your expectations.
STEP 1. Open AConvert on your browser, and choose AAX to M4A to continue.
STEP 2. Set up the Audio bitrate (32kbps to 320kbps) and Sample rate (11.025kHz to 48kHz).
STEP 3. Click Choose Files and add your AAX audiobooks to the web. Then, click Convert Now to start.
STEP 4. When the conversion is done, click Download and save the M4A file to your device.
Note: Online AAX to M4A converter can ONLY convert DRM-free audiobooks from AAX to M4A. If the original AAX files are copy-protected, you should use TuneFab Audible Converter to convert DRM-protected AAX to M4A.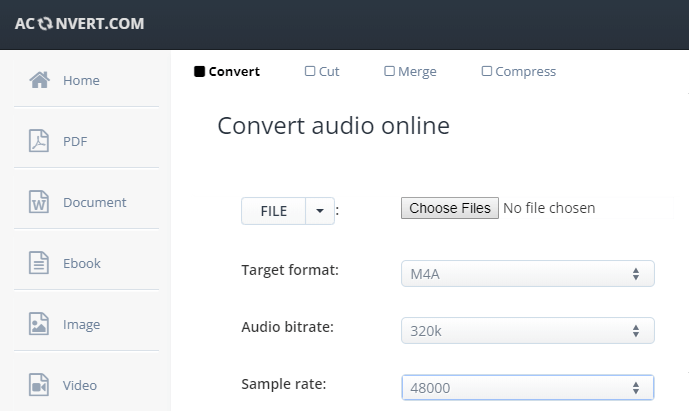 FAQs About Converting AAX Audiobooks to M4A
Still, have lingering questions in mind? Take a look at the following answers to set them free.
Q1: MP3 vs M4A vs OGG, which is the best audio format for Audible books?
You may be hesitant about which audio container format is the best when it comes to converting Audible books. According to the table below, it's recommended to consider MP3 or M4A rather than OGG regarding compatibility, though OGG file format usually features higher quality.
Both MP3 and M4A are popularly used on media players and all kinds of devices. Personally, M4A is a better option with higher quality and lossy compression. You may check out the support list for the media player or apps you want to listen to audiobooks and make the decision afterward.
 
MP3
M4A
OGG
Support
MP3 supports both joint stereo with 2 discrete channels at most.
M4A supports from 2 channels to 178 channels with 3D rendering.
OGG Vorbis supports from 2 channels to 256 channels at best.
Quality
General
High
Highest
File Size
Large
Smallest
Small
Compatibility
Most Used
Most Used
Generally Used
Lossy or Lossless
Lossy
Lossy
Lossy
Q2: What program can play .m4a files?
Many popular programs support M4A files, including VLC, iTunes, QuickTime, Windows Media Player, Media Player Classic, Winamp, and other media player applications. Besides, most Android and Apple devices can also play MP4 files.
Q3: Can VLC play AAX files?
AAX files are not supported in VLC. If you want to play AAX files, you need to convert them to MP3 formats in VLC. The steps are as follows.
STEP 1. Launch VLC and choose "Media" from the menu bar at the top. Then, select "Convert/Save".
STEP 2. Click the "Add" button to select the file that you want to convert.
STEP 3. Then, move down to the "Convert/Save" button at the lower-right corner of the window and choose the "Convert" option.
STEP 4. Choose the output format "Audio-MP3" from the setting box.
STEP 5. Click the "Start" button to begin the conversion.
Conclusion
If you have DRM-free AAX files, you can use a free online AAX to M4A converter without any software. The drawback is that online tool doesn't come with the capability of DRM removal. If you've downloaded a bunch of audiobooks from Audible, TuneFab Audible Converter makes it no hassle to convert as many audiobooks as you want to DRM-free M4A with all chapters included. Then, you can dive into the world anywhere at any time with your oral stories.
Was this information helpful?
TrustScore 5 | 1