Audible.com is a place where you can buy and listen to best-selling audiobooks, exclusive music as well as free podcasts easily and quickly. The downloaded Audible audiobooks, however, employ the AAX format with DRM protection. As a result, these files can only be played on Audible.
If you want to listen to these audiobooks and stories on other players, you'll need a third-party program to convert AAX to M4A. Here, one of the best audio converters, TuneFab Audible Converter, is introduced for you to do this work effortlessly.
How to Convert AAX Audiobooks to M4A on Windows/Mac
TuneFab Audible Converter is a powerful tool that allows you to get rid of the encryption and restrictions imposed by Audible in simple clicks. Aside from that, TuneFab can also convert audio files to formats such as M4A, MP3, FLAC, etc. So, you can enjoy the purchased Audible audiobooks on any other device and media player conveniently.
It's worth mentioning that chapter information and ID3 tags can be kept completely after the conversion. So, you can quickly check the data, manage the covers as well as edit them as you want. What's more, this tool provides a batch conversion feature, with which you can convert multiple audiobooks at a time, improving conversion efficiency.
TuneFab Audible Converter has versatile features, which makes it stand out from the other converters.
● Convert DRM-protected files such as AA/AAX.
● Support multiple output formats like M4A, MP3, FLAC, etc.
● Preserve chapter info and ID3 tags completely.
● Offer a built-in audiobook splitter to divide books into smaller files.
● Support batch conversion.
● Support 60X faster conversion speed.
● Simple and intuitive user interface.
● Maintain the original audio quality.

Then, let me show you how TuneFab works to convert AAX to M4A.
Step 1. Install and launch TuneFab on your Windows or Mac.
Step 2. Add the AA/AAX audiobooks you've purchased and downloaded from Audible.com to TuneFab Audio Converter by clicking or dragging them.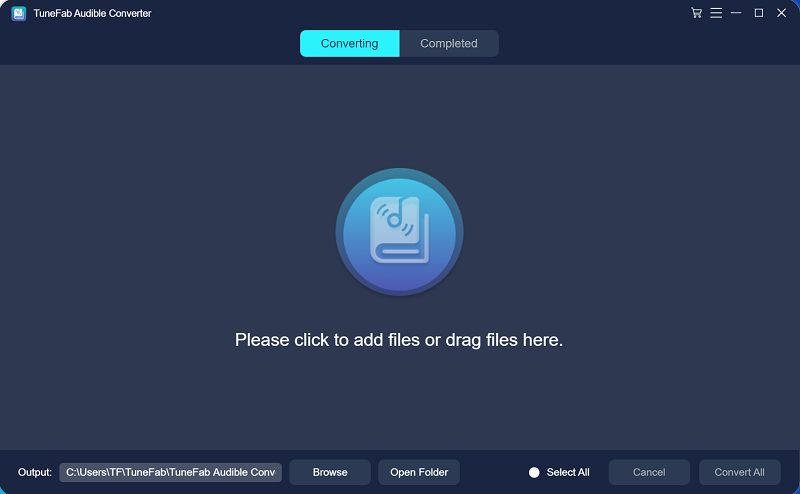 Step 3. Then, click on the "Three Horizontal Lines" icon in the upper-right corner to adjust output settings. You can choose to split the audio file by chapters, time, or segments. And then click on the "Output Format" button to select "M4A" format.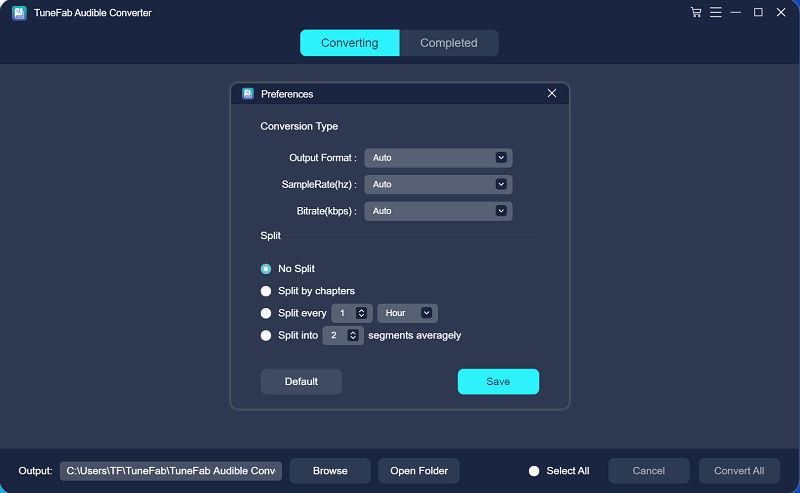 Step 4. Next, click the "Convert" icon to start the conversion.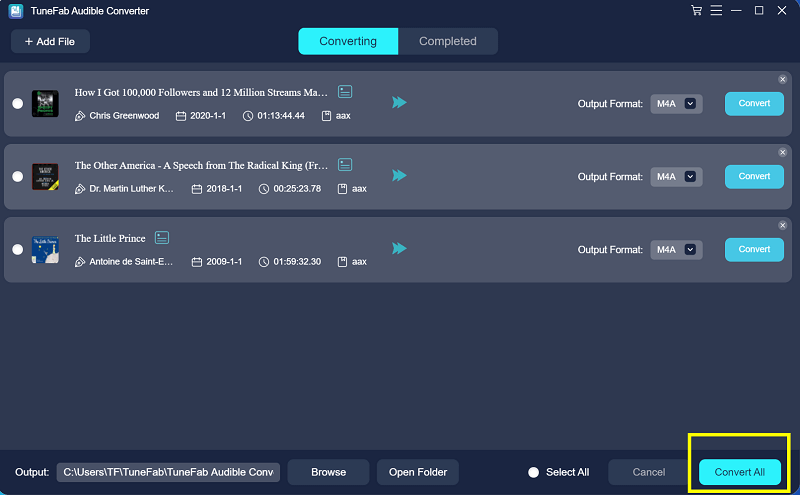 Step 5. When it's finished, check the file in the "Completed" section.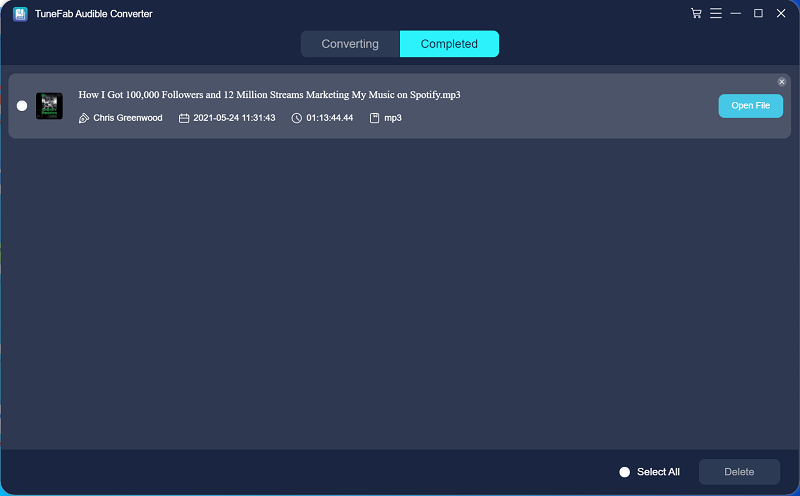 FAQs About Converting AAX Audiobooks to M4A
Q1: What's the difference between AAX and M4A?
AAX files are Audible Enhanced Audiobook files developed by Audible, which are commonly used by audiobook services. It's the improved version of the AA file format, including more features such as images and links. However, AAX files are DRM-protected. So, you can only play them on specific players like Audible.
M4A represents MPEG 4 Audio. It is the successor to MP3 and it can store various types of audio content such as audiobooks, songs, and podcasts. M4A file extensions are used to save both lossy and lossless compression formats. You can access M4A files on most media players.
Q2: Can VLC play AAX files?
AAX files are not supported in VLC. If you want to play AAX files, you need to convert them to MP3 formats in VLC. The steps are as follows.
Step 1. Launch VLC and choose "Media" from the menu bar at the top. Then, select "Convert/Save".
Step 2. Click the "Add" button to select the file that you want to convert.
Step 3. Then, move down to the "Convert/Save" button at the lower-right corner of the window and choose the "Convert" option.
Step 4. Choose the output format "Audio-MP3" from the setting box.
Step 5. Click the "Start" button to begin the conversion.
Q3: What program can play .m4a files?
Many popular programs support M4A files, including VLC, iTunes, QuickTime, Windows Media Player, Media Player Classic, Winamp, and other media player applications. Besides, most Android and Apple devices can also play MP4 files.
Conclusion
In general, if you're seeking a very powerful and safe audiobook converter, TuneFab Audible Converter caters to your needs. It helps remove the DRM protection and fast convert AAX files to multiple audio formats such as MP3 and M4A with the original sound quality. Besides, the embedded chapter information and ID3 tags won't lose after the conversion, so you can quickly track your progress. TuneFab Audible Converter also has many other features such as batch conversion and audiobook splitter. Therefore, it's a wonderful program that is worth a try.
Was this information helpful?
TrustScore 5 | 49