After buying audiobook titles through Audible, you can go to "Library" to find and listen to your purchased books or download Audible audiobook to your smartphone, MP3 player, or computer for offline listening. The benefit of downloading is that you will be able to listen to your audiobook even when you are not connected to WiFi.
However, it's important to note that the process for downloading Audible books to PC has changed. Starting from July 2022, the Audible Desktop App is no longer available on Windows. So if you are a Windows user, you'll have to find other ways out.
Don't worry! This post will offer you 3 useful ways with pretty easy steps to download Audible audiobooks in a minute. Read on, lick one that suits you, and enjoy Audible audiobooks on PC!
Contents
How to Download Audible Books to PC from Audible Website
Whether you're using Windows or Mac, the download channel on the official website is always applicable. After that, it will be convenient for you to listen to those downloaded Audible books offline on your computer. You can follow the steps below to start your work.
Step 1. Go to the Audible official website, and sign in with your Amazon account. Then go to the "Library" page where you will find all your purchased titles.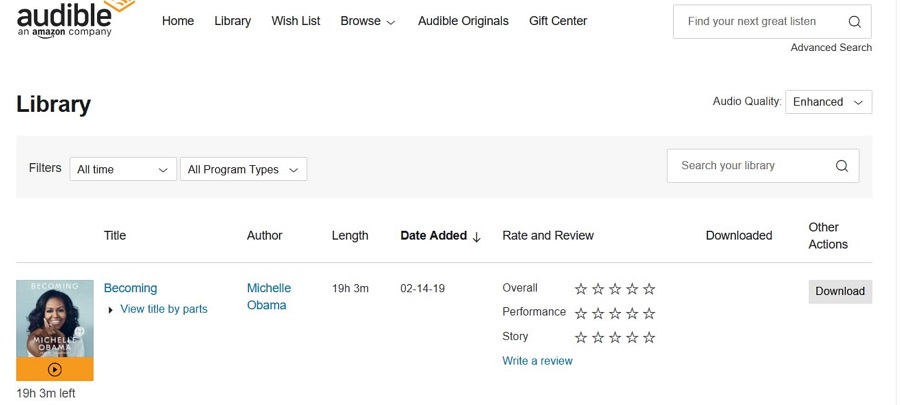 Step 2. Choose the one you would like to download and then click the "Download" button to the right of the audiobook.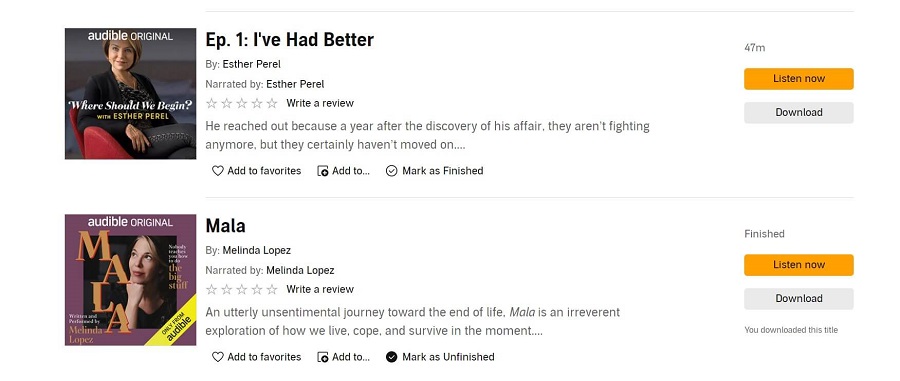 Step 3. After downloading, you can easily locate the file you downloaded in the corresponding folder.
• On Windows: Launch the browser, and click "Settings" > "Downloads" to view the file.

• On Mac: Directly enter "Finder" and click "Downloads" to find the downloaded file.
How to Download Audiobooks from Audible to PC via AudibleSync
Although Audible's Windows App is no longer working, Audible Official has offered a specific program called AudibleSync to help you store your purchased books locally. It is like an assistant that supports downloading audiobooks on PC running Windows 10 and above, allowing you to conveniently organize your book downloads. Here is the step-by-step guide for you to follow.
Step 1: Install AudibleSync on your PC, and run it to sign in.
Step 2:After signing in, you will be brought to the "Library". Click the "Download" button next to the title of your selected book to download.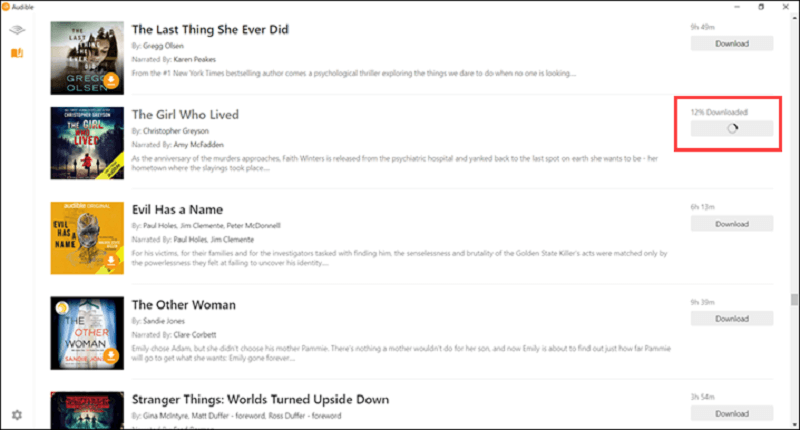 Step 3:After the download is complete, you can turn to "My PC" on the desktop, and locate the "AudibleSync" folder to view the file.
How to Download Audible Books to PC via Audible Download Manager
Apart from AudibleSync, there is also a program that helps you download Audible books to your computer, especially if you're using older Windows systems (Windows 7,8). After using it to download, you can also choose to export your downloaded Audible books to Windows Media Player, iTunes, or Audible Manager.
Step 1. Install Audible Download Manager on your PC and launch it.
Step 2. Click on "Options" >"Activate PC", and sign in with your Audible username and password in the window that pops up.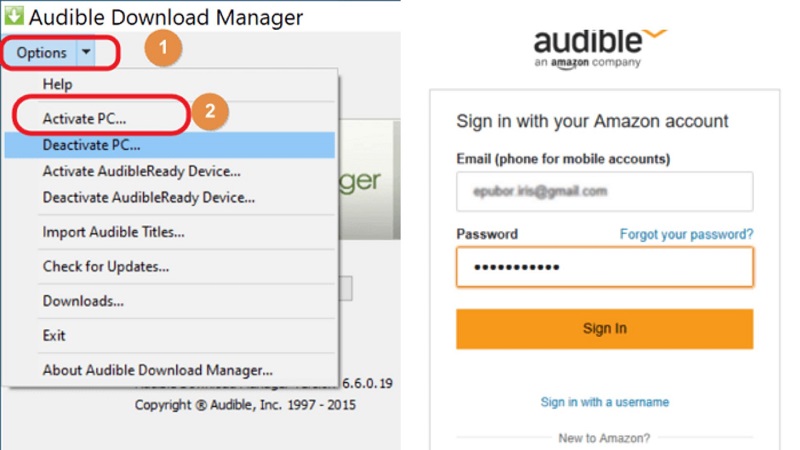 Step 3. After settings, you can visit the Audible website and download your selected audiobooks as adh files (For detailed steps, check the method provided above).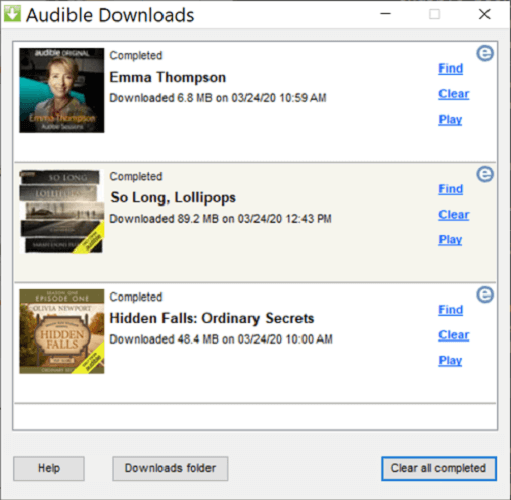 Step 4. Then, double-click those files and choose to open them with Audible Download Manager to download the .adh files to audible AA/AAX format. Finally, you can import them to Windows Media Player, iTunes, etc. according to your needs.
FAQs About Downloading Audible Books to PC
Q1: Can You Get MP3 Audible Downloads for Free?
Once finish downloading, you'll find that the Audible files you download are all protected in AA or AAX format, which means they can't be played on any media player other than Audible. If you want to transfer your downloaded Audible audiobook files to other media devices, you will have to convert those AA/AAX files to MP3 to make them compatible with most devices and media players.
TuneFab Audible Converter is the tool to achieve this. It removes DRM restrictions and converts Audible to common audio formats including MP3, M4A, WAV, or FLAC for free. You just need to drag and drop the AA/AAX files onto the program's home screen, and it will batch convert Audible audiobooks to up to 320kbps high-quality local files at 60x faster speed. The downloaded files retain ID3 info, allowing you to quickly organize them for offline playback.
Q2: Can You Download An Audible Book to PC as a PDF?
If the audiobook you want to download comes with additional content in PDF form, you can easily download the PDF files. But for other Audible books that don't meet this condition, you won't be able to do that.
Here's the guide to downloading Audible books to PC as PDF files:
Step 1. As usual, visit the Audible website and turn to "Library".
Step 2. Find your target book which comes with PDF, and click the "View PDF" button next to it.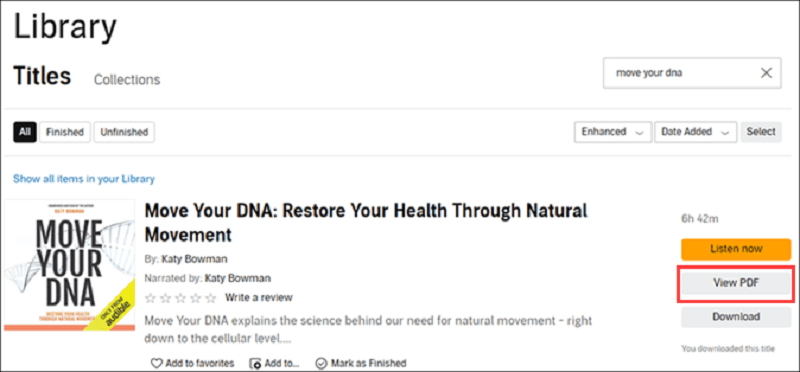 Then, you can use finger gestures to zoom in/out and export them as needed.
Summary
After reading this blog, you have learned 3 useful methods to download Audible books to PC without hassle. If you want to enjoy Audible audiobook playback on more platforms other than Audible itself, you can also use TuneFab Audible Converter to save them as MP3 local files for free. Now, pick one way to download and enjoy your books!
TuneFab Audible Converter
Convert protected AA/AAX Audible books to DRM-free MP3 files
Was this information helpful?
TrustScore 1.9 | 9