After you buy the audiobook titles through Audible, you can go to "Library" to find and listen to your purchased books from the Audible website or download the audiobook titles to your smartphone, Sono, Amazon Kindle device, tablet, or computer for listening. The benefit of downloading Audible books onto your computer or devices is that you would be able to listen to your audiobook even when you are not connected to WiFi.
For Windows users, you'll need to install the Audible app on your PC to download purchased items from Audible. Mac users, however, can directly download books from the Audible website.
Read on our guide to find out how to save audiobooks from Audible to PC and Mac.
CONTENTS
1. How to Download Audible Audiobook to PC (Windows 10)
Step 1. Choose the Audiobooks to Download
Let's assumed that you've already purchased some books from Audible, then you can go to "Library" as I mentioned before to choose a book that you would like to download to have offline. Click the "Download" button and you will be directed to a page showing apps for listening to Audible audiobooks.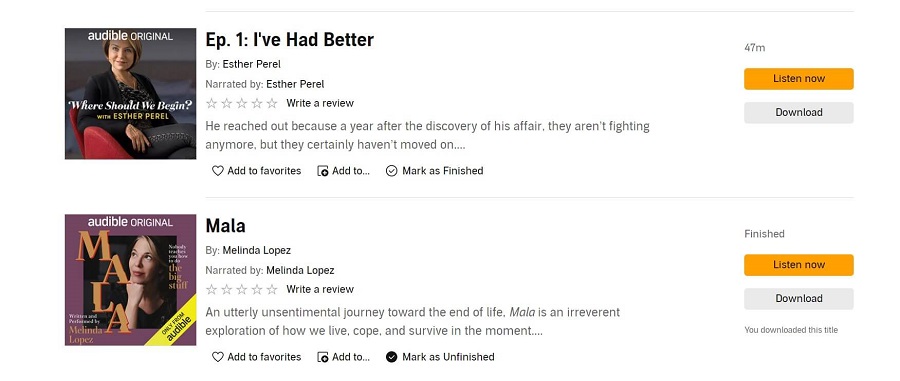 Step 2. Get the Audible App on your Windows PC
Scroll down until you see the Windows version of the Audible app. Click "Get The App".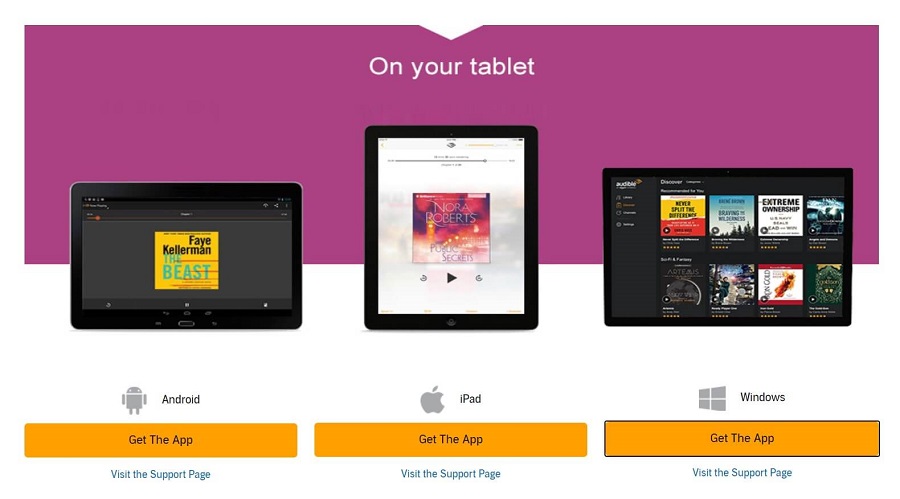 Then you will be linked to the Microsoft website. Click "Get" > "Open Microsoft Store", and the Microsoft Store app will be launched immediately.
Step 3. Launch Audible App on PC
In the Microsoft Store window, click the "Get" button again to download the Audible app on your Windows PC. After downloading, click the blue "Launch" button to open the Audible app.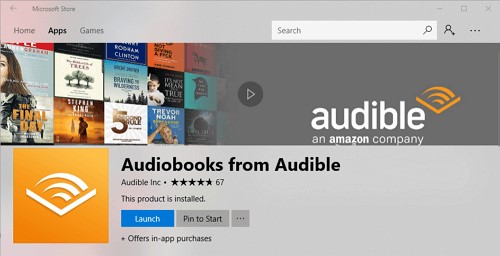 Step 4. Sign in Audible App on PC
Sign in Audible app with your email and password.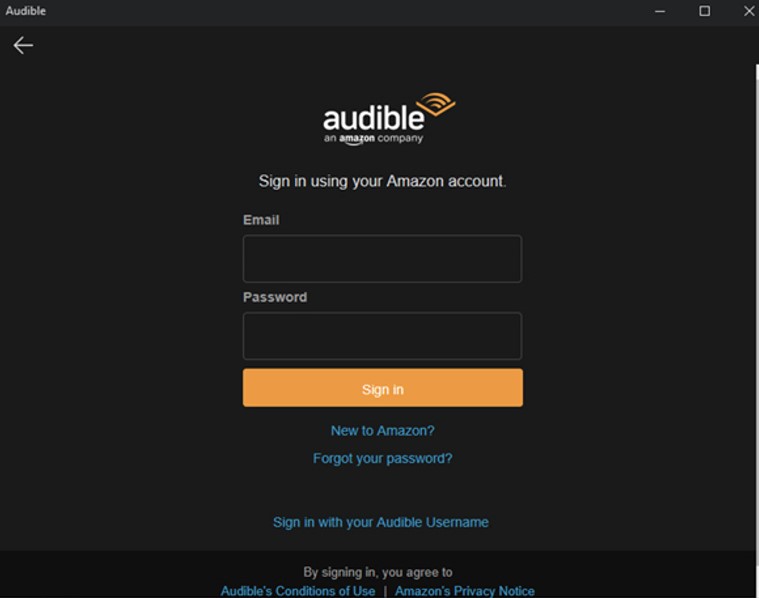 Step 5. Customize Download Settings
After you log in, go to "Library" and all titles will show automatically. Click the "Settings" button at the bottom left column, then click "Downloads" to customize the following:
* Select high-quality download format
* Download your library by parts
* Choose your download location
* Automatically import downloaded titles to iTunes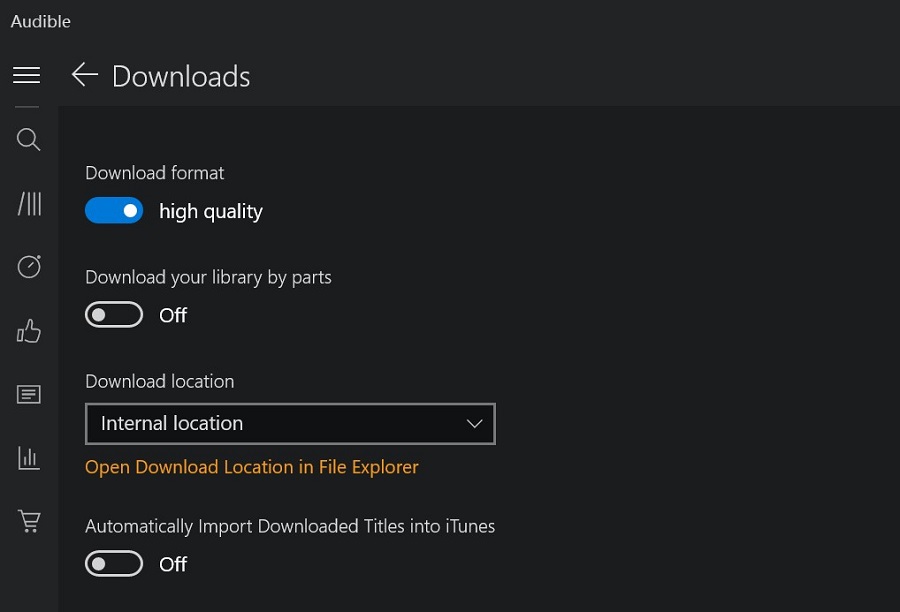 Step 6. Start Downloading Audible Titles to PC
When all is ready, click on the download icon and the download will start.

Step 7. Listen to Audible Audiobook on PC Offline
When it's done, you can listen to them directly via the Audible app or import audiobooks to iTunes for a better listening experience.
Tips: Where are Audible Files Stored on PC?
All downloaded files will be saved in the "Internal Location" by default. To find your Audible file, you can click the "Settings" icon > "Downloads" > "Download location" > "Open Download Location in File Explorer" to view all the downloaded items.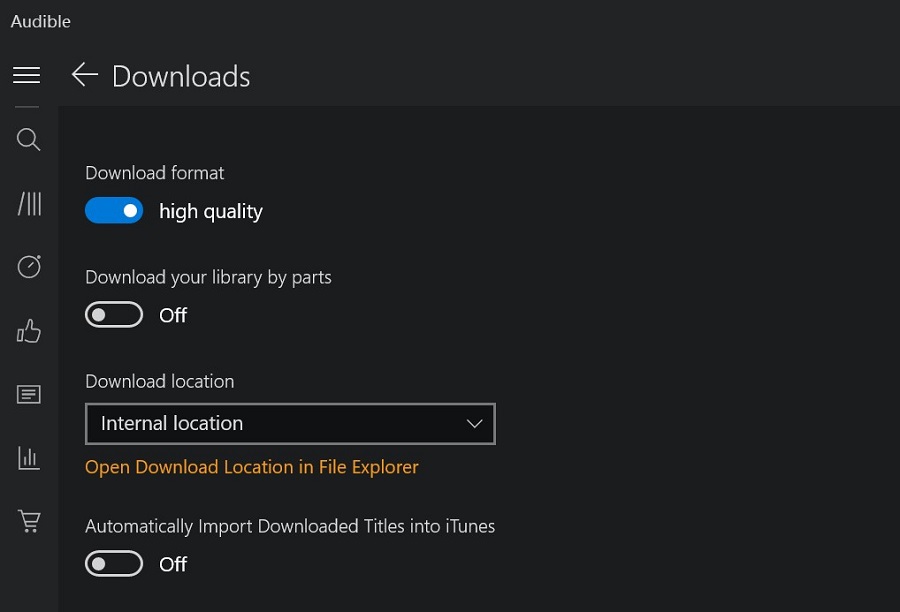 If you want to store the audiobooks in another location, you can select "Custom Location" to choose the desired output path and output folder.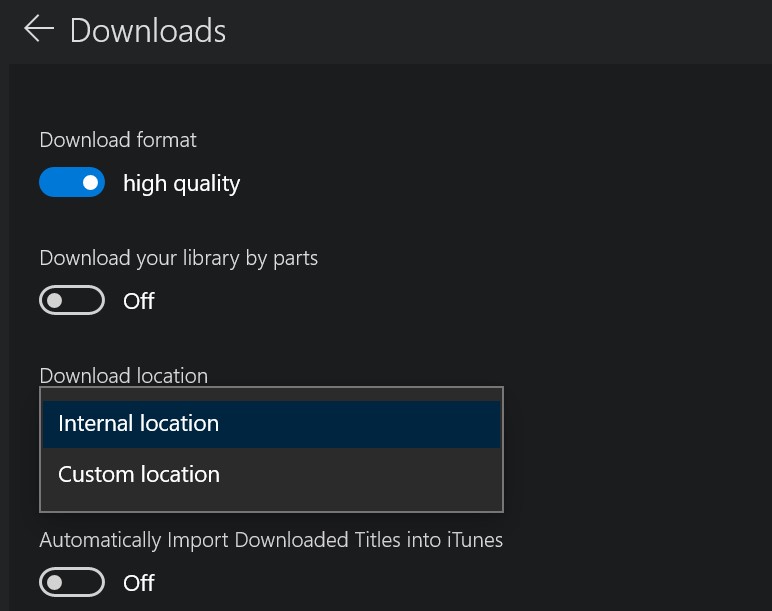 2. How to Download Audible Audiobook to Mac
Step 1. Go to the Audible official website, sign in with your Amazon account. And then go to the "Library" page where you will find all your purchased titles.
Step 2. Choose the one you would like to download and then click the "Download" button to the right of the audiobook.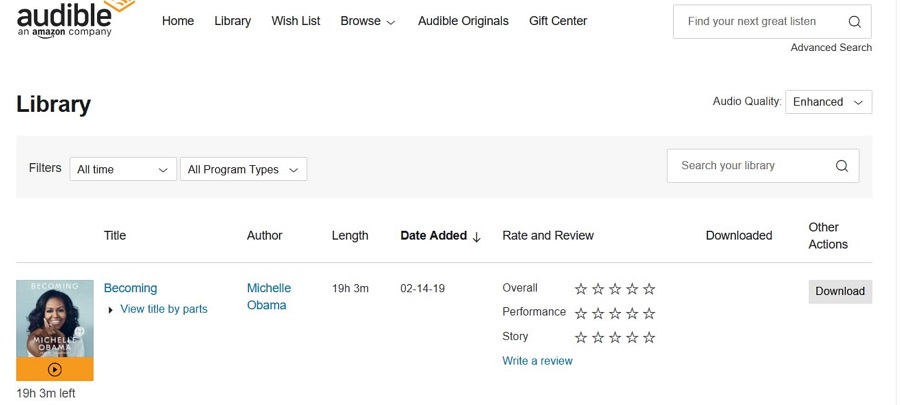 Step 3. It will start downloading the audiobook immediately without using the Audible app. Once it's done, you can add the AAX audiobooks to iTunes for listening.
Tips: In order to provide a higher-quality listening experience, Audible decided to stop supporting Format 4 (.aa) after 30 June 2020. All downloaded Audible audiobooks are in Enhanced format (.aax) which is DRM protected.
If you want to listen to protected Audible books on an MP3 player or other non-Audible supported devices, you can convert Audible to MP3 with a specialized Audible audiobook converter called TuneFab Audible Converter. Its supported features include 60X faster conversion, preserves audiobook chapters, keeping original metadata and parameters, audiobook splitter, etc.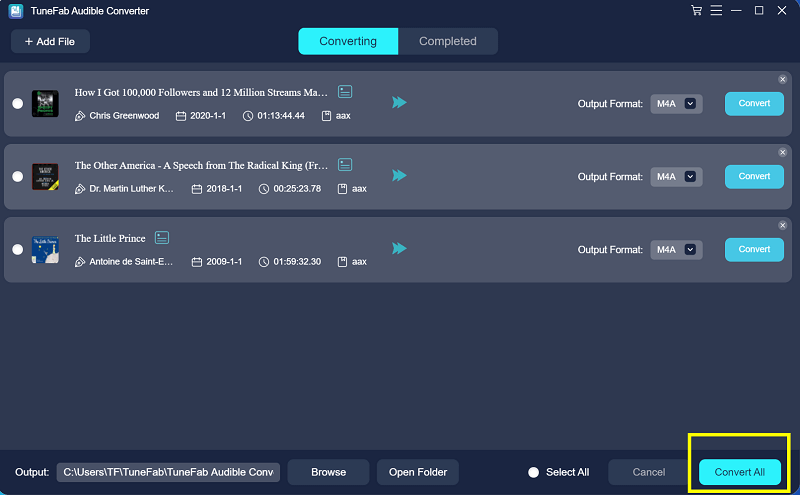 That's it. If you have any issues regarding this topic, feel free to let us know in the comments below.
Was this information helpful?
TrustScore 1.7 | 6