Last time I revised this post was back in September of last year, when the beta version of Apple Music's web player was first released. Now it's time for a second update because Apple officially launched Apple Music's web browser-based player which allows you to stream Apple Music in any browser on a Mac or PC.
Now you might be wondering questions like:
What kinds of features that the official Apple Music's web version is offering? Are there any missing features? How do you listen to Apple Music on the web?
No worries. This post covers everything you need to know about Apple Music's online player, such as user interface, main features, missing features, how-to guide, and its alternatives.
Let's dive right in.
CONTENTS
User Interface
Before you sign in, it looks like this: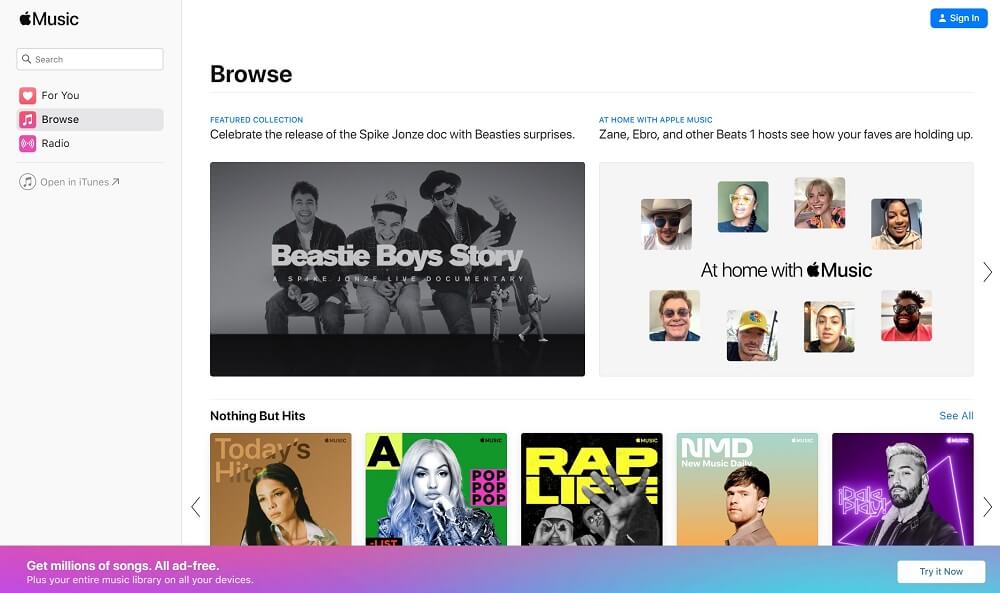 Head to music.apple.com in any web browser on your PC or Mac, you will see the web interface as above. The user interface of the web-based version looks very similar to that of the Apple Music app for Mac. You can find "For You", "Browse" and "Radio" tabs on the left sidebar. In the "Browse" section, you can explore playlists, recommendations, top charts and music videos.
After you sign in, the user interface looks like this: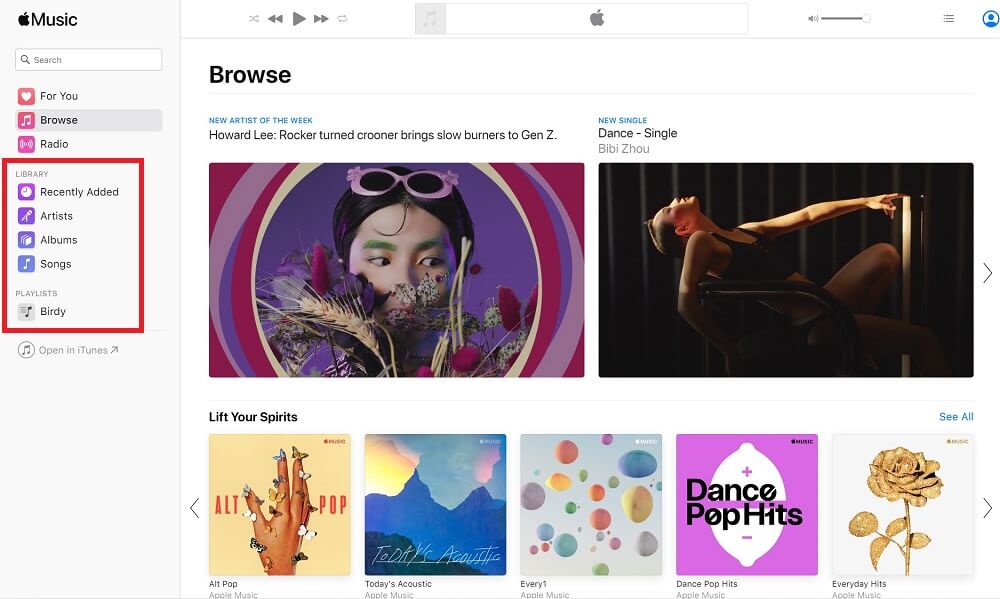 Once you sign in with your Apple ID that is linked to Apple Music subscription, all your playlists from iTunes will be synced to the browser version automatically. You can access tabs like "Library", "Recently Added", "Artist", "Album", "Songs" and "Playlists" on the left sidebar. And there's a playback bar displaying on top of the web interface.
At the bottom of the accessible sidebar, there is an option to "Open in iTunes" on Windows PC via Chrome/Firefox/Edge and "Open in Music" on Safari.
How to Use Apple Music Web Player?
Apple Music's web players works in all browsers, including Google Chrome, Firefox, Microsoft Edge, etc. across all platforms/devices, such as iOS, Android, Windows 10, Linux, Chrome OS and more.
If you already have an Apple Music subscription, you can visit music.apple.com in any browser on your device, log in with your Apple ID, and you will be able to listen to Apple Music in the web browser without using the Music app or iTunes app.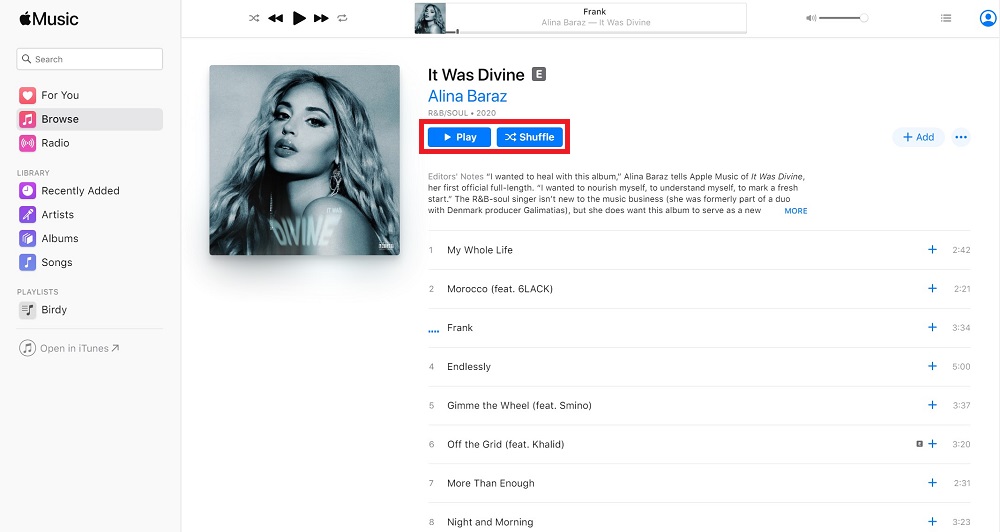 If you don't have a subscription to Apple Music, you can preview tracks up to 30 seconds with the web player.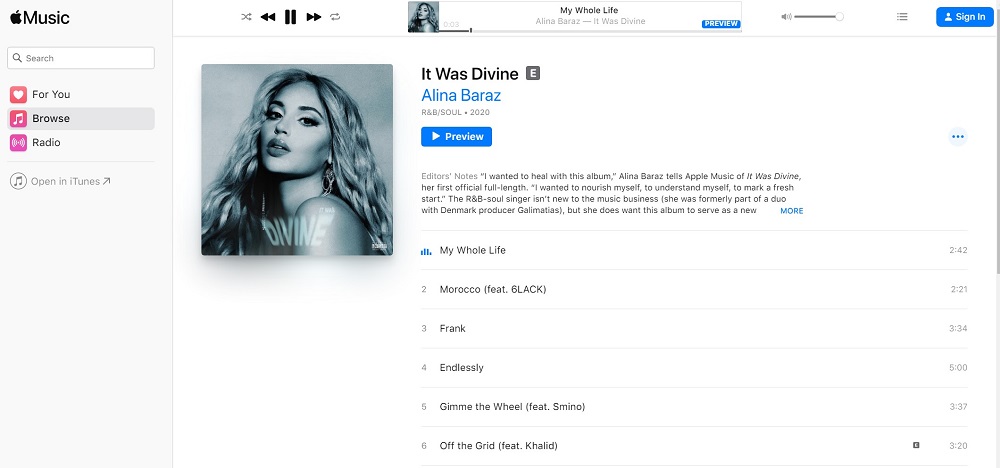 Main Features
No.1 Up Next/Play Next/Play Later
The "Up Next" feature is available in the web version. You can add music to the queue to play next or play later.
No.2 Shuffle
You can use the "Shuffle" feature to play music in a randomly generated order.
No.3 Add to Library/Delete from Library
You can add songs you like to the Apple Music library or delete them from your library in your browser.
No.4 Light and Dark Mode
Apple Music's online player supports both light and dark modes, if you are running macOS 10.14 or later, the web UI will adapt to whether you're using a dark mode or no on your Mac.
No.5 Other features
Other features include like/dislike songs, share songs, and get Apple Music Replay.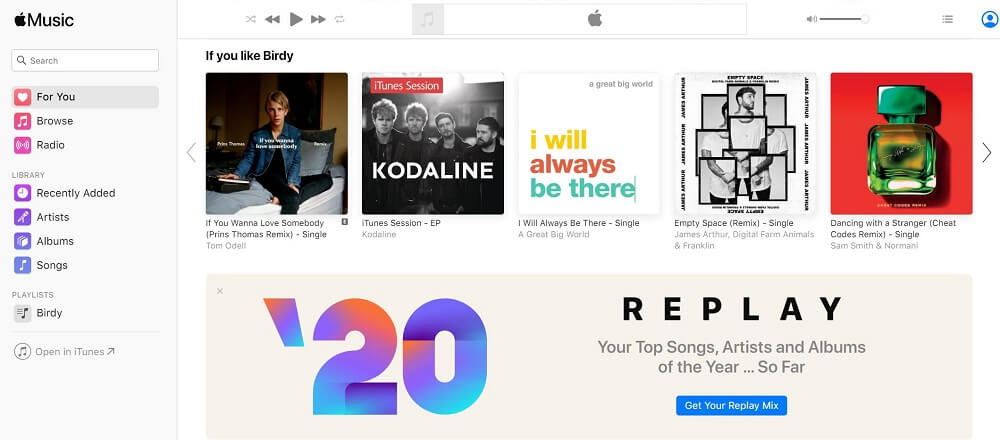 Missing Features
No.1 Lack of Support for Song Lyrics
Unlike using iTunes or Music app on your PC or mobile devices, you cannot see lyrics on the Apple Music web player.
Related Article: How to View Lyrics on Apple Music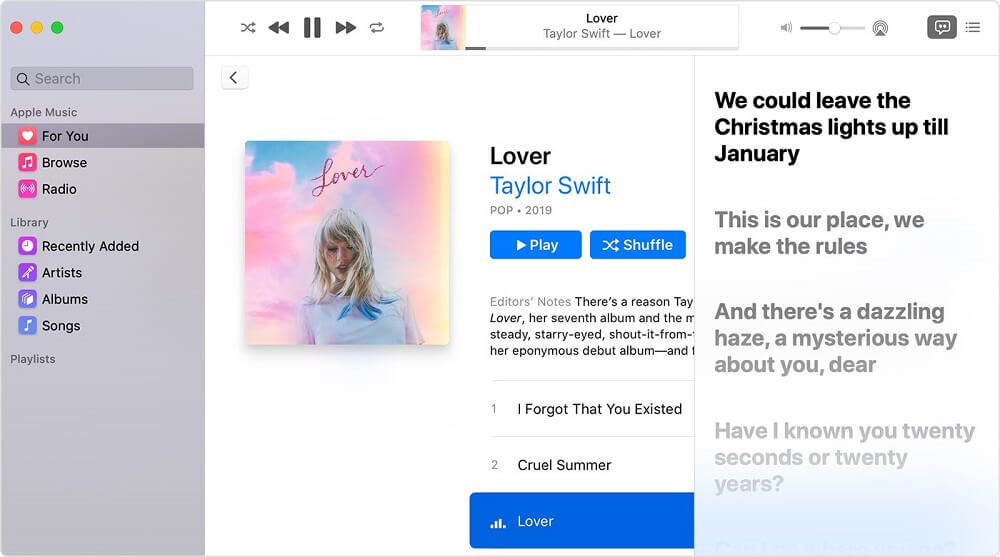 No.2 Unable to View Song Info
There's no option to check the details information of the music, such as artist, album, composer, genre, year, disc number, artwork, etc.
Alternatives of Apple Music Web Player
1. Maeve – Free Web Player for Apple Music without iTunes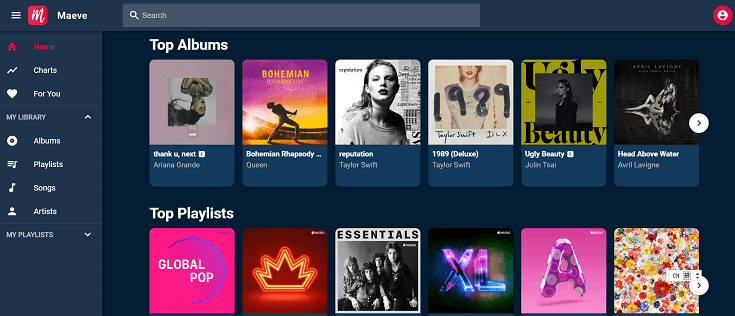 Maeve is created by a software engineer called An Tran. The reason why he decided to make a web player for Apple Music is simple - he was using Linux at working and he couldn't install iTunes to listen to Apple Music. So, if you are looking for a way to listen to Apple Music songs without downloading iTunes, Maeve is a great choice.
What I Like about Maeve
Fantastic tool to manage Apple Music collection: It has a useful navigation panel that lets you browse and access all music sections easily, including For You, Chart, Last.fm, Album, Playlist, Songs, etc. With Maeve, you can create playlists, search playlist, shuffle play music and repeat songs.
It offers an interactive map that allows you to check out the top 100 charts by country or genre.
Customizable themes: You can select the preset themes, or you can create a personalized theme by yourself.
Last.fm integration: Once connecting to Last.fm in Settings, you can scrobble your music to Last.fm easily.
Artists/Songs blocking: If you don't like the artists or songs, just block them and they will be filtered out of any playlist you play.

Lyrics from Genius: You can view the lyrics in different modes: in a pop-up or in a full screen.
2. Musish – A Web Player That Has A Clean & Intuitive Design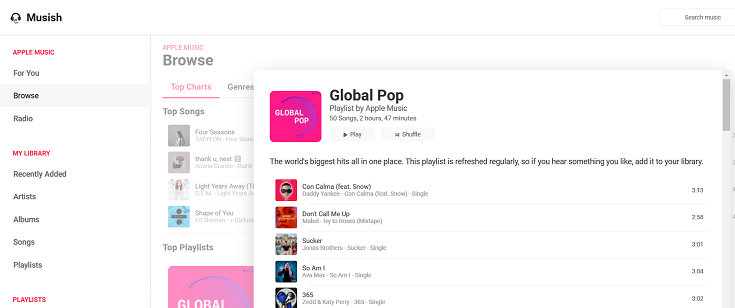 Musish is an open-source Apple Music web player created by 4 developers: Brychan Bennett-Odium, aphaël Vigée, James Jarvis, and Filip Grebowski. It has a clean and intuitive interface that looks like it is designed by Apple.
What I Like about Musish
It is available on any computer that can run a web browser. You can use it on a computer which is running macOS, Windows or Linux.
Similar to Maeve, Musish offers you the For You, Browse and My Library sections which show you your recently played tracks, the top 100 playlists and recently added tracks, artists, albums, songs and playlists, etc.
It also features a mini player that lets you play, shuffle, and repeat song easily and lets you see lyrics as well.
Different from Meave, Musish provides you with 2 kinds of streaming quality: High (256 kbps) and standard (64kbps).
3. Apple Music Toolbox – A Secret Way to Listen to Apple Music in Browser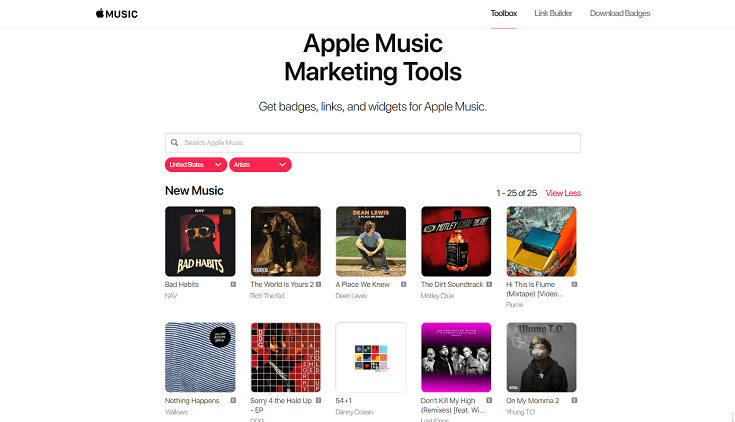 Apple Music Toolbox is an unofficial web client for Apple Music. It doesn't look like a proper web player but it's still quite useful when it comes to streaming Apple Music through browser.
It has the search box which lets you find out the song you like by searching for the name of the song, artist, album or playlist.
You can add songs to your library, copy song link, embed album and share music with Apple Music Toolbox.
However, this tool cannot be recognized as a full-feature web player because there are lots of functions not included in it. It can only offer you the basic function of playing songs on web or adding songs to a library and save playlist.
4. ThinMusic – An Apple Music Web Player for All Modern Browsers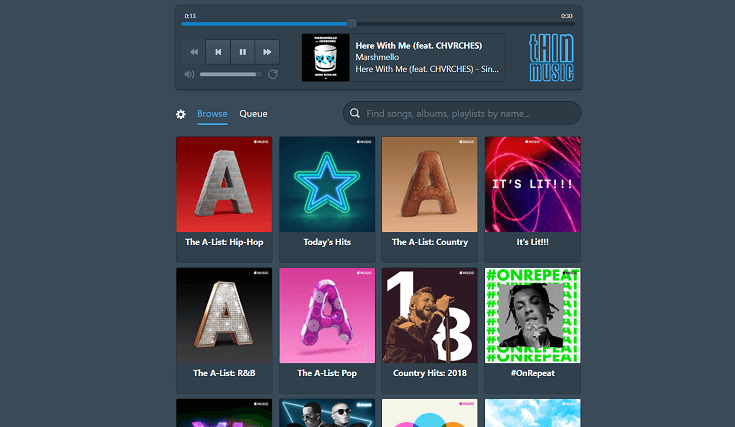 ThinMusic is an Apple Music web player created by Anant Narayanan. It is another tool that lets you play Apple Music songs, albums and playlists from all modern browsers.
You can browse the top playlists and search whatever songs you like in the Apple Music library. You can scrobble songs to Last.fm.
What's more, you can add the songs into queue and play them in different way: shuffle play, play next, play last, etc.
5. Zachary Seguin Music – A Web Player for Apple Music Using MusicKit JS.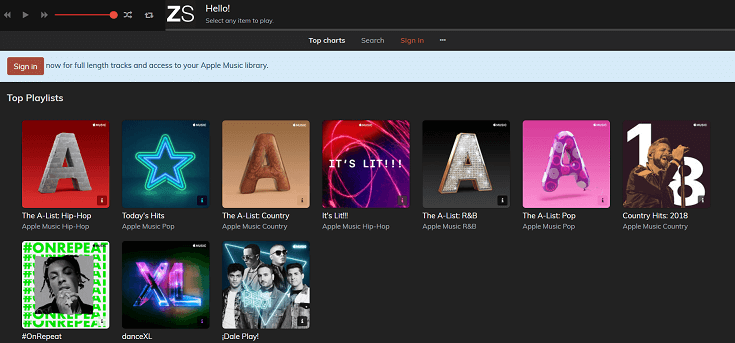 Zachary Seguin Music has the similar functions as the tools we mentioned above. It lets you view top charts, search music, add songs to queue, and select music playback quality (standard is 64 kbps and high is 256 kbps).
That's it, the above are the best Apple Music web players that you can use to stream Apple Music song through a web browser. Which one do you like best? If you have other great options, tell us in the comments!
Was this information helpful?
TrustScore 3 | 6