When it comes to having access to unlimited music at a lower price, there are a lot of apps these days to offer such features. However, two of the most popular services from amongst all others that come to mind are Apple Music and Spotify.
With over 50 million songs at the store, both of these services are well known for their high-quality streaming, which is offered at a very affordable monthly subscription rate. Before you conclude, you would want to know which would work best with your phones or devices, have better song collection, and so on.
Read on to find out more about the similarities and differences between these two music streaming platforms, and decide for yourself.
CONTENTS
Apple Music vs Spotify: Overview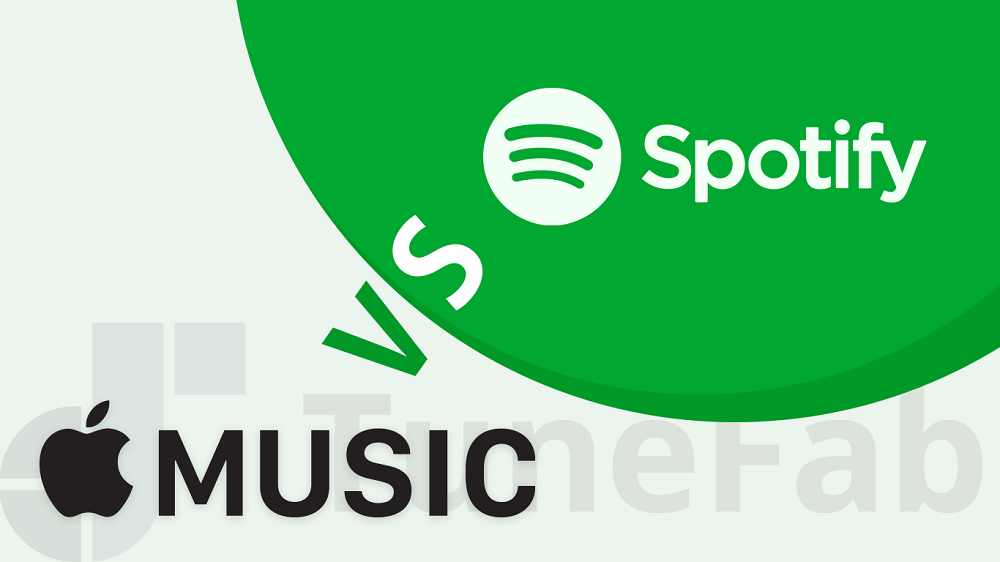 The music streaming industry has become quite saturated as more and more services are popping up on the radar. Although Spotify laid the groundwork for the industry, Apple Music has been able to catch up to Spotify's success.

Spotify, with more than 130 million Premium subscribers, is known to be the one to set the design that eventually helped the music streaming market grow. With paying as well as free subscribers, it looks like Spotify won't be stopping anytime soon. Apple Music, on the other hand, has started operating more recently and is recognized for all its features being compatible with the Apple iOS and Apple devices. With features such as human-touch radio, an extensive library to browse from, premium releases, and so on, Apple Music has topped Spotify in the United States.
The two services competing against each other has helped the recording industry to an extent. However, it has become increasingly difficult to judge which one is comparatively better.
Spotify is well established in the music streaming line by now, but Apple Music which has arrived almost seven years later is in no way lagging. Offers such as live radio, and a cloud locker, thus makes it a steep competition, although both services are similar in a few ways.
Apple Music vs Spotify: User Interface and Experience
Even with their different background colors, both Apple Music and Spotify have been praised for maintaining a simple and intuitive user interface. The interface of both platforms is well-optimized and easily navigable.
If you use the mobile Apple Music and Spotify applications, you will find the main tab at the bottom of the screen, generally consisting of options such as radio, search, library, playlists, album, etc.
However, there are a few key differences that set the interface of the two platforms apart. For starters, Spotify often displays short videos and animations while playing some tracks. Some of the animations can take up the entire screen background, and lyrics are also visible for some songs.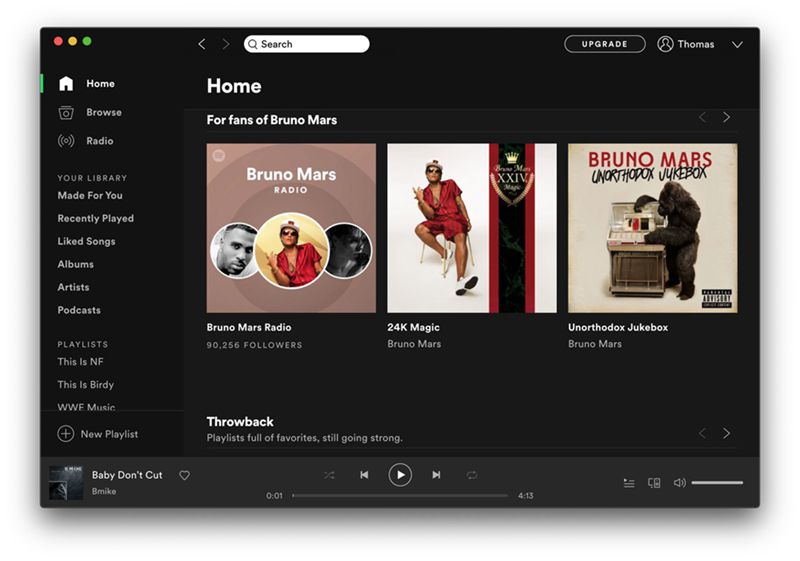 Apple Music, on the other hand, has limited animations but is known for time-synced lyrics. Apple music even lets users search for particular songs only through typing a segment of lyrics. This feature is especially helpful when you do not know the name of a song.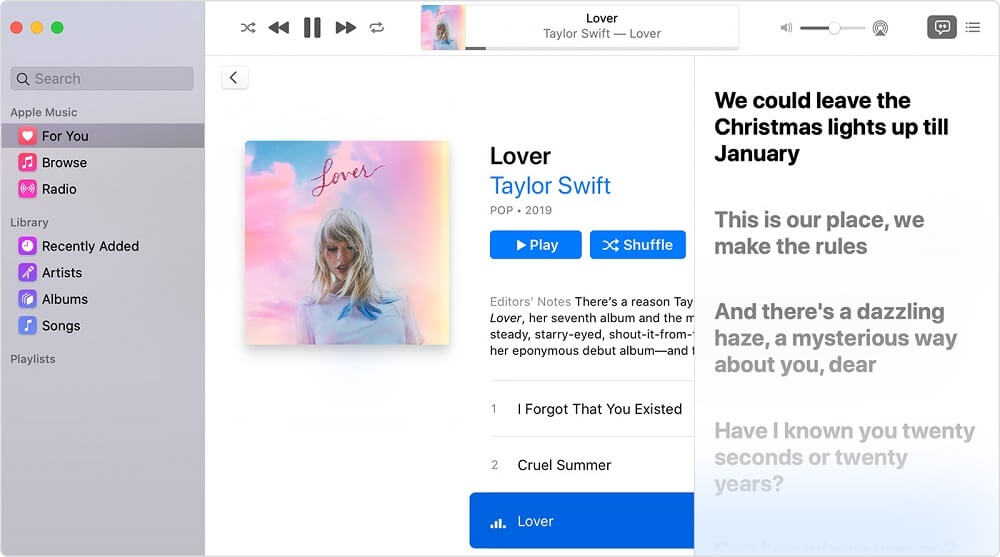 Just like Spotify, Apple Music is now compatible with CarPlay and Android Auto. You should face no issue managing your vehicle's infotainment system with any of these music streaming services. Apple Music also has very effective personalization options under the For You tab. It helps you optimize recommendations according to your taste in music.
Apple Music vs Spotify: Pricing
Even though all the major music streaming services offer the industry-standard price of around $10 per month, there are subtle variations in the pricing scheme.
| | | |
| --- | --- | --- |
| | Apple Music | Spotify |
| Individual Plan | $9.99/mo. | $9.99/mo. |
| Family Plan | $14.99/mo. | $14.99/mo. |
| Student Plan | $4.99/mo. | $4.99/mo. |
| Free Option | No | Yes, with ads |
| Free Trial Period | 3-month | 1-month |
How much does Spotify cost?
Spotify is known to charge $9.99 for their Premium services, but they also offer a free service that comes with a few caveats.
Spotify Free users can stream music for free with ads, and they are restricted from listening to their choice of albums and playlists in a shuffle mode, and a skip-limit has been put in place as well. You will not be able to skip songs over six times in an hour, and ads will pop up now and then interrupting your music playback.
The premium service does not have any of these restrictions and is cheaper for students at around $4.99 per month. There is also an amazing family plan that costs roughly $14.99 per month for up to 6 family members. Furthermore, Spotify Premium also comes with Hulu and Showtime integration. You can also try out the premium service by subscribing to their three-month trial period.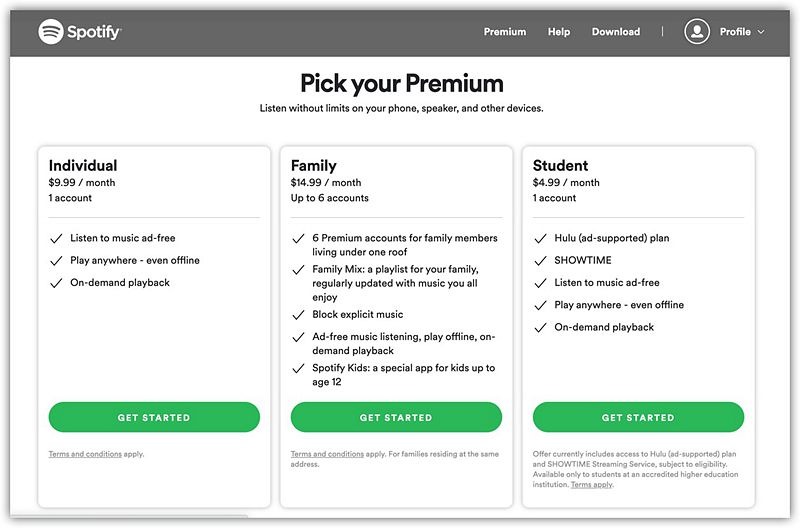 Compared Spotify Free vs Premium:
| | | |
| --- | --- | --- |
| Features | Spotify Free | Spotify Premium |
| Price | $0 | $4.99 - $14.99/mo. |
| Ads | Yes | No |
| Offline Listening | No | Yes |
| Max Audio Quality | 160 Kbps | 320 Kbps |
| Unlimited Skips | No | Yes |
How much does Apple Music cost?
Apple Music originally wanted to provide its Premium service for $5 per month but was unable to do so due to featuring music from major labels. Similar to Spotify, Apple Music also charges $9.99 per month to users and has a heavily restricted free service. Apple Music also offers a family plan subscription which costs $14.99 per month for up to 6 people.
Apple Music's free service only lets users gain access to Beats1 radio and browse the iTunes library for playing pre-purchased tracks. There is a separate plan for students which costs only $4.99 per month. Moreover, the premium service lets you link the application to AppleTV+.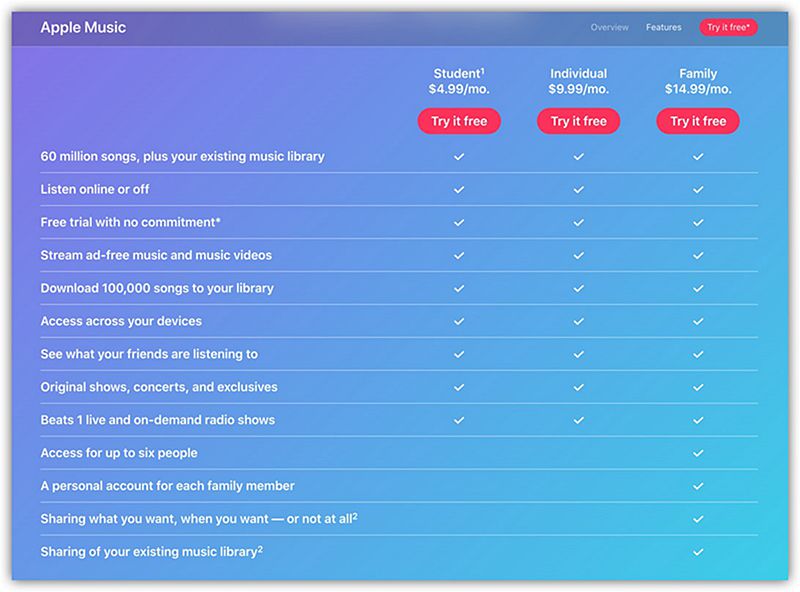 Apple Music vs Spotify: Music Library
| | |
| --- | --- |
| Name | Number of Tracks |
| Apple Music | 60 million songs |
| Spotify | Over 50 million songs |
Although Spotify and Apple Music are recognized for their massive music libraries of 50 million and 60 million songs respectively, there is a lack of notable exclusives.
Apple Music is known for featuring several highly sought-after albums, but they haven't dished out any exclusive content recently. On the other hand, other major music streaming services such as Tidal have been consistently releasing exclusives, some of which are only starting to appear on Spotify and Apple Music.
Apart from exclusives, both platforms have also been applauded for regularly giving users early-access to certain albums and songs. One of Apple Music's remarkable features is its ability to hook up to the iCloud Music Library. This lets users select songs from their library across all devices. You will be able to play songs from your devices on Spotify as well, but unlike Apple Music, none of the songs are uploaded to the cloud.
Apple Music vs Spotify: Music Discovery
Among all the acclaimed music streaming services in the market, Spotify and Apple Music stand out due to their impressive collection of new and old music. On top of that, both platforms have highly customizable settings that can help you learn about songs that suit your personal preference.
Spotify users will be treated to two separate playlists named Discover Weekly and Release Radar that usually feature new tracks every week. Apple Music also introduces new music each week to a playlist called New Music Mix.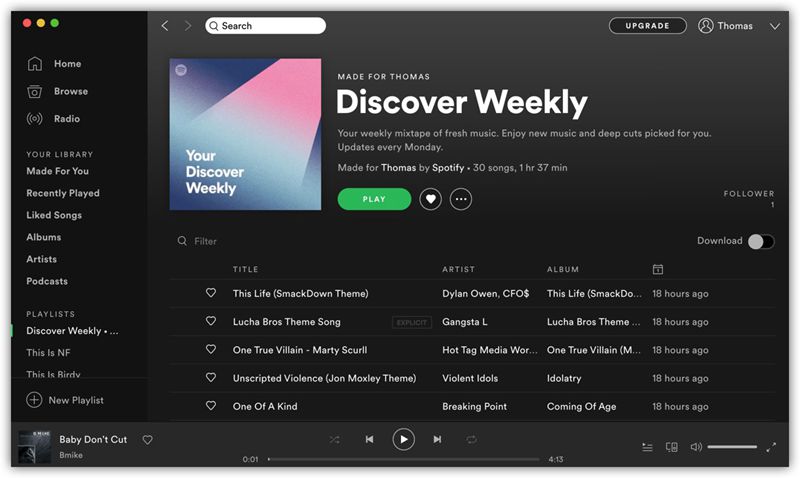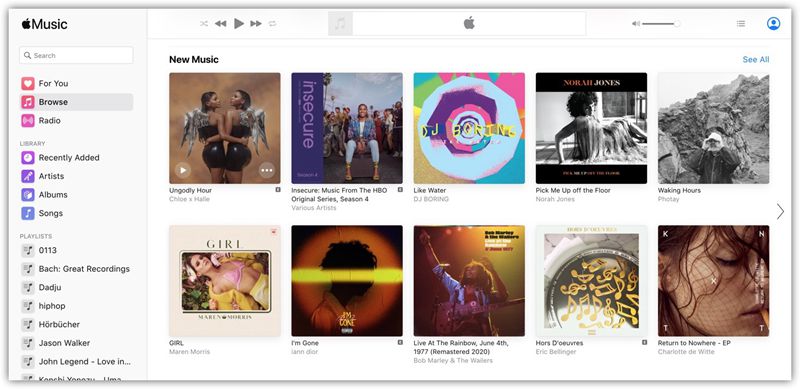 The music personalization settings of both Spotify and Apple music work wonderfully, and they are also easy to configure. This is usually taken care of as you sign in to the two applications. You will be bombarded with questions about your preferred artists and genres to obtain a better understanding of the kind of music you listen to. Although this procedure can be a bit cumbersome, it can precisely determine which songs to recommend to users.
Moreover, both platforms can generate appropriate playlists based on your selection.
In comparison to Apple Music, Spotify mostly relies on its recommendation algorithm to pinpoint and create playlists of songs that you might like. However, some users tend to choose Apple Music solely for its strong user-curated content. In this way, users can learn about the latest music as well as unreleased tracks they are looking for.
Apple Music vs Spotify: Offline Listening
| | | |
| --- | --- | --- |
| | Apple Music | Spotify |
| Download Limit | 100,000 songs | 10,000 songs per device |
| Device Limit | Up to 10 devices | Up to 5 devices |
Offline listening is perhaps the most important option that we look for in music streaming services. As the price of mobile data is gradually increasing, it has become more economical for users to rely on downloaded music when they are traveling. Moreover, some areas are known for having poor cellular reception. Offline listening can be an added benefit for users who frequently traverse such places. Fortunately, both Spotify and Apple Music support offline music playback.
You can synchronize Apple Music to work across a maximum of 10 individual devices and you can download close to 100,000 songs. Keep in mind that songs you download from Apple Music are only playable while your subscription plan is active. What's more, you are only allowed to play music on Apple's authorized devices. Once you stop subscribing, you'll lose the entire music library. But with tools like TuneFab Apple Music Converter, you can easily solve this issue because it will help you back up your entire Apple Music collection to PC locally without DRM encryption.
In comparison to Apple Music, Spotify (Premium) only lets you sync up to 5 devices and there is a download limit of around 10,000 songs per device. Numerous original songs, covers, video content, and even exclusives can be downloaded on both platforms because of this feature. Spotify even takes it up a notch by letting users have access to their impressive selection of podcasts.
Because of the greater number of songs you can download on Apple Music, it is a better choice for people who intensively rely on offline listening every day. However, if you love listening to podcasts, Spotify is the way to go as they constantly invest in introducing exclusive podcasts.
Apple Music vs SpotifyStreaming Quality
Apple Music

Spotify

Streaming Quality

256 Kbps AAC

320 Kbps Ogg Vorbis

160 Kbps

96 Kbps

24 Kbps
Although general users do not put a lot of emphasis on audio streaming quality, it is certainly important to audiophiles.
Apple Music streams all of its tracks in the form of 256 Kbps AAC files. There is no variable streaming quality offered by Apple music, which can be a problem for people who are running low on mobile data. On top of that, plenty of other music streaming services can stream 320 Kbps files that have more depth and sound crisper.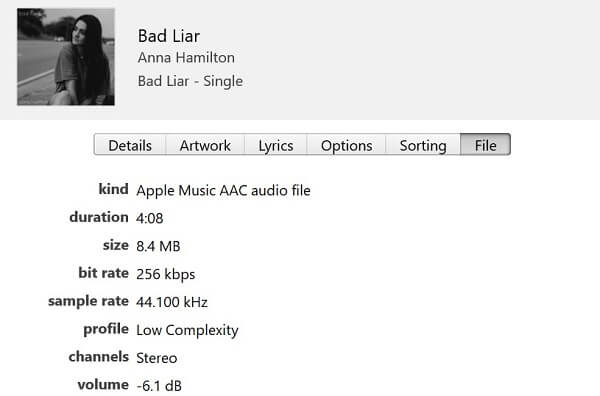 In contrast to Apple Music, Spotify utilizes an Ogg Vorbis format for streaming and is capable of offering users variable streaming quality. If you are using Spotify on your smartphone, you should be able to choose from different stream quality presets such as Low (24 Kbps), Normal (96 Kbps), High (160 Kbps), and Very High (320 Kbps).
However, Spotify users on the desktop can only select a bit rate between 160 Kbps and 320 Kbps. The variable streaming quality of Spotify makes the platform more versatile, and it won't unexpectedly stop music streaming for those lacking adequate cellular data.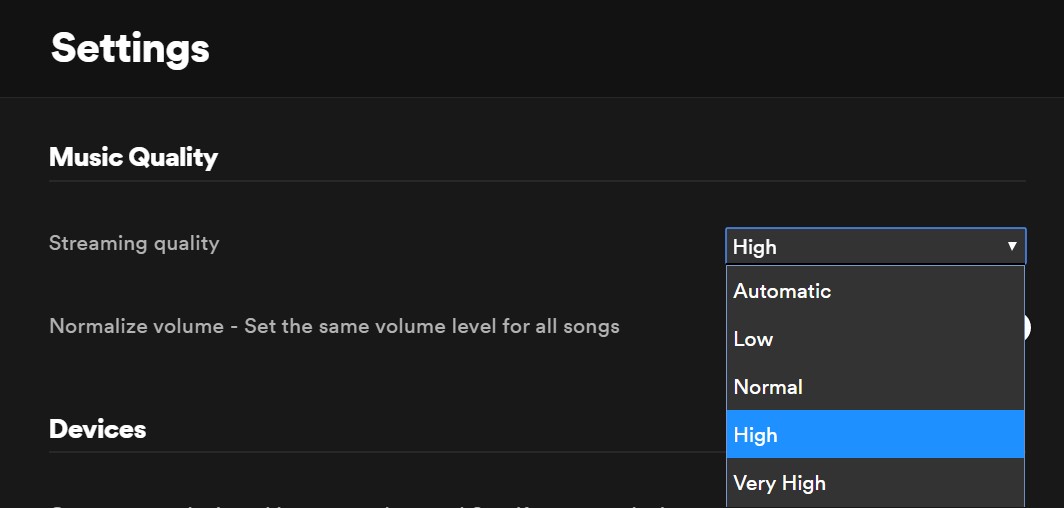 Apple Music vs Spotify: Social Sharing
Relative to other music streaming platforms, Spotify and Apple Music is well-known for offering a wealth of social sharing features to make your music listening experience fun and interactive. You will be able to follow your favorite artists on both platforms and get notifications on their newest releases. Other than that, you will be able to see all their latest posts to keep yourself updated. You can also follow your friends and acquaintances on Spotify and Apple Music.
Despite the similarities, many users have stated that popular musicians are more active on Apple Music in terms of posting updates. Other than that, as long as your friends are added to you on Facebook, you will be able to follow them on Apple Music and observe their activities in real-time. Furthermore, Apple Music has a proprietary feature known as Connect that functions similarly to Twitter. Connect allows artists to post texts, photos, and videos on their profile for their followers.
Although Spotify lacks a Twitter-style tab for following your favorite artists, it lets you observe your friend's activities in real-time. You can share your preferred songs, albums, and playlist among your friends using Spotify Codes. Furthermore, Spotify is reportedly working on an innovative feature called 'Tastebuds" that will allow the application to create a separate playlist for friends with similar tastes in music.
Apple Music vs Spotify: Playlists
The ability to properly manage playlists is important for all music streaming services. Spotify and Apple Music have been quite successful in this regard due to their unique approach to curating content for users.
Spotify has recently replaced its radio tab with an assisted playlisting option that can give users precise recommendations based on their taste in music. Moreover, users will be able to create separate playlists for different activities throughout the day such as workouts, traveling, and so on.
Spotify can make highly accurate track suggestions because of its powerful contextual recommendation algorithm that heavily relies on listening history. The service also allows its users to preview songs before selecting them for a personalized playlist.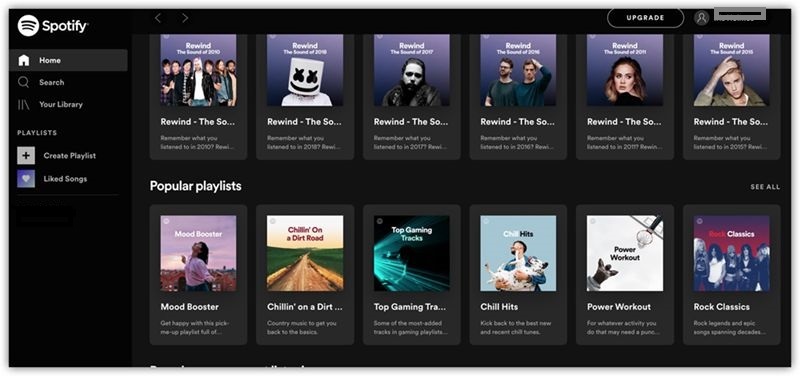 Although Apple Music still utilizes radio-style programming, it put a far greater emphasis on identifying user-curated content. Beats 1 is a prime example of Apple's top-notch in-house radio station that broadcasts music and shows hosted by several prominent DJs. This helps users obtain a unique perspective on their choice of music and have a distinct listening experience altogether.
You can also surf genre-based radio stations on Apple Music such as Jazz, Classic Rock, Blues, Country, and so on. Furthermore, you can also check out well-known news radio stations such as BBC and ESPN.
Apple Music vs Spotify: Voice Assistants
When it comes to Apple Music, Siri functions as your DJ to add songs to your library, control playback, find song facts, queue up your favorites, and so on. Spotify, however, lacks many features in this regard and although you can use Siri, it becomes more complicated to get the app to perform the way it does in Apple Music.
The HomePod speaker by Apple is primarily made to be used alongside Apple Music. The HomePod allows Siri to control almost all essential functions related to your Apple Music collection. Functions such as accessing playlists, moods, genres, playing similar music based on recommendations, liking and disliking songs, starring at a radio station and so much more.
Unfortunately, the Spotify app doesn't have any of these similar features. All you can do with a Spotify subscription is streaming audio to HomePod in your device that runs the Spotify app.
Nevertheless, the good news regarding Spotify is that it supports numerous third-party devices ranging from game consoles to smart speakers and many others. So you have a wider choice when it comes to gadgets and devices you want to use alongside your Spotify app.
Luckily, if you own a speaker that is Amazon Alexa- enabled, then you can easily connect it to both Spotify and Apple Music and enjoy. Although, it is advised to check your region before you do that since support can differ depending on where you are at.
The Pros and Cons of Apple Music and Spotify
Advantages of using Apple Music:
It lets users discover songs by searching lyric streams.

Apple Music is currently available for Android users.

It has a great library of music from independent artists.

It offers AppleTV+ integration.

It has a larger music library compared to Spotify.

The upper limit of downloaded music is much higher than Spotify.
Disadvantages of using Apple Music:
It doesn't include all the songs from the iTunes catalog.

Unlike Spotify, there is no free ad-supported service.

It streams music at a fixed bitrate of 256 Kbps.

Apple Music web player doesn't support lyrics.
Advantages of using Spotify:
It makes use of short videos and animations to enhance your music listening experience.

It has a very intuitive UI and lets you create playlists using the search option.

It has greater compatibility across devices in comparison to Apple Music.

It features a non-paid plan that lets you listen to your favorite albums and playlists in shuffle mode.

If you subscribe to their Premium service, you can stream music at an impressive compression rate of 320 Kbps.

It can be linked to your Facebook account.
Disadvantages of using Spotify:
Its services are not available in all countries.

Other than Genius behind the Lyrics integration, there is no built-in Lyrics feature.

There is no unrestricted track skipping for free users.
Final Verdict
Spotify is an ideal choice for users who are looking for a non-paid service that only comes with basic features. The free service offered by Apple Music only lets you tune into the Beats1 radio station and listen to music from iTunes. On the other hand, Apple Music has near-perfect synchronization with other Apple devices and is a great option for those who want to remain in the Apple ecosystem. Both Apple Music and Spotify are excellent music streaming services, and it's upon you to decide which one suits your needs the best.
Was this information helpful?
TrustScore 3.5 | 16