For music lovers, Apple offers two subscription services- Apple Music and iTunes Match. Given that these two services are very similar, you might be confused about the difference between them and which one you should use. You may have already been using one of these and are wondering if you should get the other one to get more facilities.
Hold that thought, because as you are reading this article, you'll be glad to know that it's the ultimate guide that will allow you to learn everything you need to know about Apple Music and iTunes Match. In this article, we have put all the information that could come to your mind to clear up each confusion. Without further ado, let's get started.
CONTENTS
1. About Apple Music
You might already know that Spotify ranks as the top music streaming service in the world. But in the United States, Apple music is no less than that; it has taken the country by storm. Unlike Spotify- the top-ranking streaming service, Apple Music lets you enjoy a 3-month free trial.
This music streaming service offers millions of songs, — 60 million, to be exact. It provides access to these songs for a fixed monthly price. As all the songs are available in the iTunes Store, you'll never lose them even after deleting them from your devices. You can go to the iTunes Store to download it again!
Apple Music works on any Apple devices, such as- iPhone, iPad, iPod touch, Apple Watch, and so on. You can even use it on Android devices.
However, Apple Music is not available on old iPod devices such as iPod shuffle, iPod classic or iPod nano, etc. because these old models don't have support for WiFi access. If you do want to play Apple Music songs on your old iPod, the best solution is using TuneFab Apple Music converter to convert Apple Music library to iPod shuffle/classic/nano supported format, such as MP3. Then you can easily put Apple Music tracks to your old iPod for listening.
How Does It Work?
It's a subscription-based streaming service, just like- Amazon Music, Spotify, and a few others. Currently, the Apple Music service is available on Apple Watch, Mac, PC, Android, Apple TV, iOS devices, HomePod, and Sonos.
When you subscribe to it, Apple Music checks the music collection of your device and sees if it matches with the Apple Music catalog in terms of album, artist, name, and so on. Apple Music makes the matched ones available on all your devices.
2. About iTunes Match
iTunes Match, a part of Apple's iCloud suite lets you match, and upload music tracks up to 100,000 to the iCloud Music Library. You can share the music collection with your other devices, too; you'll have to use the same Apple ID for that. In total, you can use up to 10 devices to stream and download those tracks.
This Apple service requires an annual subscription. The service will be renewed every year automatically if you don't cancel it. So, you'll need to pay a flat amount of money every year to enjoy this DRM-free service.
How Does It Work?
iTunes match uploads all the matched and unmatched tracks on the iCloud Music Library and makes them available on all your devices. If the tracks on your device have low-quality, it will upgrade them into high-quality, 256 Kbps AAC.
You can import music from any source, add them to the iCloud library and listen to them on any 10 devices.
3. Apple Music vs iTunes Match: Service Comparison
You might yet have a lot of confusion about the two services. After all, they are quite similar to each other. The straight-forward answer to clear up all that confusion is that iTunes Match is a cloud backup while Apple Music is a music streaming service.
Apple Music Service: As mentioned before, you'll enjoy 3 months of the free trial from Apple music; after this period ends, you'll need to pay $9.99 per month or have the family pack of up to 6 members at $14.99 per month. After subscribing, you can enjoy any music with a data connection. You can download them and listen to them offline. With the student tier offer, you can enjoy this service for $4.99 only.
Besides, you'll have access to a limited amount of music videos, films and shows, and Beat 1 radio. After you unsubscribe, you can't have access to them anymore, even to the downloaded ones. One tip for you is that you can save $21 per year by using the annual plan, for which you'll have to pay $99 per year.
iTunes Match Service: For this service, you need to sign up to it using your Apple ID, enable it on the devices you want. As we said before, you can use it on up to 10 devices. When you subscribe to this service, you get access to all the music tracks via the cloud.
You can store any kind of music, including the purchased ones and the tracks imported from CDs. To enjoy it, all you need to do is pay $24 per year. One good thing about iTunes Match is that unlike Apple music, you can enjoy these downloaded music tracks even after unsubscribing the service.
3.1 Differences
The main difference between the two is that Apple Music is DRM-protected, while iTunes Match is DRM-free. That means, Apple music service can only be used in authorized devices. After you unsubscribe it, you can't listen to the music anymore, even the ones added to the iTunes library. (View how to remove DRM from Apple Music without using iTunes Match).
On the other hand, as the iTunes match is DRM-free; you can use it on any device. You can save the music tracks to listen to offline. You'll be able to listen to the tracks even after unsubscribing the service. That means, you can keep all the downloaded and shared songs after signing up.
3.2 Similarities
We hope, by now, you have pretty much figured out the differences between the two services. Now, you'll learn about the similarities between them.
* Both services let you use it on multiple devices and stream music tracks in the iCloud library.
* Both allow you to listen to and share streaming music easily.
* Both are online services.
* The storage limit for both services is 100,000 tracks.
* You can upload as well as download music from iCloud music services using both.
4. Using Apple Music and iTunes Match Together
Here's some good news for you- you can use them both at the same time. In fact, they provide the best service while working together. Now, you may ask - how?
You own the music when you use iTunes Match, but with Apple music, you don't. With Apple Music, you can have curated playlists, user-created playlists, and many more algorithmic personalized playlists. You can access many radio stations as well as Beats 1 radio. But you can't listen to the tracks after unsubscribing the Apple Music service. That's why you need a cloud backup - iTunes Match.
Now, you may think, why not get iTunes Match only? Well, with iTunes Match, you won't get access to so many features. In fact, you can only use the service on up to 10 devices, whereas you can use Apple music on any compatible device.
So, if you want access to unlimited music tracks and want a cloud backup for them, you must subscribe to both services.
4.1 Can You Use Only One of Them?
Apple says, "Apple Music and iTunes Match are independent but complementary." While it's best to use them together, you are not required to do so. You can use iTunes Match without subscribing to Apple Music and vice versa.
4.2 Which One Should You Get?
We would recommend that you get both. But if you are still asking yourself, which one should I choose? Here's the answer:
* If you want access to unlimited music, you should get Apple Music.
* But if you want a cloud backup, iTunes Match is the one for you!
4.3 Our Verdict
If you are already subscribed to iTunes Match, we suggest that you keep it. So, whether you are planning to get Apple Music or not, iTunes Match will always be your reliable backup cloud. You can even add music from any source and keep them after unsubscribing.
5. FAQs
With the attempt of clearing up all your confusions and helping you as much as we can, in this section of the article, we have included the frequently asked questions about these 2 services. We hope these will answer yours too.
#1. How do I remove DRM from Apple Music?
To back up Apple Music songs before unsubscribing the service, you need to remove DRM first. For that, you have to convert Apple Music from M4P to MP3. You can use TuneFab Apple Music Converter to remove DRM and convert the tracks into other formats.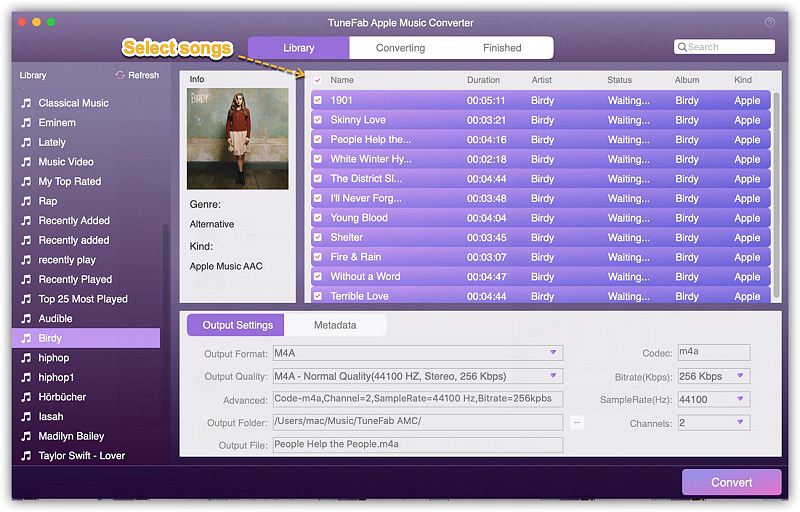 #2. How to change the format of Apple Music tracks into MP3?
Using the same converter, TuneFab Apple Music Converter, you can change the format of the tracks. After selecting the music tracks, you want to convert, change the output format to MP3.
#3. What to do when iTunes Match stops working?
Check if the devices are updated with the latest iOS, macOS, iPad, and Windows iTunes. Now, check if the sync library is turned off, turn it on, and connect all the devices to the internet.
6. Conclusion
Wrapping up, we hope we have shared some valuable information with you. We tried best to keep all the information up-to-date and correct. You don't need to get Apple Music And iTunes Match- both at the same time, but we are sure that having them both will ensure the peace of your mind!
Was this information helpful?
TrustScore 4.3 | 16