Back in the days between 2003 and 2009, when iTunes encouraged the sale of single songs, have you ever bought songs from iTunes? If you have, then you might notice your purchased iTunes songs can not play on some of today's devices and platforms like your Android phone or old MP3 player. This is because these old iTunes songs are in M4P and encrypted with Apple FairPlay DRM and thus only compatible with Apple devices and iTunes. Besides iTunes Music purchases, songs downloaded from Apple Music also use the M4P extension.
To enjoy your Apple Music tracks and purchased iTunes songs without restriction, the key is to convert these songs from M4P to MP3 on your computer, remove their DRM, and re-download the non-protected versions. So you can stream or transfer them to any device you like. To get the job done, you can convert M4P to MP3 with efficient and safe desktop apps like TuneFab Apple Music Converter, use online applications, upgrade your music to iTunes Plus via iTunes Match, or burn all M4P tracks into a CD and re-import them as plain MP3. Today, these four methods will be introduced in detail in this article. Read on to find the best method for yourself.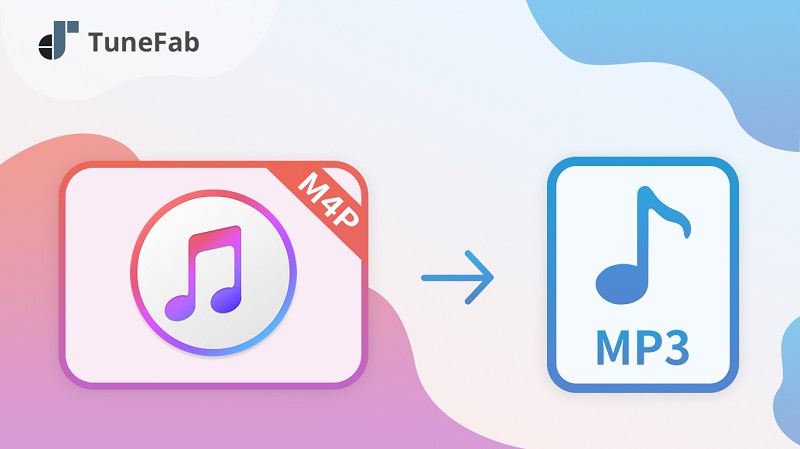 CONTENTS
What is M4P? How to Open A .m4p File?
When it comes to how to open iTunes and Apple Music M4P songs, have you wondered what M4P is and why you often fail to open m4p files?
M4P, standing for MPEG 4 Protected (audio), is a file extension created by Apple to store its audio files downloaded from iTunes Music Store. These iTunes files are encoded in advanced audio codec (AAC) and protected with proprietary DRM technology, making them exclusively streamed via iTunes or on Apple-authorized devices like iPhone, iPad, Mac, etc.
What's more, the Apple devices you use to play iTunes songs must be authorized on iTunes or Apple Music by using your Apple ID. On top of it, there is a limit on the number of devices. Up to 10 devices(no more than 5 computers) can be associated with the same Apple account.
In the past, this sort of protection perfectly prevented unauthorized use and content leaks for the benefit of Apple. But now iTunes adopts the M4A format after Apple Music was launched in 2015. These old iTunes M4P songs only make listeners suffer. Let alone songs downloaded from Apple Music are also protected in M4P. After all, only a few devices and platforms can recognize and stream these protected songs.
How to Open M4P Files? Everything You Need to Know
Mac and Windows users can directly download iTunes to play m4p. songs. Alternatively, Apple Music can be downloaded on Mac to recognize and stream m4p. audio files, while Windows users can also download M4P-compatible players like QuickTime Player to play m4p. songs on their PC. But if you want to transfer and play them on non-Apple devices, converting M4P to MP3 is also a perfect solution.
So, How Can You Convert M4P Files to MP3? (Tools You Need)
As MP3 is compatible with most devices and platforms, your protected M4P files that are converted into MP3s will be recognized and played on non-Apple players and your preferred music app, bringing you maximum listening pleasure.
In the following parts, we will show you how to convert M4P to MP3 on Windows and Mac by using four different tools: desktop applications, Apple official functions, online tools, and CD, so you can be sure to download your purchased iTunes songs on your computer and listen to them on any device you like. Check the following table to find which method is most suitable for you.
| | |
| --- | --- |
| Desktop Apps | Users who bought a bunch of iTunes songs and look for a quick and effortless method to convert them to MP3 |
| iTunes Match | Users who want to convert M4P to MP3 on the official app and can accept the subscription fee of $24.99 a year. |
| Online Tools | Users who prefer a free method and just need to convert several songs. |
| CD | Tech whizz who are good at computers and have a blank CD and a CD drive. |
Method 1: Convert Protected M4P File to MP3 on Windows/Mac

HOT!
This method makes full use of song converters to make the conversion process easy, quick, and time-saving. No bother adding and converting your multiple songs one by one. Just click your purchased iTunes songs that you want to convert and the song converters will immediately remove Apple FairPlay DRM and convert the M4P. files to MP3 for you. With so many song converters available on the market, here we highly recommend TuneFab Apple Music Converter for its excellent performance and solid reputation among millions of customers and 100+ authority sites.
TuneFab Apple Music Converter is a powerful desktop application designed for batch converting M4P to MP3 on Windows/Mac. It will finish the conversion quickly with ease. After that, the converted DRM-free audio can be recognized and streamed on most devices and platforms with the same audio quality. Better still, this M4P converter even offers a 30-day free trial, allowing you to convert M4P to MP3 on your computer for free.
Main Features of TuneFab Apple Music Converter
● DRM-Encryption Removal - With advanced technology, TuneFab Apple Music Converter is outstanding in removing decryption, making it possible for you to convert DRM-protected iTunes and Apple Music M4P files to MP3 and other popular formats like M4A, FLAC, and WAV.
● Convert M4P to MP3 at A Super Fast Speed - With excellent acceleration technology, this program can convert m4p to mp3 at a fast speed of at least 5X.
● Provide Batch Conversion Feature - TuneFab Apple Music Converter enables you to convert multiple encrypted M4P to MP3 at a time.
● Lossless Quality Conversion - This tool ensures you the audio quality of the converted iTunes and Apple Music songs will be as superior as the original ones. You also can customize audio quality as you like by customizing bitrate and sample rate, delivering you a delightful music streaming experience.
● Easy Management - After the conversion, the software will keep the original ID3 Tags information such as cover, title, author, and so on, making it easy to manage your converted iTunes songs.
Now, let's convert the protected M4P files into MP3s on Windows/Mac in 4 easy and quick steps.
Step 1. Launch TuneFab Apple Music Converter on Your PC
First, you need to install and launch TuneFab Apple Music Converter on your computer. The app is equipped with a built-in Apple Music web player. No need to download iTunes or Apple Music app. Click "Open the Apple web player" to sign in to your Apple ID within the TuneFab app.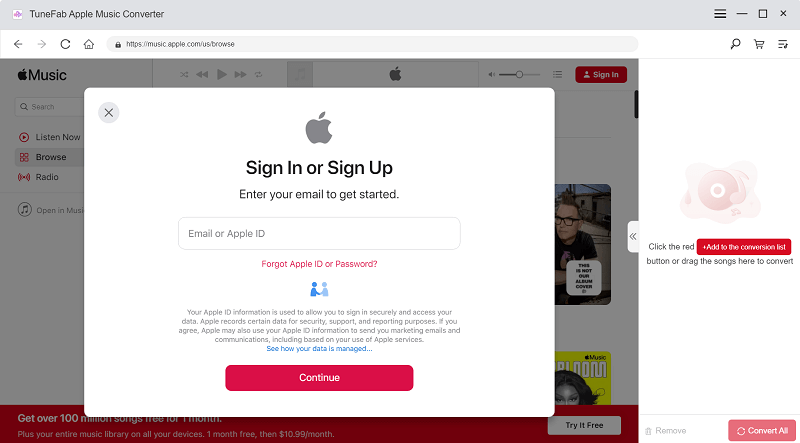 Step 2. Add M4P Songs/Playlists to the M4P Converter
Next, enter the name of your purchased iTunes songs in the search tab. Then, drag and drop them to the red "+" button in the upper right corner. Alternatively, you can create a new playlist and add these songs to the list. Then, drag and drop the playlist to the button.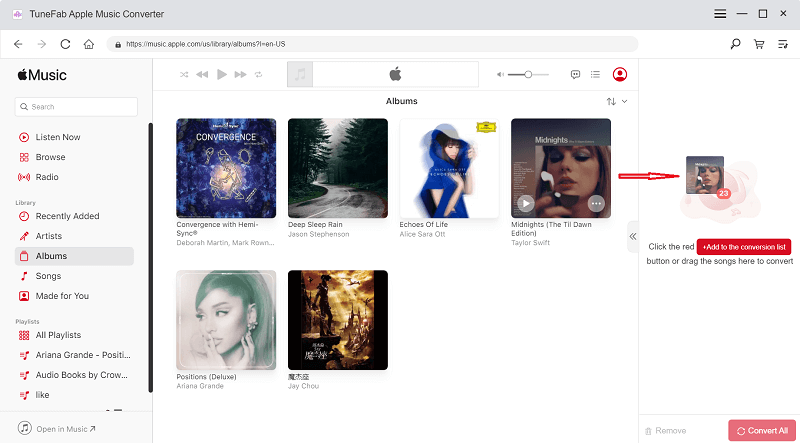 Step 3. Customize the Parameters
Click the "≡" icon in the upper right corner to open a drop-down list. Choose "Preferences > Advanced" to set the output format (MP3), output quality (320 Kbps, 48,000 kHz), etc.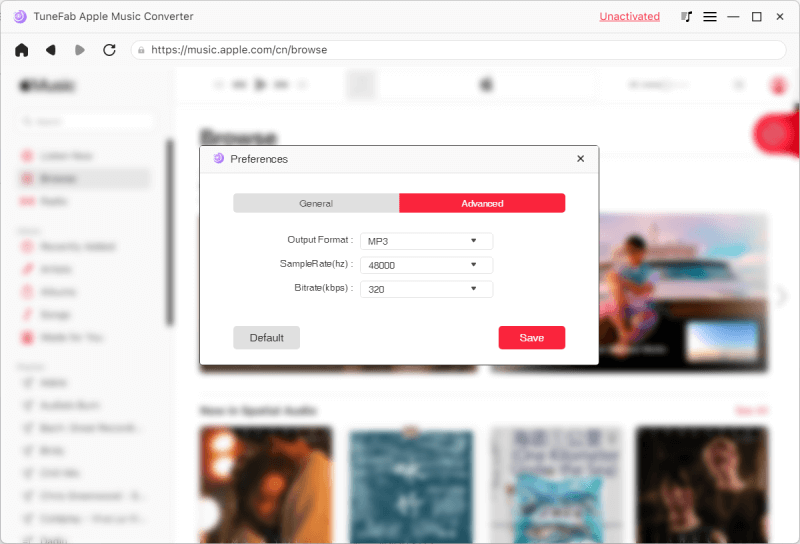 Tips: Apart from MP3 format, this TuneFab converter can also convert songs to M4A, FLAC, or WAV in different Bitrates or Sample Rates.
Step 4. Convert iTunes Songs from M4P to MP3
Click the "Convert" button and the app will start the conversion. With at least 6X conversion speed, the app will convert Apple Music and old iTunes songs to MP3 in a few minutes. After the conversion, you can transfer them to any device you like or play them on common media streaming players like Spotify and Google Play Music.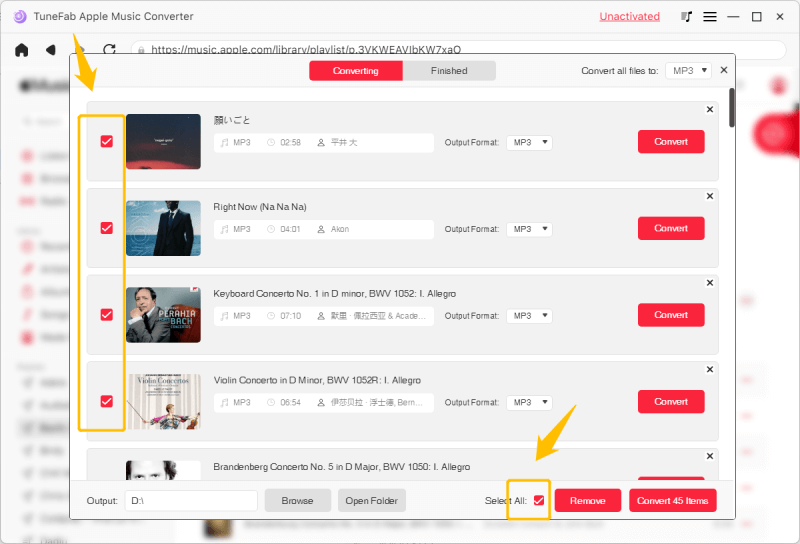 Method 2: Convert M4P to MP3 via Burning to CD
If your computer has a DVD drive and you happen to have a blank CD, you can make full use of them to solve your problem by burning the songs to the CD and then re-add them from the CD back into your iTunes library. This method is recommended for users who are good at computers and don't want to download any other software on their computers.
To complete the task, you will need:
1. iTunes (Apple's reliable CD-ripping tool)
2. PC or Mac
3. A blank Audio CD (CD-RW)
4. A CD reader (If your computer doesn't have a DVD drive)
Before converting iTunes M4P songs to MP3 in this way, you should learn:
● Only songs purchased from iTunes can be burned in this way.
● Those M4P songs bought from iTunes before 2009 are all DRM-protected and can only be burned up to seven times.
● After burning, the audio quality will be slightly impaired. If you mind the loss of sound quality, then using TuneFab Apple Music Converter is a better choice, M4P files that are converted by TuneFab keep the original quality.
Follow the directions below to convert DRM-encrypted M4P to MP3 via a burned CD:
Step 1. Insert your CD into a CD reader or put it into your computer's DVD drive. First, you need to create a new playlist. Open iTunes. Click File in the upper left corner. Choose New>Playlist. And add the iTunes songs you want to convert to MP3 from the library to the newly created playlist.
Step 2. To adjust CD burning settings, click File again and choose "Burn Playlist to Disc". Then, a Burning Settings window will pop up where you can configure the Burn Settings: select Audio CD as Disc Format and click "Burn". It will take a bit of time for iTunes to finish the process.
Step 3. When the conversion is completed, open the CD in iTunes and select the song on the CD. Go to "File" > "Convert" > "Create MP3 Version" in the pop-up menu.
Step 4. When you're done, you will find all the tracks are in your iTunes library.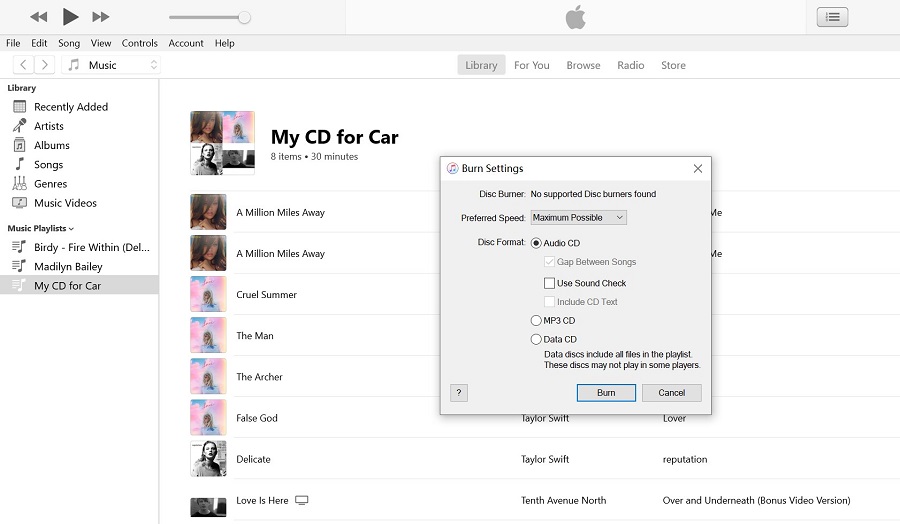 Method 3: Convert M4P to MP3 Using iTunes Match
Apart from TuneFab Apple Music Converter, iTunes Match also enables you to convert previously purchased M4P files from iTunes into MP3 format at the cost of subscription fee of $24.99/year. Better still, it can upgrade songs from old DRM-encrypted M4P format to 256 Kbps DRM-free AAC format. In this way, when you download these songs from the iTunes Match subscription, they are DRM-free copies of the previous songs and you can keep them on your device forever even if you cancel your subscription.
What's more, it also can store all your music files in iCloud and enable you to always access your iTunes library on iPhone, iPad, iPod touch, or on up to 5 computers.
Note: Make sure that you have subscribed to iTunes Match and that the M4P music is bought from Apple. Encrypted songs that aren't purchased from Apple cannot be converted to MP3 with this method. Confused by Apple Music and iTunes Match? Check this article for differences between Apple Music and iTunes Match. Users who subscribe to Apple Music turn to method 1 or method 2.
Now follow the steps below on how to convert M4P to MP3 with iTunes Match.

Step 1. Subscribe to iTunes Match
Open iTunes on your PC. Go to the Store menu and scroll to the bottom of the screen, click "iTunes Match".

On the iTunes Match intro page, click the "Subscribe" button, then enter your Apple ID and password.

Confirm the billing info and click "Subscribe" once again to confirm your subscription.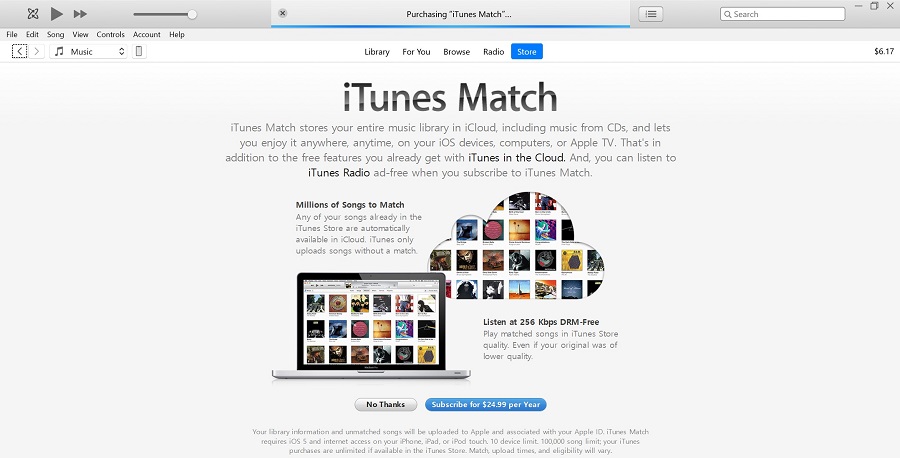 Step 2. Match or Upload Songs to iTunes Match
After you subscribe to it successfully, iTunes Match will scan your iTunes music library to see which songs in your library are currently available in the iTunes Store and which ones don't.
Songs in the iTunes Store will be added to iCloud automatically, while the other songs will be uploaded from your computer to iCloud. Once the uploading is done, you should see the songs described as "Matched".

Step 3. Download and Convert Music to MP3
Click the "Download" icon to download the unprotected version of the old protected purchases. So the songs will be saved as Matched AAC audio file (.m4a). Then you can convert them to MP3 audio files in iTunes with the following steps:
Open iTunes and click "Edit" on the top menu.

Click "Preferences" > "Import Settings" and select "MP3 Encoder" in the "Import Using" tab, and click "OK" to save the settings.

Select the songs you want to convert to the MP3 format, you can press the "Ctrl + A" key to select all songs at once or hit "Ctrl" and click your mouse to select random songs.

Go to "File" > "Convert" > "Create MP3 Version", the songs will be converted to MP3 immediately.

When it's done, right-click on the converted songs and select "Show in Windows Explorer" or "Show in Finder" to get access to your downloaded music.

Method 4: Convert Unprotected M4P to MP3 Free Online
A free and convenient way to convert Apple Music and purchased iTunes songs from M4P to MP3 is to use online tools. They won't ask you to install any app and are friendly to computer users. Be it Windows or Mac users, all can access their free service on browsers. However, just like every coin has two sides, the downside is that only DRM-free songs can be converted.
Of all available free online M4P converters in the market, FileZigZag stands out for its efficient conversion feature, security, and user-friendly design. When converting your DRM-free m4p. files, FileZigZag can convert them to MP3 at a fast speed while ensuring the best audio quality. As a totally free and reliable website, FileZigZag won't ask you to pay for advanced features during the conversion process and will delete your uploaded files to protect your privacy after 24 hours when the conversion of your files is finished.
Note: Similar to other free online tools, FileZigZag can't convert DRM-protected iTunes songs and it only allows for converting up to 10 files per day for free. If you attempt to convert multiple protected M4P files in one go, better use TuneFab Apple Music Converter instead.


Here's how to convert M4P to MP3 online for free:
Step 1. Head to the FileZigZag homepage and hit the "Browse for Files" button.
Step 2. After downloading your M4P songs, drag and drop them to "Drop your files here". Alternatively, you can click "Browse for Files" to add them. You can upload more than one file at a time.
Step 3. Hit the "Start Converting" button and the files will be converted in a few seconds. After the conversion is complete, you can download the converted MP3 iTunes songs back to your computer.
FAQs About Converting iTunes M4P to MP3
M4P, M4A, M4B, M4R, What Is the Difference?
All iTunes audio files sold by Apple are in M4P format and encoded with AAC. But their various filename extensions such as .m4p, .m4a, or .m4b are used to indicate different types of audio files. For example:
M4P is a MPEG-4 container format that is commonly used to store audio files encrypted with Apple FairPlay Digital Rights Management during 2003-09. Both old iTunes songs and Apple Music tracks are AAC files using the .m4p file extension.

M4A is the file extension commonly used in iTunes Plus tracks which are unprotected iTunes-purchased AAC audio files.

M4B is a specific filename extension used for audiobook files because M4B can store metadata including chapter markers.

iPhone ringtone uses the .m4r extension rather than the .m4a extension.
Does Converting M4P to MP3 Lose Quality?
The answer actually depends on what tool you use to perform the conversion. The iTunes-protected M4P is the old DRM-protected AAC format with a 128 Kbps bitrate.
With iTunes Match, as we mentioned before, you can upgrade the songs from 128 Kbps AAC to 256 Kbps AAC format with no DRM restriction.

While using the TuneFab Apple Music Converter, you can maintain the best quality by manually setting the bitrate and sample rate from the output setting section. When the song is converted, you can barely notice any difference between the converted song and the original one.

If using the free audio recorder, you can hear the quality loss when listening back to your recording.
Conclusion
When it comes to converting M4P to MP3 on your Windows or Mac, there are multiple methods and tools available which might confuse you which one works best for you. With the 4 methods and tools introduced above, you can choose a suitable one depending on your preferences. If you want to download multiple M4P songs quickly and effortlessly, TuneFab Apple Music Converter is the most workable and time-saving way to convert m4p to mp3. Come and have a try!
Was this information helpful?
TrustScore 3.1 | 14