Although Apple has equipped the offline mode to facilitate a more convenient music streaming experience offline, you may wonder how to download all Apple Music at once as you need to process the songs and albums downloaded one by one. Therefore, to help you have a better Apple Music streaming experience and improve efficiency to download the Apple Music library at once, today's article will mainly focus on this topic. Now, keep reading and get the solution to help.
CONTENTS
How to Download All Apple Music at Once as Local MP3
If you have been a subscriber of Apple Music membership, you probably notice that Apple has equipped the download option for every single, album, and playlist, enabling you to tap for downloading the tracks for playback later offline. Depressingly, it takes time as you are required to tap the download buttons repeatedly if you get different singles and playlists to download. Hence, some of you start wondering how to download all Apple Music at once without processing them manually more times.
For sure, you can also add all music to one playlist in advance to download all of them at once. But still, it can be a little time-wasting. So to make it straight, TuneFab Apple Music Converter is highly recommended to help you download all Apple Music at once.
As this Apple Music downloader is equipped with the official Apple Music Web Player, it can facilitate more convenient music selection through simple drag-and-drop manipulation, then easily download Apple Music to Mac or Windows. Subsequently, you only need one tap to download all selected Apple Music songs! As TuneFab Apple Music Converter has provided audio formats of great popularity like MP3, M4A, and more, you can get these local music files and save them on any device to stream regardless of what systems and media players you have installed. It should also be noted that all Apple Music downloads will be kept forever offline, so you don't need to worry about their expiration once your Apple Music membership expires.
Here are some sparkling features facilitating more effortless and speedy Apple Music download services for all of you:
● Add all Apple Music playlists for once - the built-in Apple Music web player allows you to search for any resource from the official database, and process drag-and-drop to download the Apple Music library at once efficiently.
● Personalized output settings - the program offers all popular formats such as MP3, M4A, WAV, and FLAC to select exporting Apple Music songs. Meanwhile, it provides quality setting options to let users alter SampleRate as well as Bitrate to determine the offline music streaming quality by themselves.
● ID3 information retained - all ID3 tags will be retained as the original sources accompanying the Apple Music playlists download, allowing you to easily sort the downloaded files by title, artist, etc conveniently.
● 5X faster batch download speed - to facilitate higher productivity, the program has utilized advanced techniques to speed up the music download to 5X faster. Plus the batch download feature, your downloading experience would be accelerated to a higher state without wasting much time.
After getting more familiar with TuneFab Apple Music Converter, now please take a few minutes to learn about how to download all Apple Music at once to PC utilizing the software:
Step 1. Log in Apple Music Web Player
First, please install TuneFab Apple Music Converter. Then by opening the program and entering the embedded Apple Music Web Player, you ought to log in utilizing your Apple Music ID (with subscription).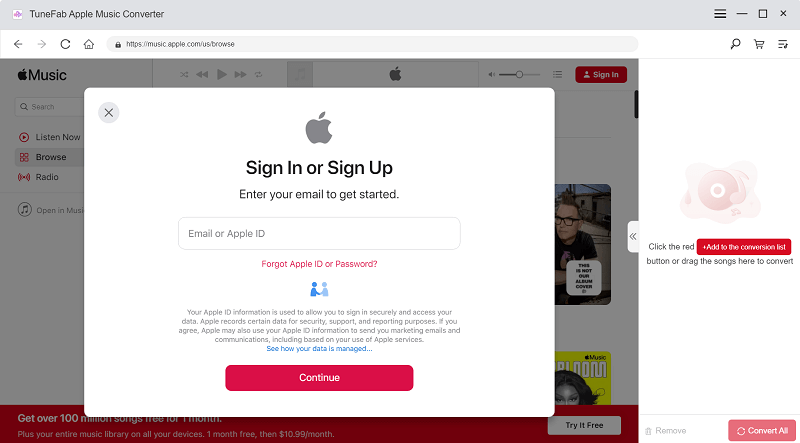 Step 2. Add All Apple Music Playlists to Download
Subsequently, with the web player, you can search for any Apple Music playlist to download from the official music library. Replacing creating a new player, you only need to drag them to the Add button aside. Once they are added to the playlist, you are creating a new one to download all Apple Music at once!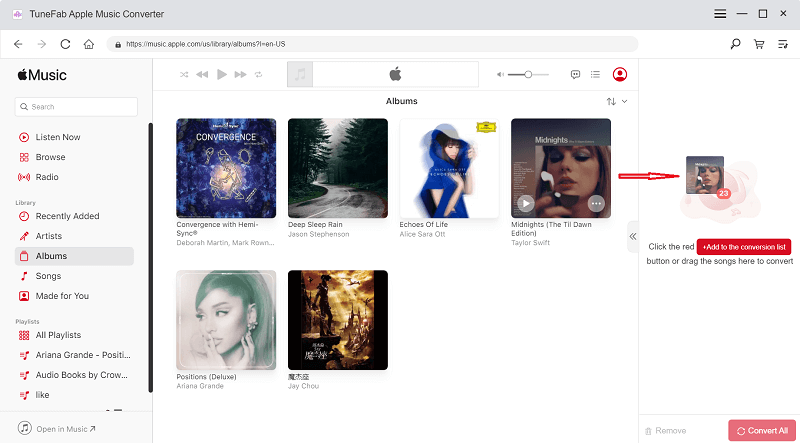 Step 3. Configure Output Quality and Format
Now please turn to Menu >> Preferences to further adjust other parameter settings. You can determine the Format, SampleRate and Bitrate here to fit your own music streaming habits. When the changes are made, please click Save to apply.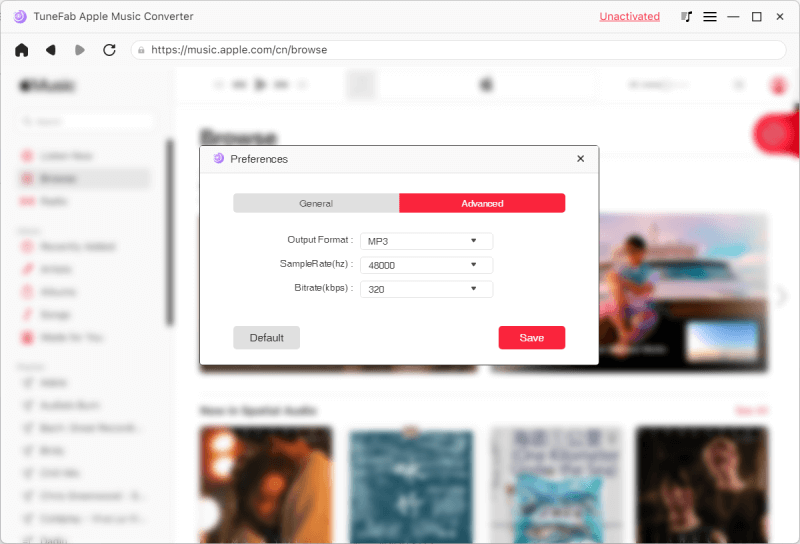 Step 4. Download All Apple Music At Once
After completing the settings, eventually, you only need to tap the Convert All button to download all Apple Music! TuneFab Apple Music Converter will initiate the conversion and download all of them for you at once!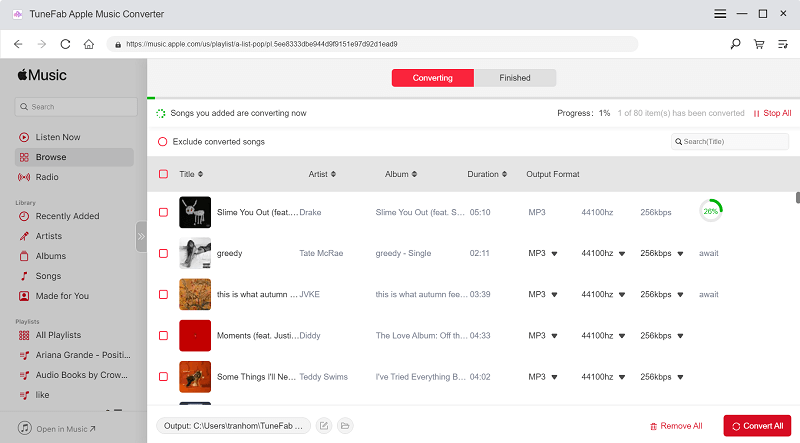 When the conversion is completed, the downloads will be moved to the Finished module. After turning to it and clicking on the View Output File button, the destination folder will be opened and you can access the downloaded songs to listen to Apple Music offline without any restriction.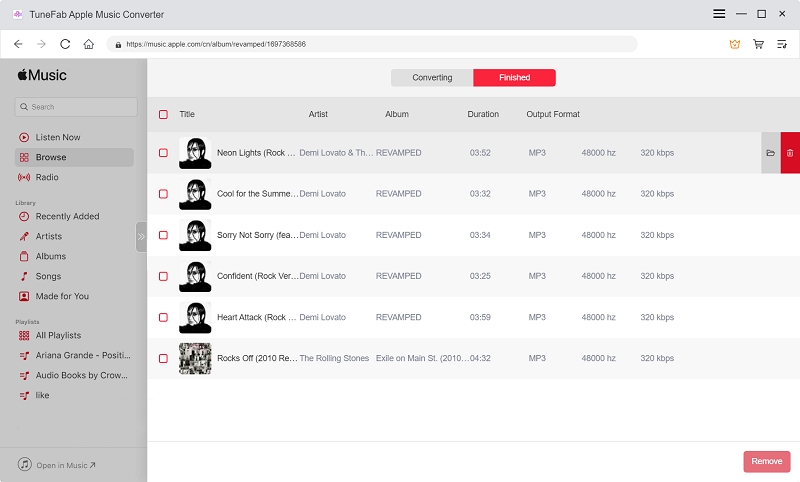 How to Download Apple Music All at Once on Apple Music App
Although it still takes a considerable amount of time to download an Apple Music album in the official app, the manipulation is still easy to master. This module will walk through how to download all Apple Music at once on all popular device systems. Please read.
How to Download All Apple Music At Once Using Smart Playlist
Actually, Apple Music has a hidden feature to let you download all Apple Music at once on all devices. The feature is called "Smart Playlist". You will need to process some settings on computers first, then by signing in with the same Apple ID on your mobile devices, you can directly download the Apple Music library without manually tapping the download buttons one by one. Now, read the tutorial below and see how to do it.
Step 1. Firstly, you need to use your PC or Mac computer to go to iTunes.
Step 2. After signing in with your Apple ID, go to "Files" on the menu bar and then choose "New" to select "Smart Playlist…".
Step 3. When the "Smart Playlist" window pops up, set the rule to "Time is greater than 00:00". Then click "OK" and a new playlist will be created. And in this smart playlist, all songs will be automatically added to it as they all meet the rule you just set.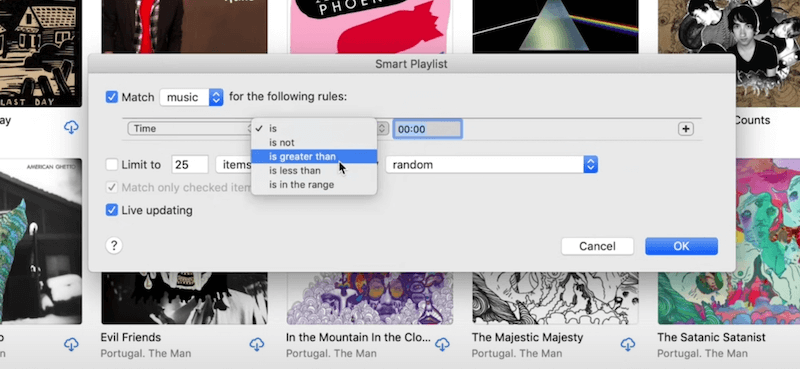 Step 4. Now, you can go to the Apple Music app on all your devices, including your iOS, Android, or Windows, Mac computers. You will find that this smart playlist appears! Just open it and tap the "Download" button to download all Apple Music at once!
However, the filter used for creating smart playlists sometimes has limitations, and would include those songs you are not actually needing, so it will waste storage. If you want more flexible but easy control over downloading all Apple Music you need at once, TuneFab Apple Music Converter is still a better way because you can add any song or playlist you want to download freely.
Use Automatic Downloads to Download All Apple Music At Once
By setting up a feature named "Automatic Downloads" in Apple Music, you can actually get all newly added Apple Music songs download without manually processing them. This method not only works for Windows/Mac computers, but you can also do it on iPhone. The steps are shown below.
Step 1. Go to the "Settings" app on your iPhone and find "Music" from the list.
Step 2. Scroll down and choose the "Automatic downloads" option.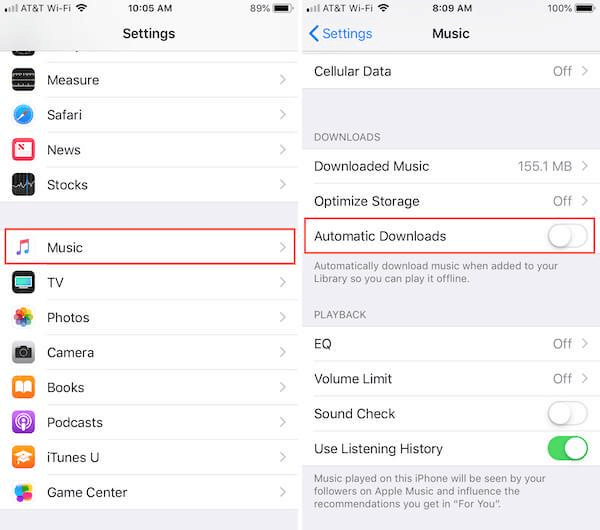 Once this setting is turned on, Apple Music will automatically download the newly-added songs in your library for you to enjoy offline.
Tip: However, as the smart playlist will automatically update all the newly added songs for you, you need to pay attention to keeping enough storage on your device to download the Apple Music playlist, or Apple Music will just keep deleting the downloads you have saved before. So if you want free controls to download Apple Music albums at once only when you need them, TuneFab Apple Music Converter is a better option for you.
The Easiest Way to Download All Apple Music At Once on Windows/Mac
This is the fastest way for Windows and Mac users to download all Apple Music at once. Actually, when you open iTunes or Music app, sign in to your Apple account, and go to "Albums", you can directly highlight all of them saved in your library, then right-click to choose "Download". After this, you can download the Apple Music library all at once!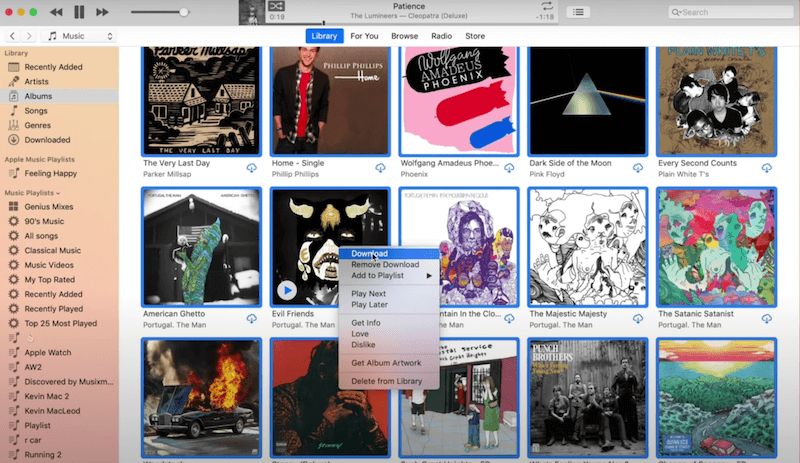 FAQs About Downloading All Apple Music at Once
How to select multiple Apple Music songs to a playlist at once for download?
If you only want to add several songs to an Apple Music playlist and download them, you can go to iTunes and highlight the songs you need. Then choose to move them to the playlist you want to add and download later.
Can you download unlimited songs from the Apple Music library at once?
Unfortunately, Apple Music doesn't offer Apple Music unlimited download service, and it only allows its subscribers to download up to 100000 songs to their library and enjoy them offline. So when the downloads exceed this number, you can't continue downloading them and need to delete some before adding new ones.
Final Words
Even though the official has lacked the function to download all Apple Music at once, you can still find some alternative ways to manipulate it to facilitate higher efficiency. Among all these introduced methods, using TuneFab Apple Music Converter can even be more flexible and convenient, or with fewer limitations. So if you wish for a more efficient offline Apple Music streaming journey, take this program to help! Enjoy!
Was this information helpful?
TrustScore 2.5 | 19